I'm super excited to introduce Sina Mizrahi from The Kosher Spoon today! I've been a huge fan of Sina's since she started her blog (give THESE MUFFINS a try, they're a family favorite!) because I love that her recipes are healthy, Middle Eastern inspired, and her photography is just. so. beautiful. Sina's not pretentious about blogging [lets face it, we all know how bloggers can be ;)], she just quietly flies under the radar, doing her thing. She blogs when she has time for it, but I'm always there following her amazing talent – stalking her blog, following her Instagram feed for her Erev Shabbat posts, and reading her columns in Binah Magazine.
When I asked Sina to guest post on my blog, she was more than happy to, even with a move and a baby of her own. I can't thank her enough! And of course she made my favorite food of all time – COOKIES – and of course they involve almond butter because they're great for nursing moms – and of course they are healthy and Paleo – because, like I said, this girls is AWESOME. And of course the photography is so simply stunning because THIS GIRL HAS TALENT. Welcome Sina!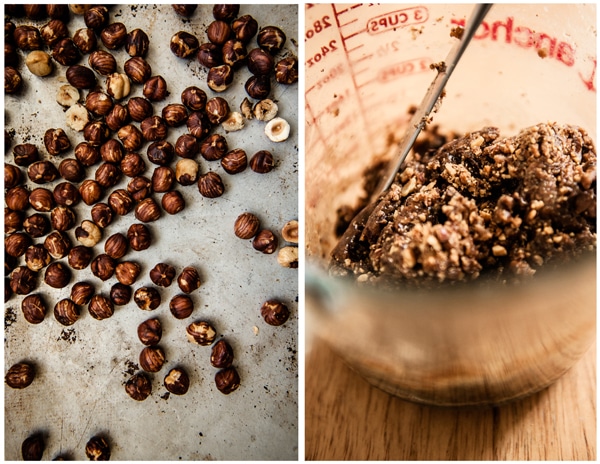 I am certain a chocolate chip cookie must be every pregnant lady's close companion. I know that when I'm expecting I can never turn one down; the craving is strong and the willpower low. Thankfully constant exhaustion keeps my habit at bay, being that baking turns into an afterthought not worth pursuing. I'd rather skip dirty dishes even when the sweet tooth beckons. And in all honesty only a homemade cookie has true merit. But then the sweeter, intoxicating smell of a newborn comes and I crave healthy foods again. With my own baby still being under one, I remember being elated when my friend Rina gushed over these Almond Butter Chocolate Chip Cookies. First, she's a real foodie who can chatter on about pressure cookers and coconut oil, and second they don't need a mixer and can be made in one bowl (the small bowl for the egg is minimal, k?)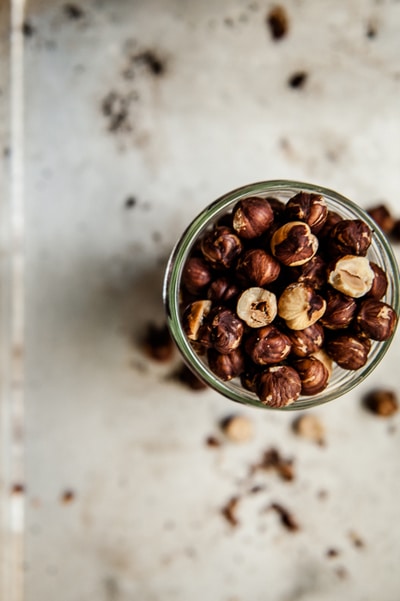 These cookies turned out to be everything I needed come baby. Healthy, pleasantly sweet, and easy. I threw in some ground hazelnuts for a deeper flavor. You might be tempted to envision a Nutella-ish taste because chocolate plus hazelnuts, but they are not at all. The hazelnuts add a depth and nuttiness to the cookie that balances the sugar and chocolate. It's not something I'd skip. If I were in Brooklyn, this is what I'd bring Chanie, the perfect treat for her and Rosie.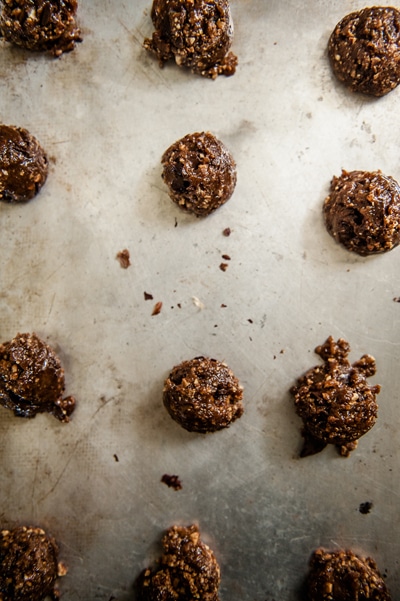 Thanks Chanie for having me on your blog! Follow along the kosher spoon as I'm off on a new adventure I'll tell you all about soon.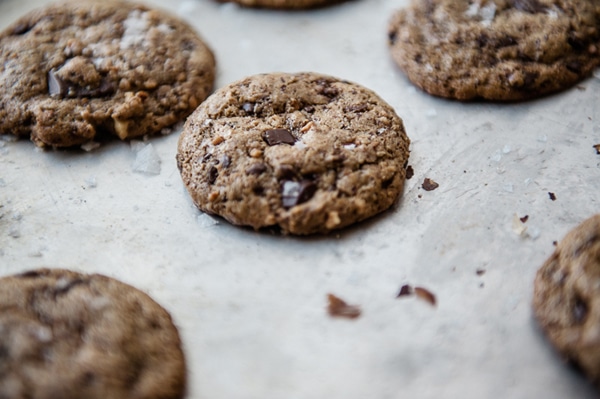 Hazelnut Chocolate Chip Almond Butter Cookies (Paleo)
adapted from Slim Palate
1 cup creamy raw almond butter*
1 cup coconut sugar or brown sugar
1 egg
1 egg yolk
1 teaspoon vanilla extract
1 teaspoon baking soda
1 cup roasted hazelnuts, coarsely ground
4oz. dark chocolate, roughly chopped
flaky sea salt, for sprinkling
Method:
Line two baking sheets with parchment paper or grease lightly. In a small bowl, whisk the egg and egg yolk. In a medium bowl, mix the almond butter, sugar, vanilla, baking soda, and eggs. Fold in the ground hazelnuts and chopped chocolate until well incorporated. If you want plump cookies, refrigerate the dough overnight. If you can hardly wait to take a bite, scoop the mixture with a cookie scoop onto the baking sheet. Preheat oven to 350F. Space the cookies 2 inches apart and gently sprinkle some flaky sea salt. Bake for 10-12 minutes, until the edges brown. Wait until they cool to transfer them with a spatula, otherwise they might fall apart.
* I found it hard to find raw almond butter so I made my own in a high speed blender by processing raw almonds until smooth. A friend makes it with roasted almond butter and she says they turn out amazing.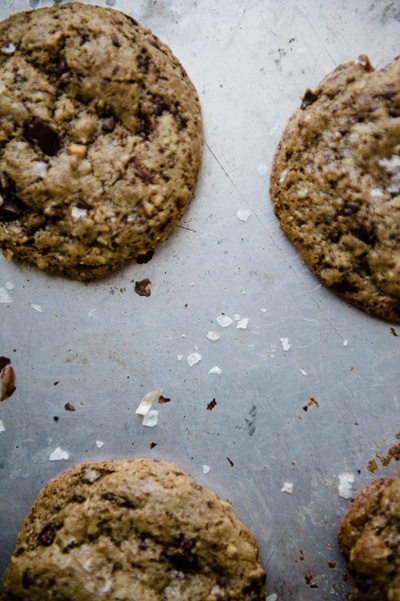 Related Recipes:
cowboy cookie dough bites
sesame cookies
oatmeal cookies
chocolate olive oil crinkle cookies