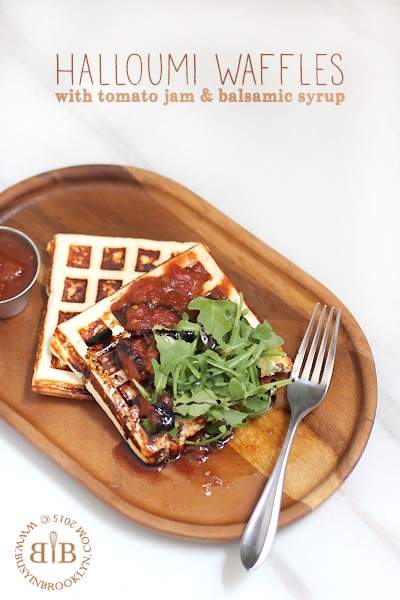 I am UBER excited about today's post, I'm even using the word uber! You see, I dreamed up these halloumi waffles a couple of weeks ago and I wasn't quite sure how they would turn out. Sometimes when I think up something really outside the box, it can be a bit much, but this, this just worked so harmoniously, I am still dreaming about it!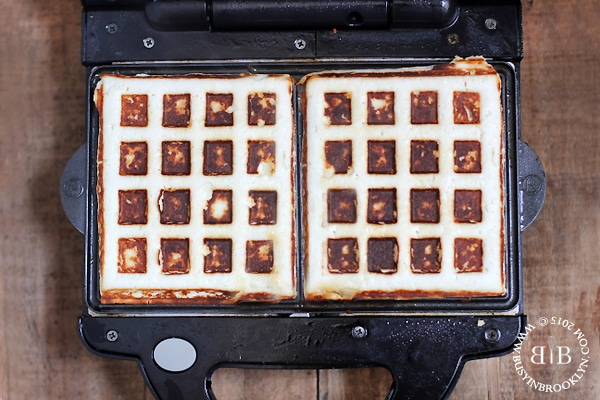 If you've never heard of halloumi before, it's a semi-hard sheep's milk cheese that's like a cross between feta and mozzarella. Because of it's high melting point, it's one of the few cheeses that you can actually grill (or in this case, waffle iron). And I don't mean grill between two slices of bread. You can grill this cheese on it's own and it retains it's shape and texture!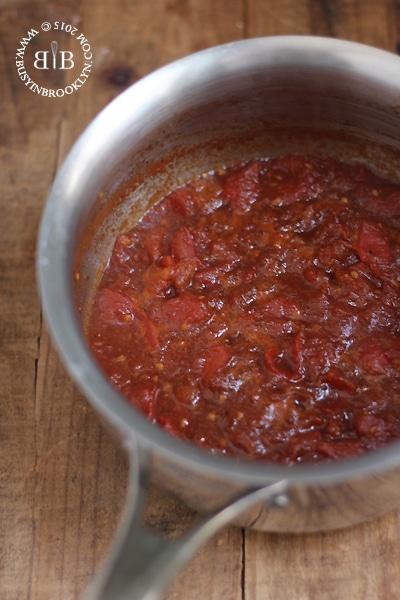 Many people don't know this about halloumi. In fact, I decided to do a little Instagram contest to see who could guess what kind of waffle this was (using the picture below). There were 57 guesses and only one person guessed haloumi (chanazweiss won a copy of my ebook!). Some of the others were really intriguing (like fluffernutter, tofu, tahini, coconut flour, cottage cheese, cauliflower….). I guess I've got my fill of waffle ideas for a while.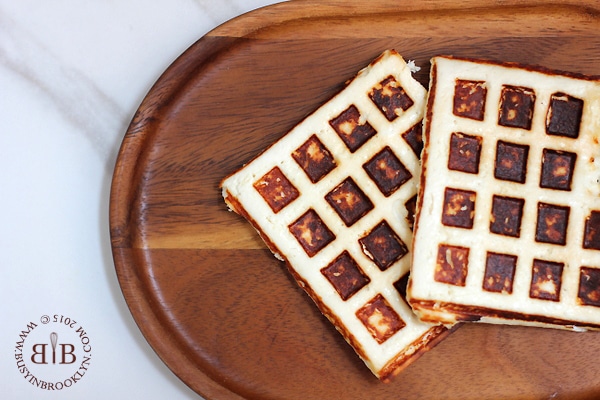 You can find halloumi in the cheese section of most supermarkets nowadays, but it is most popular in Israeli cuisine. I've seen it grilled and fried, but my favorite preparation is the halloumi salad at Blueberry Cafe in Brooklyn. It's got grilled peppers, cherry tomatoes, mushrooms and onions with crispy breaded cubes of fried halloumi and a sesame teriyaki dressing. They call it a salad, so I convince myself that it's healthy, because it's JUST. THAT. GOOD.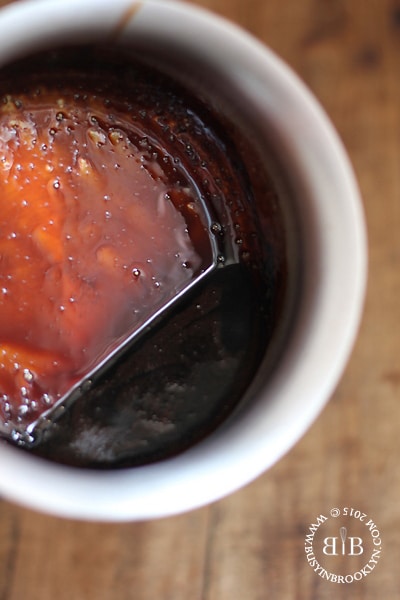 In keeping with the Middle Eastern spirit of halloumi cheese, I created a silan-sweetened tomato jam as well as a balsamic syrup that's kissed with the amazing flavor of date honey. Silan is one of my favorite Middle Eastern ingredients and it works so well in these condiments (well in anything, really).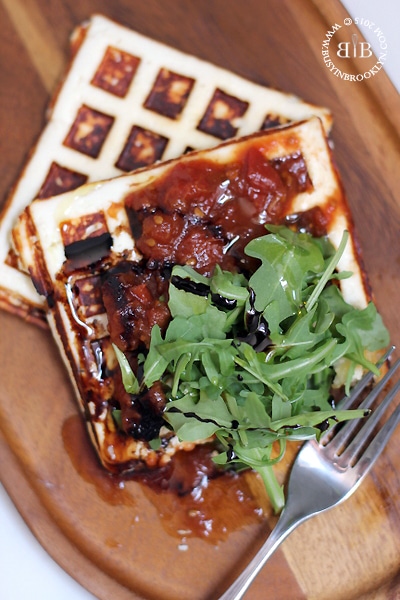 I know this is one of those recipes where you roll your eyes and think, "Looks good but it's too much of a patchke", but do yourself a favor and go for it anyway. Once you plate this baby up, the marriage of salty cheese with a crispy exterior, sweet tomato jam, acidic balsamic and bitter arugula will dance on your palate and hit every note!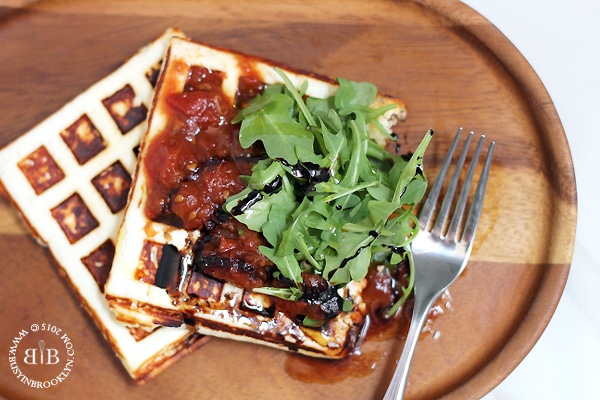 With Nine Days of dairy coming up soon, we can all use a little something different, so get outside your comfort zone and grill up some halloumi. You can thank me later.
Halloumi Waffles
1 14oz. pkg halloumi cheese
olive oil
arugula
tomato jam (recipe follows)
balsamic syrup (recipe follows)
Method:
Remove the halloumi from the package and pat dry. If the cheese is thick (this depends on the brand you purchase), divide it in half. Brush the halloumi with olive oil and heat up your waffle iron. Grease your waffle iron well and add the cheese. Cook until the the cheese has developed a brown crust (resist the urge to open your waffle iron too early or the cheese will fall apart).
Serve immediately with arugula, tomato jam, balsamic syrup and a drizzle of good quality olive oil.
VARIATION: If you don't have a waffle iron, you can also grill the halloumi or pan-fry until crispy.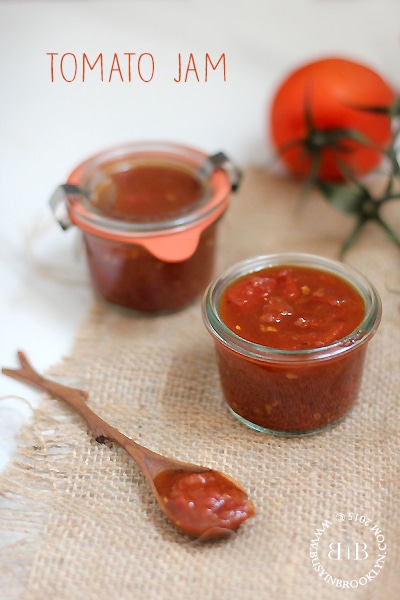 Tomato Jam
1.5 lbs. ripe tomatoes
2 tbsp silan
salt and pepper, to taste
Method:
Roughly chop your tomatoes and place them in a saucepan with silan and spices. Bring the mixture to a boil and reduce the heat to a simmer. Cook the tomatoes until they begin to fall apart and break them up with a fork. Continue to cook until the mixture thickens, about 45 minutes total.
NOTE: if desired, you may strain the jam through a fine mesh sieve to remove the skins.
Balsamic Syrup
1/2 cup balsamic vinegar
1 tsp silan
Pour the vinegar and silan into a small saucepan and bring to a boil over medium-high heat. Reduce the heat to a simmer and cook until reduced by half (or more, for a thicker syrup).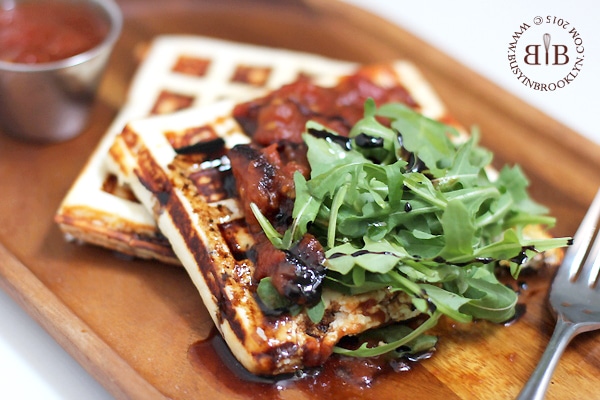 Related Recipes:
summer tomato feta salad
roasted eggplant parmesan with feta