I've been on quite the cruciferous kick these days, and I thought I'd have given up by now, but no! I'm having fun challenging myself to new cabbage creations, and thankfully my body loves cabbage as much as I do, so it works for me!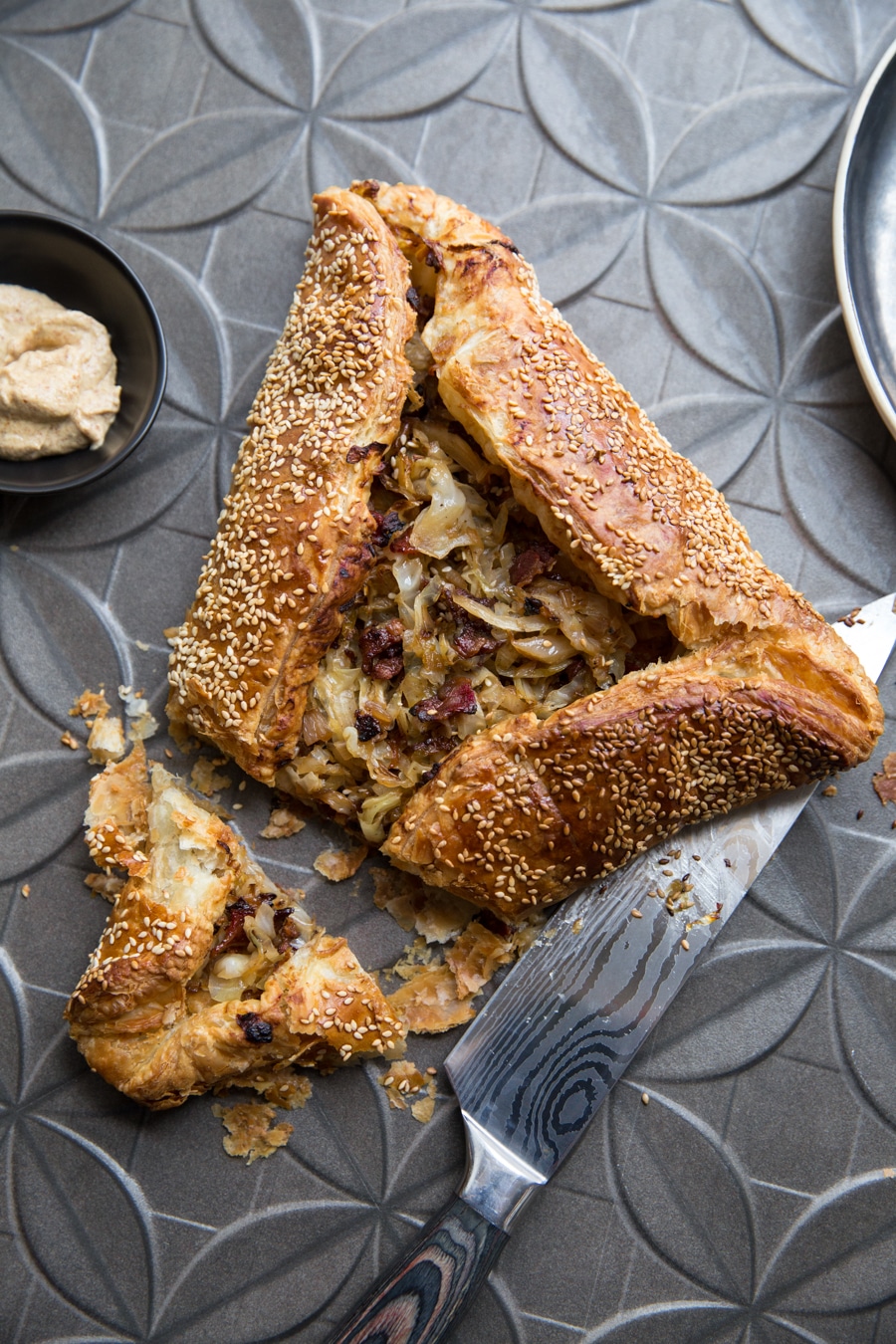 Growing up, my mom always made cabbage knishes for Shabbat and the holidays. She would sauté a bag of pre-shredded cabbage in some oil, season it with plenty of sugar, salt and pepper and stuff it into pockets of puff pastry. I love the addition of beef bacon here – plus a hint of mustard and maple and just a splash of vinegar to cut through it all makes the perfect filling.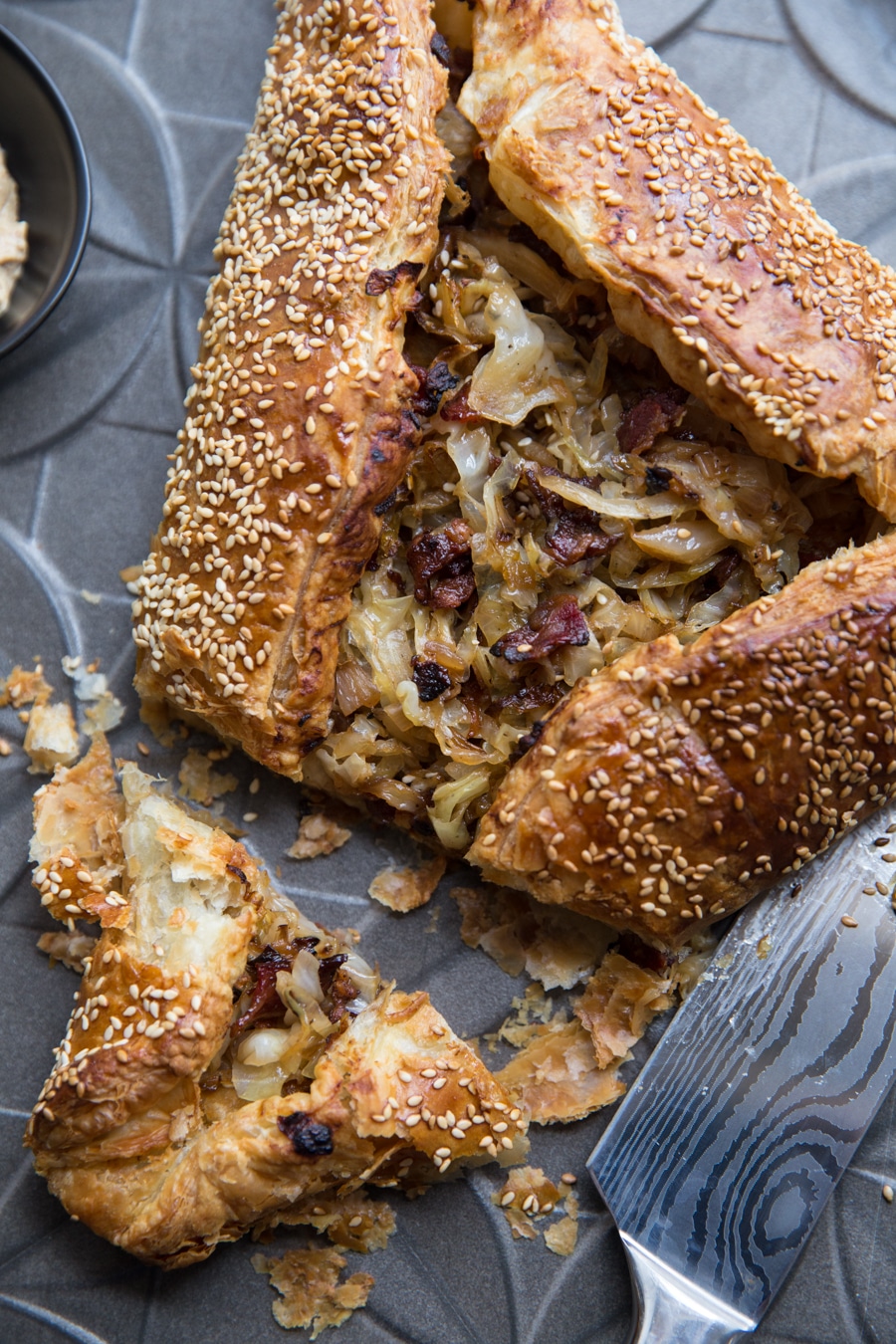 Are you team sweet or savory hamantasch? Let me know in the comments below!
Cabbage Hamantasch Knish
YIELD: 2 knishes, each knish serves 6 as an appetizer
6oz. beef bacon, diced small
1 large shallot, minced
16oz. shredded green cabbage
kosher salt and freshly ground pepper, to taste
1 tbsp apple cider vinegar
2 tsp maple syrup
2 tsp dijon mustard
2 sheets puff pastry, thawed
1 egg, beaten, for eggwash
1 tbsp sesame seeds
Method:
Add the bacon to a cold skillet and turn the heat on a medium flame. Cook the bacon until the fat renders out and the bacon is crispy. Remove the bacon from the pan with a slotted spoon and set aside. Add the shallot to the skillet and saute until translucent, about 2 minutes. Add the cabbage, salt and pepper and stir until the cabbage is wilted and tender, about 8 minutes. Add the vinegar, maple syrup and mustard and stir to incorporate. Return the bacon to the skillet and combine. Continue to cook until the cabbage starts to brown.
Preheat oven to 400 degrees. Lightly roll out the puff pastry dough to approximately 11″ x 11″ and trim the corners to form a circular shape. Transfer half of the cabbage to the center of the pastry and fold over the corners to create a giant hamantasch. Repeat with the remaining puff pastry and cabbage. Brush the pastry with egg and sprinkle with sesame seeds. Bake until puffed and golden, 18-20 minutes.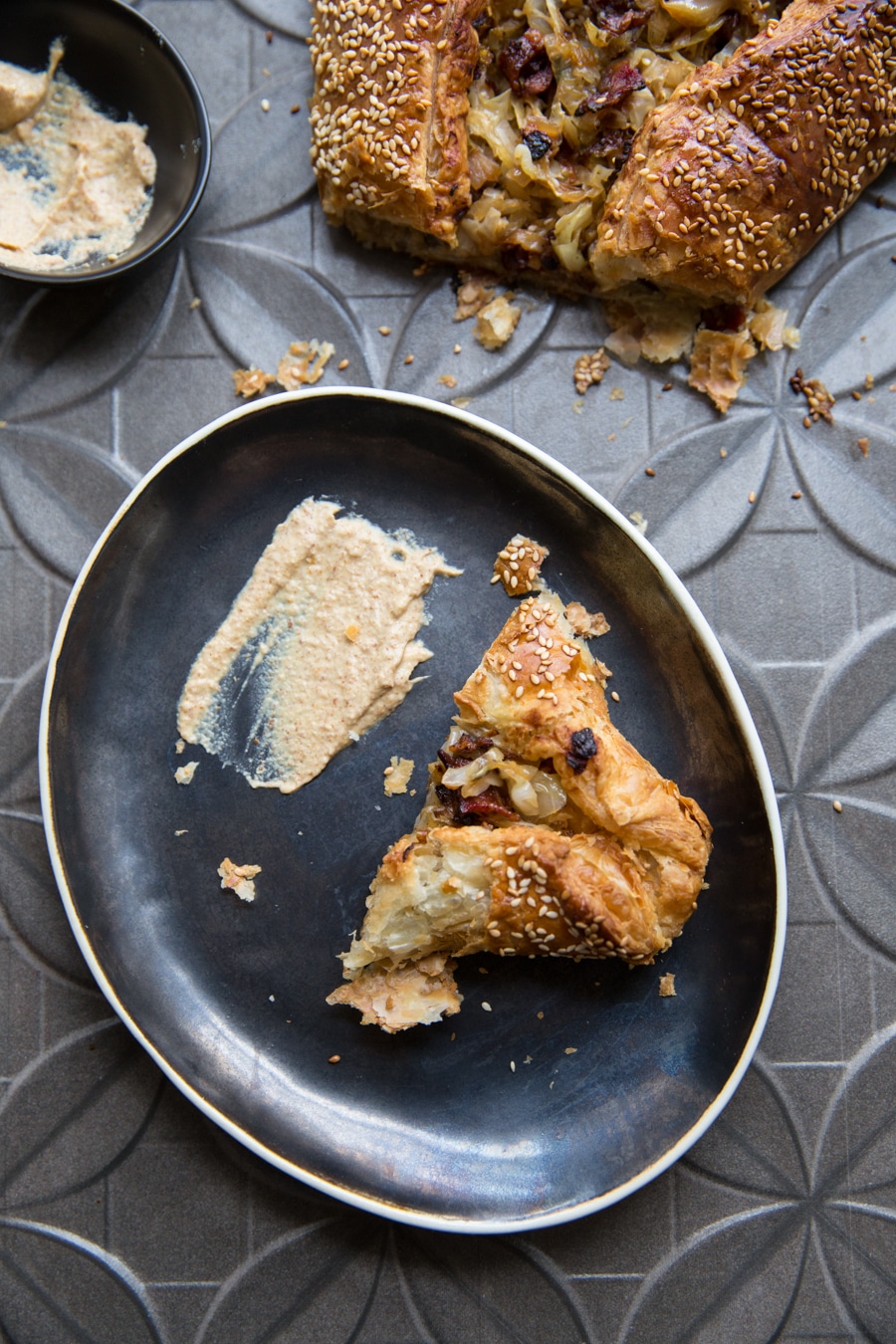 Related Recipes:
salami tarte tatin
corndog hamantaschen
savory hamantaschen trio