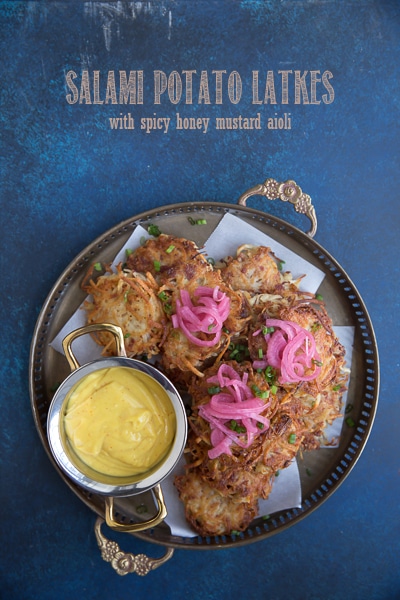 If there's anything my blog is known for, it's probably my drunken hasselback salami. Clearly people like the stuff. They like to hang it, they like to dry it, and man do they like to eat it!

If I'm ever in need of a fun recipe idea, I can just stick salami in there somewhere and chances are, it will go viral. My salami babka from last year was such a hit that Abeles & Heymann decided to print it on their actual packaging and, come on, how many of you have NOT tried the hasselback version, even the stores are selling it now! What is it with Jews and salami?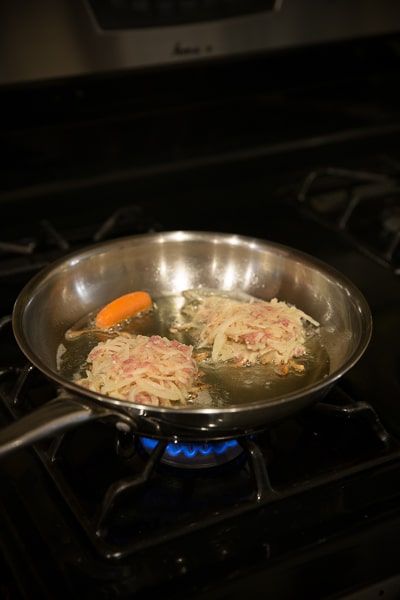 Well, I don't know, but I'll tell you this – I'm knee deep in cookbook editing and when I realized that Chanukah was just a few days away, I knew I had to come up with a latke recipe, and pronto. I've always got A&H salami in the fridge, and when I opened the door for some inspiration, it hit me. Why not add it to my potato latkes for some seriously salty delicious flavor? I decided to try grating it in my food processor so I could incorporate the salami in fully, and it processed really well! The result is a super fun take on a traditional latke that you will truly enjoy.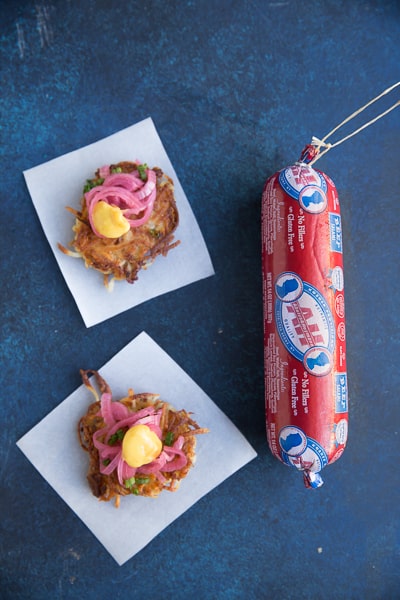 Unlike other traditional Jewish foods, I find that people are really purists about their latkes. They don't want to sub sweet potatoes for potatoes, they're not interested in the healthier baked versions, no. They want crispy, fried potato latkes that leave your fingers all greasy and your house and clothes smelling like Chanukah.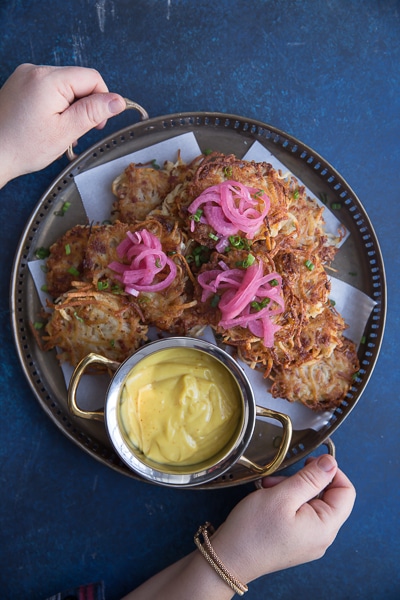 So here's the thing: these latkes are a fun twist on the traditional, but they still respect the humble potato latke and they taste pretty classic too, except for some hints of salami.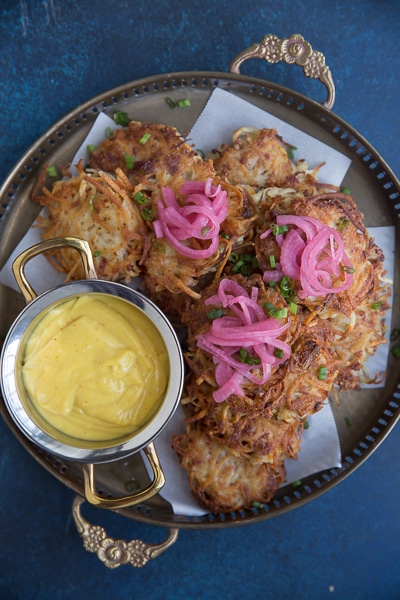 And if you're wondering why there's a carrot in my frying pan, it's the most brilliant frying hack ever! Somehow the carrot soaks up all the gunk in the oil and it keeps your oil clean throughout frying. You must give it a try!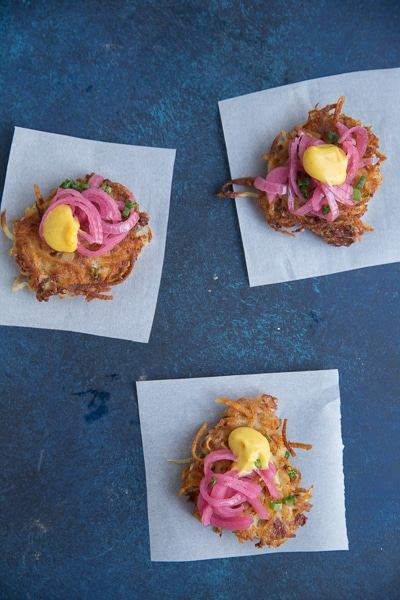 Happy Chanukah and of course, happy frying!
4 large russet potatoes, peeled
1 small white onion, grated
7oz. Abeles & Heymann salami (see note)
3 eggs, lightly beaten
2 tablespoons matza meal
2 tsp kosher salt
Freshly ground black pepper
Vegetable oil, for frying
spicy honey mustard aioli, for serving (recipe follows)
pickled onions, optional
Method:
Using the shredding blade of your food processor, grate the potatoes and onion and place in a bowl of water to prevent browning. Cut the salami into chunks and grate in the food processor.
Drain the potatoes and place into a large piece of cheesecloth. Wrap it tightly and squeeze out as much juice as possible into a large mixing bowl. Let the juice sit for a bit so the potato starch settles to the bottom. Slowly pour the liquid out of the bowl (into the sink), leaving the potato starch in the bowl. Add grated salami, eggs, matza meal, salt and pepper to the starch and stir to combine. Mix in the grated potatoes and onions. Heat oil in a skillet and fry until golden brown on both sides. Drain on paper towels.
TIP: Use 1/4 cup measuring cup to portion out the latkes. This makes the latkes the same size. When you scoop out the batter into the pan, use the flat underside of the measuring cup to press down on the latke and spread it out. This creates super crispy edges.
NOTE: 7oz. yields a very mild salami flavor, for a more pronounced salami taste, use the entire 14oz. package.
Yield: approximately 15 medium latkes.
Spicy Honey Mustard Aioli:
1/2 cup mayonnaise
2 tbsp yellow mustard
2 tbsp honey
1/4 tsp cayenne pepper, or, to taste
Mix all the ingredients in a bowl until smooth.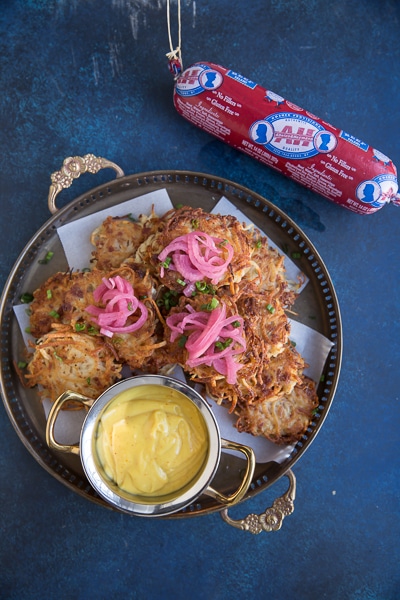 This post is sponsored by Abeles & Heymann.
Follow them on Facebook, Instagram or Twitter! 
Other Latke Recipes:
sabich latkes
falafel latkes
poutine latkes
confetti latkes with harissa sour cream
butternut squash latkes
cheese latkes with raspberry sauce