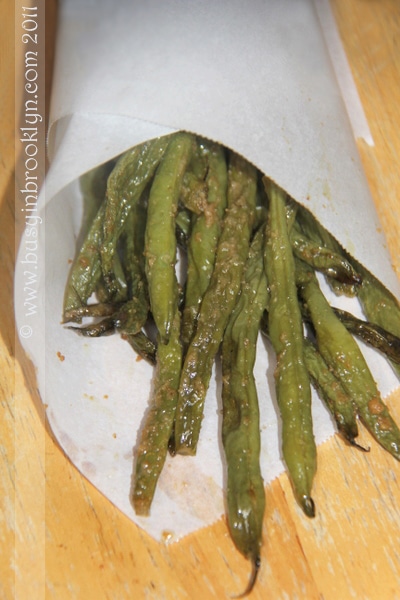 I first tried the South Beach Diet a couple of years ago while working for an ecommerce company. My colleague, Chumie, watched as I struggled to get through the first Phase of the diet. After completing it successfully and losing ample weight, Chumie decided to try out the diet for herself. So there we were, eating hard boiled eggs and avocados, and it wasn't Pesach :)
One day, Chumie shared this easy recipe for shriveled up green beans. I couldnt imagine why anyone would want to shrivel up perfectly fresh, crunchy beans, but I decided to give it a try and boy am I glad I did. The green beans turned out chewy and crunchy, with a few prized crispy ones around the edges of the pan.
Recently, I joined my husband for lunch at a cafe near his office. With my diet in mind, I ordered grilled salmon with a side of green beans. I was super excited to see that the green beans were shriveled, but my excitement soon turned to dissapointment when I tasted the soggy mess. The key to crispy shriveled green beans is baking them uncovered for a long period of time. Covering them builds up steam causing them to become soft.
When I got home, I couldn't wait to revisit this quick and easy recipe. They were even better than I remembered. So, when the hard boiled eggs and avocado get the best of you, go ahead and give them a try!
Crunchy Shriveled Green Beans
2 lbs. green beans
olive oil
garlic powder
salt
Method:
Preheat oven to 350 degrees. Rinse green beans and drain on paper towels. Trim the edges with a paring knife. Add beans to a pan and drizzle liberally with oil. Sprinkle generously with garlic powder and add salt, to taste. Bake for 45 minutes-1 hour until shriveled and browned at the edges.