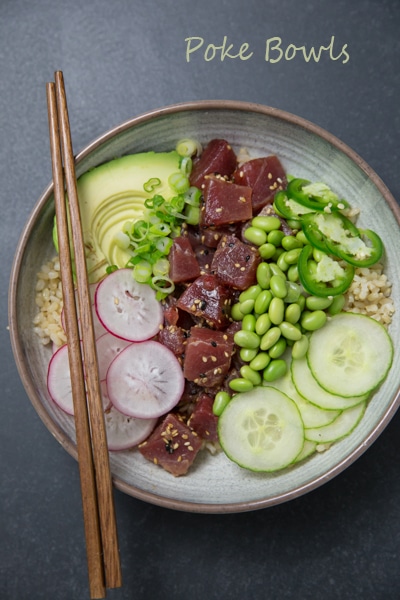 Move over sushi salad, poke bowls are in the house! The Hawaiian raw fish dish has become a popular food trend and poke' bars are popping over all over the place! I recently had a delicious make-your-own-bowl at Bravo Kosher Pizza in New York City and I've been wanting to recreate it ever since.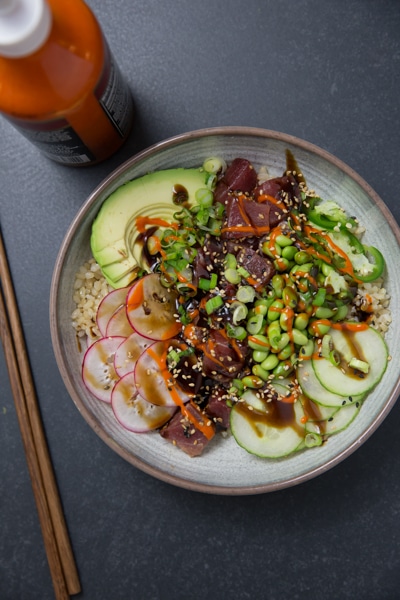 There's nothing not to love about this light, fresh, quick and easy bowl of goodness, unless of course you don't like raw fish! In that case, go ahead and use some mock crab (kani), or add some flaked cooked salmon. The possibilities are endless, so make it your own.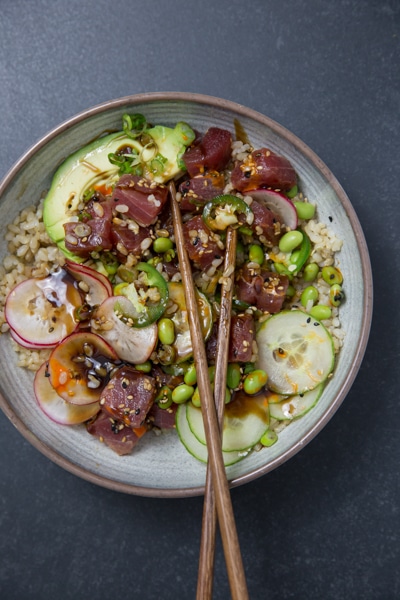 Poke Bowls
1/2 cup short grain brown rice, cooked according to package directions
1/2 lb sushi grade tuna or salmon (or a mix), diced
2 tsp soy sauce
1 tsp rice vinegar
1/2 tsp sesame oil
squirt of sriracha
1/2 tsp toasted sesame seeds
1/2 avocado, thinly sliced
1/4 cup edamame, thawed
1 radish, thinly sliced
1/2 cucumber, thinly sliced
1 jalapeno, thinly sliced
1 scallion, chopped
spicy mayonnaise, for serving
sweet sauce or teriyaki sauce, for serving
Method:
In a small bowl, combine the fish, soy sauce, rice vinegar, sesame oil, sriracha and sesame seeds. Divide the sushi rice between two bowls. Top with marinated fish, avocado, edamame, radish, cucumber, jalapeno, and scallions. Garnish with spicy mayo and sweet sauce, to taste.
VARIATION: You may also use quinoa, sushi rice, or go grain-free. Feel free to add any toppings of your choice.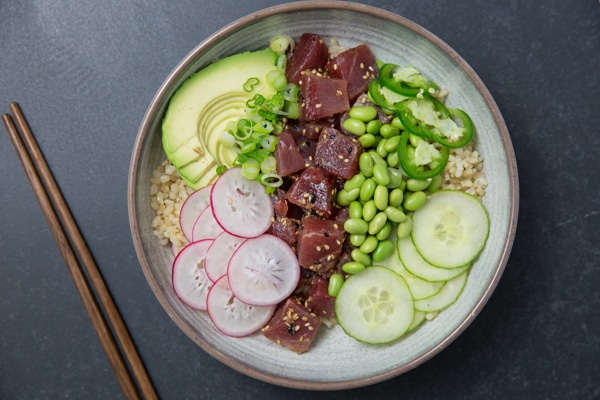 Related Recipes:
sushi burrito
sushi salad
tuna sashimi with herbed crema
kani salad