It was one of those nights, after many days of eating the wrong foods (read: fried, takeout, you-name-it), when I decided I needed to eat a salad for dinner. Luckily, we always have a stash of oven grilled chicken in the fridge (see my super easy recipe below!), so I just threw together whatever I had in the fridge and pantry and this salad was born. I've been making this dressing forever, so that wasn't exactly an afterthought, but it turned out to be the perfect compliment to the composed salad dish.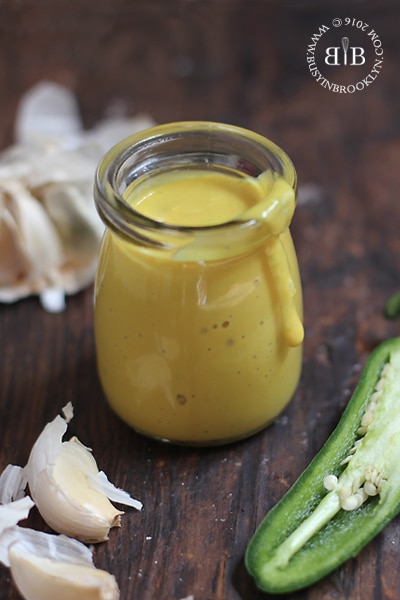 If you're an avid follower of mine, you already know that I post almost everything I eat on Instagram (whenever people stop me in the street to ask me what I'm up to foodwise, I just tell them to follow me there, 'cuz I post just about everything that goes into my mouth!!), so when I whip together a healthy salad for dinner, I try to plate it up nice and pretty, you know, #eatingfortheinsta. So I fanned out my avocado all  fancy and stuff, and the recipe requests poured in. Next thing I know, my inbox is filled with pics of this salad – all composed and perfect, and this recipe-afterthought became an instant sensation.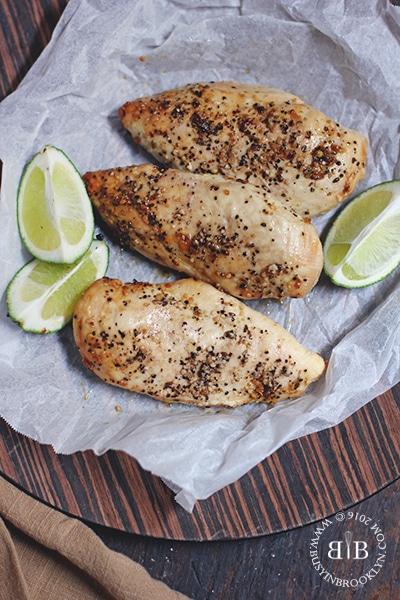 The dressing is a hit in it's own right, and lots of readers have told me it's become a family favorite. So…I finally decided it was time to blog about it! As a recent text message from a reader reminded me, not everyone uses Facebook or Instagram, so I gotta think about the readers that just come here for the good stuff. Rikal, this is for you ;) !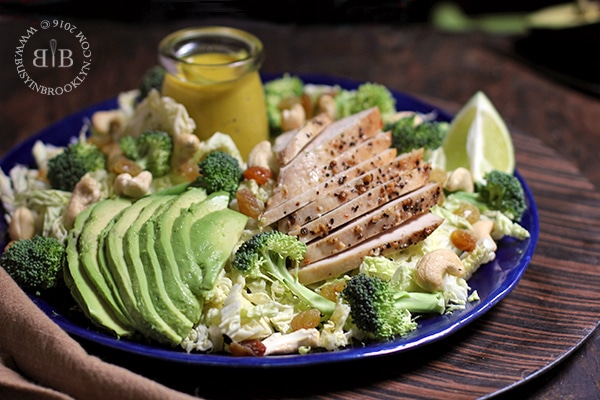 If you're not a fan of composed salads (salads that have been neatly arranged on a platter, like this), then just go ahead and and mix everything up in a big 'ole bowl. I promise it's just as delicious!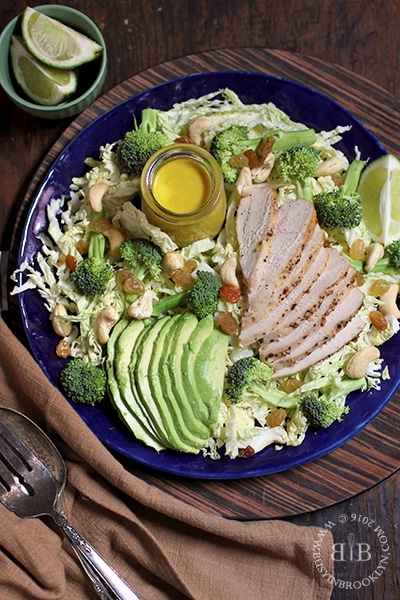 Happy Grilling you guys! Check out the links below for lots of other grilled chicken salad recipes that are perfect for summer or when you get that healthy-eating-binge!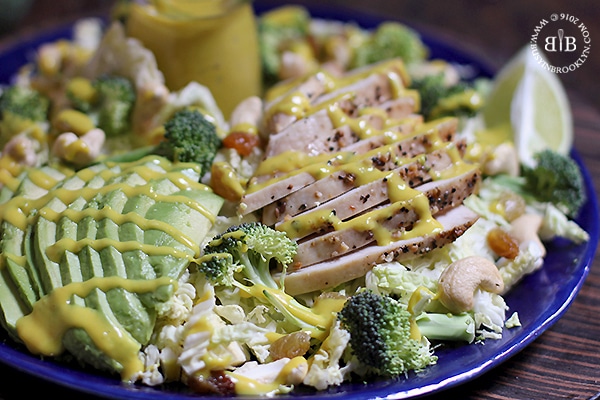 Grilled Chicken Salad
1/2 head napa cabbage, thinly sliced
1-2 cups broccoli florets, cut into bite-sized pieces
1 avocado, diced
1/3 cup cashews
handful of golden raisins, optional
2 grilled chicken breasts, thinly sliced (recipe follows)
On a platter, spread out the cabbage. Top with broccoli florets, avocado, cashews, raisins and chicken and drizzle with jalapeno honey mustard dressing.
NOTE: You may use raw broccoli or thawed frozen broccoli and roasted or raw cashews.
Easy Grilled Chicken
2 chicken breasts
Montreal steak seasoning
salt and pepper, to taste (optional, the steak seasoning is salty)
olive oil
Drizzle olive oil over chicken and sprinkle generously with Montreal steak seasoning. Grill or broil on high for approximately 5-6 minutes per side.(depending on thickness)
Jalapeno Honey Mustard Dressing
1/2 cup mayonnaise
1/4 cup honey
1/4 cup mustard
1 small jalapeno, veins and seeds removed
1 clove garlic
Add all ingredients to a food processor or blender and blend until smooth.
NOTE: You may use dijon or yellow mustard. The dijon will be slightly creamier, while the yellow mustard will have a sharper mustard flavor.
#eatingfortheinsta!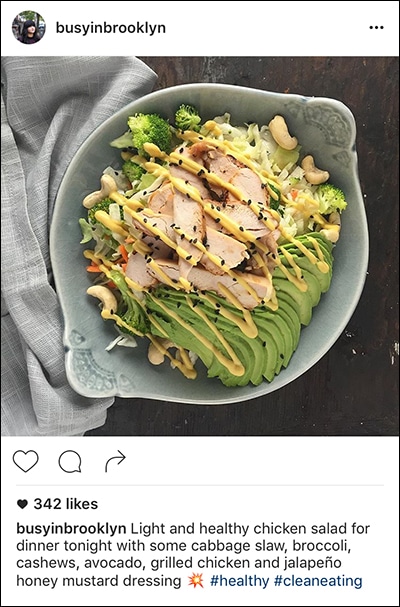 Related Recipes:
grilled chicken shawarma salad
grilled marinated chicken
Asian chicken salad
sesame linguini with marinated chicken breasts