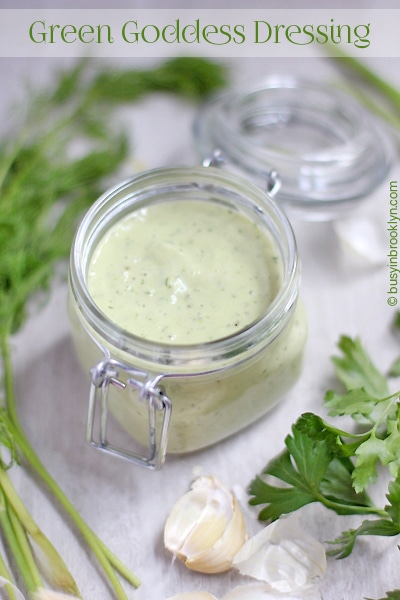 I have a confession to make. The hamantaschen got the better of me. If you've been following my dieting journey on Facebook or Instagram, you've seen all my healthy foodie posts and you're probably wondering where I'm holding. Well, I completed Phase 1 of South Beach, lost 5 lbs, went on to Phase 2 and fell off the wagon.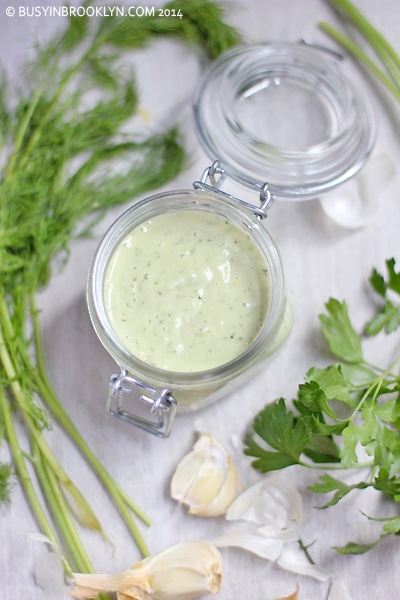 Yup, I'm human. My healthy hamantaschen could only take me so far! I caved on Purim and had some of my mom's mouthwatering corned beef, potato knishes and a couple of other goodies for dessert (they shall remain unnamed). So, here I am, 1 month till Passover renewing my commitment to my diet.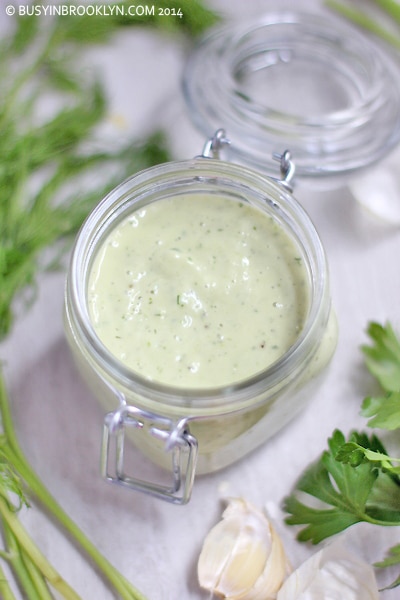 One of the things that makes dieting easier for me, is having a sugar-free salad dressing that can double as a dip for cut up veggies. Having a container of the stuff in my fridge, makes preparing a salad less of a chore, and I'm less likely to cave into my cravings.
Green Goddess Dressing
2 cloves garlic
1 scallion
1 handful (about 1/2 cup) fresh herbs (I use parsley and dill)
2 tbsp red wine vinegar
2 tsp dijon mustard
1 c mayo
1/4 c water (leave this out if you want more of a dip consistency)
salt & pepper, to taste
Method: Add all ingredients to a food processor and process until smooth and creamy. Don't have a food processor? No problem! You can mince the garlic and herbs with a knife and add in some finely chopped chives instead of the scallions.
VARIATION: Try using different herb combinations such as basil, cilantro and/or tarragon
NOTE: I prefer not to add any sweetener to this, but if you find it has too much "bite" for you, add a pinch of sugar.
LOW FAT OPTION: substitute half of the mayo with fat free Greek yogurt.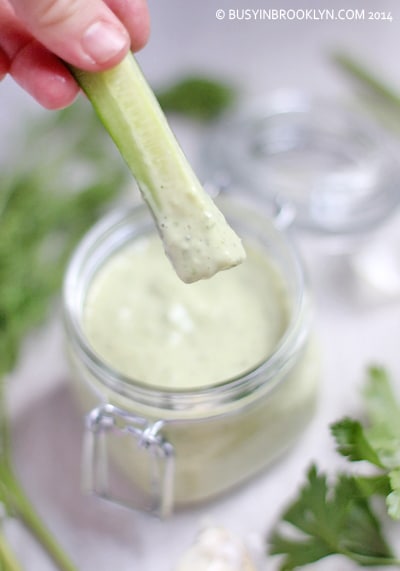 Related Recipes:
apple celery veggie dip (low sugar)
balsamic dressing (very low sugar, can leave it out)
poppy seed dressing (sweetened with honey)
apple & honey vinaigrette (sweetened with honey)
lemon garlic dressing (no sugar)
sriracha caeser dressing (no sugar)