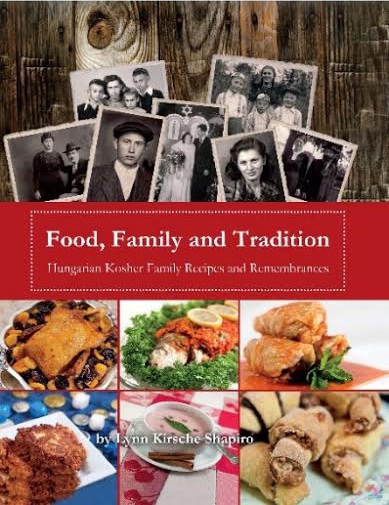 I have to confess that while I love to collect cookbooks, I don't really read them. I prefer to browse through the pictures, take a mental note of the good-looking recipes, and return them to the bookshelf amid my growing collection. Rarely do I come upon a cookbook that I want to read front to back. Where the food photography doesn't matter, and the story is what grabs me.
I read Food, Family and Tradition cover to cover. The new book by Lynn Kirsche Shapiro celebrates the resilience and courage of holocaust survivors through food and stories. As the daughter of holocaust survivors, Lynn sought to bring to light the beauty and richness of traditional Jewish life in Czechoslovakia and Hungary before the Holocaust. In the preface to the recipe portion of the cookbook, she paints a vivid picture of her parents' family life in Eastern Europe. With period photographs, biographies, a family tree and original vignettes, Lynn draws you in to her family history and story of survival. She details their emigration from Europe to the U.S. and how they went on to weave new family traditions while founding Hungarian Kosher Foods, the first all-kosher supermarket in the midwest.
In the second part of the cookbook, Lynn shares 150 family recipes, many of which were prepared for sale in the family's supermarket. Many of the dishes are highlighted by family stories and remembrances.
There's nothing fresh and modern about the recipes in Food, Family and Tradition. On the contrary, the book seeks to keep century-old traditions alive through sharing family recipes that celebrate the spirit of Eastern European culture. Some of the heimishe recipes you'll find include chopped herring, mandel bread, rakott krumpli (potato-egg casserole), blintzes, gefilte fish, brisket, schnitzel, Hungarian goulash, tzimmes, honey cake and so much more.
Growing up in an ashkenazi family with Eastern European roots, so many of the Hungarian dishes in Food, Family and Tradition hit close to home. My bubby would prepare many of the above-mentioned recipes as well as borscht, cheese kugel, chop suey, chicken paprikas, stuffed peppers, sweet and sour tongue, cabbage and noodles and others. Since my bubby is not the measuring type, it's nice to be able to see these recipes written out in a clear and concise manner. Some of the recipes are accompanied by photos, but most of them are not. I usually find that bothersome, but in this book, it seems to make no difference. Maybe it's because it's the story that matters, or because I recognize so many of the dishes from my upbringing, that I don't need to see them to know what they look like.
All in all, Food, Family and Tradition is about more than just family recipes. It's about continuing the legacy of Jewish life before the holocaust through food and culture.
I'm giving away a free copy of the Food, Family and Tradition cookbook! To enter, simply leave a comment below about a traditional family dish that means a lot to you. For an extra entry, follow Busy In Brooklyn via any of the channels below. Just be sure to leave a note in the comment letting me know where you follow.
Facebook
Twitter
Instagram
Pinterest 
Giveaway is open to residents of the U.S. and Canada only. Winner will be chosen at random at 10:00 AM EST on Monday, November 10th, 2014.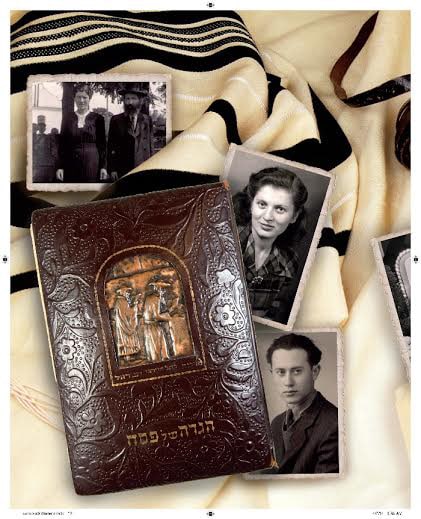 Esrog Preserves and Candy
Parve, Makes 1 cup
Reprinted with permission from Food, Family and Tradition by Lynn Kirsche Shapiro
The esrog, a beautifully aromatic citrus fruit, is grown primarily in Israel for use on the Jewish holiday of Succos, the holiday of the harvest, taking place in the fall. After Succos the question always arises: what to do with the esrog? Many people stud it all over with whole cloves to use it for Besamim, the blessing on spices during Havdalah at the end of  Shabbos. The esrog fruit, a variety of citron, is yellow, small to medium in size, ellipsoid or lemon shaped, with a long neck, and a rough and bumpy surface. Unlike a lemon, an esrog is quite seedy, not juicy, and inedible when raw. However, cooking transforms it into wonderful preserves, candy or compote.
1 esrog
1 cup sugar
1 cup water
For the candy:
Slice the esrog thinly and place in bowl covered with water. Cover and set aside for 1
day. The next day drain the water, and refill, cover and repeat soaking and draining for a total of 7 days. On the final day drain the esrog.
Seed the esrog, reserving seeds. Tie the seeds in cheesecloth.
In a 2-quart pot, add the esrog and the cheesecloth-wrapped seeds, the sugar and water. Over medium-high heat, bring to a boil. Decrease heat and simmer, covered, stirring for about 45 minutes to 1 hour, until the esrog is cooked through. The consistency should
be very thick and syrupy so, if needed, cook uncovered for the last 15 minutes.
Remove the esrog slice by slice with tongs and transfer to a platter. Pour the cooking syrup over the esrog slices. Let cool. When the slices are hardened and somewhat dry, transfer to
an airtight container. It is similar to candied orange peel.
For the preserves:
Cut the esrog into small pieces before cooking. Follow recipe directions. Immediately after cooking transfer esrog with syrup to a jar, cool to room temperature, cover and refrigerate.
Rakott Krumpli, Potato-Egg Casserole
Makes 1 8×8" casserole, 8 main dish servings
Reprinted with permission from Food, Family and Tradition by Lynn Kirsche Shapiro
This potato casserole is traditionally Hungarian, and the non-kosher version is made with both sour cream and sausage. The sauteed onions add a rich, moist flavor. Rakott Krumpli was traditionally served as a main course at the main meal of the day. Today you can serve it for breakfast, brunch or a light meal. Add a salad and you have a complete meal. Use russet potatoes, not red or waxy potatoes.
Water as needed with 2 teaspoons salt
1 ½ pounds peel-on russet potatoes
2 tablespoons vegetable oil
2 medium onions, thinly sliced
2 cups sour cream
½ cup cream or half-and-half
6 hard boiled eggs, peeled and sliced ¼" thick
4 tablespoons butter melted
⅛ teaspoon freshly ground pepper, or to taste
salt, as needed
1 teaspoon sweet Hungarian paprika, plus as needed for garnish
Chopped fresh parsley, as needed, for garnish
Fill a 6-quart pot halfway with water and 2 teaspoons of salt. Add whole potatoes. Add water as necessary to cover completely. Bring to a boil. Decrease heat to medium and cook, with lid ajar, until the potatoes are just cooked, but not overcooked, about 20 to 30 minutes. Test with a fork for doneness. Gently remove the potatoes and rinse in cold water until cool enough to handle. Peel the potatoes, the skins slip off easily. Slice the potatoes into ¼" thick rounds.
Meanwhile in a large saute pan over medium heat, heat oil. Add onions and saute until golden, stirring, about 15 minutes. Reserve.
In a medium bowl, mix together the sour cream and the half and half until smooth and creamy. Reserve.
Preheat oven to 350 degrees. Coat the bottom and sides of an 8×8" or 2 quart casserole with butter. Place half the potatoes on the bottom. Layer half the onions. Next layer half the eggs and half the melted butter. Sprinkle with half the pepper, salt and paprika. Pour half of the sour cream mixture on top.
Repeat the layers, ending with the sour cream mixture. Sprinkle the top lightly with additional paprika. Bake, covered with aluminum foil sprayed with nonstick cooking spray, until casserole is golden and bubbling, about 45 minutes. Uncover and bake an additional 15 minutes. Garnish with fresh parsley before serving. Cut 2×4 for 8 servings.
VARIATIONS:
Before baking and topping with last half of the paprika, you can mix ¼ cup dry breadcrumbs with 1 tablespoon melted butter, sprinkle on top, add paprika and bake. Do not garnish with parsley.
A modern variation is to top the casserole with 2-4 oz.. shredded cheddar cheese. Then sprinkle top with paprika and bake.