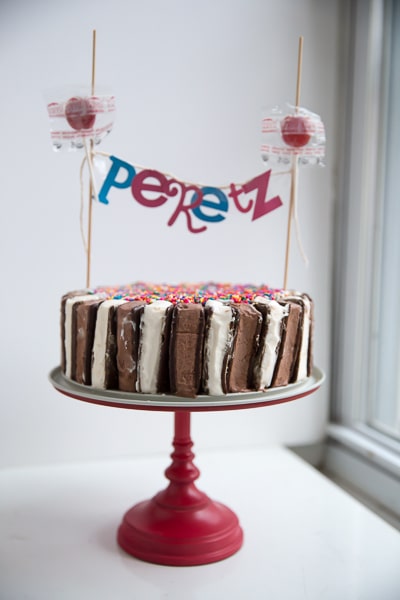 A couple of weeks ago, we celebrated my son's 4th birthday. He suffers from life threatening food allergies, and most of his life he's been told what he CAN'T have. At every birthday party, family get-together and holiday, you'll find him sitting at a separate table, with a small plate of allergy-free food that we've managed to salvage for him. And he never complains. He's such a champ, always so understanding and mature about it.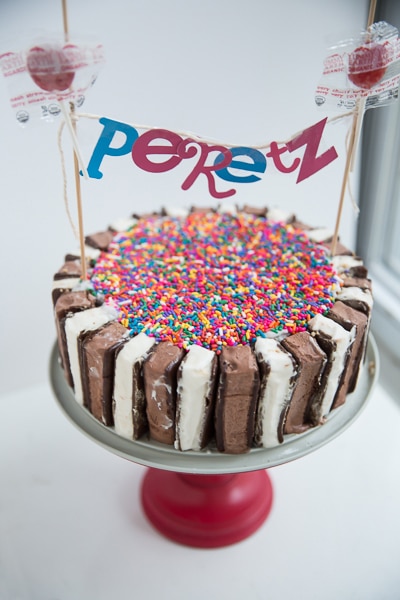 Ice cream is one of his favorite things and each day on his way home from school, he asks me to take him to the ice cream store. I really wanted to get him an ice cream cake for his birthday, but it's impossible to find an allergy-free one, so I decided to make it. This cake was super easy to put together, but you'd never know from looking at it. Needless to say, he was so ecstatic, and a few minutes into devouring his slice, he unassumingly leaned over and gave me a hug. It was everything.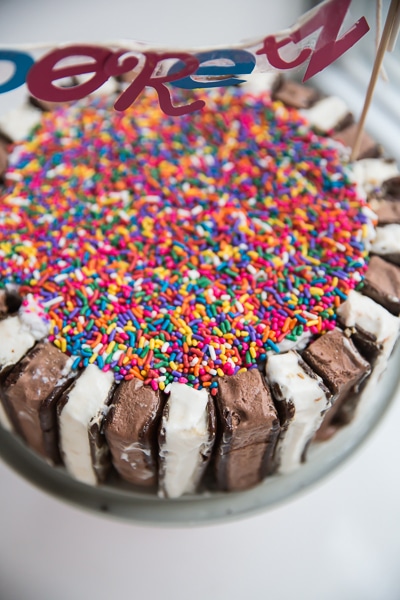 Ice Cream Sandwich Birthday Cake
7 vanilla ice cream sandwiches, cut in half lengthwise
7 chocolate ice cream sandwiches, cut in half lengthwise
2 quarts cookies and cream ice cream, softened
4 sugar cones, crushed
1 cup rainbow sprinkles
special equipment: 9″ springform pan
Method:
Working quickly (so your ice cream doesn't melt), line the wall of the springform pan with the ice cream sandwiches, alternating between chocolate and vanilla. Freeze until solid.
Spread 1 quart of the ice cream in the center of the cake, top with crushed sugar cones and then the second quart of ice cream. Spread the sprinkles on the top of the ice cream and freeze the cake until solid.
VARIATION: You may use 1 quart chocolate and 1 quart vanilla instead of cookies and cream, or any ice cream of your choice. You can also use crushed oreos instead of sugar cones.
NOTE: Feel free to decorate the cake with fun lolly pops (not the sad little ones I used!) or other candy!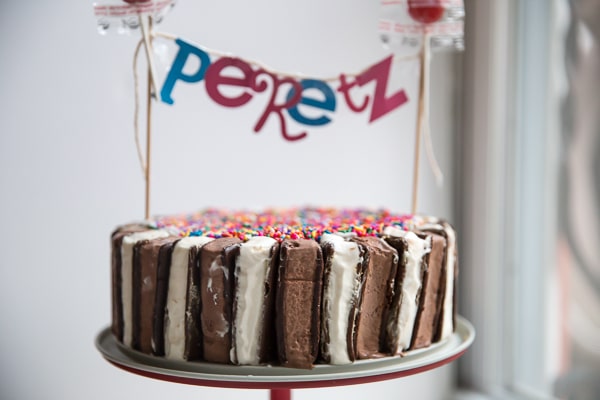 Related Recipes:
funfetti birthday cake
funfetti rose cake smash
ice cream sundae cookies
3-layer rainbow cookie cake