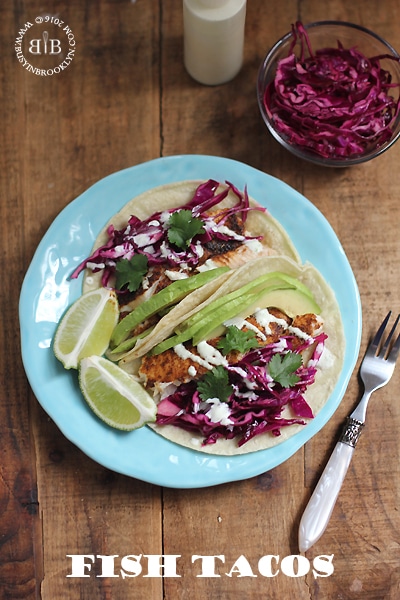 Yom Kippur is thankfully behind us, and Thank God I survived the most brutal of all fasts, fasting while nursing. Just barely. But I'm here and I'm thinking about food. Again. We've got an 8-day holiday ahead, and I love the idea of serving up different cuisines throughout the Chag to break up the monotony of it all, and to give us something to look forward to! I served up these amazing fish tacos for my Mexican Fiesta meal last year and I'm happy to share the recipe with you, plus 8 International menus for the 8 days of the Chag, including kid food! Enjoy and Chag Sameach!
MEXICAN
appetizer: fish tacos, tropical guacamole with plantain chips
entree: chorizo chocolate chili with pareve cornbread
for the kids: tortilla crusted chicken fingers with creamy salsa dipping sauce
dessert: mexican hot chocolate brownies
ISRAELI
appetizer: hummus with pita chips, stuffed eggplant, falafel cauliflower poppers
entree: pomegranate roast or za'atar chicken with dried fruit with rice vermicelli
for the kids: shnitzel and potato bourekas (fill with mashed potatoes)
dessert: halva krembos
ITALIAN
Dairy:
appetizer: salmon cakes with lemon caper yogurt, panzanella salad
entree: spinach pappardelle with feta or linguini lasagna and zucchini parmesan chips
for the kids: roasted tomato soup with muenster breadsticks (or grilled cheese)
dessert: torah cannoli
Meat:
appetizer: pesto salmon or corn beef arancini, spinach matzo ball minestrone soup
entree: chicken cacciatore or veal marsala bolognese or short rib ravioli
for the kids: lazy meatballs
dessert: tartufo (any colors work!)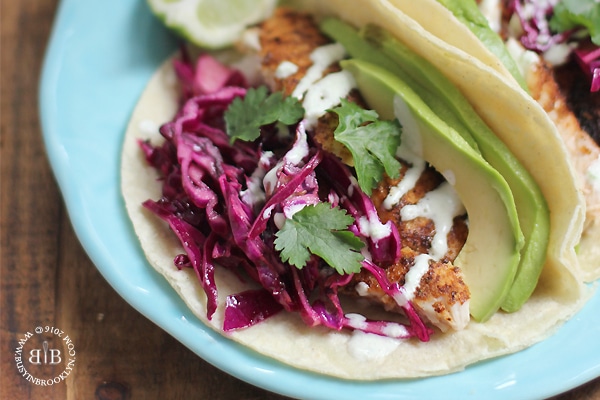 ASIAN
appetizer: sushi salad or sushi burritos or sweet chili salmon, asian big bowl soup
entree: pepper steak with plum sauce, fried rice, teriyaki portobello mushrooms
for the kids: sweet and sour pineapple chicken
dessert: nutella banana wontons
AMERICAN
appetizer: gefilte crab cakes and BBQ potato salad
entree: burger bar or beer braised brisket with mashed potatoes and green beans or brussel sprouts
for the kids: hot dog eggrolls or corndog hamantaschen
dessert: oreo cheesecake
INDIAN
appetizer: tandoori fish, mulligatawny soup with naan
entree: peanut chicken curry with coconut rice
for the kids: potato pea samosas
dessert: chai chocolate pots de creme
FRENCH
appetizer: salad nicoise, french onion soup
entree: boeuf Bourguignon or coq au vin, herb-roasted potatoes
for the kids: salami quiche
dessert: fig tarte tatin or apple tart
MOROCCAN
appetizer: Morrocan gefilte fish, carrot salad, matbucha, marinated olives, charmoula eggplant
entree: harrisa chicken or lamb chops and 6 spice morrocan stew with couscous
for the kids: lamb kebobs
dessert: apricot baklava or makroud
I'm not native to all these countries so feel free to share some of your favorites in the comments below!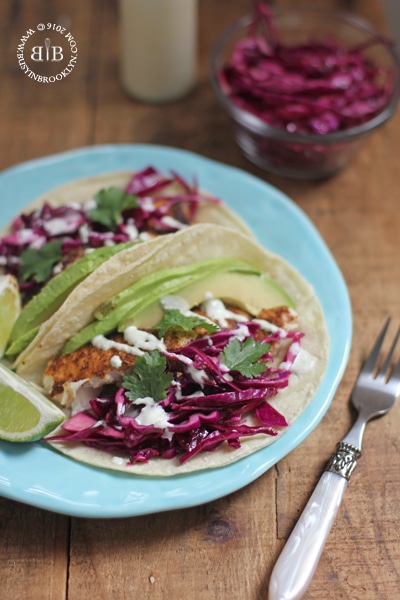 Shout out to some of my family favorite Sukkot recipes not included above:
Bubby's cabbage soup with flanken
mushroom barley stoup
cream of chicken soup in bread bowls
smoky split pea soup with thyme dumplings
pumpkin pot pie
meat and rice stuffed vegetables 
zucchini mechshie with tamarind and prunes
meat and rice stuffed baby eggplants
Levana's chocolate espresso mousse (freezes great!)
Beer Battered Fish (fried)
2 fillets firm white fish such as cod, nile perch, mahi mahi or halibut, cut into chunks
1 cup flour
1 tbsp Old Bay Seasoning
salt & pepper, to taste
1 cup beer
peanut or canola oil, for frying
In a bowl, whisk the dry ingredients until the spices are incorporated. Slowly pour in the beer, whisking as you go until a lump-free batter forms. Heat a few inches of oil in a skillet. Dip the fish chunks into the batter and fry in hot oil until golden on both sides. Drain on paper towels and place on a rack until ready to serve.
Blackened Fish (baked), as pictured
2 fillets flounder or tilapia
1-2 tbsp blackened seasoning (I like Chef Paul Prudhomme's or Old Bay blackened seasoning)
1-2 tbsp olive oil
juice of 1/2 lemon
Preheat oven to 400 degrees. Rinse the fish and pat dry. Rub the blackened seasoning over the fish until well coated and place in a greased baking dish. Drizzle with olive oil and lemon juice and bake for approximately 15 minutes, until the fish flakes easily with a fork.
NOTE: If you don't like it spicy, just use Chef Paul Prudhomme's seafish magic or traditional Old Bay seasoning.
Cabbage Slaw
red cabbage, shredded
light olive oil
fresh squeezed lemon juice
kosher salt, to taste
Drizzle the cabbage with olive oil and season, to taste, with lemon and salt.
Herbed Lime Crema
1 cup sour cream
handful of fresh parsley or cilantro
1 clove garlic
1 tsp fresh squeezed lime juice
kosher salt, to taste
Add all ingredients to a food processor and blend until smooth.
Quick Pickled Onions (optional)
1 small red onion, sliced into thin half rings
1 cup rice vinegar
1 cup water
1/2 cup sugar
1 tbsp kosher salt
Bring the vinegar, water, sugar and salt to a boil. Remove from the heat. Add onions and set aside to cool.
To assemble fish tacos, warm soft corn tortillas in a dry skillet. Fill with the fish of your choice and top with cabbage slaw, avocado, pickled onions and crema. Serve with lime wedges.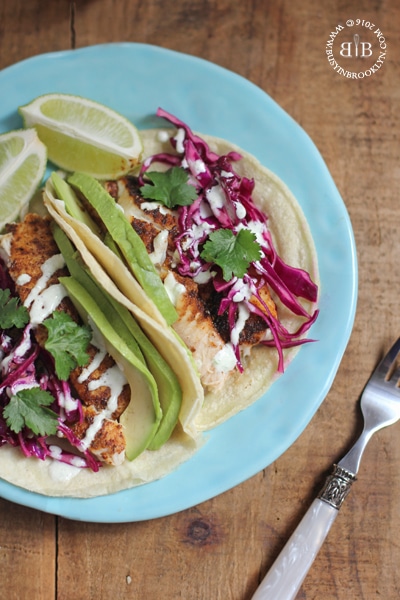 Related Recipes:
red snapper fish tacos with broccoli slaw
coconut crusted fish tacos with savory plantain tortillas