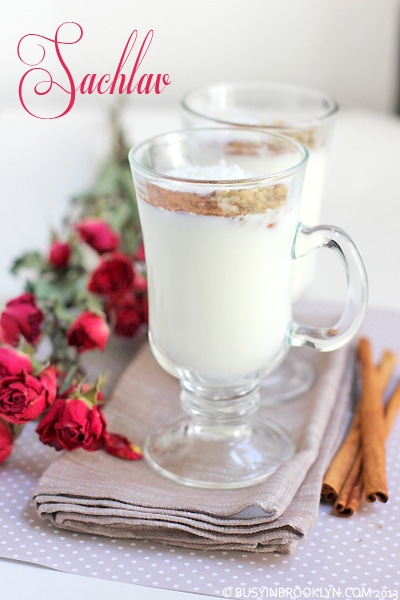 Sachlav (also pronounced sahlab, salep, or saloop) is a popular warm winter drink in the Middle East. Even though I spent an entire year living in Israel, this light rose water pudding made it past me somehow and my first taste of it was actually in a restaurant in Brooklyn, named Bissale. I was reminiscing about my Bissale experiences in this recent post, and the fragrant rose water drink just came back to me.
I thought a rose water scented pudding would be the perfect way to celebrate the holiday of Shavuot, when Jews commemorate the giving of the Torah at Mt. Sinai. It is told that Mount Sinai was covered in roses at the time the Torah was received, so many communities have a custom to decorate their homes and synagogues (as well as Torah scrolls) with roses. Persian Jews even refer to this holiday as the Feast of the Roses and in some Sephardic synagogues, it is customary to sprinkle rose water on the congregants.
Rose water, which is made by steeping and distilling fresh rose petals in water, is featured in many Sephardic desserts and pastries. It can be purchased at most Middle Eastern and specialty food stores.
Sachlav was traditionally made with ground orchid tubers called sahlab. The tubers of the orchid were dried and ground up to create a fragrant powder that thickens the milk into a pudding. Nowadays, cornstarch, which is cheaper and easier to find, is used to thicken the drink. Sachlav is usually finished with a touch of orange blossom or rose water, but some prefer to forgo the fragrant waters and garnish it with coconut, cinnamon and/or nuts and raisins.
Sachlav is usually served in the winter, like a Middle Eastern hot chocolate. Personally, I have a weakness for hot pudding (I always eat chocolate pudding boiling hot, right out of the pot) so I'm good eating it all year long. If you prefer a cold pudding, you can set the sachlav in the fridge, and serve it up like traditional malabi.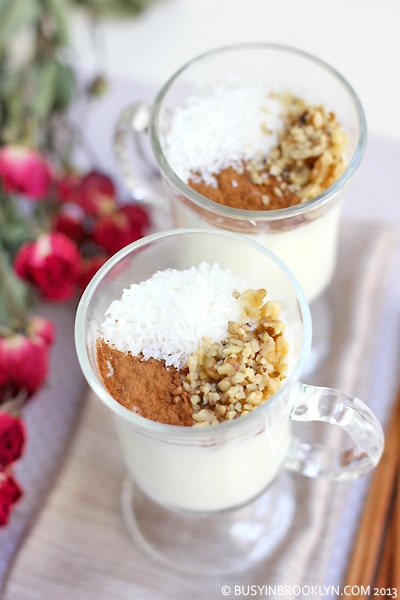 So what's malabi? It's a cold rose-water-scented milk pudding, that is pretty similar to sachlav, except it's usually garnished with raspberry syrup and pistachios. If you'd like to turn this recipe into malabi, simply pour into serving glasses, let cool and then refrigerate until set. You might want to garnish it with my strawberry rhubarb compote for a seasonal garnish that would compliment the rose water really well.
Sachlav (or Malabi) Rose Water Pudding
3 cups milk
4 tbsp sugar
5 tbsp corn starch
2 tsp rosewater
shredded coconut, chopped nuts and cinnamon, for garnish
Method:
Mix the cornstarch with 1/2 cup of the milk and set aside. Bring the remaining milk and sugar to a slow boil, watching that the milk doesn't scald or boil over. Slowly add the cornstarch mixture, whisking to combine. Cook over low heat, stirring constantly to keep lumps from forming. When pudding starts to bubble, and it coats the back of a spoon, add the rose water. Stir again to incorporate and pour into individual serving glasses.
Garnish with coconut, nuts and cinnamon and serve hot.
VARIATION: To make malabi, pour the pudding into serving bowls and set aside to cool. Cover with plastic wrap and refrigerate until set. Garnish with silan (date honey) and pistachios, raspberry syrup, or my strawberry rhubarb compote.
YIELD: 3 servings.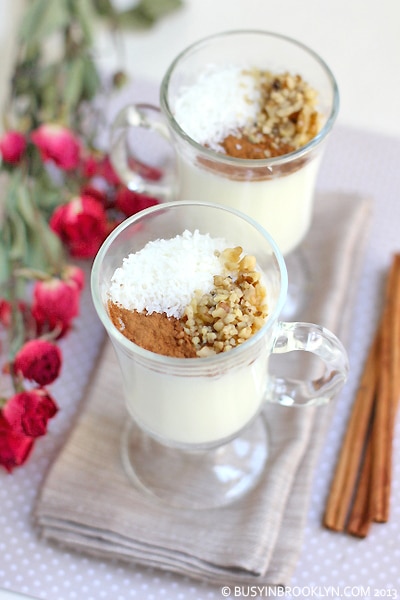 1 year ago: pesto & goat cheese crostini
2 years ago: sundried tomato olive tapenade