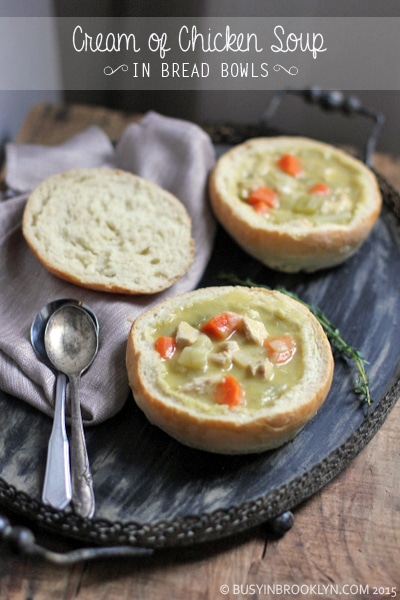 Winter has been good to us this year — so far. Besides for a few cold and blustery days, we haven't had much snow. In fact, today is just about the first day of real powdered white fluff that didn't melt when it hit the ground. Days like these call for hearty meals. The kind that involve fresh yeast and a creamy bowl of hot soup.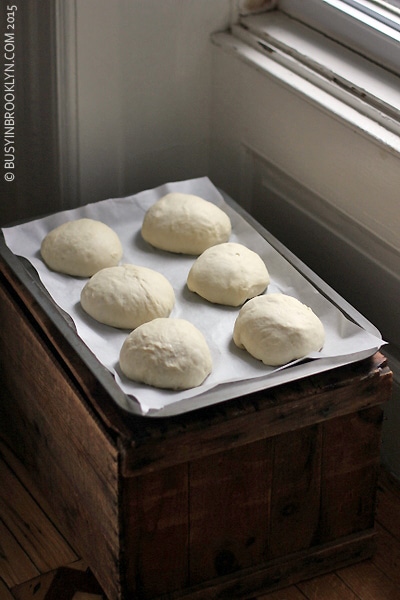 I'm really not one for baking doughs, but when I saw snow in the forecast, I decided to challenge myself to a comforting dinner of bread bowls filled with cream of chicken soup. It was so much easier than I had anticipated, mostly thanks to the new Bosch mixer that I bought myself for the New Year.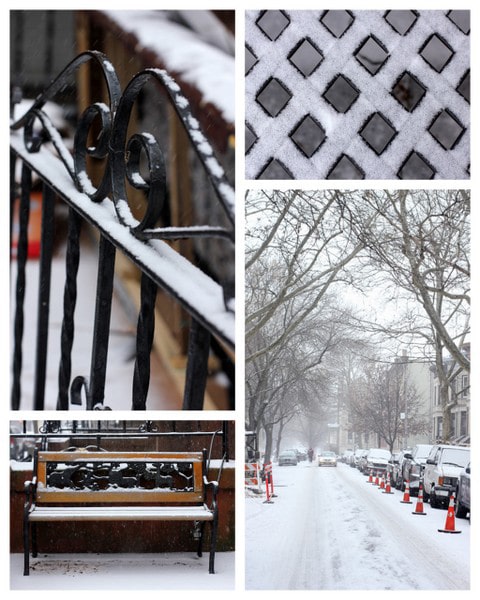 The Bosch makes dough-making so incredibly simple, I don't know why I didn't splurge on it 10 years ago! The only problem with baking up some yeasted breads and treats is that they are such a tease! I'm reserving my bread-making for special occasions, like snowy winter days like these.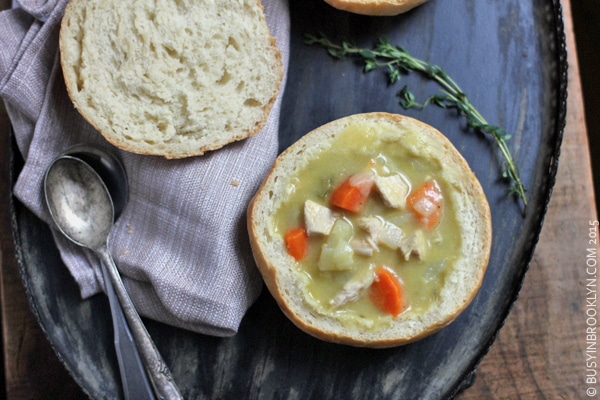 The only thing better than these easy soup bowls, is the comforting cream of chicken soup that goes in it. It's almost like a chicken pot pie, minus the puff pastry. I love to add potatoes for a hearty meal that kids and adults alike can enjoy.
Stay warm out there!
Cream of Chicken Soup:
1 medium onion, diced
2 cloves garlic, minced
2 carrots, peeled and diced
2 stalks celery, diced
2 russet potatoes, peeled and diced
1/4 cup olive oil
1/2 cup flour
1 bay leaf
2 sprigs of thyme
salt and pepper, to taste
6 cups chicken stock
2 cups diced cooked chicken (see note)
1 cup coconut milk (I use Coconut Dream Original)
Method:
In a large stockpot, heat half of the olive oil and saute onion and garlic until translucent. Add remaining oil, carrots, celery and potatoes and continue to saute until fragrant and softened. Slowly add flour, sauteeing continuously until the flour turns into a blond paste, about 3 minutes. Slowly add the stock, stirring continuously and add the bay leaf, thyme, salt and pepper. Bring the soup up to a boil, stirring throughout, so flour incorporates into the soup without lumping. Reduce the heat to low, cover the pot and cook until vegetables are completely tender, about 20 minutes. Stir in the chicken and coconut milk and adjust seasoning, if necessary. Simmer until thick and creamy, about 5 minutes.
NOTE: To cook chicken, place 2 large bone-in chicken breasts (skin-on) in a pan and season with salt and pepper. Drizzle with olive oil and bake at 400 degrees for 1 hour.
Bread Bowls
2 packets rapid rise yeast
2  1/2 cups warm water
1 tbsp sugar
2 1/2 tsp salt
2 tbsp olive oil
6 1/2 – 7 cups flour
Method:
Place the yeast, water and sugar in a large bowl and stir to dissolve the yeast. Let stand until foamy. Mix in remaining ingredients, starting with 5 cups of flour, and add more, as needed. When the dough has pulled together, knead it for a few minutes, until smooth and elastic. Lightly oil the dough, cover, and place in a warm place to rise for 1 hour. Punch down the dough and divide it into 6 equal portions. Place on a parchment lined baking sheet and rise for another 30 minutes.
Preheat the oven to 400 degrees. Place an empty sheet pan on the 2nd shelf of the oven. Brush the dough with eggwash and put the tray of rolls onto the first shelf of the oven. Immediately pour a cup of hot water into the empty tray below it and close the oven door.
Bake for 25 minutes.
Slice off the top of the bread bowl and scoop out some of the bread. Fill with soup and serve immediately.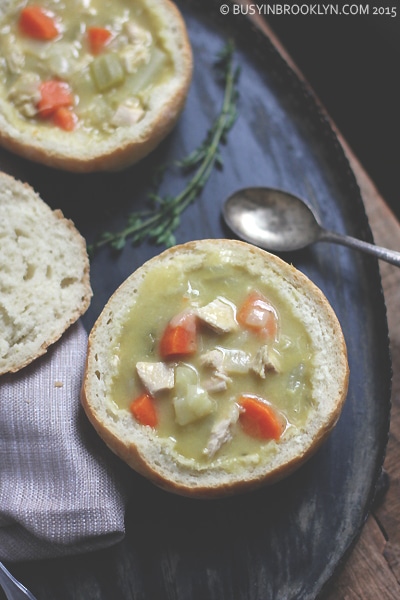 Related Recipes:
individual chicken pot pies
chicken pot pie croquettes
leftover turkey pot pie
pumpkin pot pie