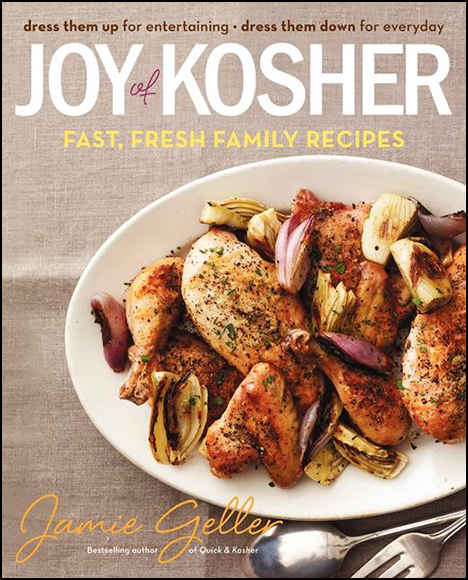 When Jamie Geller coined herself "the bride who knew nothing" I believed her. In her Quick & Kosher cookbooks series, Jamie shared recipes that were exactly as titled – simple, easy and quick dishes that the most novice of cooks could whip out of their kitchen. Some recipes were as simple as pairing store-bought barbeque sauce with shredded store-bought rotisserie chicken – now who can't do that?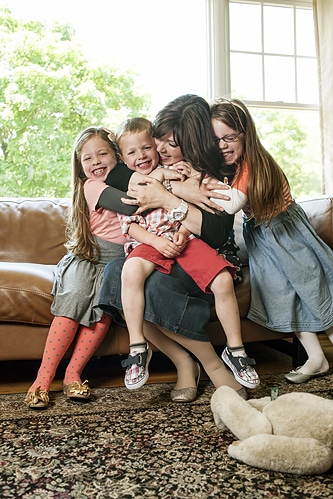 Being a fan of Jamie's spunky personality and can-do attitude, I owned both of her cookbooks and was familiar with all the recipes from the bride who knew nothing. Which is precisely why the Joy of Kosher cookbook swept me right off my feet. That clueless young bride that could not make a pot of chicken soup evolved into a sophisticated cook with innovative recipes that are as pleasing to the eye as they are on the palate.
I know that because I was lucky enough to attend Jamie's cookbook launch party where I sampled many of the dishes in the book including ktzizot (Israeli mini burgers), Meditteranean lamb skewers, cilantro corn cakes, mini slow cooker turkey spinach meatloaf, BBQ short rib sliders, fudge brownies, caramel apples with crushed candy and kiddie candy bark.  I was literally blown away by the amazing flavor in each and every dish. The cocktail meatballs with sweet and sour sauce were some of the most tender meatballs I'd ever had, and the carrot honey cake was an eye-opening experience for a honey-cake-purist like myself.
Recipes from the bride who knew nothing? Not anymore.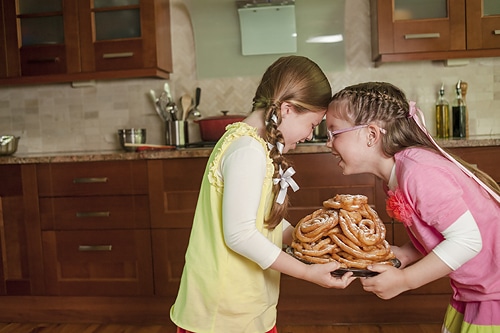 Browsing through Jamie's book, you'll find that she shares a lot more than just stellar recipes. She shares of piece of herself. With each chapter, Ms. Geller opens another door to her life and home, drawing you in like you're part of the family. An adorable one, I might add. As a food photographer, I don't know which I like more – the expertly styled food photos that jump off the page, or the out-of-this-world moments captured of her precious clan of five.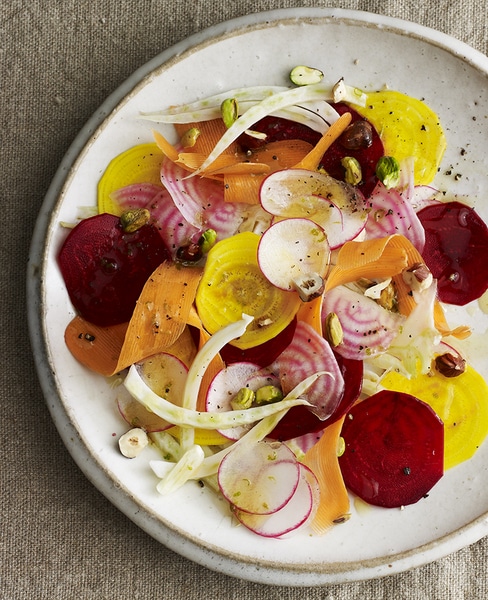 Aside from beautiful photos and mouthwatering recipes, Joy of Kosher packs it all in by offering a dressed up an dressed down version of each recipe. That means you can whip it up real fast for family, or polish it up for Shabbat or holiday meals. A handy holiday menu guide and Passover conversion table complete the book, making it perfect for year-round use.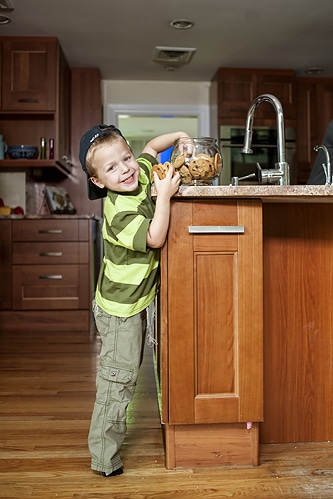 In honor of the upcoming holiday of Passover, I'm giving away a free copy of the Joy of Kosher cookbook! To enter, simply leave a comment below with your favorite Passover dish. You can also follow Busy In Brooklyn via any of the channels below for an extra entry. Just be sure to leave a note in the comment letting me know where you follow.
Facebook
Twitter
Instagram
Pinterest 
SAMPLE PASSOVER RECIPES FROM THE JOY OF KOSHER COOKBOOK: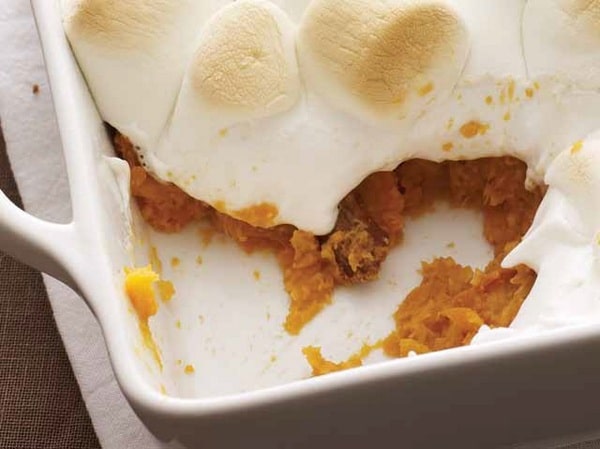 Sweet Potato Casserole
reprinted with permission from Joy of Kosher by Jamie Geller, William Morrow/Harper Collins Publishers
Cooking spray
2 1/2 pounds sweet potatoes (4 medium), peeled and cubed
4 tablespoons margarine
1 large egg
1 teaspoon vanilla extract
1/2 teaspoon kosher salt
1 cup coarsely chopped pecans
1 (10-ounce) bag marshmallows
Directions:
Preheat oven to 350 F. Cover potatoes with water in a medium pot and bring to a boil over high heat. Simmer until tender, about 15 minutes. Drain well and return to the pot. Add margarine, egg, vanilla and salt and mash with a fork or potato masher until slightly chunky. Stir in pecans.
Transfer to a greased 9-inch square baking dish and smooth top. Cover with marshmallows and bake for 12 to 15 minutes or until golden brown. Serve immediately.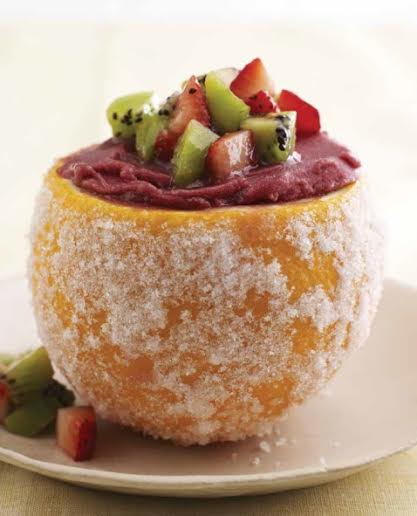 Sorbet Cups with Strawberry Kiwi Salsa
reprinted with permission from Joy of Kosher by Jamie Geller, William Morrow/Harper Collins Publishers
4 medium oranges, such as navel, tangelo or Cara Cara, rinsed
1/4 cup plus 2 tbsp granulated sugar
1 pint sorbet, your favorite flavor
1 cup hulled, diced strawberries
1/2 cup peeled, diced kiwi (about 2)
Grated zest and juice of 1 lime
1/2 tsp coconut extract (optional)
1 cup nondairy whipped cream
Sliced 1/2 inch off the top of each orange and reserve for garnish, if desired. Cut a thin slice off the bottom of each orange just so that the oranges can stand steady and upright. Carefully cut around the flesh and scoop out the insides of the oranges with a small sharp knife or grapefruit spoon (sace the orange segments for fruit salad or smoothies). Moisten the inside of the orange shell swith a little water and roll them in 1/2 cup sugar to lightly coat. Fill the shells with the sorbet and level of the tops so that you have a flat surface. Freeze until solid, 2 to 3 hours.
Make the salsa: Combine the remaining 2 tbsp sugar with the strawberries in a small bowl and let sit until juicy, about 15 minutes. Add the kiwi and lime juice and stir well.
Gently fold the lime zest and coconut extract, if using the whipped cream in a large bowl.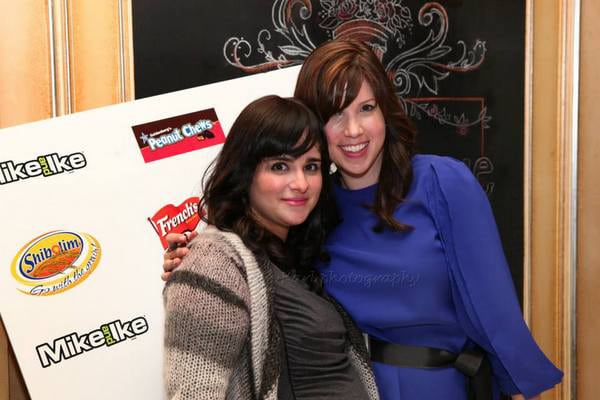 Jamie Geller and I at the Joy of Kosher Cookbook Launch Party