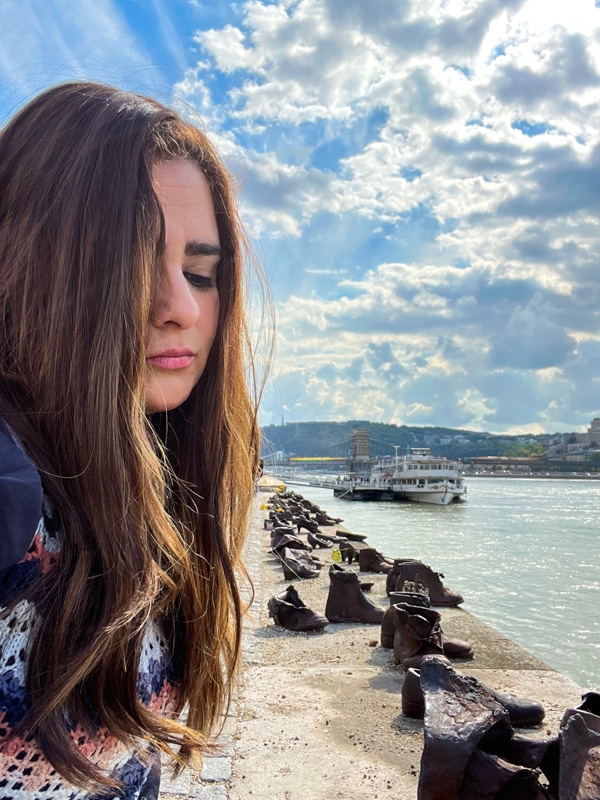 Shoes on the Danube Holocaust Memorial
BUDAPEST
Budapest was never really on my must-see list, to be honest, but for the past few months, I had been hearing miracle stories about the holy tzaddik, Reb Shayele of Kerestir. His great-grandaughter, Chaya Suri of Spice & Zest had shared about her trip to his gravesite in the Tokaj region of Hungary with me and I was intrigued. So on a whim, I posted on my Instagram story one day, "Anyone here from Budapest"? Not 10 minutes later, I received a DM from Sophie Bassman, who along with her husband Tzemi and their adorable baby, run the CTeen program for young Jewish teens in Hungary. Sophie is the absolute sweetest and she encouraged me to come for Rosh Hashanah to experience the 10-person choir in the 200-year old shul in her community.
I happened to be free for Rosh Hashanah so I decided to throw caution to the wind and go for it! Sophie put me in touch with Avi Klein, a longtime resident of Budapest with an immense knowledge of Jewish history and culture in the region. Avi helped plan my itinerary, and three of my girlfriends decided to hop along for the ride!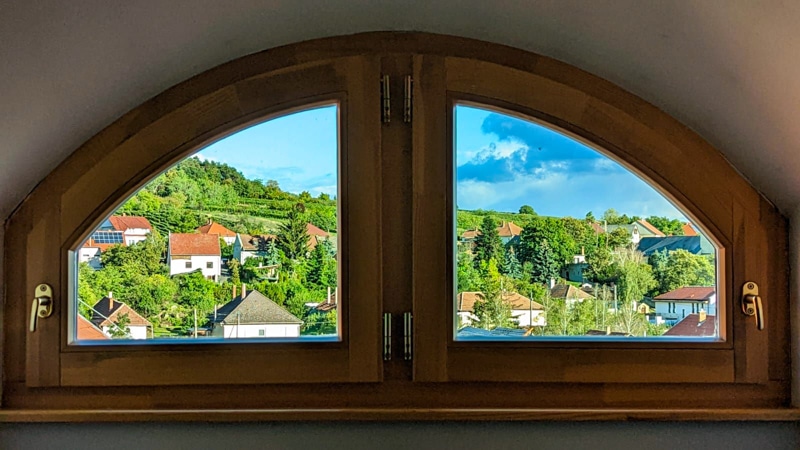 View of the city from the Museum in Mad
THE PLAN:
THURSDAY: arrive in Budapest, drive to Kerestir to Reb Shayale's gravesite, visit the surrounding area
FRIDAY: tour of Budapest with Sophie and a tour guide
SHABBAT: stay in Obuda
SATURDAY NIGHT: the Castle District
SUNDAY: Szentendre
MONDAY-TUESDAY: Rosh Hashanah in central Budapest
WEDNESDAY: Return Home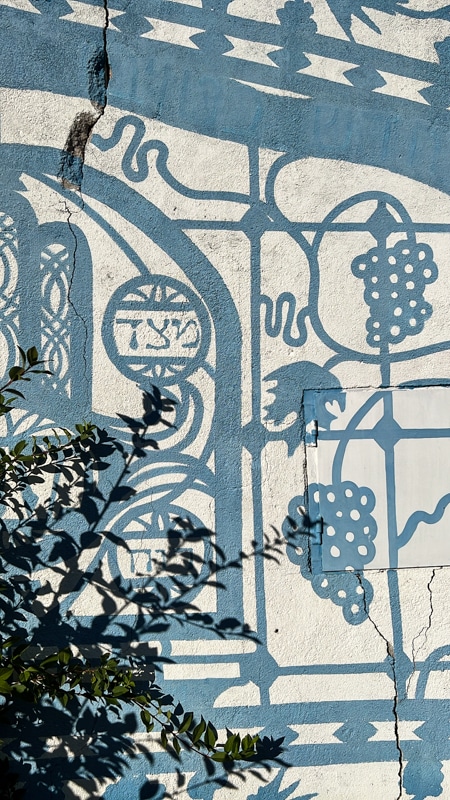 Winery in Mad in the Tokaj region
KERESTIR
Avi picked us up from the airport and we began our journey to Kerestir (a 2 1/2 hour drive) as he shared with us stories about Jewish life in Budapest. As we neared Tokaj, the wine region of Northern Hungary, the view was breathtaking. We stopped in the city of Mad, which is filled with wineries, many of which used to be Jewish homes. We visited the 250 year old synagogue followed by the museum, right outside the synagogue, which is filled with historical artifacts. There is a hotel above the museum where you can stay if you are visiting. The views from the area are absolutely magical!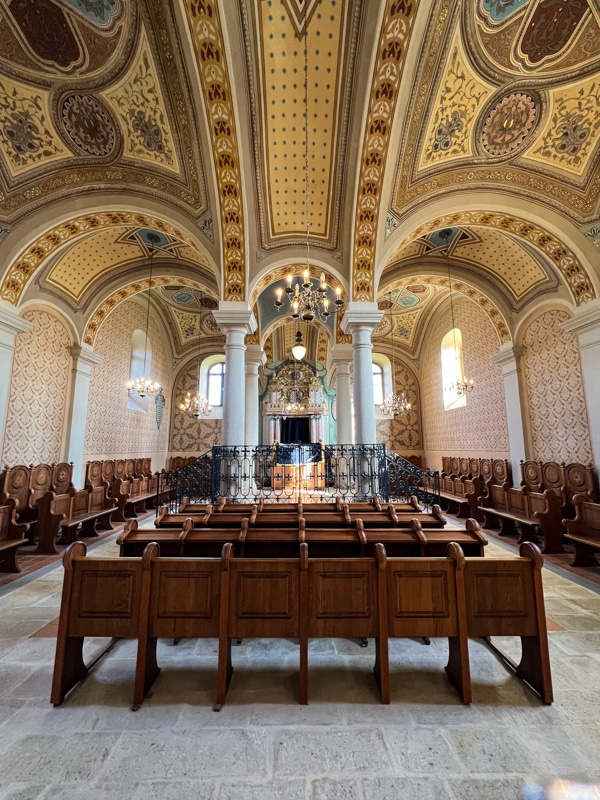 Synagogue in Mad
We then stopped by the gravesite of the Kol Aryeh, and the Jewish cemetery, which sits amongst the most beautiful vineyards.
We continued on to Reb Shayele's house, the actual home of Reb Shayele, which now acts as a guest house for those visiting, offering food, accommodations, Shabbat meals, an active synagogue and mikvah.
Reb Shayele, Rabbi Yeshaya Steiner, served as the Rabbi of Kerestir from the end of the 19th century until his death in 1925. He was known for his great hospitality and charity. The "Malva Malka" meal, held on the eve of Shabbat, was always a large affair. They continue that tradition today, where a feast is held every Motzei Shabbat.
The operation in Reb Shayele's house is impressive – you can visit Reb Shayele's original kitchen where he baked challahs and the expansive kitchen (they are currently building an even larger one!) where they prep meals for visitors around the clock, continuing in the tradition of Reb Shayele.
We prayed in the study where Reb Shayele met with people and gave them blessings and heard the shofar in the synagogue next door. And then we sat down to a beautiful meal that was served to us in the dining room upstairs. Finally, we were off to Reb Shayele's resting place, just a short drive from the house. We were greeted with Jews of many different denominations dancing together, it was a beautiful scene and a spiritually uplifting experience.
They say that when you ask Reb Shayele for something, you must return back to say thank you when it comes true, so I hope to be back soon!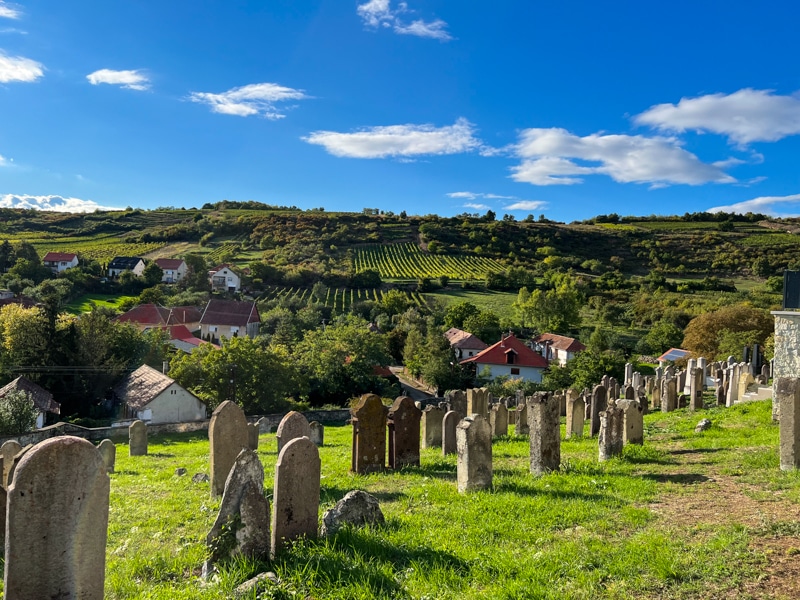 Jewish Cemetary overlooking the vineyards in Mad
Places to stay in Kerestir:
If you are considering visiting Kerestir, there are both Reb Shayele's House (Rubin) and Reb Shayele's Guest House (Friedlander) which offer meals, accommodations, a synagogue and mikvah. For a truly unique upscale experience, stay at Reb Shayele's Hotel which boasts a jacuzzi, outdoor oven, wine cellar, luxurious and modern accommodations with a kosher kitchen, they even have a sauna!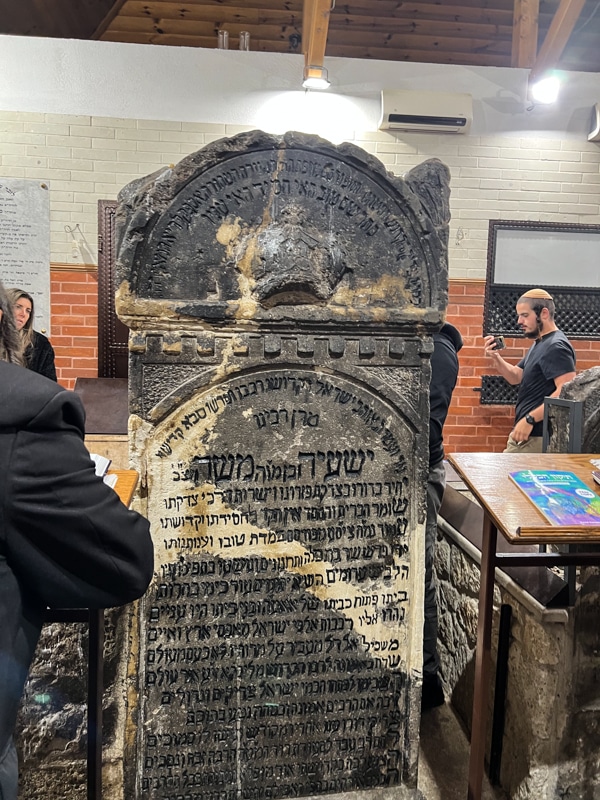 Gravesite of Reb Shayale of Kerestir
BUDAPEST
Separated by the Danube River, Buda and Pest form the two halves of Hungary's capital, linked by the famous Chain Bridge since 1849, forming Budapest. Buda is the quieter, more residential side of the city and Pest is more of a tourist destination. For Shabbat, we stayed in Óbuda (literally Old Buda), the oldest part of the city, where Sophie lives (her apartment overlooks a Roman colosseum!). The Romans built their capital, Aquincum in Óbuda, and we actually stayed at the Aquincum Hotel (it comes from the word aqua, in honor of the numerous thermal springs that Budapest is so famous for). While the hotel itself is nothing to write home about, the thermal baths downstairs, along with the sauna and steam rooms are absolutely incredible.
The Aquincum is literally next door to the Óbuda synagogue, a 200 year old shul that was restored 12 years ago by Chabad of Budapest. It had been used as a news station by the Nazis.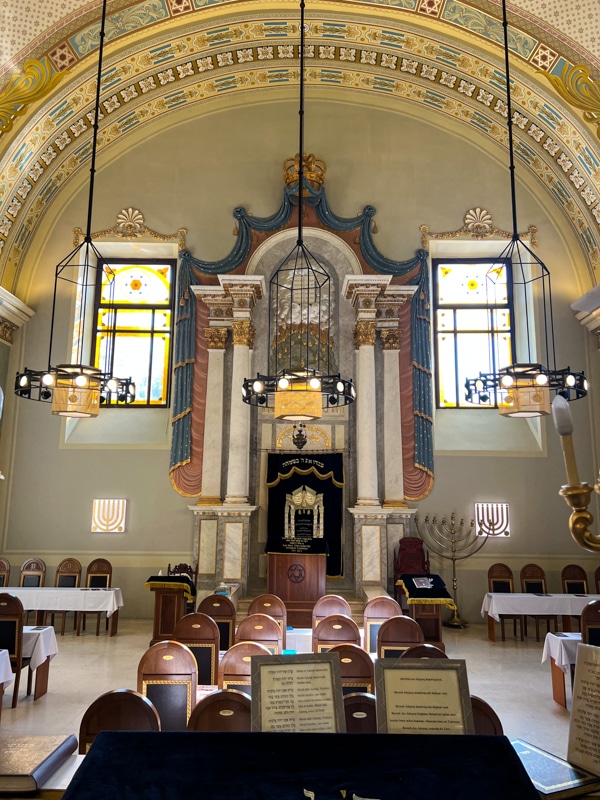 The Óbuda Synagogue
After settling in to our hotel, Sophie took us on a little walk through the neighborhood and then to have breakfast at Brooklyn Bagel, a cute kosher bagel shop that is housed in a magnificent Chabad house in the city. From there, we headed to the parliament, one of the most beautiful buildings in Budapest, followed by the Shoes by the Danube holocaust memorial at the Danube River. The memorial was one of the most poignant ones I've ever visited, in memory of the 20,000 Jews who were shot along the Danube River. The Nazi's used to tie groups of Jews together, so they could save on bullets, and they would shoot one, causing them to all drown together.
We then met with our tour guide, Benjamin Keszler, at the Dohany Street Synagogue, the largest synagogue in Europe and the third largest in the world! Benjamin shared a lot of Hungary's Jewish history with us as we explored the the stunning shul, the burial grounds right outside the shul, where 2771 bodies had been dumped in a mass grave by the Nazi's as well as the many memorial structures around the area. We then walked around the Jewish Ghetto, stopping by several sculptures and historical spots in the neighborhood.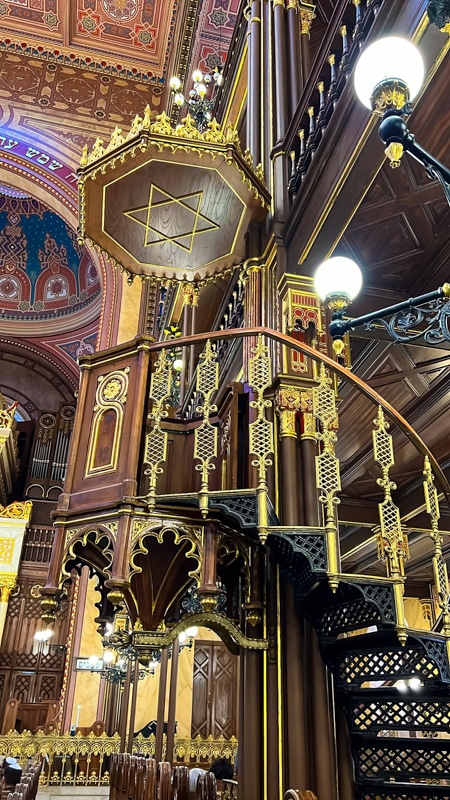 The Dohany Synagogue
Over Shabbat, we were lucky enough to spend time with Rabbi Koves, the fascinating Hungarian Chabad Rabbi who has made it his life's mission to reclaim all the synagogues in the area and restore them. We had meals at the Óbuda shul, where everyone was so welcoming and the food was delicious!
On Saturday night, we headed to the Castle District and Fisherman's Bastion which is famous for its Medieval, Baroque, and Neoclassical houses, churches, public buildings, and monuments that date back to the Middle Ages. They are in the process of excavating the site of the synagogue of Buda there that was built in 1461! You can also find Houdini's house in the area (did you know he was Jewish? His name was Arik Weiss!).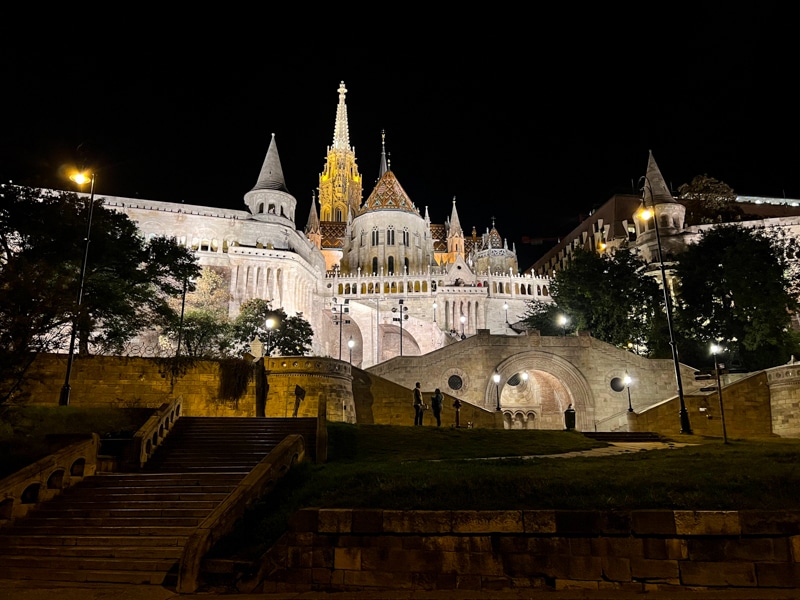 Fisherman's Bastion
After the castle, we headed for some drinks to 360° rooftop bar, followed by a trip to the popular bathhouse Szechenyi, because the bathhouse experience is a must if you're visiting. Just don't go on Saturday night, trust me. You're welcome!
We finished our night at Gozsdu Udvar, which is the main hangout area in the city (ironically found in the Jewish Ghetto) filled with gastropubs, bars and lots and lots of karaoke joints!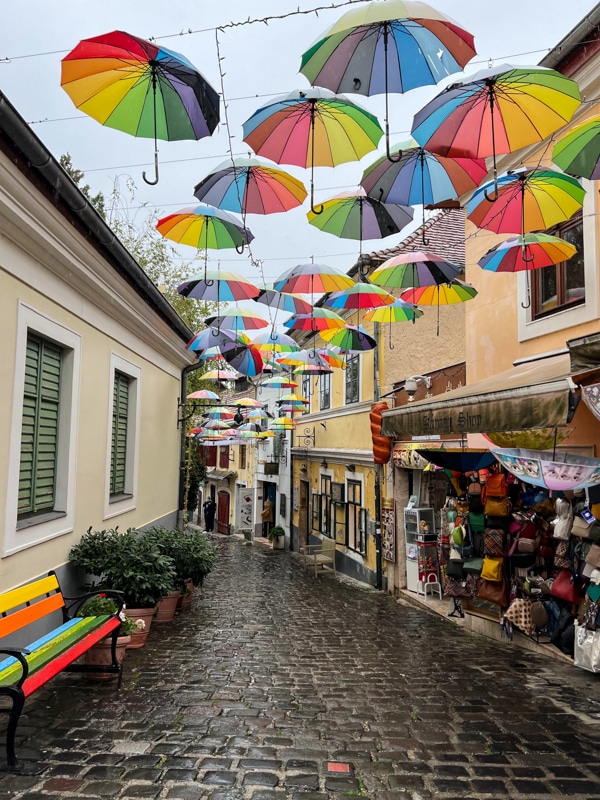 Street in Szentendre
SZENTENDRE
After settling in to our beautiful Prestige hotel in central Budapest, we took a Bolt (Uber) to the artist colony of Szentendre. It was a rainy day, but nothing could put a damper on the cute and colorful town on the banks of the Danube. The town features many unique little shops, where I picked up the cutest gifts for my kids (I even found an apron with a goulash recipe written in Hebrew!) as well as the world's smallest synagogue! We visited an award-winning potter, many lavender stores (the Tihany lavender fields are a popular Budapest destination), handmade jewelry shops, toys, trinkets and more!
ROSH HASHANAH IN BUDAPEST
It's hard to put it into words, but the Jewish New Year in Budapest was a truly special and inspiring experience. It all felt so divinely orchestrated – where the holiday took us, the people we met and the places we visited.
On the first night of the holiday, we joined Rabbi Raskin of Keren Or Chabad for his festive holiday dinner at the Marriott hotel. It was filled with over 1000 Jews from around the world, mostly Israelis. At our table, there was a French businessman who had come in for work that morning, and an Israeli family on vacation. At the table next to us, sat a group of secular Israelis with mohawks and tattoos. Everyone was greeted with love and open arms, and we all did the seder simanim together and sang songs in Hebrew. It was so special and meaningful to be a part of it and to see the amazing work of Chabad, knowing that most of the people there would not have celebrated the holiday if not for them.
To me, it was a reminder that A JEW IS A JEW IS A JEW. When the Nazi's rounded up the Jews on the banks of the Danube, they didn't care how religious they were, or what sect of Judaism they belonged to. And being in that room, you could feel the Jewish pride and unity.
Shoes on the Danube Memorial
For the first day of Rosh Hashanah, we walked all the way back to Óbuda , an hour and 15 minutes each way, to experience the 10 person choir that Sophie had told me about and boy was it worth it! To be praying in a historical synagogue, with the most soul-stirring songs of prayer echoing around us, was truly special. I began to cry, and an old lady sitting next to me came over and gave me a hug. She told me how her grandmother had died in Auschwitz, and how she had no family left. "Don't cry", she said, "everything is going to be ok."
On our walk back to Budapest, we stopped at the Shoes on the Danube memorial to do tashlich. What a touching experience!
The second night of Rosh Hashanah, we went to the Pesti Shteebel, with Rabbi Oirechman, who set up beautiful tent outside the small shul that had been vacant for 50 years! When they opened it, they found an open newspaper and a pair of glasses just sitting there. We heard a first person account from someone who had been raised as a catholic only to find that he was Jewish when his mother left her passport on the table and he saw a Jewish name. For years he refused to acknowledge his Jewish identity and he would go to the synagogue but leave whenever the Rabbi started to speak. One day, someone tapped him on the shoulder and asked him, why do you leave? He answered, I have 6 million reasons! And the man responded, Hitler is smiling right now. Right then and there, the man decided to become a practicing Jew. He runs the organization in Hungary that cares for holocaust survivors.
After an inspiring dinner, we headed to the Dessewffy synagogue, a small shteebel that is over 250 years old and hosts a karliner congregation.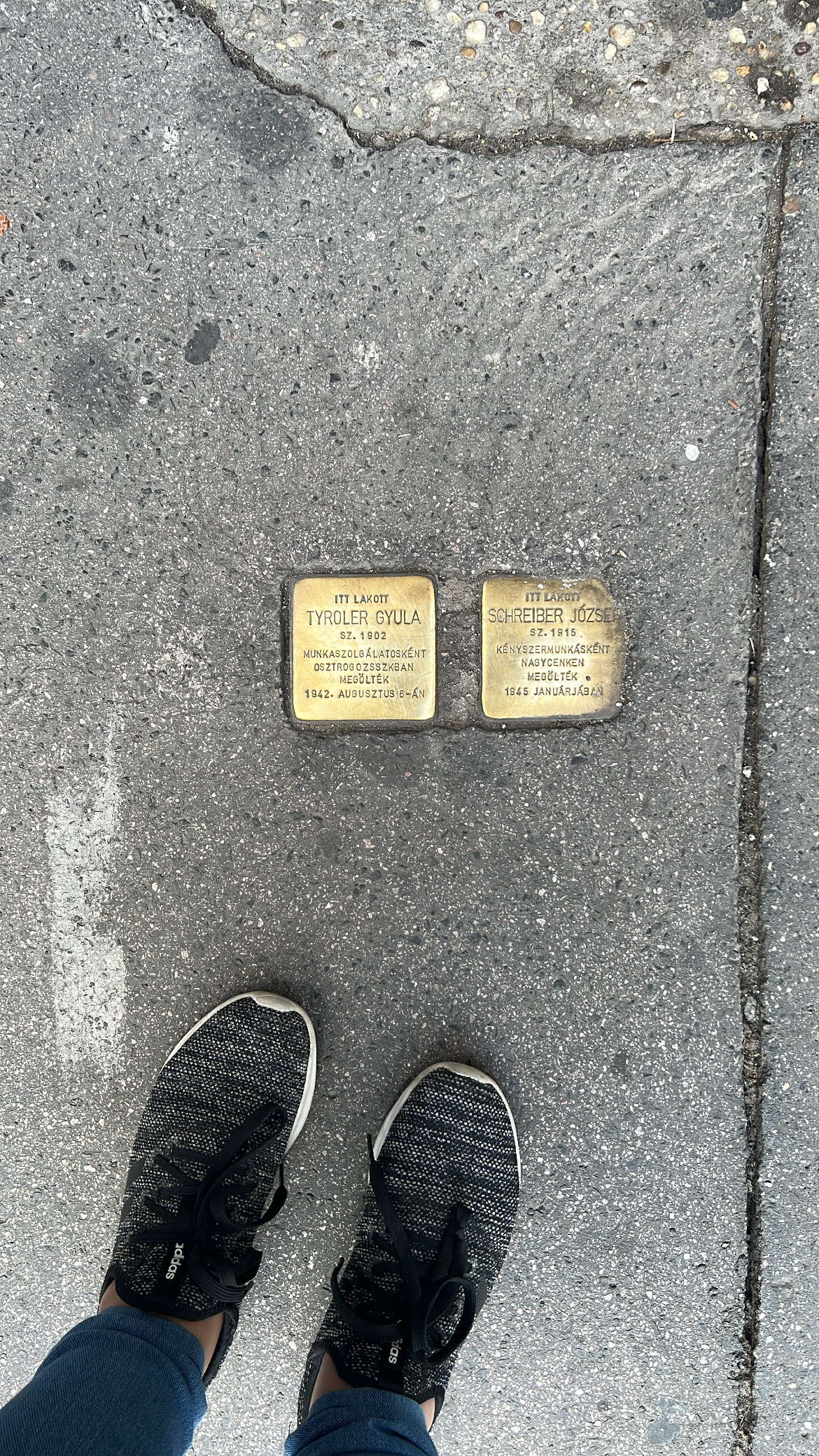 Stumbling Stones, memorials marking the homes of Jews who perished in the holocaust
The 2nd day of Rosh Hashanah, we went shul hopping, starting off at the magnificent Rumbach shul, which was converted by the Nazis to their radio station headquarters but later restored. Just as we were walking in, the small group (just over a minyan!) was starting Avinu Malkeinu. We got a chance to kiss the Torah and pray with the grateful congregation. After that, we headed to the breathtaking Kazinczy shul which the Nazis converted into horse stables but was later restored. Just as we walked in, they began the blessing for blowing the shofar! We stayed for the shofar blowing in the mostly empty synagogue, taking in it's beauty and Moorish design.
We finished our tour and prayers at Keren Or, where we joined Rabbi Raskin for the final holiday meal.
After the holiday, Avi took us for one last tour of the city, stopping at different memorials as well as the Anantara New York Palace hotel, where Titanic was filmed. We finished our tour back in the Jewish Ghetto, at Kazinczy street, where we checked out some of the Hungarian street food vendors at Karavan. Of course it wasn't kosher, but it was interesting to see the different types of Hungarian food, including Goulash, of course!, Chimney Cakes (Kürtőskalács!) and Lángos!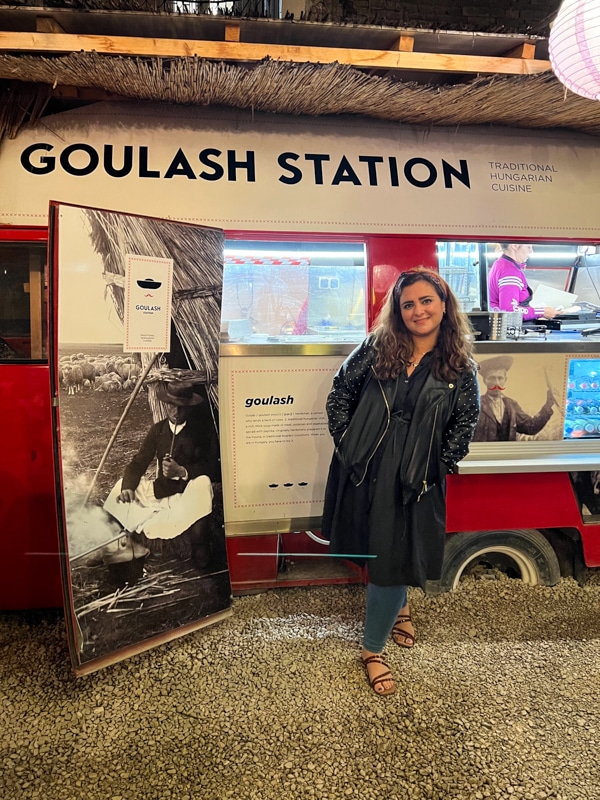 Karavan, local food trucks serving Hungarian classics
The next morning, we headed to the airport, stopping just 10 minutes away at the gravesite of the holy tzaddik and Rabbi of Budapest for over 50 years, Rabbi Shimon Oppenheim (he lived to be over 100!).
While I only got to see a fraction of Budapest and it's surrounding areas, I'm so grateful for the deeply inspiring and beautiful experience I had there over the holidays. If you love Jewish history and culture, it is definitely a worthwhile visit!
If you have some time, I would definitely recommend visiting Slovakia, which is very close by, as well as Vienna, just a short train ride away.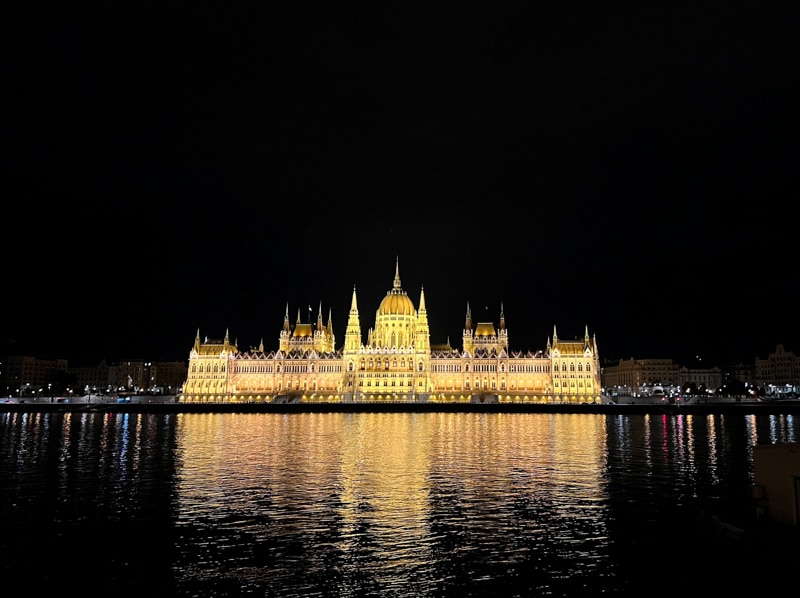 The Parliament
TRAVEL INFORMATION:
If you're looking for help planning your Budapest trip, or visiting Kerestir, or you'd like to stay at Reb Shayele's Hotel, contact Avi Klein +972 52-720-0300 or DM @reb_shayeles_kerestir
Kosher in Budapest:
Brooklyn Bagel, dairy, Újpesti rkp. 1 · In Zsilip Synagogue
Tel Aviv Cafe, dairy, Kazinczy u. 28
Hanna, meat, traditional Hungarian, Kazinczy u. 29
Carmel, meat, Middle Eastern, Kazinczy u. 31
Hamsa, new high-end restaurant 2 hours away, Debrecen, Piac u. 5-7, 4025 Hungary
Kosher market, very well stocked with dairy, meat, bread, and imported packaged goods, Kazinczy u. 28
Shabbat meals at Keren Or Chabad can be reserved at the Chabad House here.
How to get around:
There is Uber in Budapest – it's called Bolt. Just download the app, it's really easy!
Money:
You would be surprised but many vendors did not take credit card, so make sure to exchange money at the airport and have it on hand with you.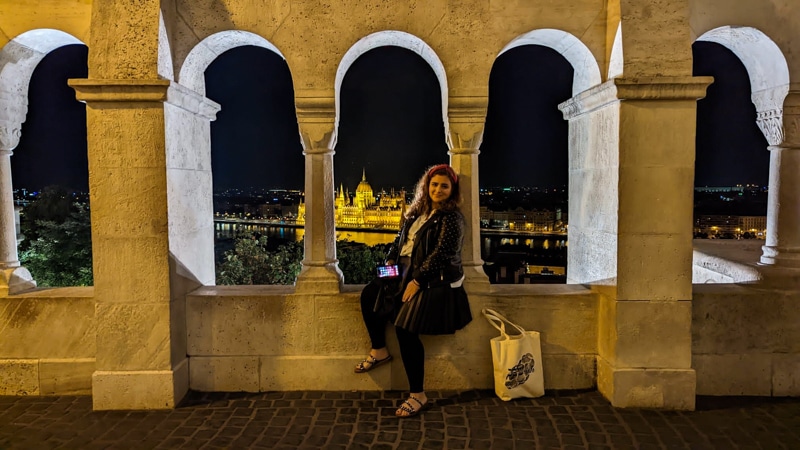 The Castle District
Some Main Attractions to Visit:
The Parliament
The Castle District
Fisherman's Bastion
Budapest Eye
Széchenyi Thermal Bath or Gellért Spa
Margaret Island
The Opera House
Shoes on the Danube Memorial
A few of the grand synagogues (Dohany, Rumbach, Kazinczy)