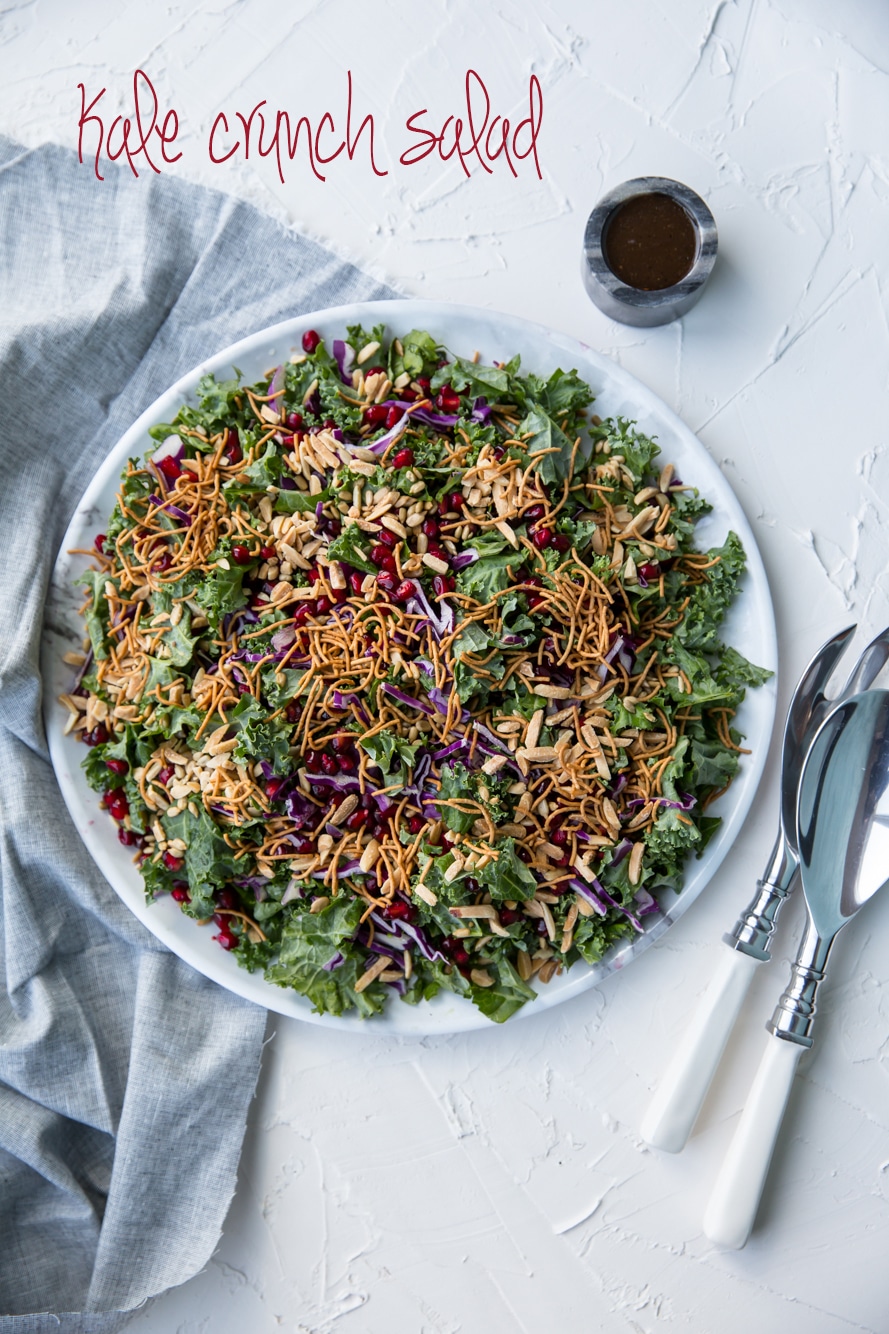 All I can say is even though I had a boatload of this salad on Shabbos, and then again yesterday when I photographed it, I need it again like NOW, and that, my friends, is a sign of a delicious salad – one you want to eat over and over and over again!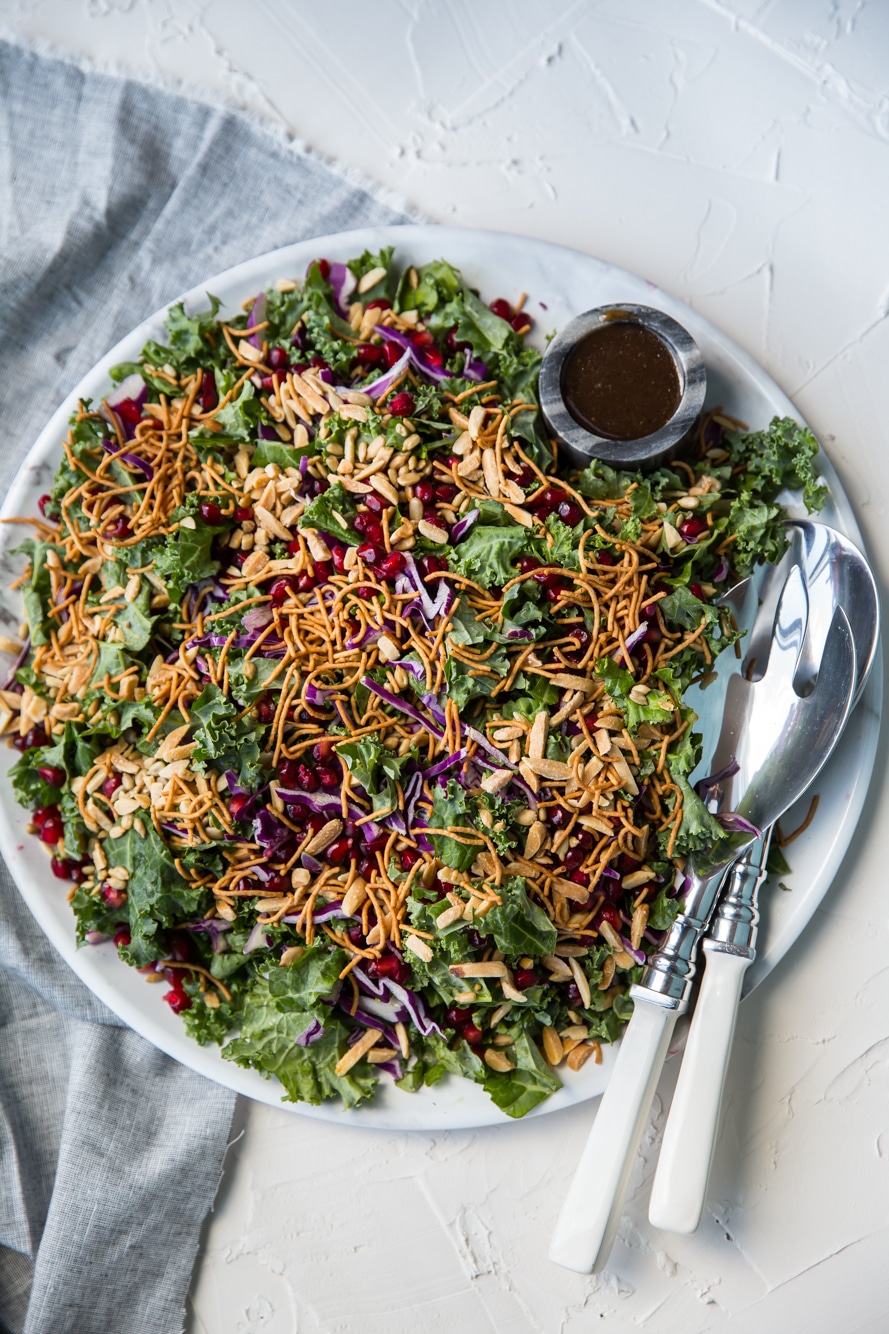 Yes, the flavor combo is bomb but what really makes this salad extra special is all the crunchy elements and it's like a party in your mouth. A party!!!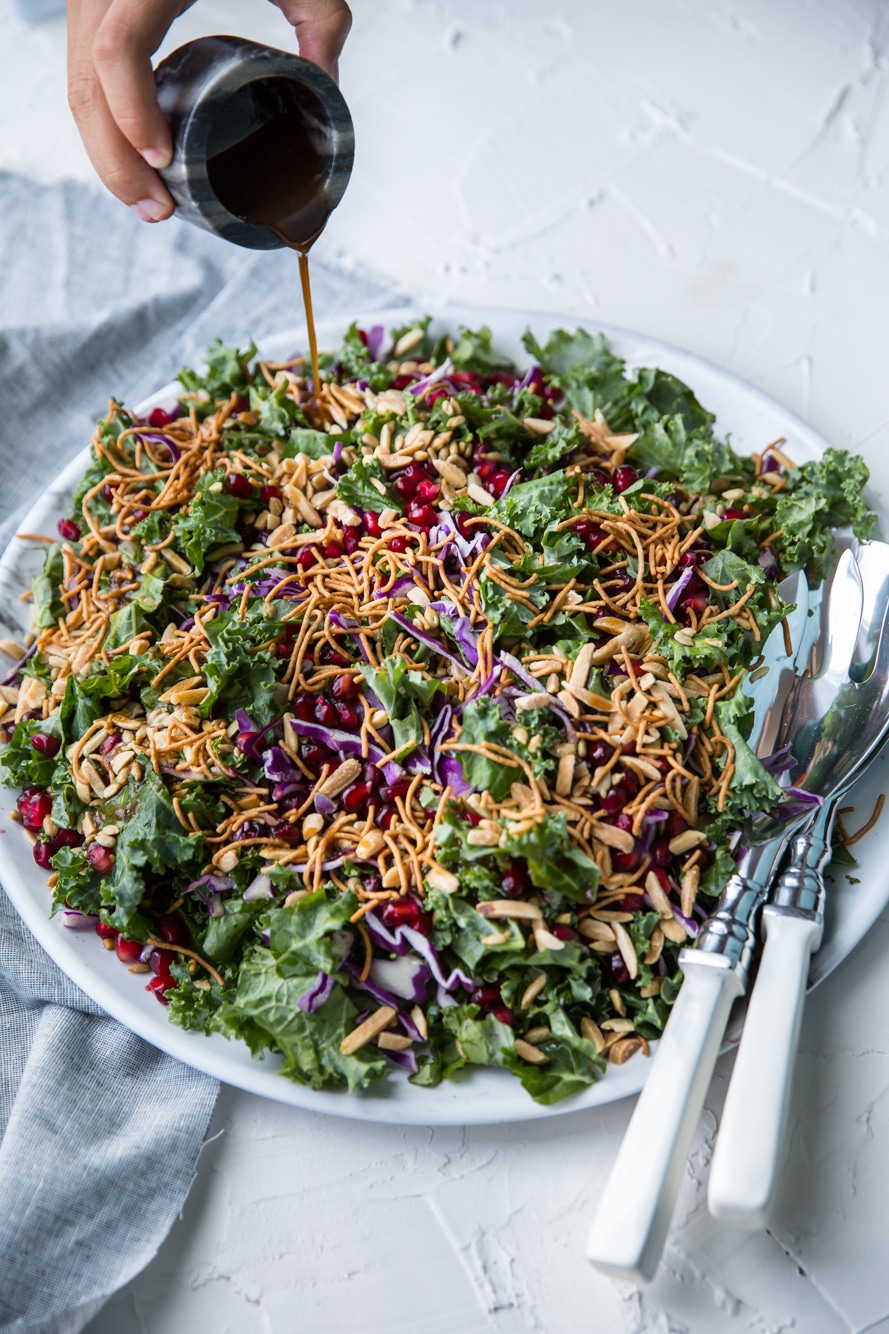 I debated calling this the Cruciferous Crunch Salad but then I tried to say cruciferous on my Instagram and I ended up saying cruciferouSH, so I nixed it lol! Kale Crunch Salad has still got that alliteration ring to it that I love, so we're going with that!
What is really great about this salad is that it's really adaptable – sub in your favorite candied nuts, seeds and croutons,  the important thing is you want things with lots of different textures in every bite.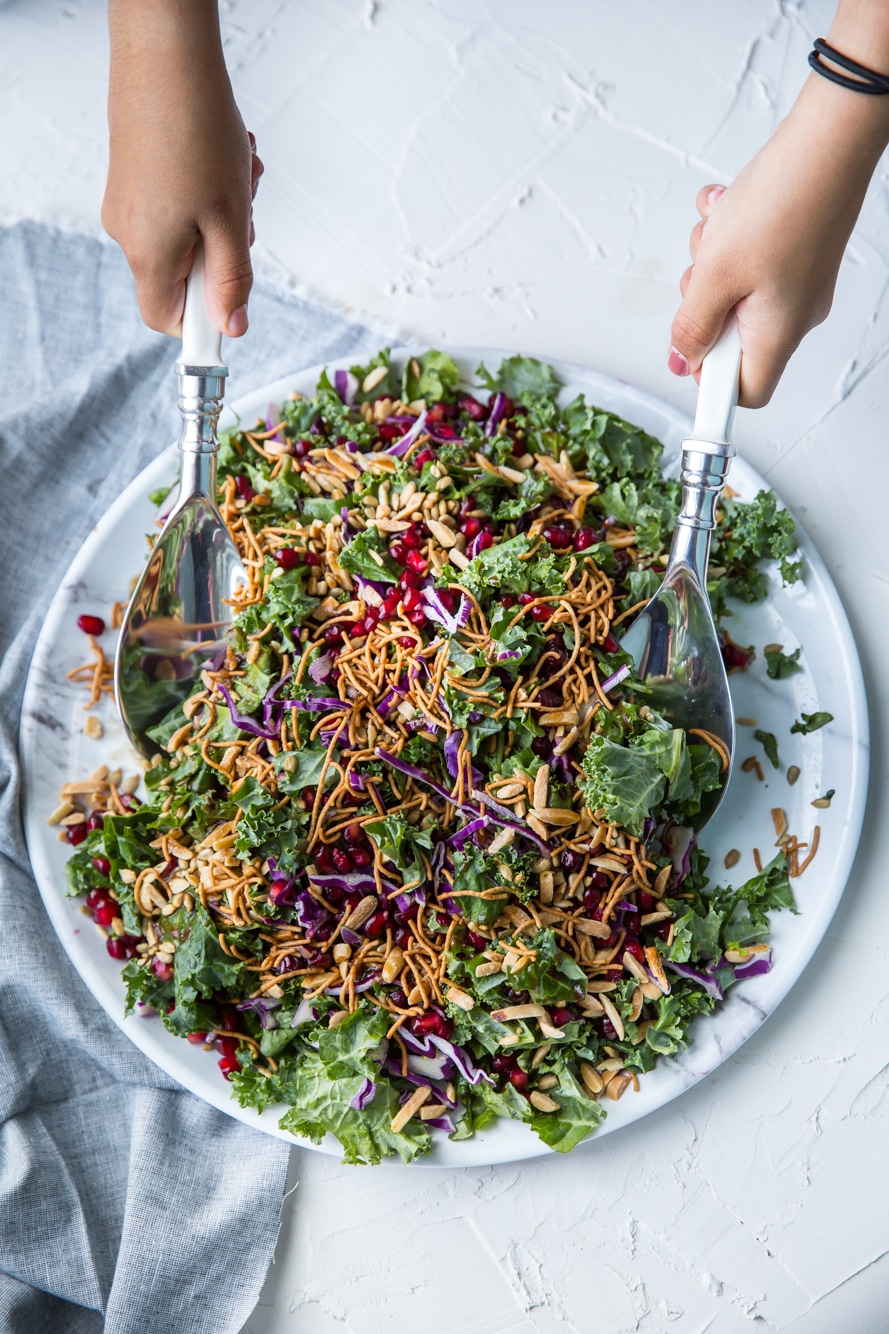 And with Rosh Hashanah just a few short weeks away, we're hoping on the pomegranate train and I couldn't be more excited!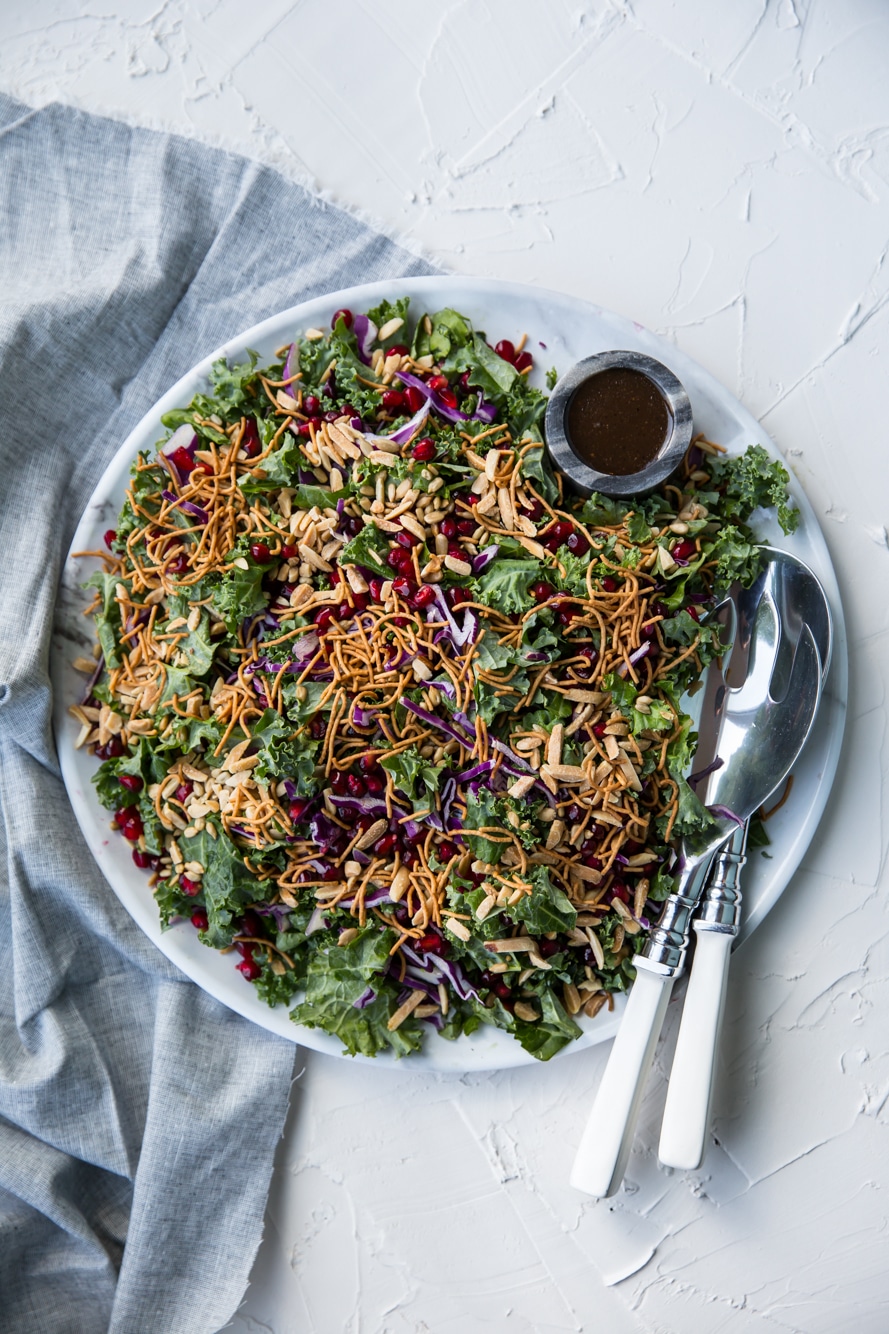 Kale Crunch Salad
YIELD: 6 servings
4 cups kale
2 cups shredded red cabbage
1 cup pomegranate seeds
1/4 cup roasted & salted sunflower seeds
1/3 cup candied slivered almonds
1/3 cup crunchy rice noodles, such as La Choy brand
Dressing:
1/3 cup grapeseed or light olive oil
3 tbsp balsamic vinegar
3 tbsp honey
1 tbsp Dijon mustard
1 clove garlic, minced
Salt and pepper, to taste
Method:
Spread the kale out on a platter or bowl. Mix the cabbage into the kale. Top with pomegranate seeds, sunflower seeds, almonds and rice noodles.
In a small bowl, combine dressing ingredients and whisk until thickened.
When ready to serve, toss the salad with the dressing.
VARIATION: use pumpkin seeds instead of sunflower seeds and any type of candied nut instead of the almonds or croutons or chow mein noodles instead of rice noodles.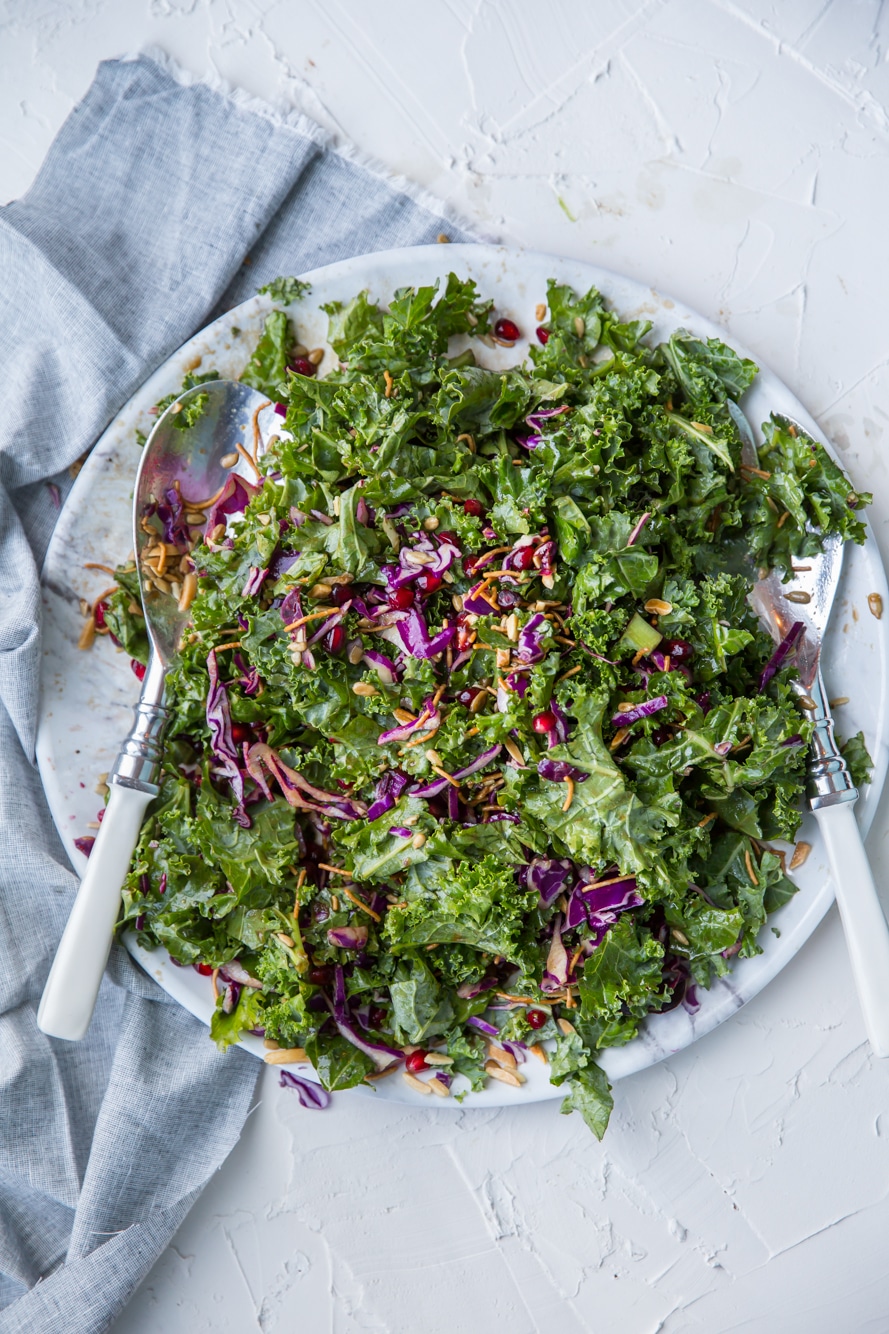 Related Recipes:
smoky kale and farro salad with balsamic fig dressing
wilted kale and kabocha squash salad
fall farmer's market salad
kale persimmon salad