Although I've been married for 12 years, I have yet to make my own Passover. And I plan to avoid it at all costs, as long as I can. This year though, my mom and in-laws are both going away, so it's looking more and more like I might have to finally bite the Passover bullet (unless one of you want to invite me over!). Making Passover means I'll have to stock up on kitchen essentials, which got me thinking…What are my kitchen essentials? It's a question that's often asked at my cooking demonstrations, and I think it's about time I share them with you!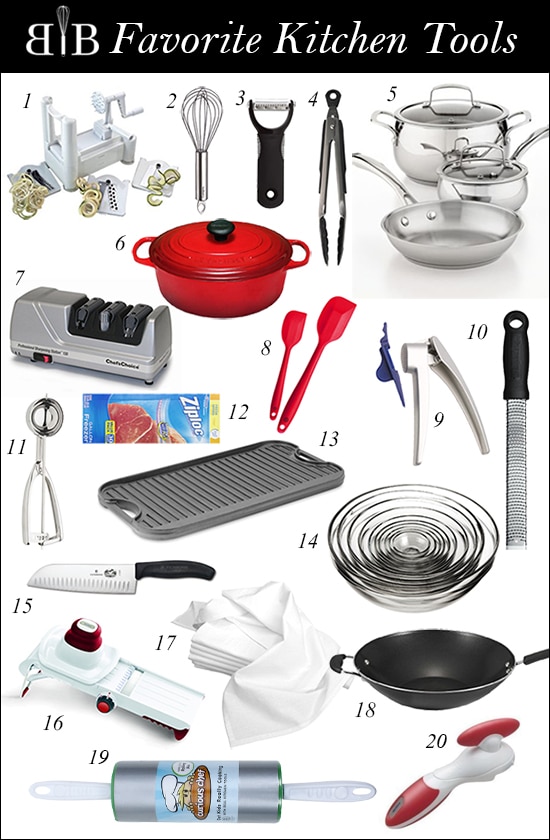 Take the time to read through each and every recommendation, as they are chock full of kitchen TIPS as well as TOOLS, enjoy!
1. Paderno Spiralizer This handy kitchen tool creates noodles out of a variety of vegetables creating endless possibilities. I make pizza crusts, burger buns, noodles, curly fries and rice – all out of veggies! It is truly the perfect tool for those looking to reduce their carb intake – especially during Passover! The newest version includes 4 blades, but I love the classic 3-blade spiralizer which creates ribbon noodles, thick udon-style noodles and thinner spaghetti noodles (the newer model also includes an angel-hair-noodle blade).
2. Mini Kitchen Whisk I love this for emulsifying salad dressing, mixing sauces and more! You can never have too many whisks in the kitchen! That's why I chose it for my logo!
3. OXO Julienne Peeler This is my go-to tool for quick and easy zoodles (zucchini noodles) or julienned carrots for the soup. It's super compact and easy to use so you can make salads like these. Note that I have tried other brands and I recommend the OXO only.
4. Kitchen Tongs I use kitchen tongs on a daily basis. I have several, in many different sizes. It's great for removing items from a pot, stir frying, stirring noodles, handling meat or poultry on the BBQ, serving salads, and even juicing citrus! See my kitchen tips (#1) for more on that!
5. Belgique Cookware I purchased the Belgique cookware set at Macy's when I got married, and it has carried me through years of cooking! My pots still shine beautifully, cook evenly and clean wonderfully. I am IN LOVE with my pots. The only drawback is that they stopped making stainless steel lids (which is what I have) and they only come with glass lids now. I'm not a fan of glass lids because they can crack, but as far as pots go, you get a real bang for you buck with this set. I love it so much that I even purchased additional pieces of open stock over the years, like this sauteuse. Please note that I cannot vouch for the quality of the current model!
6. Le Creuset Dutch Oven I don't think I would have ever bought this pot, had I not won 2nd place in a Mushroom Contest for this recipe, which awarded me a $500 gift certificate to Williams Sonoma. When I got the gift card in the mail, I knew exactly what I was going to buy! A dutch oven allows you to cook on the stovetop as well as the oven – making things like braising super efficient. When I started cooking my roasts in a dutch oven, the results did not compare to those I made previously. These heavy cast-iron pots are perfect for soups, stews and even breadmaking. If there's one expensive item you splurge on in the kitchen, make it a dutch oven.
7. Professsional Knife Sharpening Machine People ALWAYS ask me what knife I use and I always say the same thing: it's more worthwhile to invest in a knife sharpener than it is to invest in a knife. I use a budget friendly Santoku knife (see #15), which I sharpen regularly, making it good as new! One of the most dangerous tools in a kitchen is a DULL KNIFE because it requires you to use more pressure, which can result in injuries. A sharp knife does the work for you, no pressure required. Granted, I splurged on a pricier model (using the leftover money from my Mushroom Contest win), but you can easily purchase a more budget-friendly option. There are also other methods of knife sharpening, like using a whetstone, but it gives me the chills so an electric sharpener is my preferred method.
8. Silicone Spatulas These are a must-have for every kitchen! I use mine to scrape out the food processor, remove batter from mixing bowls, and mix up a stir-fry without scraping my nonstick wok (#18).
9. Garlic Crusher If you're like me, and you don't love mincing garlic by hand, or having to take out the mini processor to do the work, a garlic crusher is a must! This brand comes with a nifty little tool to help you clean the crevices.
10. Microplane Zester Some people forgo this tool because they don't do much zesting, but a microplane works for so much more than that! I use a microplane to grate ginger, garlic and shallots into sauces and dressings.
11. Hinged Ice Cream Scoop An ice cream scoop is a must-have for portioning out everything from cookie dough, muffin batter, meatballs, burgers, biscuits and more! If you ever wondered how professional places manage to make cookies and muffins that are all exactly the same size, it's because they use a portion scoop! Scoops come in all sizes, so you can get smaller ones for meatballs and larger ones for muffins. Besides for equal-sized portions being aesthetically pleasing, it also means that your food will cook evenly, since everything is the same size.
12. Ziploc Freezer Bags This kitchen tool comes straight out of your supermarket aisle! I never use big 'ole fancy pastry bags in the kitchen. Ziploc freezer bags do the job just perfectly for me! One of the tricks I like to use is to stuff my Ziploc bag into a measuring cup to make filling it easier. Then, I snip off the corner with kitchen shears and use it to pipe pastry cream into cannolis, mousse into cups, puree onto wontons and frosting onto cupcakes.
13. Lodge Cast Iron Grill This stovetop griddle sits over your stovetop burners and grills up poultry, meat and fish with beautiful grill marks. The cast iron gets smoking hot, making it the perfect surface for indoor grilling. NOTE: When purchasing cast iron, look for unseasoned varieties as lard and other types of nonkosher fats may have been used in the seasoning process (when I purchased this grill several years ago, it had a kosher certification).
14. Nesting Bowls This inexpensive set of nesting bowls really helps to keep prep clean and organized. One of the principles of professional cooking is "mise en place", which means to have all of the components of your dish prepped and organized before preparing it. Prepping large meals with various courses can be made more efficient by cooking with that philosophy in mind.
15. Victorinox Santoku Knife I have really small hands, so a classic 8″ chef's knife doesn't work for me. I want to feel comfortable with my grasp on my most-used kitchen tool, so I prefer the shape, style and size of this 7″ santoku knife. If you like a classic shape better, I also recommend the Global budget-friendly knife or the pricier Wusthof.
16. Zyliss Folding Mandolin A mandolin is an essential tool for anyone who wants to cook with finesse. It creates uniform slices in varying thicknesses, so you can create the perfect garnish, potatoes au gratin, veggie chips or fries. This version folds for easy storage. NOTE: Safety First! Make sure to use the accompanying safety guard.
17. Flour Sack Towels These all purpose cotton towels are lightweight and perfect for many kitchen jobs such as drying greens, squeezing excess moisture from herbs or veggies (in lieu of expensive cheesecloth) and wiping counters or hands while cooking.
18. TFal Nonstick Wok I love Asian cooking so a wok is a must-have in my kitchen. This lightweight nonstick wok is dishwasher-safe, making it perfect for stir fries, Pad Thai, deep-frying, or even steaming or smoking. It's large size works wonders for sauteing spiralized veggies!
19. Nonstick Mini Rolling Pin Mini rolling pins don't have to be just for play dough! I love that this is nonstick for easy cleaning, and it's non-cumbersome, so I have a handle (pun intended!) on my doughs (not my favorite thing to prepare!).
20. Zyliss Safe Edge Can Opener If you're still using an old fashioned can opener, it's time for an upgrade! You never know where your cans have been sitting, or for how long. They can carry all sorts of bacteria! To prevent cross-contamination, use an opener that removes the entire lid of the can without leaving sharp edges. Safety all around!
What are some of your kitchen must-haves? I would love to hear! Share them with me in the comments below.
Please NOTE: This post contains affiliate links which means that a small percentage of every purchase made through the links above goes to help support the BIB blog!