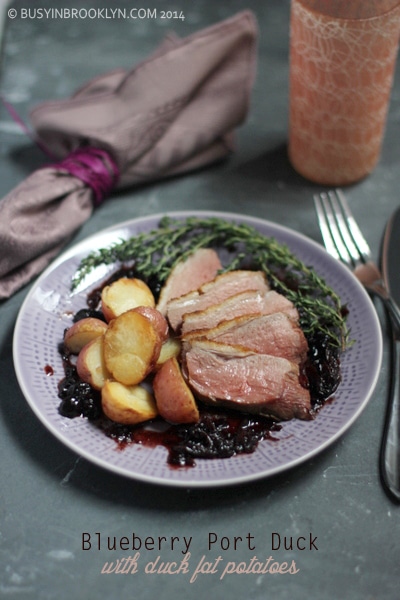 Duck is not one of those things that you make regularly. Like going to a fine restaurant to celebrate a milestone or a thoughtful gift on a birthday, duck is reserved for special occasions. Especially, kosher duck. With it's high price tag, I like to reserve duck or lamb chops for the holidays, when my family can enjoy the poultry at a beautifully set table worthy of it. Instead of splurging on just the duck breasts, I usually buy the whole duck and butcher it myself, so I can render all the extra fat and use the carcass for stock. I end up paying close the same much per lb. and I get so much more for my money.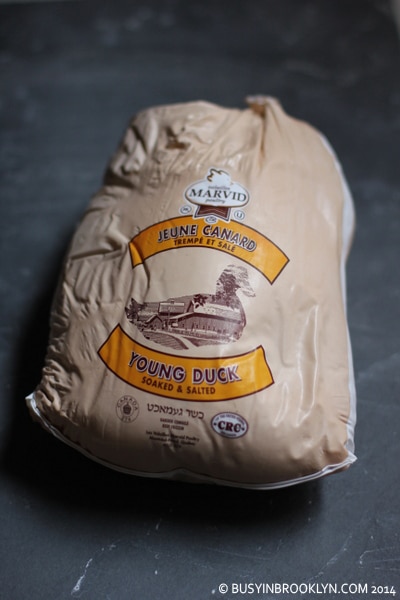 With Shavuot* just a few short weeks away, so many of us are knee deep in cheesecake recipes that we've all but forgotten about "meat recipes". Personally, I wait all year for my mom's incredible lasagna, but by the time our dairy meal is done, I need a nap! If you're looking for a change from the heavy dairy food, give this "special occasion" recipe a try. After all, what greater occasion is there to celebrate good food, than on a holiday.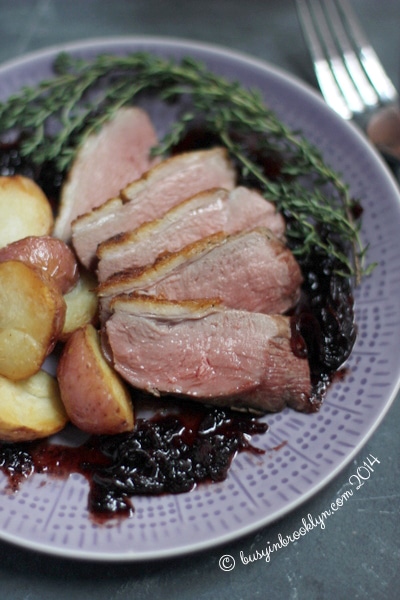 *Shavuot is the holiday in which Jews commemorate the giving of the Torah at Mt. Sinai. Dairy food is traditionally eaten, but many have a custom to serve meat as well. (Kosher observers do not eat milk and meat together, so a meal must be exclusively meat or milk).
Pan Seared Duck Breast with Blueberry Port Sauce
2 duck breasts
1 shallot, minced
1/2 cup port wine
1/2 cup chicken stock
3 sprigs thyme
1/4 cup blueberry-plum jam (or any jam of choice)
salt and pepper, to taste
Method:
Preheat oven to 400 degrees.
Using a sharp knife, score the fat of the duck breasts in a criss-cross pattern, taking care not the slice all the way through to the skin. Season with salt and pepper.
Place the duck breasts skin-side-down in a cold, dry skillet and bring the heat to medium. Sear the duck for about 8-10 minutes, until fat has been rendered and skin is golden crisp. As the fat renders from the duck, tilt the pan and remove it with a spoon (reserve for duck fat potatoes). Turn the duck breasts over and sear for 1 minute. Place the skillet in the oven to roast for approximately 5 minutes, until breasts are medium rare. Remove the duck from the pan and rest for at least 5 minutes before slicing.
In the meantime, remove all but 1 tbsp of fat from the pan (reserve), add shallot and saute until translucent. Add the port and cook until reduced by half. Add the stock and cook until reduced by half again. Add the thyme and jam and cook until thickened, about 2 minutes. Season with salt and pepper.
Thinly slice the duck and serve with blueberry port sauce.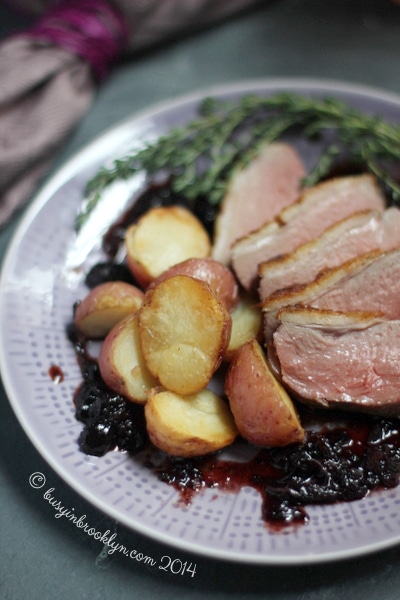 Rendered duck fat has a rich golden color and produces the most crispy gribenes (duck skin cracklings). I love to use the duck fat for roasted potatoes. They give the potatoes an unmatched crispy exterior, and a smooth and creamy (not to mention flavorful) interior.
Duck Fat Roasted Potatoes
1 lb. red skin potatoes
3 tbsp duck fat
kosher salt, to taste
Preheat oven to 400 degrees.
Place potatoes in a pot and cover with salted water. Bring to a boil and cook until tender, about 10 minutes. Drain the potatoes and cool.
Cut the potatoes in half (or quarters, if they are large) and place on a baking sheet. Drizzle with duck fat and season with kosher salt. Toss to coat evenly.
Roast the potatoes for 20-30 minutes, stirring occasionally, until golden brown and crispy.
VARIATION: Use Yukon gold or any potatoes of choice. You can also add garlic or fresh herbs like rosemary or thyme.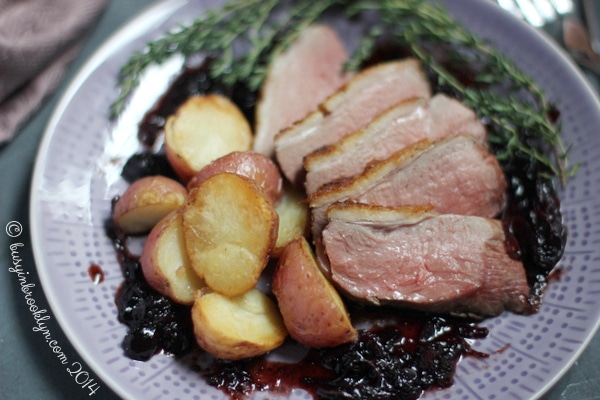 Other Festive Nondairy Dishes:
chicken breast with port wine cherry sauce
lemon and garlic whole roasted chicken
beer braised brisket with onion gravy
melt in your mouth veal meatballs
turkey roulade with 5-minute stuffing