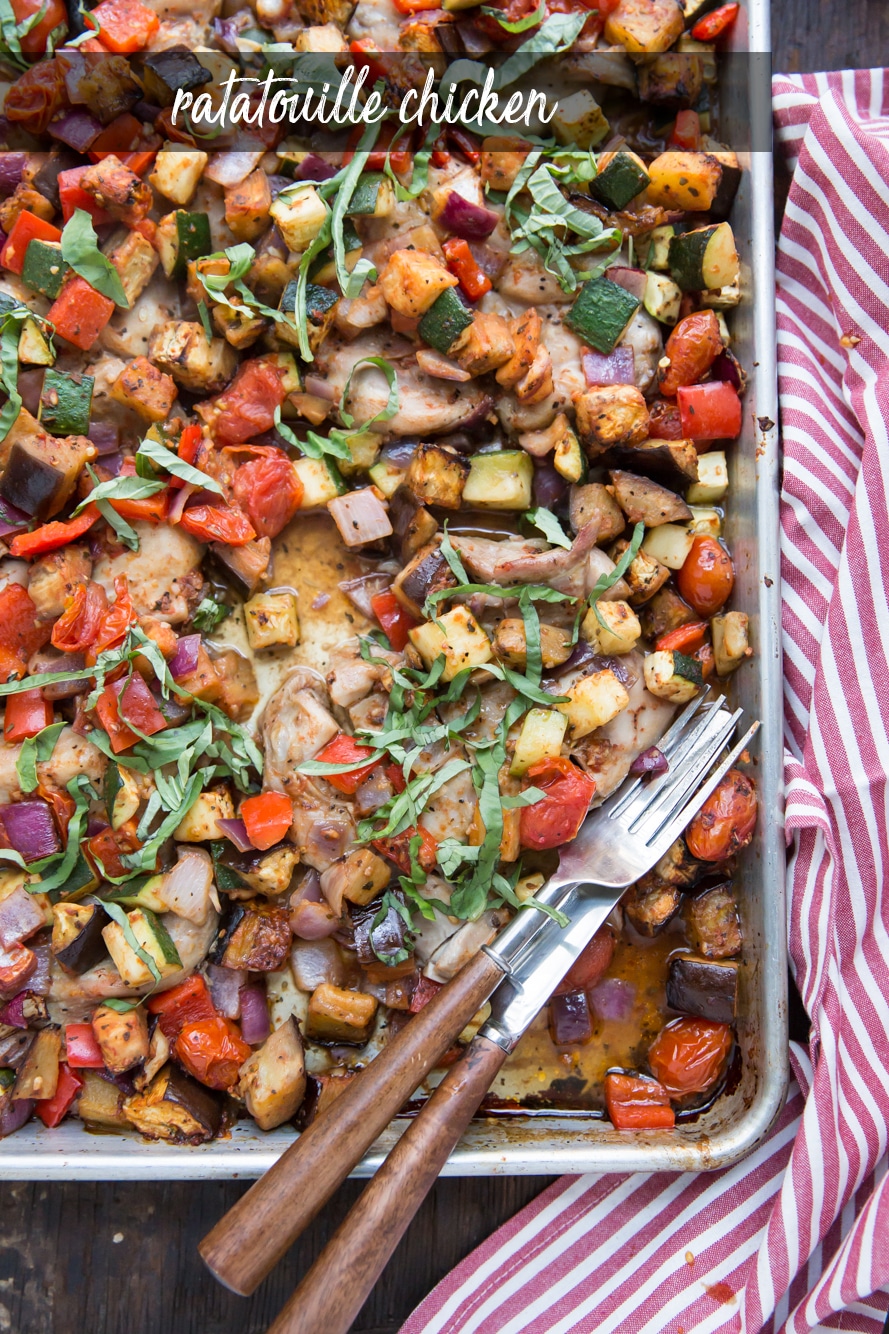 Y'all know I'm not really one for traditional dishes, but if there's any time where tradition plays an essential role, it's Passover, or Pesach. The Passover seder is all about the rituals that we observe each year – from preparing our homes and making them chometz-free (free of any leavened grains), to eating matza and morror (bitter herbs), drinking four cups of wine, hiding the afikomen and reciting the Haggadah. It's all about, as Fiddler-on-the-Roof used to say, TRADISHUN!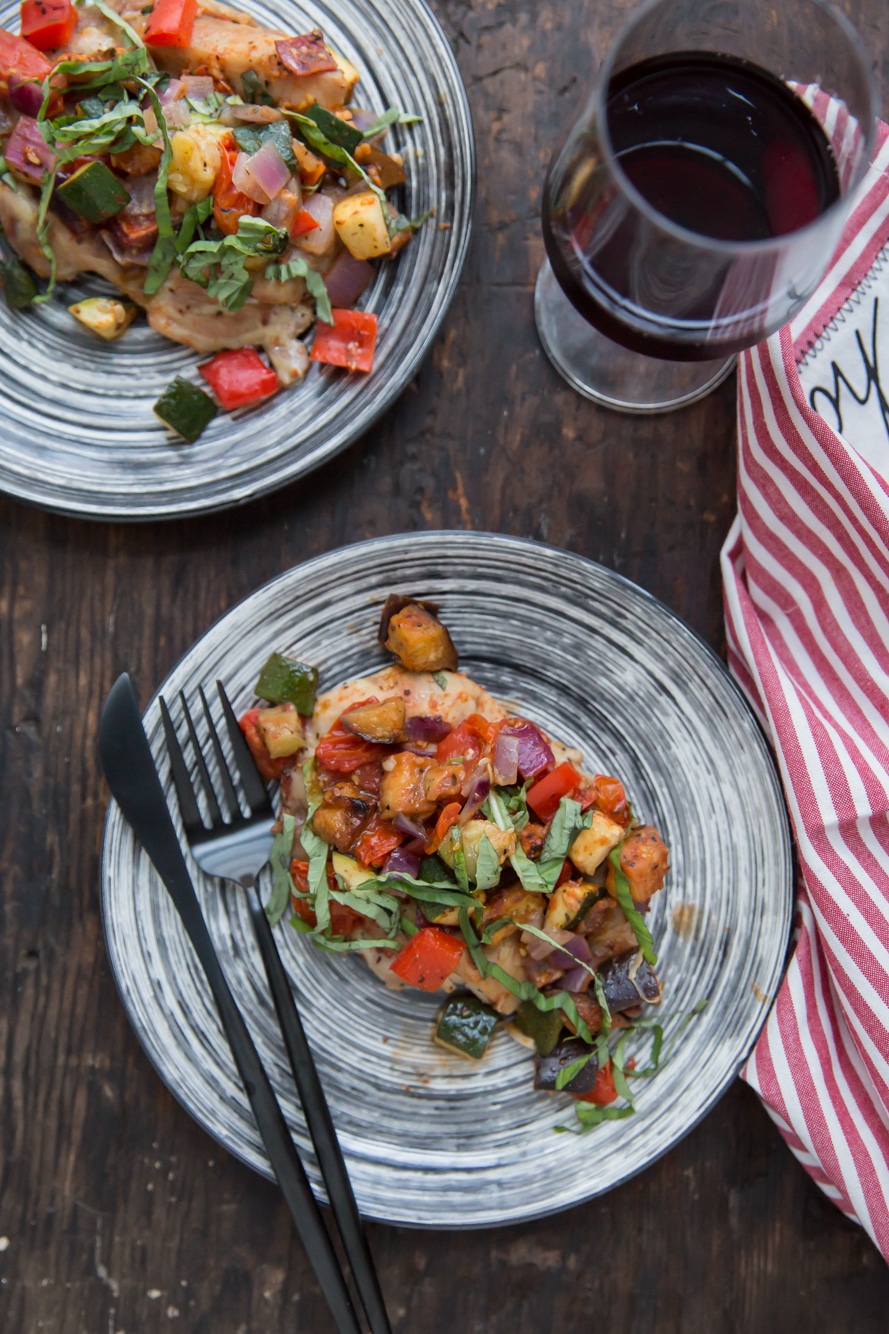 Because this holiday has always been about creating special memories with family, I'm all about the simple kosher-for-Passover foods that my mom prepared each year. On the eve of Passover, we would all wash up with soap, put on some aprons and get to work peeling and chopping veggies for her classic Pesach dishes.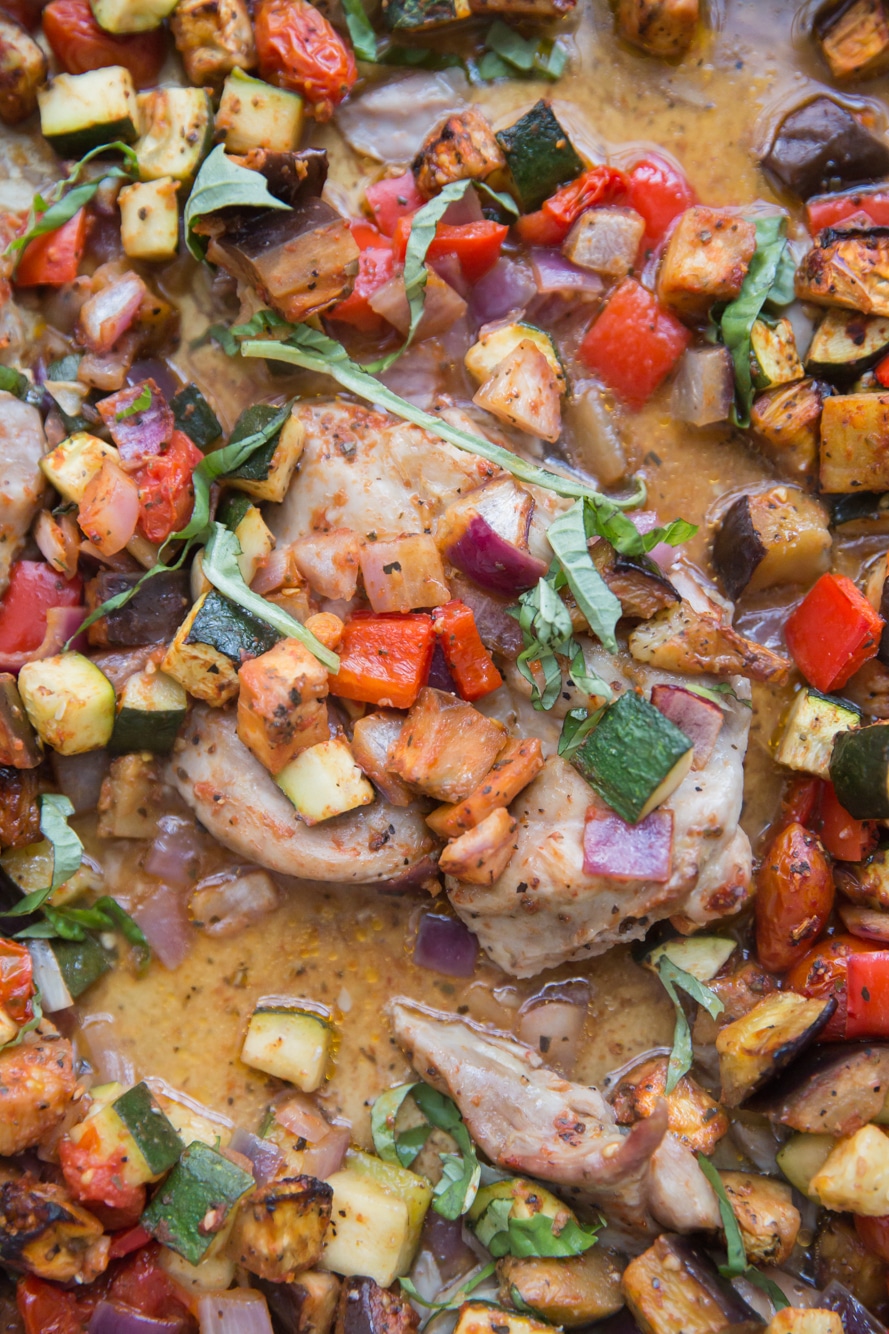 We'd fill mason jars with ratatouille, mock chopped liver, cucumber salad and vinaigrette (a salad of cooked beets, carrots, potatoes and red onion) and each meal over Passover, we'd dig a little deeper into the jars, until they were finished. Somehow, we never got bored of eating the same dishes over and over again because that's what the holiday was all about.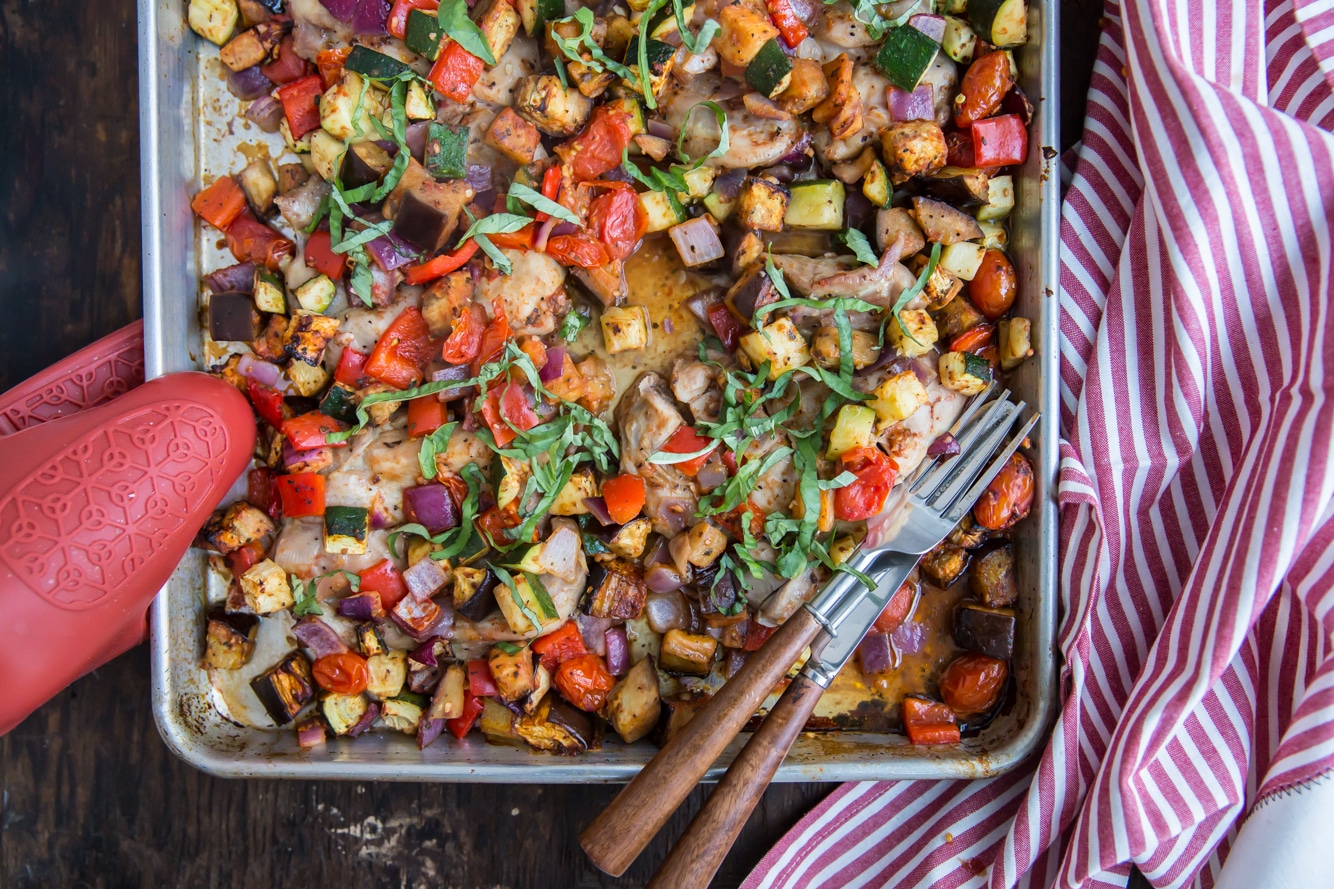 This ratatouille dish is not quite the same as my mom used to make (since she did not use any processed ingredients like spices or tomato paste!), but it's definitely inspired by the Passover dish of my youth.
Ratatouille Roast Chicken
8 skinless, boneless chicken thighs (pargiot)
1 medium eggplant, diced small
1 medium zucchini, diced small
1 red pepper, diced small
1 red onion, diced small
1 heaping cup grape tomatoes
4 cloves garlic, minced
1/4 cup tomato paste
5 tbsp olive oil
1/2 tsp dried basil
1 tsp dried oregano
1 tsp kosher salt
1/2 tsp black pepper
fresh basil, for garnish
Method:
Preheat oven to 400 degrees.
In a large bowl, combine the eggplant, zucchini, pepper, onion, tomatoes, garlic, tomato paste, olive oil, basil, oregano, salt and pepper. Stir to incorporate the ingredients.
Place the chicken thighs on a baking sheet, season with salt and pepper. Spread ratatouille mixture over the chicken. Bake, uncovered, for one hour, stirring the vegetables occasionally. Garnish with fresh basil.
Serve warm with mashed potatoes, quinoa or rice.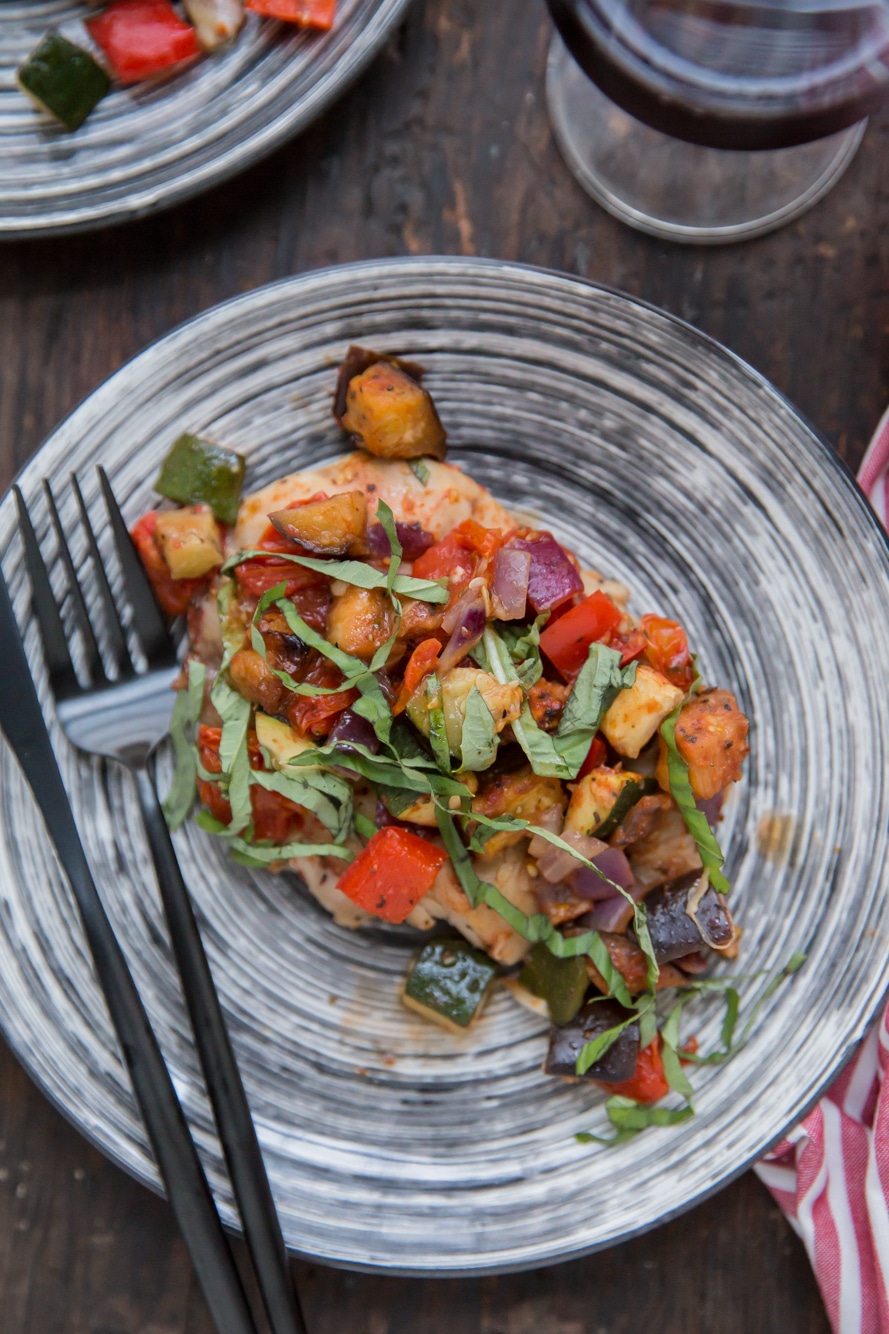 Related Recipes:
chimicken
pulled pesto chicken with fire roasted tomato jam
harissa roasted chicken