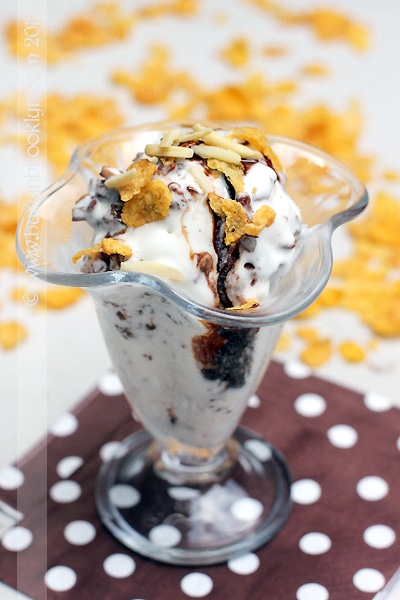 I am so excited to be a part of this all new kosher recipe linkup! Each month, the linkup will feature another theme. This month it is frozen desserts. Check out the other great frozen dessert recipes below!
I don't have an ice cream machine, so when I thought about what frozen dessert to post, I kept coming back to one of my most popular posts, my peanut butter fudge ice cream pie. What makes that recipe so great is the combination of peanut butter and chocolate. Who doesn't love that decadent pairing? My brother reminded me about another ice cream recipe that my mom used to make that also uses peanut butter and chocolate. Mixed with crunchy clusters of corn flakes and slivered almonds, this recipe is sure to become your next favorite dessert! Feel free to use store bought ice cream or you can make your own.
Corn Flake Crunch Ice Cream
adapted from "The Balabuste's Choice"
1/2 cup creamy peanut butter
4.5 oz. (1/2 bag) chocolate chips
1/2 cup slivered almonds
2 cups Corn Flakes
1/2 gallon vanilla ice cream, softened
Method:
Preheat your oven to 350 degrees. Spread the slivered almonds out on a baking sheet and bake until toasted and brown, about 10 minutes. Set aside. Add peanut butter and chocolate chips to a pot and stir over medium heat until melted. Stir in slivered almonds and corn flakes. Pour the softened ice cream into a 9×13 pan and fold in the cornflake mixture. Freeze for several hours.
You may serve this in scoops or cut into squares and garnish with chocolate syrup and slivered almonds.
1 year ago: fruit skewers with dipping sauce