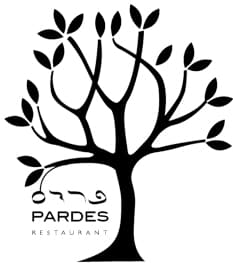 I live in Brooklyn, NY (hence the blog name:)), so I'm just a short ride away from the famous kosher restaurant, Pardes. I've been there quite a few times with my husband, but never for the tasting menu. Although I love to cook (and eat), I'm not the most adventurous eater. I'm more of a steak and potatoes kind of girl. When I go to Pardes, I usually order the beef cheek pizza or the Pardes signature burger & fries (with the most amazing, lip-smacking red wine ketchup!). So when my cousin suggested that we go to Pardes for the tasting menu, I was a little hesitant. Sweetbreads (the thymus gland) are not exactly my thing.
<<Funny story actually. My husband and I were once at an upscale restaurant in Manhattan. I forget where. When he saw sweetbreads on the menu, he thought they were, well, sweet breads, so he ordered it. You can imagine how that worked out.>>
So back to Pardes, I decided to take my cousin up on her offer to challenge myself to a truly gourmet eating experience. I promised myself I would try everything that was served to me, regardless of the animal it came from (or the part of the animal!) It's a good thing I made that promise because I might have left hungry otherwise. Not only did I have sweetbreads (which I enjoyed immensely), but I also sampled ox heart, marrow tartare, goat and tongue, among other things.
I'm not even going to pretend to understand the complexity of Chef Moshe Wendel's dishes. There is no mistaking that he is a culinary genius. All I know is, although I may not be familiar with all of his unique ingredients and combinations, we still speak the universal language of good food, and that I understand.
What I find so refreshing about Pardes is that each and every time you go, you're in for a unique experience. Chef Wendel is constantly changing up the menu, and his dishes are not ones that you'll find anywhere. In these days of Pinterest and social media, it seems like everyone is making another version of someone elses dish, but Chef Wendel's dishes are all his own – one hundred percent. His ability to marry unique flavors and to present dishes that are as beautiful on the eye as they are on the palate are a testament to his amazing talents.
And that's not all.
Living in New York, and being a real foodie, you can imagine just how many restaurants I've been to. Most of the time, if the food is good, the dessert isn't. There is only so much hot chocolate souffle that I am willing to eat. But not at Pardes. The same oomph and charisma that is put into each and every dish, is put into the dessert menu – and that's without having a pastry chef. Is there anything that this Chef can't do? The desserts are so whimsical and delicious, it's worth a trip JUST for their ice cream. Well, maybe that, and an order of fries with their glorious ketchup…or the smoked paprika popcorn…or the heirloom tomato soup…or the…
PARDES TASTING MENU 8/22/12
click on pictures for an enlarged view
1. Smoked paprika popcorn
We came a few minutes early to our reservation, and since the Chef serves all the tasting menu patrons at the same time, they gave us some complimentary popcorn while we waited. Smoked. Paprika. Popcorn. It's lick-your-finger kind of good.
2.Tuna tartare with salmon roe, edible flowers, ginger, grapefruit and tomato water broth.
An OK start to our meal. The components of this dish did not seem to come together (especially the tomato water), but each was nice on it's own. My least favorite of the night.
3. Heirloom tomato salad, crispy salmon skin, seabeans, rouille (saffron mayonnaise)
Light and lovely. The salmon skin chip was super crunchy with no fishy aftertaste. And the seabeans were so fresh and delicious!
4. Hamachi, pepper jam, pistachio powder
While I was hoping for a cooked fish option, the hamachi did not disappoint. However, the pepper jam was the real standout, with sweet tomato-y goodness.
5. Taramasolata (fish roe dip) with bread crumbs, green beans, baby celery, pink olive
My first taste of taramasolata – creamy and surprisingly un-fishy. I loved the briny pink olive sauce, toasted breadcrumbs and the crunchy green beans.
6. Palate cleanser: sorbet trio, canteloupe, wheatgrass and coffee
Each sorbet was delicious in it's own right but the wheatgrass was definitely the winner here. It was so clean, crisp and refreshing.
7. Heirloom tomato soup with barley bacon and basil oil
My favorite dish of the entire meal. Velvety soup with smoky bacon barley bits and droplets of basil oil – I'm coming back for more!
8. Terrine of goat, simple green salad, pickled onion
I've never tasted goat before and I'm glad I tried it at Pardes. It was tender and flavorful with a lovely texture.
9. Sweetbreads, smoked chicken skin, creamy leeks, mushroom/miso puree, saffron seaweed jus
I've always been afraid to eat sweetbreads, but I promised myself I'd try everything. I'm glad I did, they were quite good. And the crispy smoked chicken skin? yum!
10. Tongue with onion rings and mustard mayo
The chef sent us this course as a bonus, I'm not sure why. Our server mentioned something about the wait. I wasn't about to complain – melt-in-your mouth tongue and crispy onion rings? who could ask for more? And that mustard mayo was the perfect complement to the dish.
11. Ox heart, japanese white turnip, rodebach/prune reduction, mustard/juniper pickle, baby celery
The surprise of the night. Who would have thought that ox heart would be so delicious? This dish was plated so beautifully and the sauces were equally superb.
12. Tartares of marrow and rib eye, hazelnut, trumpet royale, cepe vinegar, black garlic
Believe it or not, this was my first time eating beef tartare, and boy have I been missing out. Full of fresh flavor. The marrow tartare, on the other hand, was not as successful. To me, it was like eating a spoonful of fat (which some people, like my Mom, might enjoy). Although I did appreciate the creative use of the marrow bone (as a breadstick holder).
13. Duck, hibiscus vinegar, sorrel, zucchini puree, orange
Both the duck breast and leg were served in this dish and they were both perfectly cooked. The sorrel and orange added a bright, citrus note that complemented the duck really well. The zucchini puree was not as enjoyable. I found the texture to be kind of pasty.
14. "Green egg & lamb" pistou provencal, seasonal greens in garlic broth, lamb shoulder confit, poached egg
I loved poached eggs, on anything, so I was kind of dissapointed when this dish turned out to be super spicy. And I like spicy food. But this was borderline mouth-on-fire.
15. Ice cream sandwich with flowers, orange blossom and rosewater semifreddo, various plums
Perfection on a plate. I wanted to lick that semifreddo off the dish!
16. Hazelnut financier, hazelnut parfait, candied hazelnuts, fresh and pickled blueberries, blueberry sauce and sorbet
This dessert was nice and I really appreciated the four different preparations of the blueberries. I must admit though, I had my heart set on the peach crumble with maple bacon walnut ice cream! There's always next time!

DRINKS:
Sangria with cinnamon, anise, banana, mango
With hints of banana, this sangria was surprisingly light and refreshing.
Lake Placid Ubu Ale – deep red English strong ale, chocolate malty goodness that packs a serious wallop for its drinkability.
Smooth and delicious, but a tad too bitter for my taste.
Pardes Restaurant
497 Atlantic Avenue
Brooklyn, NY 11217
(718) 797-3880
menu
Tasting Menu, approximately 10 courses, $110 p/p + taxes & tip, reservations required
1 year ago: peanut butter fudge ice cream pie