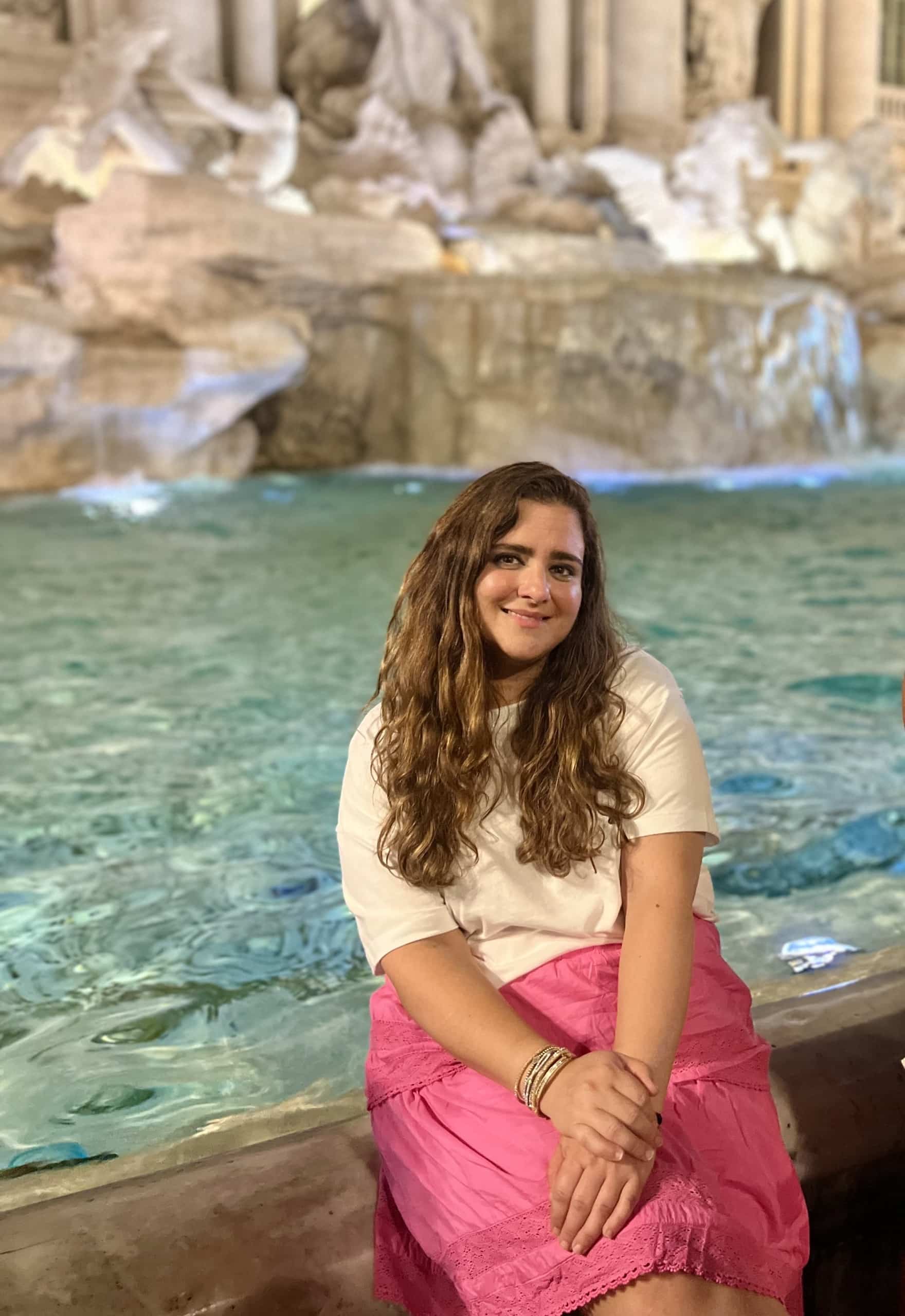 Two years later, back at the Trevi Fountain!
Ever since my first trip to Italy in 2021, I've been dreaming about going back! I was over the moon when Judy Gruen Travel asked me to partner with her on a  Busy in Italy trip this summer and I counted down the days to my return.
Those of you that followed my travel nightmare with United Airlines over on Instagram know about the endless delays and my 36-hour journey to make it to Rome. I did end up missing two days of the planned itinerary but I still made it and I'm forever grateful to High Class Travel for moving mountains to get me there (business class, no less!).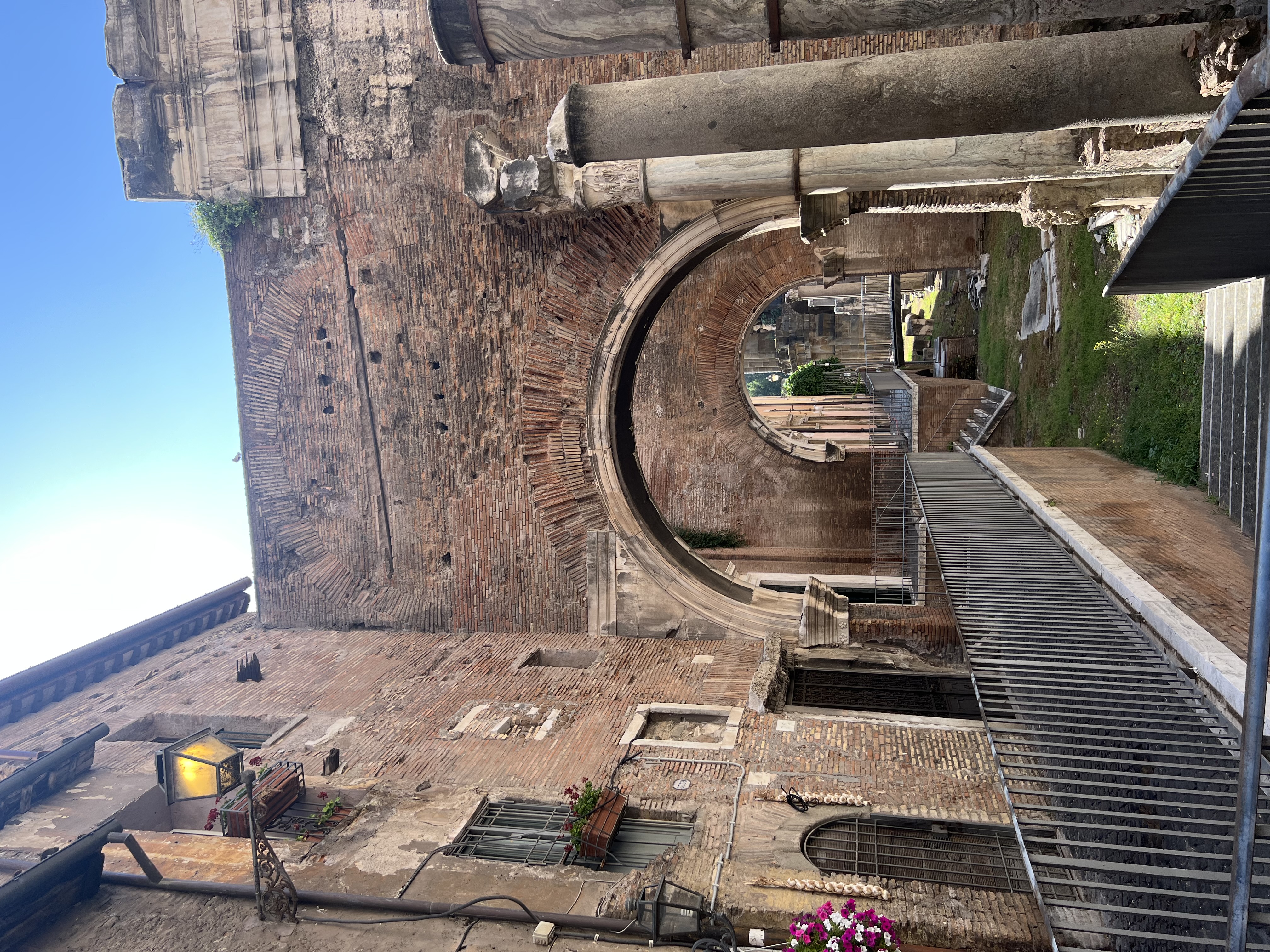 Jewish Ghetto in Rome
BUSY IN ITALY TOUR
For the sake of this post, I'm going to share the full itinerary even though I missed the first two days!
Tuesday, July 4th
The group landed in Rome and checked in to the hotel in the heart of the Jewish Ghetto. Everyone was greeted with a beautiful welcome packet with Busy In Italy aprons, a copy of Totally Kosher and a printed itinerary. First on the agenda was a Vespa tour of all the major tourist attractions in Rome – stopping for photos along the way. Everyone agreed that it was one of the highlights of the trip! I'm so sorry to have missed it. They completed the night with a traditional wood oven pizza and focaccia master class, followed by dinner.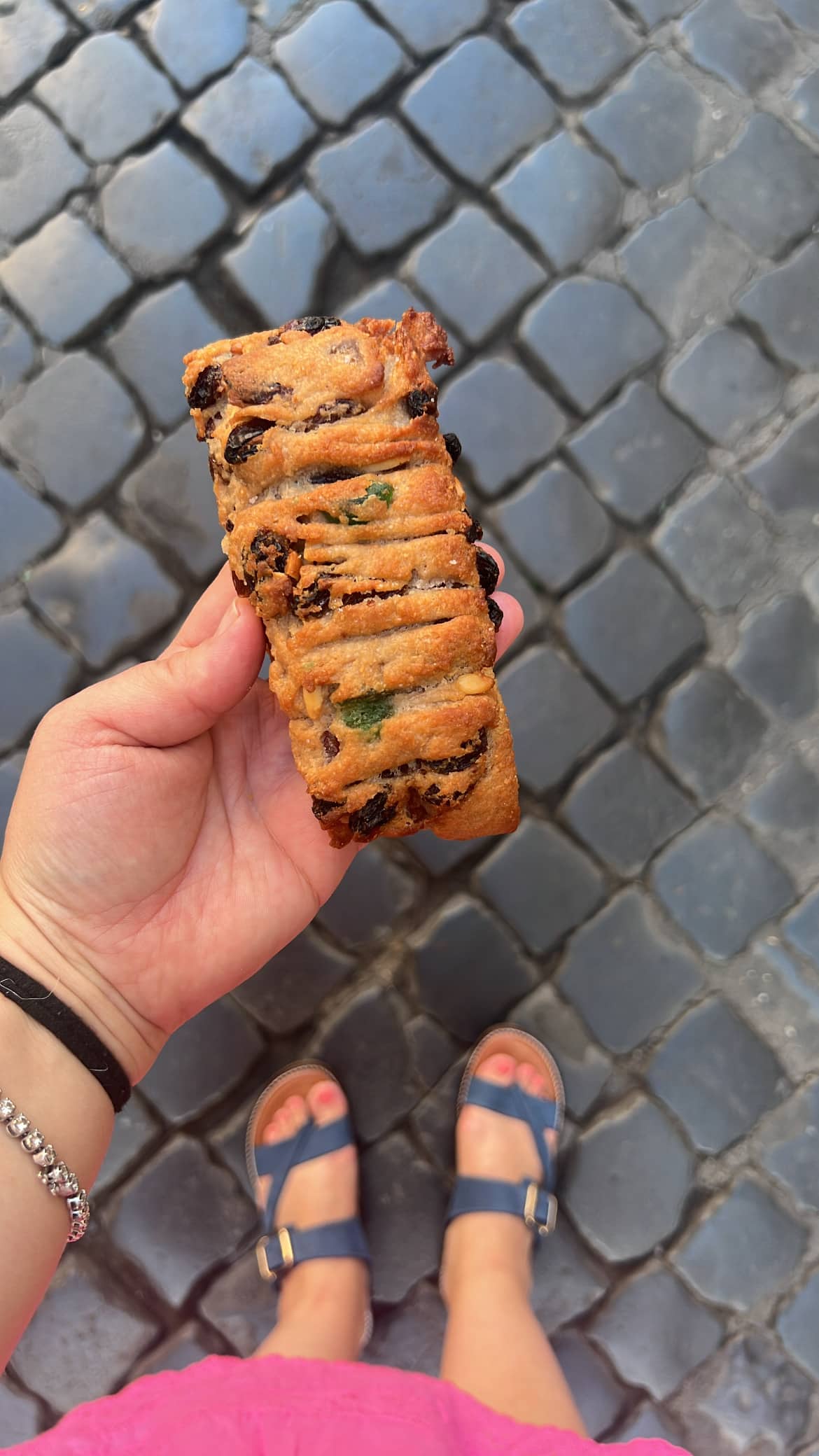 Pizza ebraica – sweet Roman Jewish cookies!
Wednesday, July 5th
Following breakfast, the group took a tour of Jewish Rome with the amazing tour guide, Laura, followed by a stop for a Maritozzo sandwich and then lunch at Yotvata. They rounded out the day with a tour of the colosseum through Jewish eyes. I arrived in Rome just as the group was winding down their tour, so I checked in to HT6 – a beautiful boutique hotel in the heart of the Jewish Ghetto, and walked just a few short steps straight to my favorite place in the ghetto – Bona Pizza. I stopped at Kosher Cakes for a Maritozzo, and to the burnt cakes bakery for pizza ebraica, and then a quick stop at Roscioli for a shakerato. I ran into the Judaica shop to find some souvenirs and finally met up with the group for dinner at Casalino Osteria! We toasted on some Aperol Spritz, of course, followed by a delicious dinner of Italian specialities like Concia (marinated fried zucchini), Baccala (fried salted cod), Suppli (Fried tomato rice balls), and Fritti (assorted fried vegetables). Of course I had some Roman and Jewish artichokes and the most delicious calamarata pasta. Everyone was raving about the pistachio gelato from Cremeria Romana so I ran in for a scoop and then took a night stroll to Trevi Fountain so I could make a wish!
(You can find all the addresses for the above restaurants in this post and a reel of all the restaurants here.)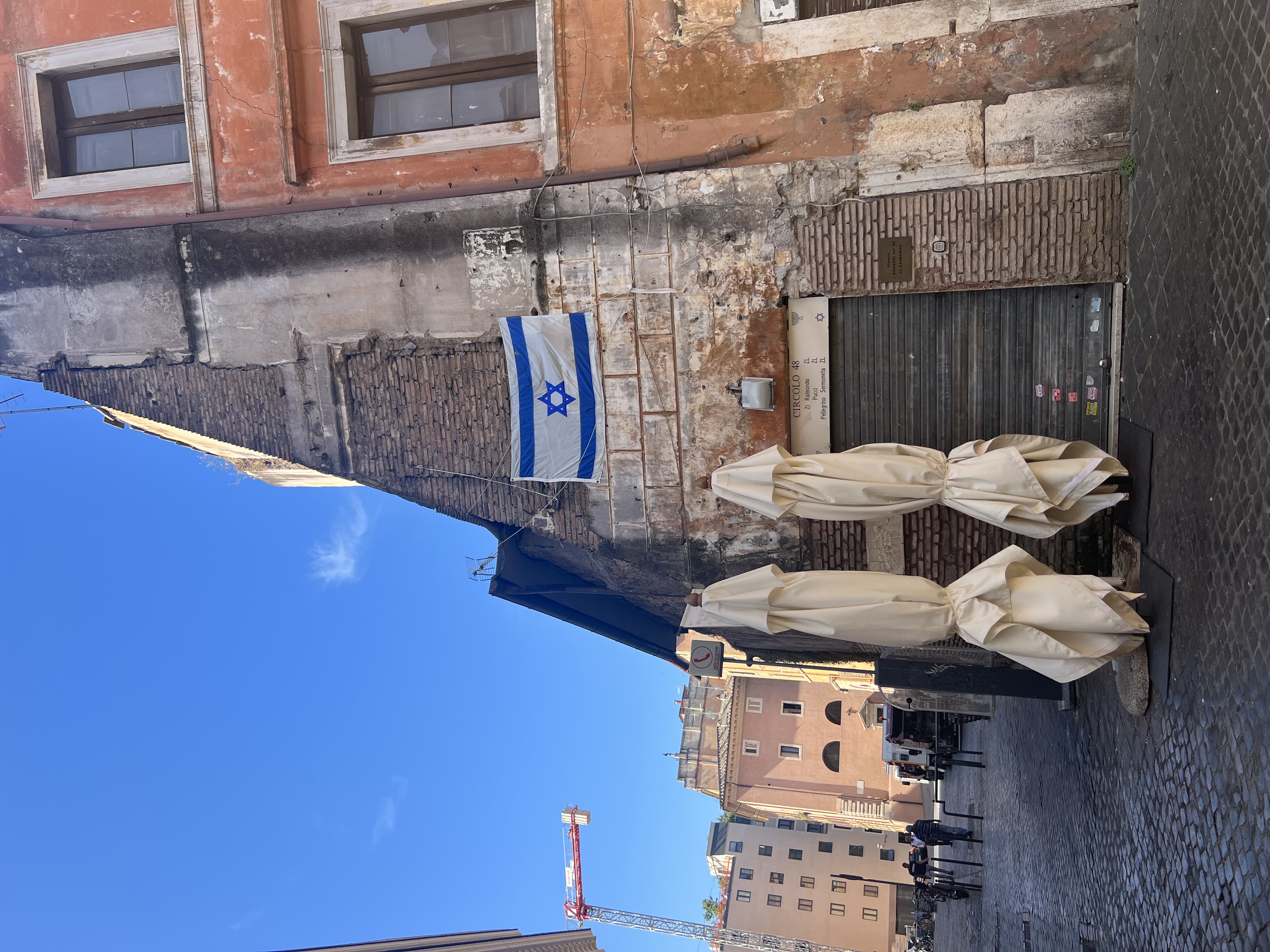 My favorite spot in the Jewish Ghetto, standing amongst the Roman ruins, an Israeli flag proudly displayed on a street lined with kosher restaurants and vibrant Jewish life, the greatest testimony to our survival and strength.
Thursday, July 6th
I woke up extra early to take a stroll through the ghetto, it's so beautiful in the morning. We began the day at the Jewish archives where we got a chance to see many ancient books and historical documents. We bid farewell to Rome, but not before I did a quick run to Sant Eustachio Cafe, known to have the best coffee in the city. Get the espresso granita! We boarded a van to Florence, taking in the breathtaking scenery of Tuscany as we headed to The Designer Outlet Mall of Firenze. We then settled in to Hotel Orto de Medici before heading to dinner at Ruth's! It was so great to see Simcha again, who remembered me well from my last trip! We had some fried anchovies, tuna pizza (my fave!), delicious caponata, tuna croquettes and the most delicious chilled white wine. I had never been a white wine drinker before but this trip converted me.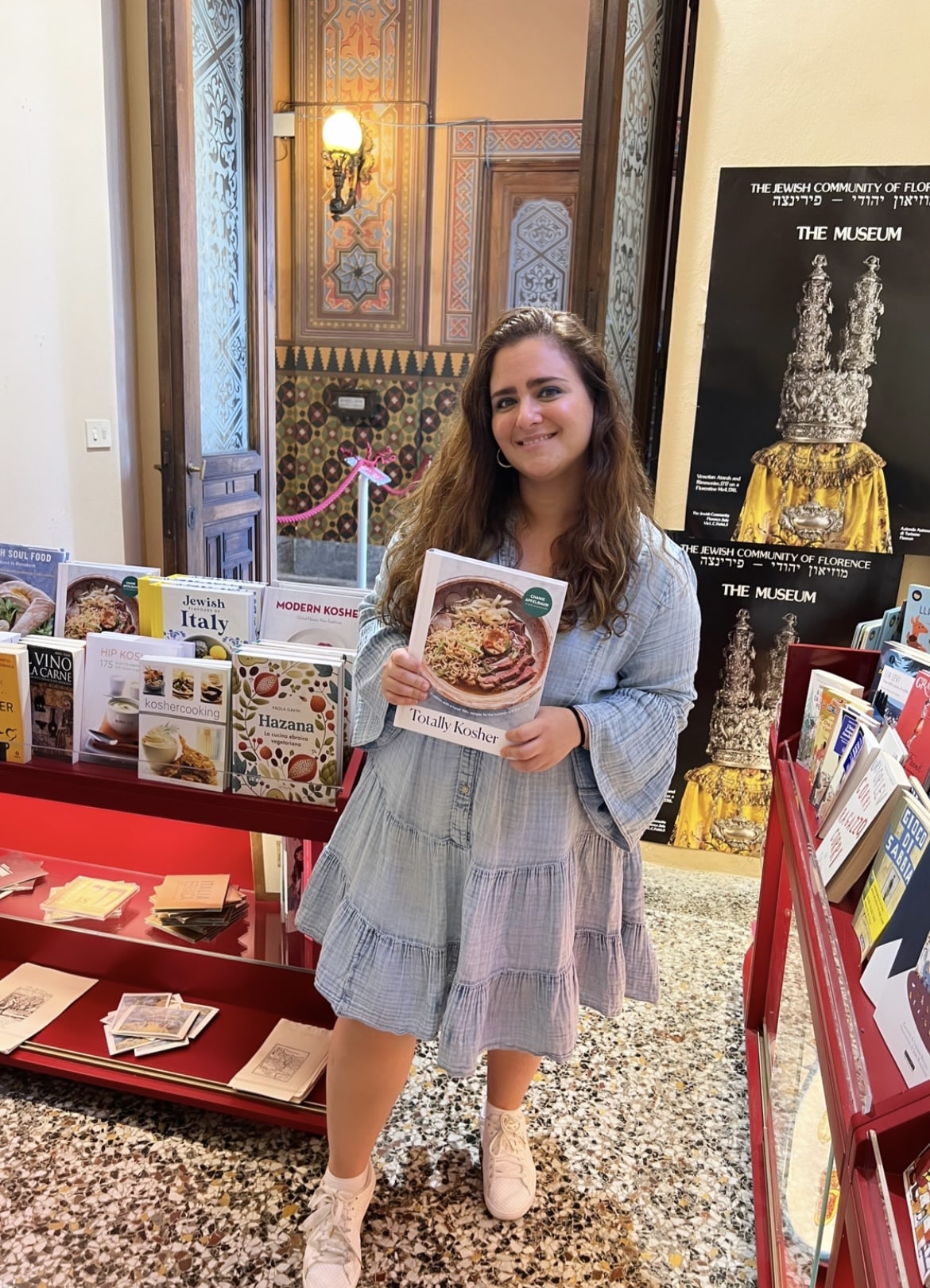 What a thrill to find my cookbook in the gift shop of the Florence Synagogue!
Friday, July 7th
We woke up to a glorious breakfast, catered by Eli of Cantina Giuliano! Delicious french pastries, jams and fresh fruit with bread and butter, plus some kumquats right off the tree on the hotel terrace. So good! We met our tour guide Antonella (remember her from my last trip?!) and headed to the Great Synagogue of Florence, the place that made me fall in love with visiting synagogues around the world! And I was over the moon to see my new cookbook in the gift shop! Of course I left a signed copy.
We continued our tour of Florence with a walk through the city, the famous Duomo Santa Maria, Piazza de la Republica, and all the city statues. We then took a tour of the Uffizi museum, world famous for it's art collections. We went back to Ruth's for lunch and winded down the day with a traditional Florentine ceramic class. I made a quick stop at Eataly with Judith Romano, who showed me all the Italian kosher products available (check it out on Instagram).
We headed back to the hotel to bring in Shabbos and enjoyed a delicious dinner catered by Cantina Giulliano and then off to a deep Shabbos shluff (rest).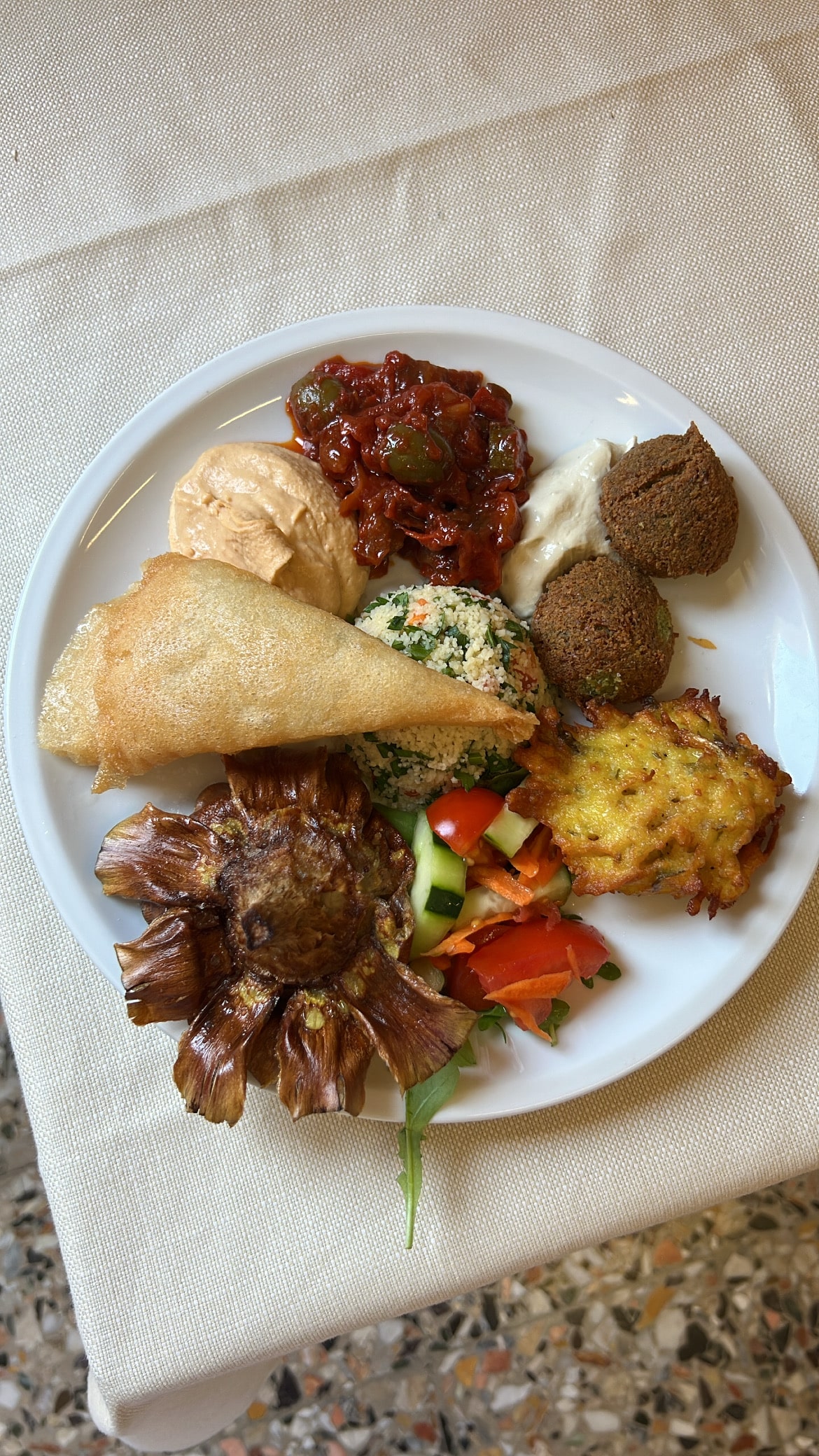 Lunch at Ruth's!
Shabbat, July 8th
We all took a much needed relaxing break over Shabbos, enjoyed a wonderful lunch and then a late afternoon stroll/hike to the Garden of Roses for spectacular sunset views of the city.
Sunday, July 9th
We began the day with an Italian coffee making and tasting class at the Espresso Academy of Florence. Followed by a delicious lunch at Ruth's where they prepared sampler plates of their popular dishes. After that, we visited some local Florentine artisan shops for jewelry, leather goods, gloves and more! We rounded out the day (and the tour!) at Desi Nare cooking school for a traditional Tuscan dinner and pasta making class. We made eggplant stuffed ravioli with mint, rucola primrose, walnuts and lemon zest, handmade cavatelli with cherry tomato sauce and panna cotta with raspberries. The meal was paired with a special Chianti wine from one of the top Chianti wineries in the world! The fabulous class ended our trip on a high as we bid farewell to the group!
As the group left for Rome, I took a taxi straight to Terra di Seta winery in the Chianti region of Tuscany, in the hills near Siena where I stayed in one of the apartments on the property.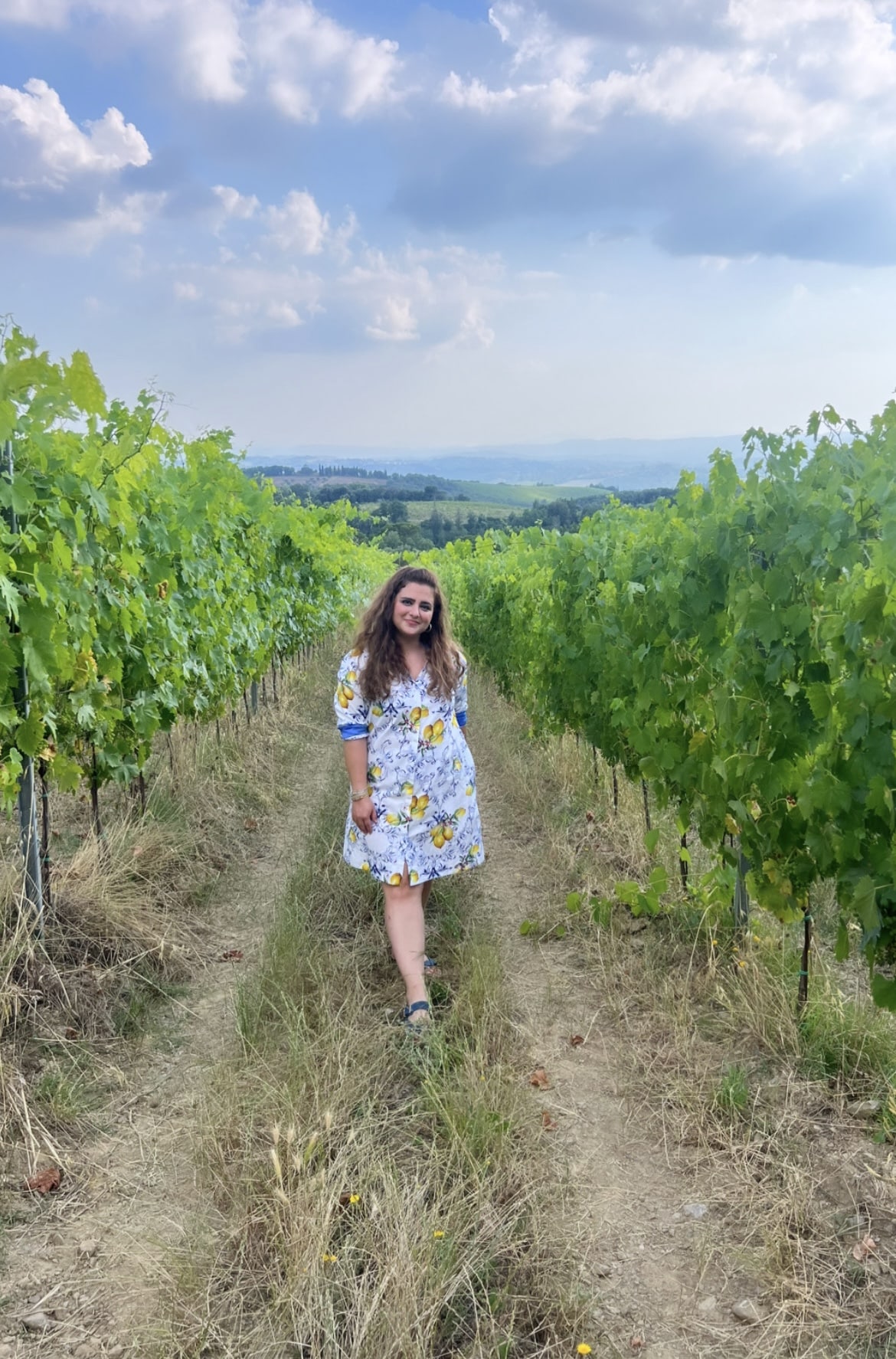 The vineyards of Terra di Seta winery
Monday, July 10th
I woke up to the smell of lavender and the sound of chirping cicadas on the beautiful organic farm/vineyard owned by Daniele della Seta and his wife Maria. Maria prepared me an espresso with some traditional Tuscan biscotti and gave me a tour of the restaurant garden. She packed me some lunch of cold pasta salad with fresh buffalo mozzarella, tomatoes and basil and I took a taxi to the nearby town of Siena. I visited the beautiful local shul, built in the 17th century, where I was so excited to find my new cookbook in the gift shop! I took a stroll through the town, and headed back to the winery for a dip in the beautiful infinity pool overlooking the rolling hills of Tuscany.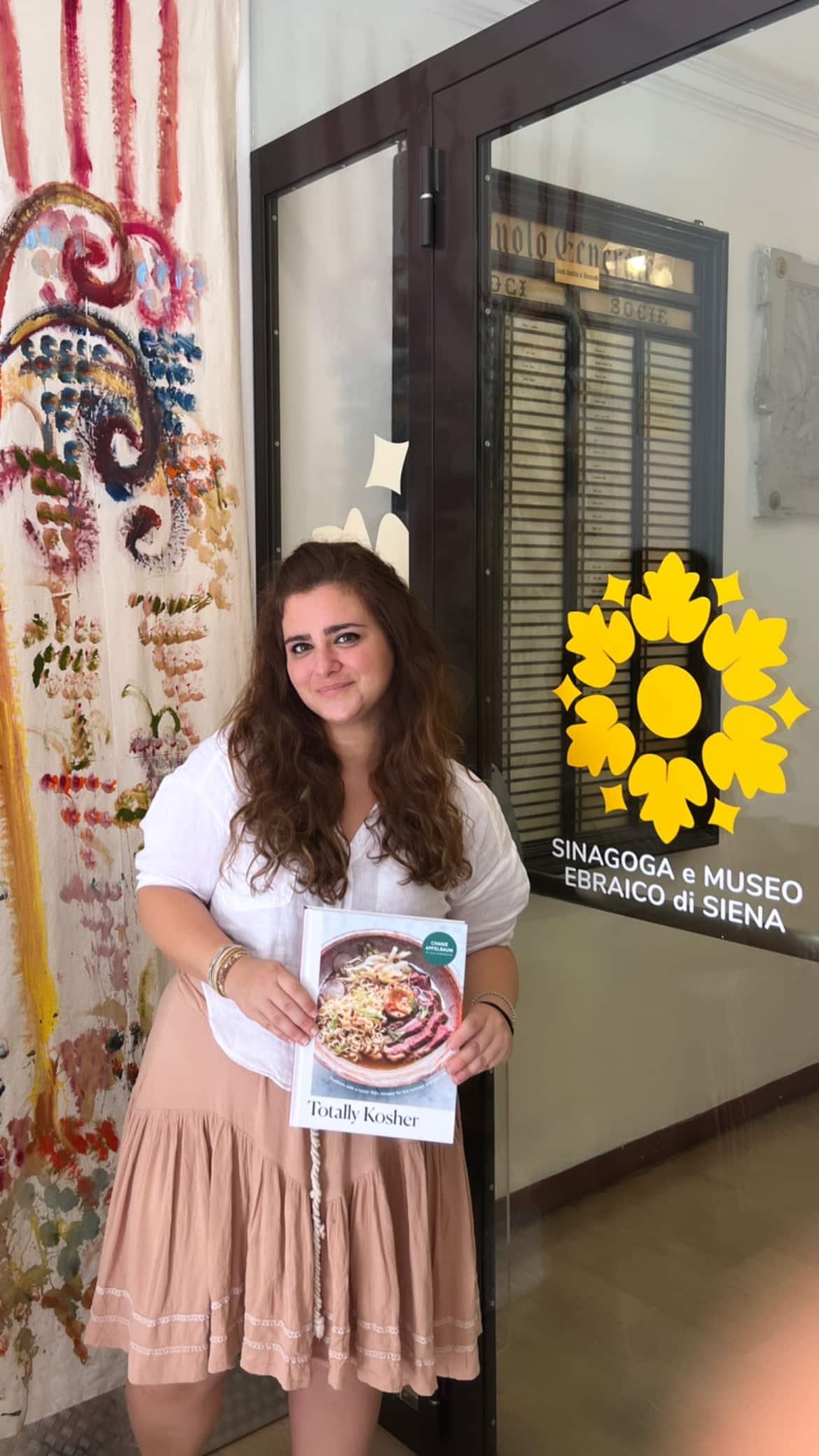 Found my cookbook at the Siena Synagogue!
As the night set in, and the temperature dropped, I joined a group at the winery for a tour of the vineyards. At Terra di Seta, they grow organic pesticide-free sangiovese grapes to produce non-mevushal/non-pasteurized delicious Chianti wine. The winery produces 6 types of wine and up to 50,000 bottles a year. They are one of just two wineries in Europe that produces wines from their own grapes. After a tour of the vineyard and property, we stopped at the entrance to restaurant where Danielle shared that when he was purchasing the property, he asked his uncle to come down and check out the space since he also owned property in the region, and his uncle recognized it from where he was hidden by non-jews during the holocaust!

Wine tasting at Terra di Seta
We entered the tasting room where we noshed on bruschetta and sipped the most delicious wines, while Danielle shared more about the wine region. After the wine tasting, we moved to the restaurant for an incredible al fresco dining experience. I was invited to a join a lovely group of women from New York who were celebrating a birthday, and we ordered almost everything on the menu, including, potato and onion flan with cream, Tuscan peasant tomato soup, crepes with ricotta and zucchini, tagliatelle with tarragon pesto, , roasted fish with seasonal vegetables and eggplant parmigiana with buffalo mozzarella. For dessert, the restaurant prepared a chocolate cake for the birthday girl which was rich and delicious! After dinner, I took a stroll under the Tuscan stars, which twinkle more brightly than anything I've ever seen, I'll never forget it.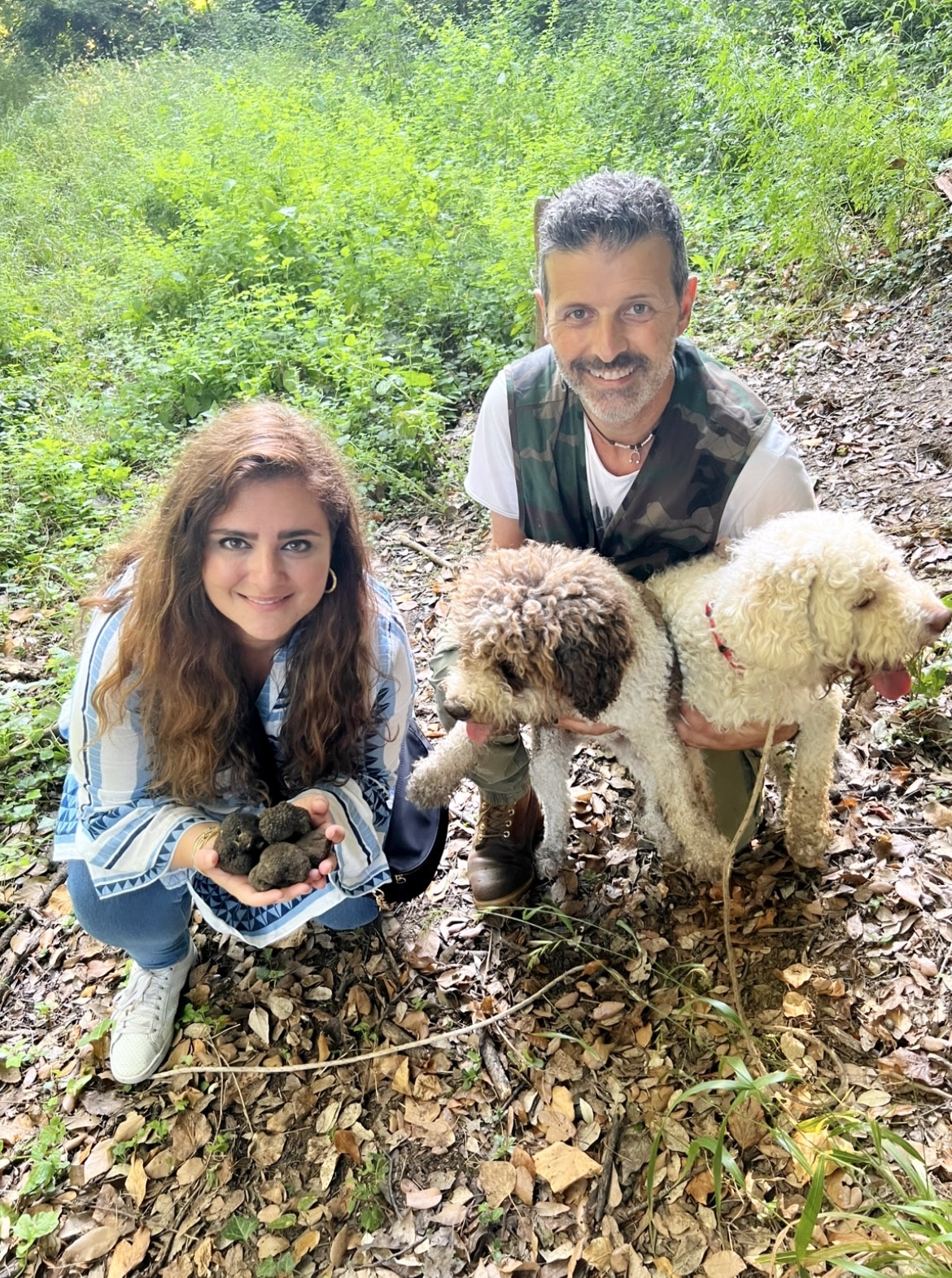 truffle hunting with Allesandro, Mocha and Freddy!
Tuesday, July 11th
I woke up bright and early to beat the heat for a special truffle hunting adventure in Siena with Siena Tartufi! I have always dreamed of going truffle hunting and I could barely sleep, I was so excited! I met my guide, Alessandro along with a translator and Freddy and Mocha, the dogs who help hunt for the truffles. They are of the Lagotta Romagnolo breed. We went deep into the woods with the dogs, hunting for black summer truffles. Allessandro let the dogs loose to roam and as they start digging, he runs after them to ensure that they don't eat the truffle that they dig up! He yells BRAVO and rewards them with a treat as we start to fill our pockets with truffles. At $450 a kilo, black summer truffles are mild and less covetted than the pricey white winter truffles. We caught 7 truffles in all and headed back to the winery with a few for Maria to use at the restaurant. After an early morning under the hot Tuscan sun, I relaxed at the pool, took a long shower outdoors surrounded by bushes of rosemary, thyme and lavender (a dream!) and went to the restaurant for a lunch of Danielle's freshly baked bread with house made olive oil, gnocchi with arugula and their incredible tiramisu.
For dinner, Maria worked some of the black summer truffles into her potato flan dish alongside some chilled zucchini (from the garden!) soup and cacio e pepe. I finished with some panna cotta.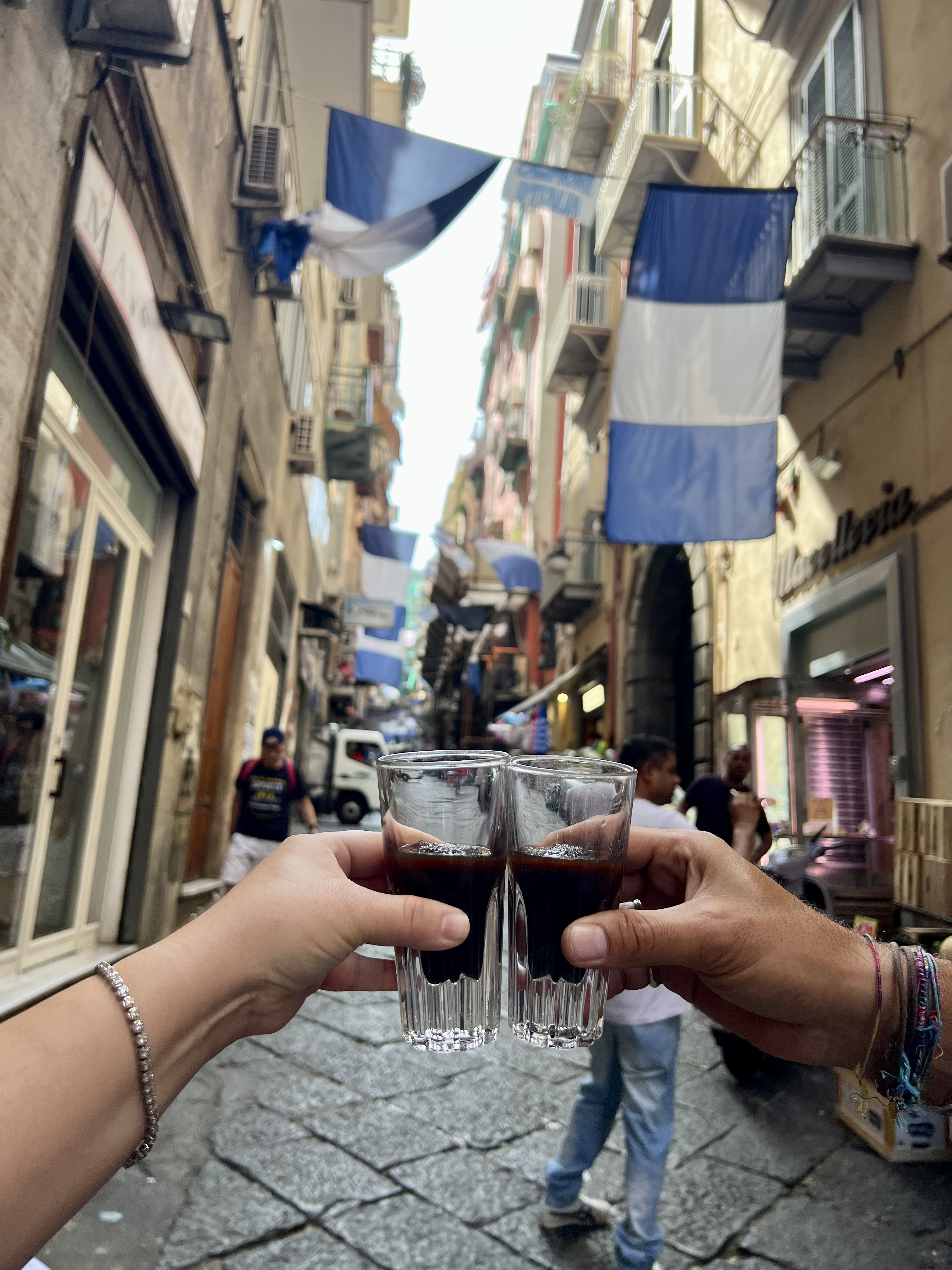 Espresso Granita in Naples with Diego, the best coffee I've ever had!
Wednesday, July 12th
Tuscany has my heart and I was so sad to say goodbye, but I headed to the local bus station to take a bus back to Florence to catch the train to Naples. The bus ticket station was broken so I missed the bus, and asked a stranger to call a local taxi service because I was close to missing my train! Thankfully, I made it (by the skin of my teeth!) to the Santa Maria Novella train station and caught my train from Firenze to Napoli (I purchased my train ticket online at Italo website – make sure to book the express train). I met up with my guide, Diego Davide (davidediego@icloud.com +39.3338127391) at the train station and stored my luggage at Kibag so we could head out on the town. We headed for the town center, had some espresso granita, which was legit the best coffee I ever had in my life. It tasted like chocolate! We walked around the town, through the Spanish quarter, Piazza Dante and Port Alba – an area lined with book stores. Naples has it's own unique charm – like the old Italian's you've seen in the movies. It's not really aesthetically beautiful but it's rich in culture. We stopped into a local produce shop that offers free cooking classes, they were mid-pizza-making and the smell of the simmering tomato sauce was intoxicating! We also stopped for a local lemonade drink that's made of freshly squeezed Amalfi lemons mixed with baking soda so it explodes as you're drinking it! After our short tour of the city, I went back to the train station to pick up my luggage and off to Praiano to my hotel on the Amalfi coast!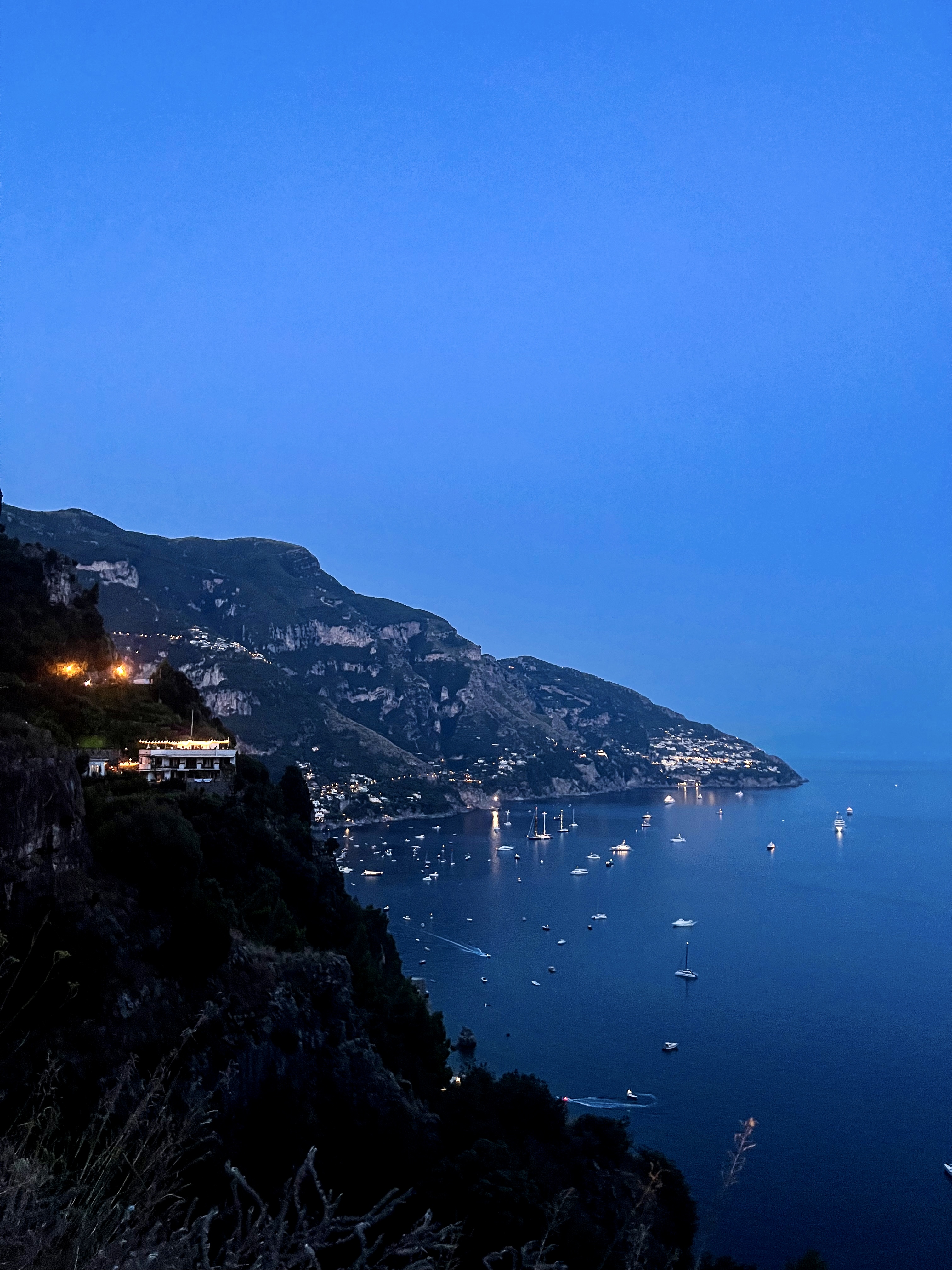 Dusk over Positano
There are lots of ways to get around Southern Italy, but I nixed the idea of taking a train and shuttle because my suitcase was large and heavy and it was so. So. hot! Diego was kind enough to offer to drive me (for the same fee as a taxi) so I took him up on it. The trek was about 2 hours, and we were lucky enough to catch sunset just as we drove into Sorrento. The view became more and more magical as dusk set in over the Amalfi coast, and we pulled over at various viewpoints to take it all in.
After driving along the coast of Positano, we finally reached my hotel in Praiano – a quaint, small town along the coast that is less touristy than other areas, and not as expensive. I stayed at Casa Stella Marina, which was a very basic hotel but a really good price for prime season on the Amalfi coast. Keep in mind that many of the hotels along the coast require hundreds of steps to reach (my hotel's private beach club was just 400 steps down from the hotel!) and Casa Stella Marina was right off the road entering Praiano, making it easy to access after a long day of touring the coast.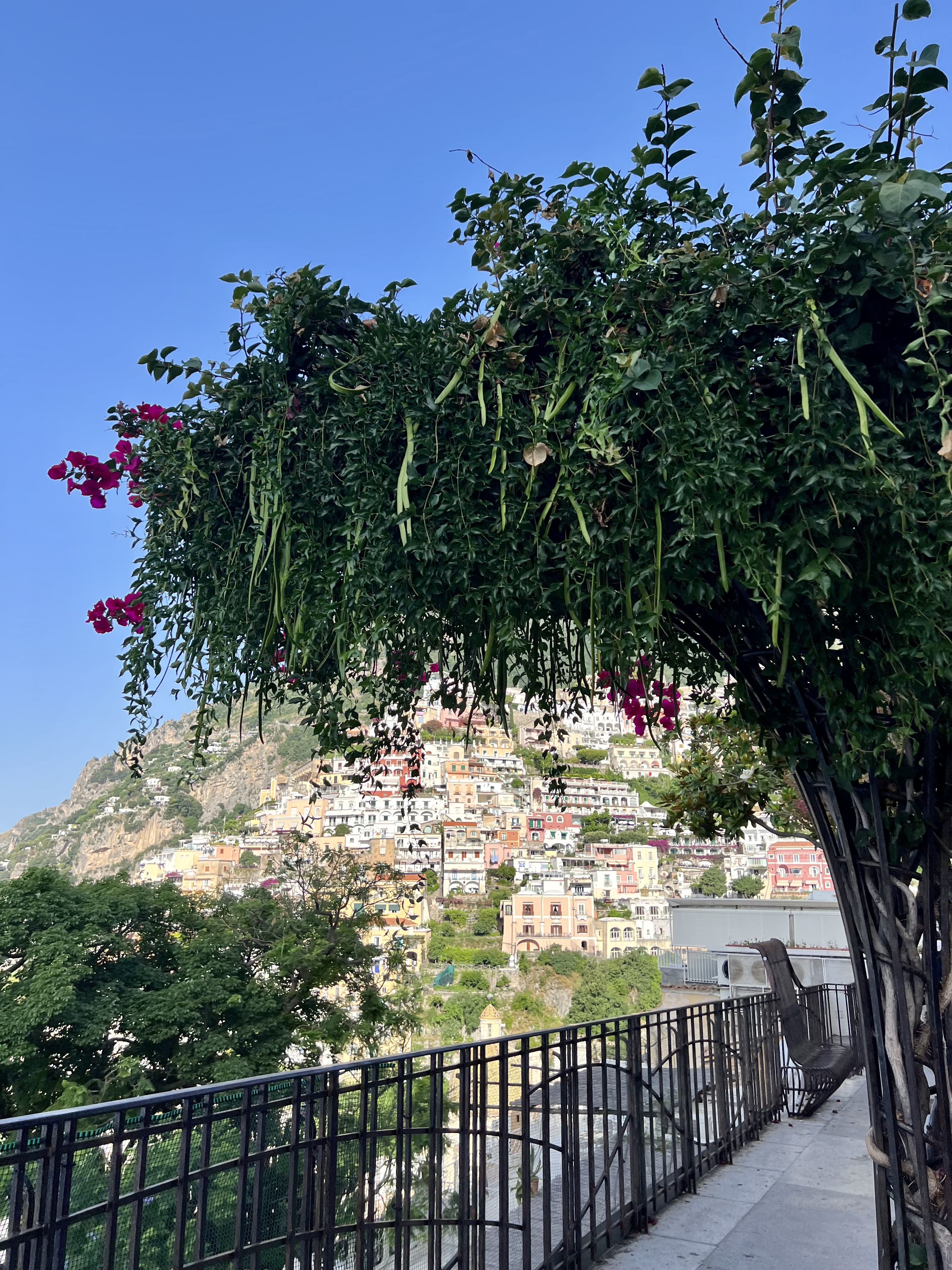 Positano
Thursday, July 13th
I woke up bright and early to head to Positano to catch a ferry to the island of Capri. My hotel concierge recommended that I pre-purchase my ferry tickets (in case the ferry would sell out), so I purchased tickets on MisterFerry. I took a taxi to Positano and my driver dropped me off at the entrance to the town where I made my way down the alleyways and stairs to the port where I found MANY different companies offering ferry tickets to various destinations. If you purchase your tickets online, you need to locate the proper ferry office (kind of confusing!) and check in to get your physical ferry ticket and then wait on the assigned line along the dock to board the ferry. It might be easier to just head to the marina a bit early so you can just purchase ferry tickets directly in one of the offices there.
The ferry to Capri was about 45 minutes long and we arrived at Marina Grande. I shopped along the marina until my friend Nofar arrived (she traveled all the way from Rome to meet me!). We stopped for some lemon granita, because it was HOT and then we boarded the funicular (you can purchase tickets in some of the shops along the marina), which is kind of a cable car/train that takes you up into the town center of Capri (otherwise you can do the long and difficult hike up). We took in the beautiful scenery and walked through the town, passing many lovely boutiques and shops until we reached the Capri kosher restaurant. We enjoyed a lunch of some Italian classics and then headed for the Tiberio Palace hotel (formerly the site of the restaurant, but now just a hotel that accommodates and services Jewish travelers) for a quick tour of their garden, and some drinks at the bar with a magical view. If you have time in Capri, you can take a bus to Anacapri, which is a higher elevation on the island with beautiful views, or even take a cable car from Anacapri to Monte Solaro. Of course you can also take a boat out to swim at the famous Blue Grotto. We didn't have time for that, so we took the funicular back down the marina, took a quick dip in the crystal-clear water and then took our respective ferries back! I headed back to Positano, and walked through the town to the city center, reached the taxi stand and headed back to Praiano.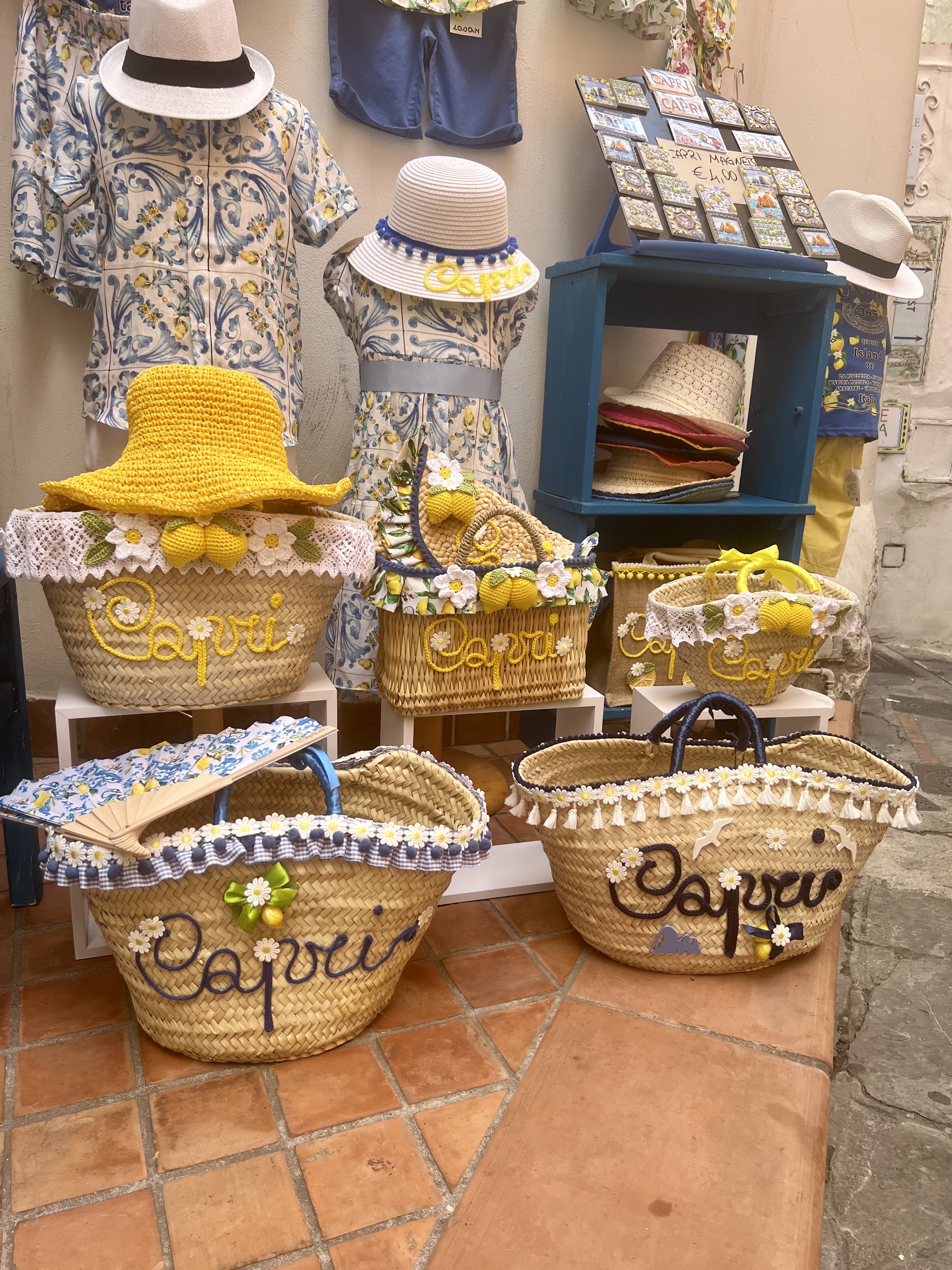 Capri
I reached my hotel, totally exhausted and wiped from the day's travels, when I received a DM from a follower who mentioned that she was staying in Praiano and maybe we could meet for a drink! Now I had been worried about my Shabbos plans (and shlepped Shabbos food back with me from Capri Kosher) and I couldn't believe my luck when I mapped her location and she was only 900 feet away! Reuven and Ra'nana Stein had come from Chicago and offered up some Romanian salami – which I could not decline! So we met for drinks at a local "bar" (there isn't much night life in Praiano – it was more of a market serving cocktails! You want to go to Positano for the nightlife!), sharing stories of our unexpected travels through the coast. It was a wonderful way to end a very busy and tiring day!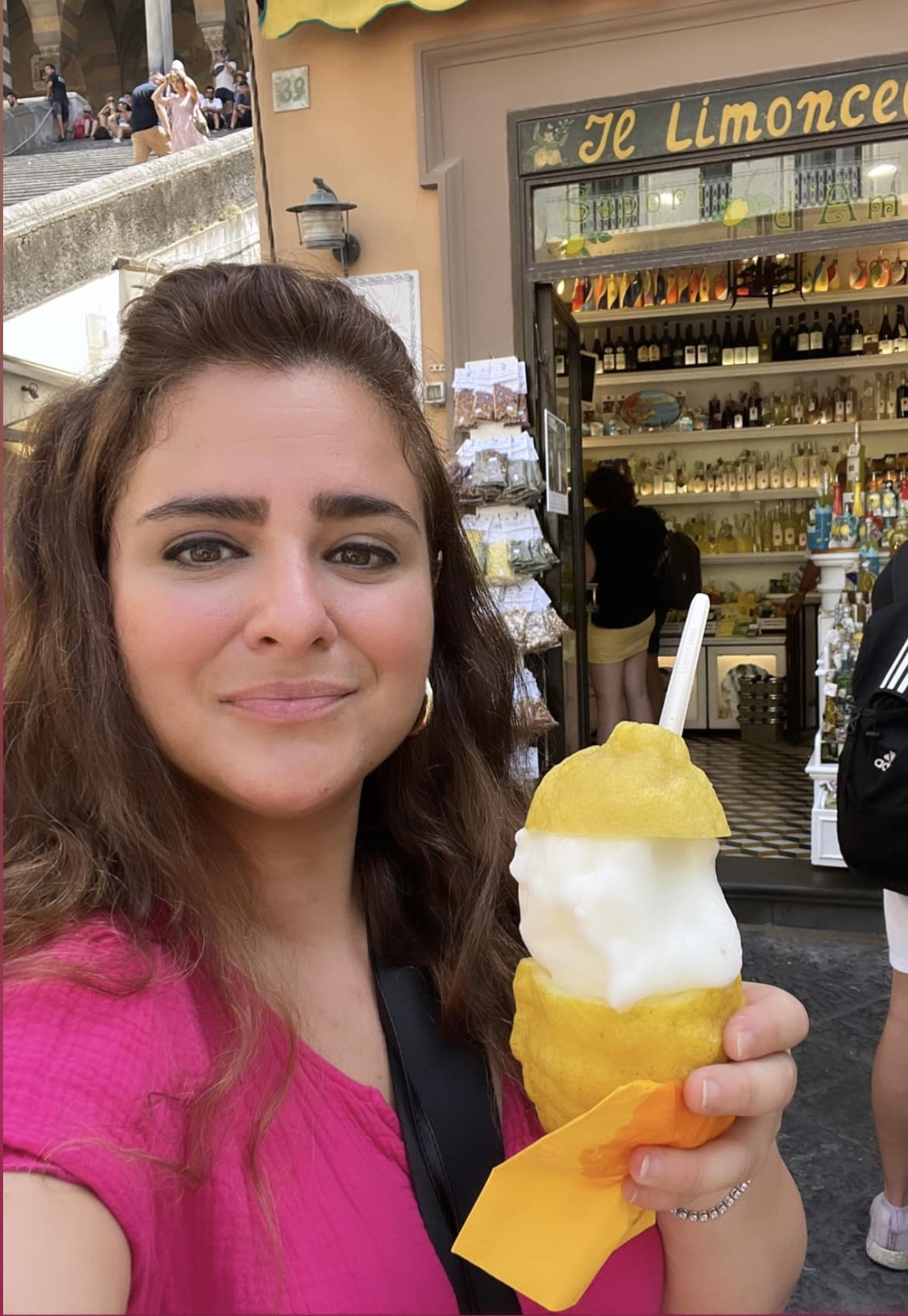 Lemon sorbet in Amalfi lemons in Amalfi!
Friday, July 14th
I had a tour of a Limoncello factory planned for Friday morning, but I could not, for the life of me, drag myself out of bed so early to make it! I decided to take it easy instead, and stopped off at the hotel main lobby to ask the concierge for some ideas. Some visitors were headed out and handed me a few extra bus tickets that they weren't using, so I headed for the bus stop and took the local bus to Amalfi (Amalfi is both a town along the coast, and also the name used to refer to the entire coast). The ride was about 30 minutes, and I arrived at the marina, where I took in the local sites, did some shopping (most of the marina's have similar souvenir shops selling trinkets with their respective town names on them), and had some the famous lemon sorbet inside a lemon (make sure to order sorbet and not gelato – most gelato has gelatin in it – and ask the shop for the ingredients – if it's only water, sugar and lemon it's ok). As I was heading out of Amalfi, I bumped back into the Stein's and we decided to hop on a bus to Ravello. It turns out the buses are quite difficult to catch, and they don't leave on time, so Reuven found us a shuttle headed in that direction. I am forever grateful for that, because of all the beautiful stops along the coast, nothing, NOTHING, compares to Ravello. Ravello is high up in the mountains of the coast, a town filled with beautiful gardens. As soon as you walk into the town square, you're surrounded by the most magical view of the mountains and coast. We walked through the beautiful town, and headed to Villa Cimbrone Gardens which was recommended by the tourist office in the main square. It did NOT disappoint! We headed back to the city square where we took a bus back to Praiano just in time to shower and get ready for Shabbos. I realized I did not have any candles so I ran around our small town till I found candles at the pharmacy and matches at the tobaccaria (which is where they sell the bus tickets btw). I picked up some fresh produce and snacks at the local grocery and I headed back to my hotel room to bring in Shabbos!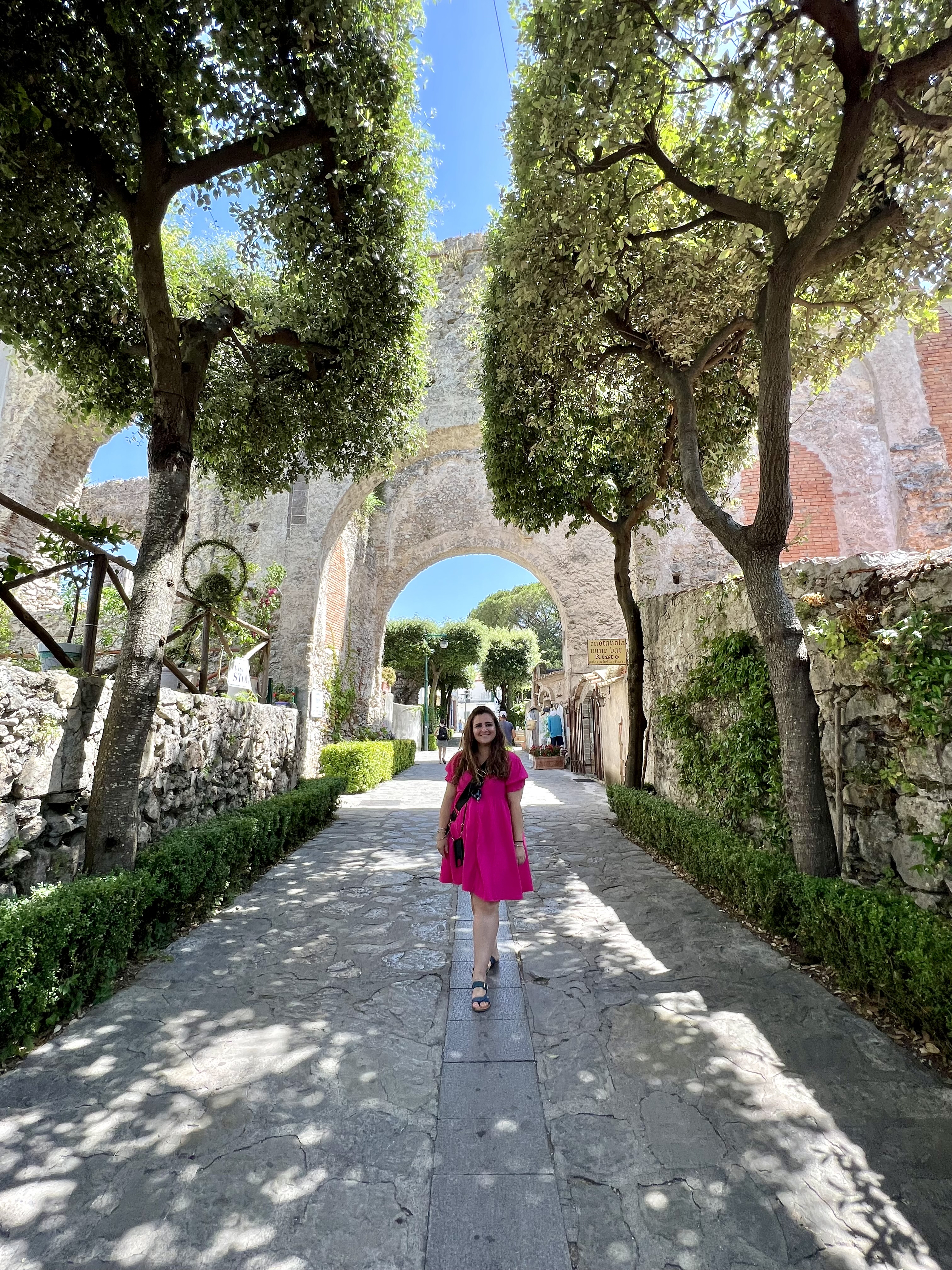 Ravello!
Shabbos, July 15th
I slept in for a change (thank you Hashem for Shabbos!), and then took a long stroll to visit my new friends, the Stein's, just a short walk but a few hundred steps up on the hill. We hung out for the afternoon, and took a stroll through our small town, a Shabbos nap and finally Shabbos was out. We had grand plans to head to Sorrento (to gelateria that sells kosher gelato) or Amalfi (for a refreshing lemon sorbet), but alas it was impossible to find a taxi, and we missed the last bus out because the tobaccaria was already closed and we couldn't buy tickets. Moral of the story: plan in advance!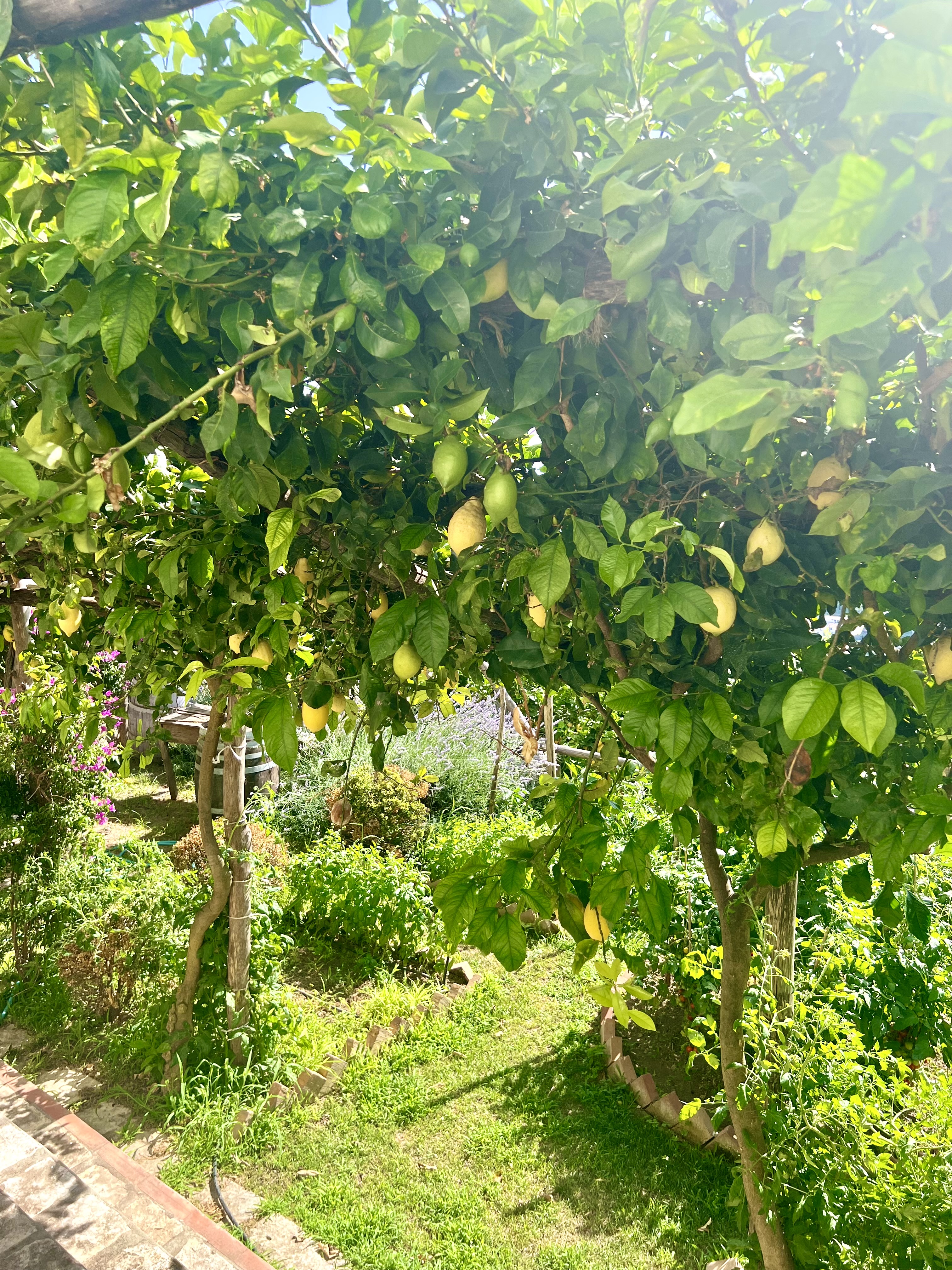 Amalfi Lemons
Sunday, July 16th
I took a taxi straight for the airport in Naples (of course I prebooked this time) – a total balagan over there, with no air conditioning! My flight was delayed and I was pretty hangry at this point (I forgot to mention that the food I had shlepped home from the Capri restaurant for Shabbos got spoiled so it had been a couple of days since my last meal!). Alas I boarded my flight for New York. Home Sweet Home! (Food!!!)
Takeaways: you already know how much I love Rome. Florence and Tuscany as I've been there before. I was so happy I got to experience both Cantina Giuliano (back in 2020) and Tera di Seta (on this trip) – both amazing experiences in their own right. Tuscany has my heart.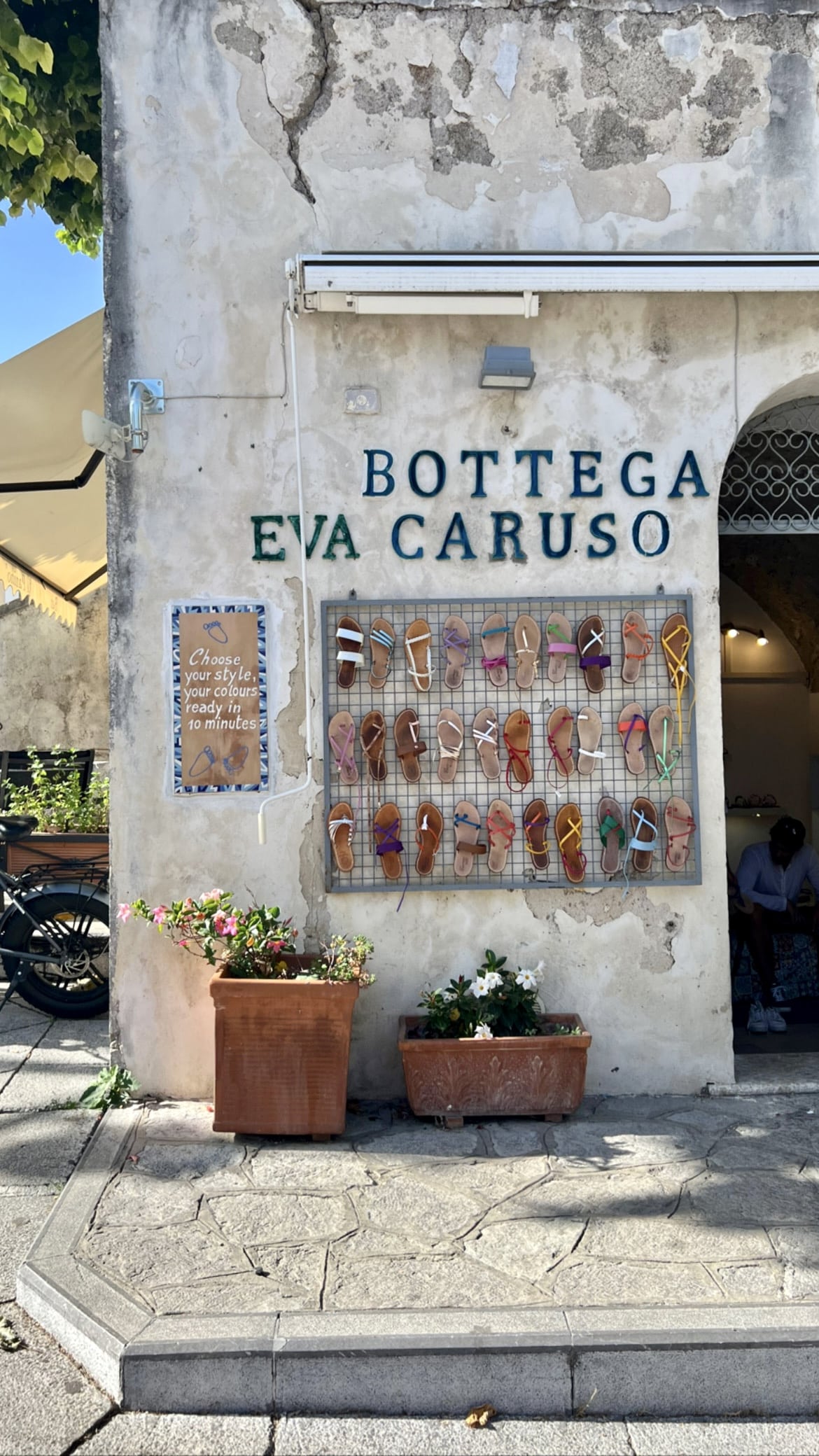 Leather sandal shop in Ravello! You'll find sandal shops throughout the coast where they will make you custom sandals on the spot!
The Amalfi coast is absolutely magical but it's a difficult trip, especially in the height of the summer heat. If you want to do it, I would recommend getting a boat for the day so you can travel from one marina to the next or getting a personal driver that can take you around. The shlep from shuttles to ferries to taxi's, up and down hills with hundreds of steps is extremely taxing. You also don't need to go everywhere. Positano is very touristy but also beautiful with great shopping and fun nightlife. Ravello is not to be missed. If you can sleep over in Capri so you have time to take it slow there, then I would recommend that. If you have time to book a private beach club along any of the marina's, that's a great way to spend a relaxing day. If you can get a hotel in one of the more exciting towns like Positano, go for it, I would not recommend Praiano unless you're looking for a really quiet and small town vibe. I would also recommend bringing kosher food along for the trip as Capri is the only kosher available.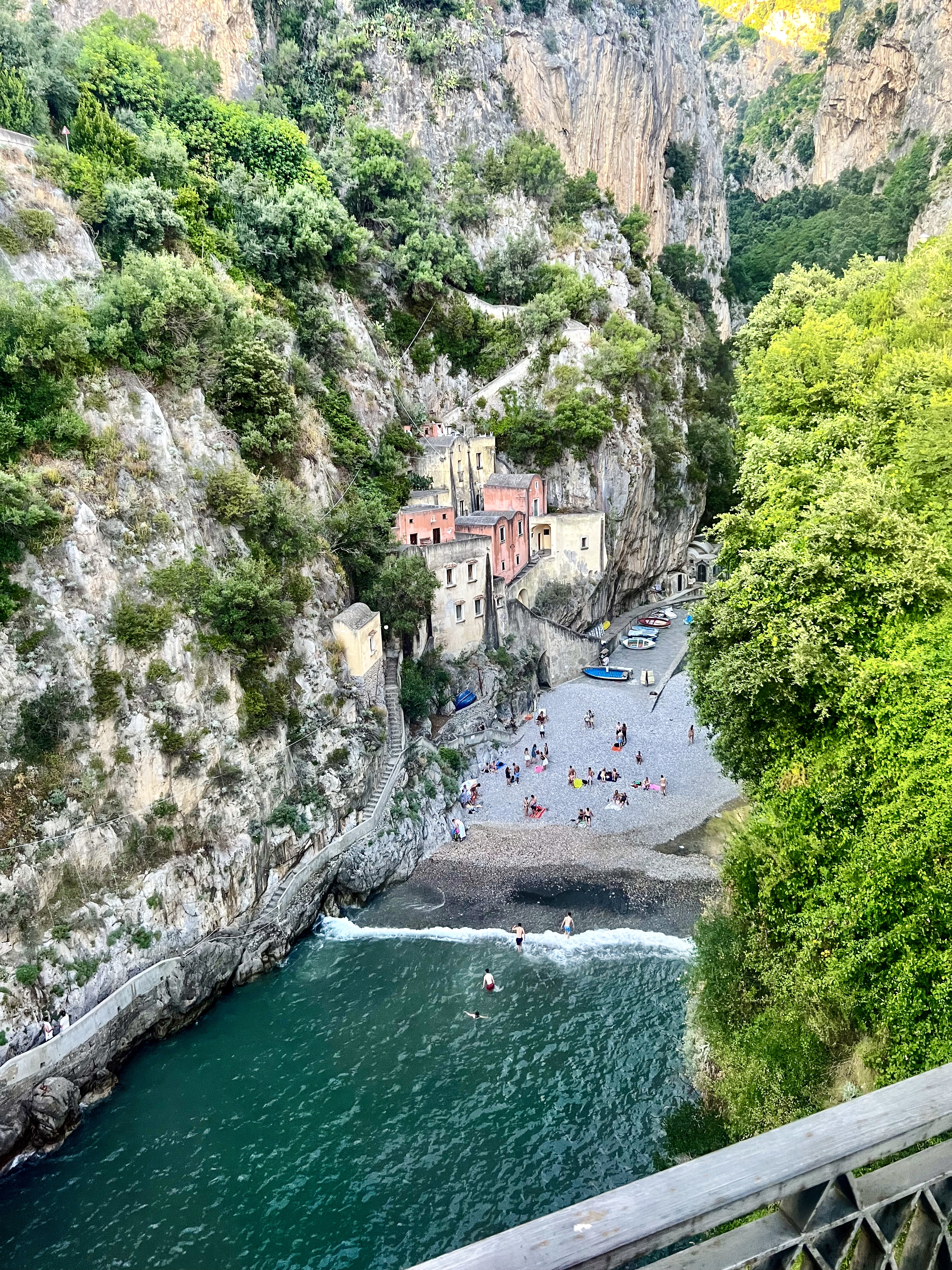 Amalfi Coast
Tips for traveling the coast:
Bring a carry-on only. So many stairs and cobblestone streets make it difficult to lug around a suitcase.
Always carry your passport, small change in Euros to pay for bathrooms (€1-€2) and wipes (most toilets do not have seats!).
Prebook your train travel on Trenitalia or Italo website. Watch the main board at the train station to check the platform for your train. Follow the signs on the platform to your coach section. Try to be early so there will be space for your luggage.
Look for hotels that are ground level, as many require hundreds of steps to reach.
When boarding buses or taxi's that drive along the coast, sit on the side of the bus that will allow you see the scenic view instead of the mountain-side.
Ask your hotel concierge for a bus/shuttle schedule as local taxi's are very expensive. Just keep in mind that they don't really run on schedule. Alternatively, you can find some locals who will drive you around on a golf cart. You can also rent a car but beware that it's very difficult to find parking and the drive along the coast can be scary/difficult. Some roads are extremely narrow and you can literally get your car stuck! (the Stein's did!).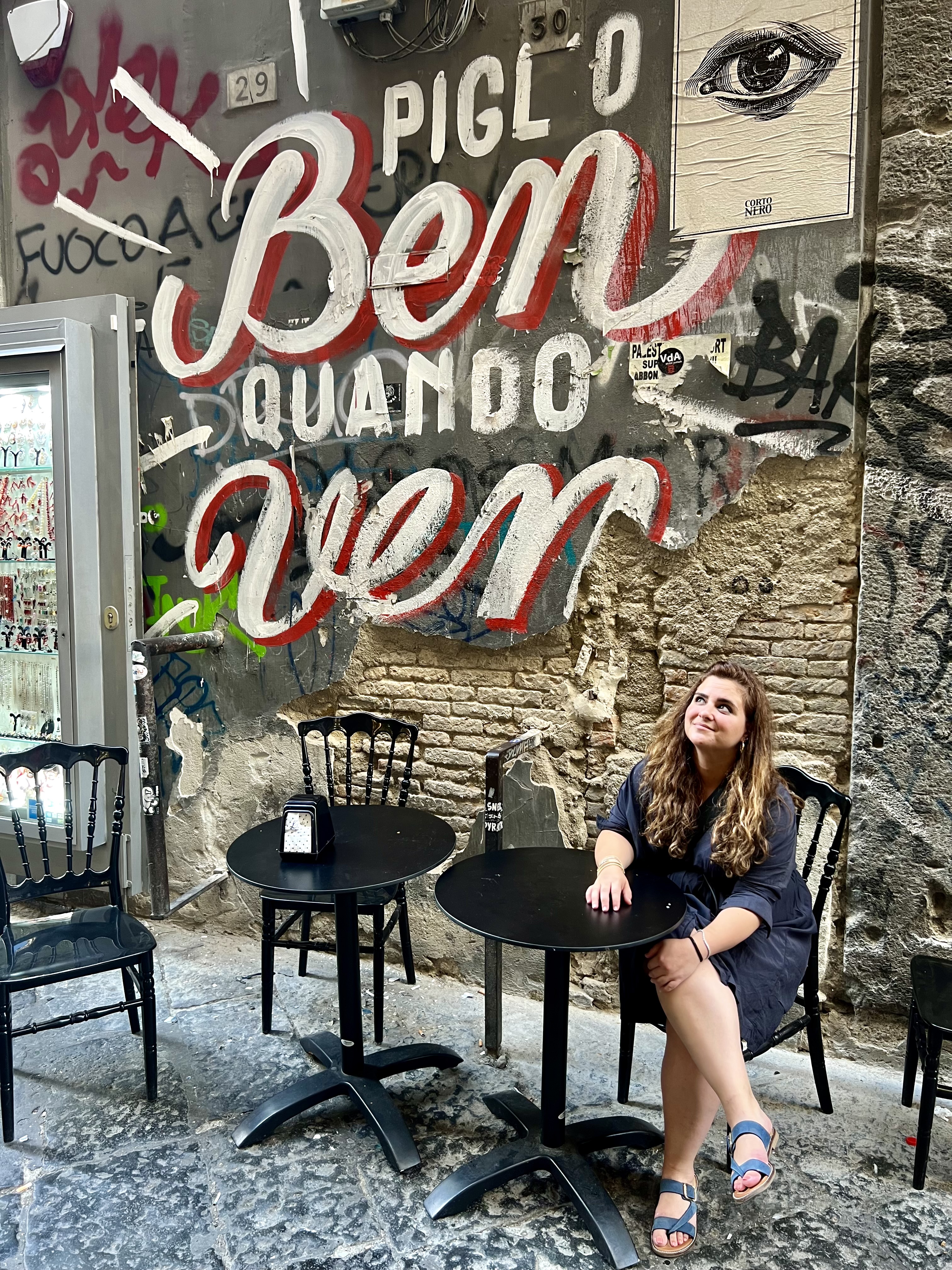 "Enjoy the good things when it happens to you", Naples
Related Posts: Italy Trip 2021