Have you entered to win the Kosher Revolution cookbook? Click here for details about our giveaway!

Kosherfest is the largest kosher-certified food trade event in the world and is a must for anyone in the food industry. From suppliers and distributors to publishers and editors, Kosherfest covers every spectrum of the kosher marketplace. Last year, on my first visit to kosherfest, I met Jamie Geller of Quick & Kosher fame. I remember mentioning to her how my husband was encouraging me to start a blog. A year later, I met Jamie again, but this time, I had a businesscard in hand. It was such fun meeting & greeting many of my fellow bloggers, and I enjoyed sampling all the new kosher food products on the market.
So, I thought I'd let you in on some of the exciting new kosher products. Here is my TOP TEN list of favorites from Kosherfest 2011.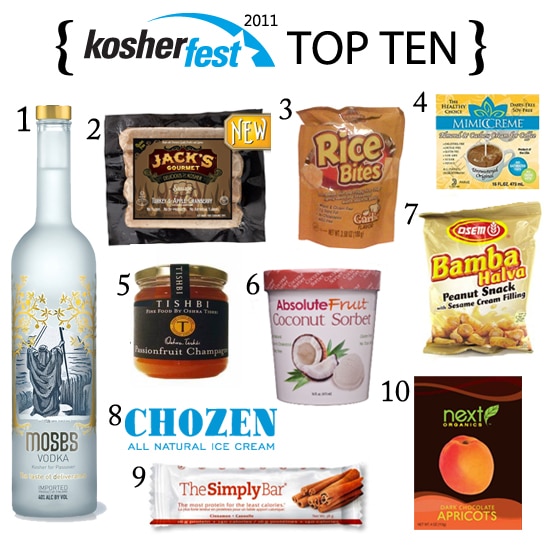 1. Moses Date Vodka (regular vodka pictured). Delicious, smooth, sweet flavor.
Moses Vodka
2. Jack's Gourmet Turkey & Apple-Cranberry Sausage. Perfect for Thanksgiving!
Jack's Gourmet
3. Rice Bites in regular, garlic and bbq flavors. Crunchy, tasty and gluten free.
4. Mimiccreme non-dairy cream substitute made from nut milk. Gluten/soy free.
Mimiccreme
5. Tishbi passionfruit champagne preserves. Winner, new product competition.
Tishbi Wine Jellies
6. Absolute Fruit Coconut Sorbet. Best I've ever had. Also available in their natural fruit shells.
Brothers Int'l Desserts
7. Bamba Halva peanut snack with sesame cream filling. Winner, new product competition.
8. Chozen Ice Cream. I really wanted a taste but not cholov yisroel. Flavors: Ronnies Rugelach, Matzo Crunch, Coconut Macaroon, Chocolate Gelt, Chocolate Babka, Apples & Honey. Parve flavors in development.
Chozen
9. Simply Bar has 16g protein and 160 calories! Low GI, dairy & gluten free. I like the cinnamon flavor.
Simply Bars
10. Next Organics chocolate covered dried cherries, apricots and bananas. Unbelievably Delicious!
Tropical Valley Foods