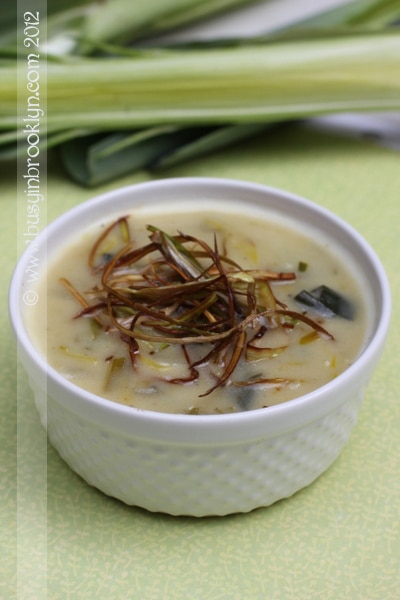 I don't know what's taken me so long to make something from Leah Schapira's fabulous cookbook Fresh & Easy Kosher Cooking, but I'm so glad I finally did. It also gave me a chance to revisit the book and look at page after page of mouthwatering recipes and pictures. While the title "Fresh & Easy" refers to the recipes, it also reflects the cookbooks ease of use. Being a web designer by trade, I really appreciate a fresh and clean layout, and Leah's book does a fabulous job of creating organized, easy-to-read meal plans for the everyday cook. With picture perfect menu's, an informative guide to seasonal fruits & vegetables, as well as freezer tips and food pairings, "Fresh & Easy" is the perfect resource for busy moms and cooks.
One of the recipes that stood out to me was this cream of leak soup. While I usually make french onion soup for Shavuous, I find it quite heavy, so I was looking for something dairy, but lighter. While this is similar to a vichyssoise, the lack of potatoes and heavy cream keep it light – which I love. Of course I had to throw my own twist on it, so I made some crispy leeks for garnish.
Some of the other recipes I'm eyeing from Leah's book include the gemelli basil pasta salad, butternut squash with grapes and shallots, red wine tomato sauce, Italian breadsticks, double chocolate pecan waffles, creamy thai chicken thighs, plum asian chicken, savory hamentaschen, peanut butter bars, cinnamon twists, cheese buns….(I better stop here before I type up the whole cookbook!)
Do you own the Fresh & Easy cookbook? What are some of the recipes you've tried? I'd love to hear from you!
Cream of Leek Soup
reprinted with permission from Fresh & Easy Kosher Cooking by Leah Schapira of CookKosher.com
3 large leeks (white and light green parts only)
2-3 tbsp oil
1 small onion, diced
4 tbsp flour
2 cups pareve chicken stock (I used Imagine)
1/4 cup white wine
salt and pepper, to taste
3/4 cup milk
Method:
Slice the white and light green parts of the leek in half vertically (I seem to have misread this part and used the green parts too, oops!). Wash well and cut crosswise into thin slices. Heat the oil over medium heat and saute the leeks and onions for 10 minutes, stirring occasionally, until translucent. Add the flour, stirring constantly for 1-2 minutes. Add the stock and bring to a boil. Lower the heat. Add white wine, salt and pepper and simmer for 10 minutes. Add milk and heat thoroughly, taking care that the soup does not come to a boil.
Note: Puree if desired.

Crispy Leeks
1 leek, white and light green part only
canola oil
Method:
Slice the leek in half vertically and wash to remove dirt and grit. Dry well. Cut the leek lengthwise into thin strips. Heat up oil in a small pan and add leeks. Fry until golden and drain on paper towels.
1 year ago: mini zucchini muffins + Rivka's pumpkin cake