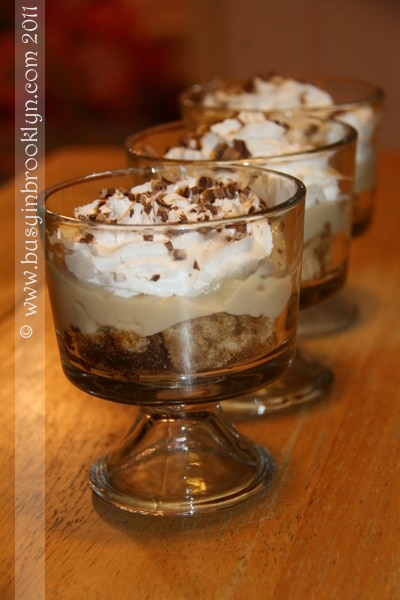 I love the look of trifles. All the neat layers and colors are a feast for the eyes. I've made salads, as well as desserts, in trifle bowls. The thing about it is, although it looks pretty, it's just not that practical. When serving salads, it becomes impossible to mix, and all the vegetables start to fall over the sides. Desserts are simple enough to serve, but once you start spooning out portions, it looks less than appealing on the plate. My solution? Individual trifle bowls. I found them a few years ago at Crate and Barrel, but you can easily use margarita glasses, glass cups, or any see-through dish. You can even buy those plastic margarita glasses as an inexpensive substitute for the real thing.
There are no rules to making trifles. You can use your creativity to flavor the toppings and add exotic fruits. Brownies, chocolate cake and vanilla sponge cake are good starting points. Personally, I always fall back on the simple and classic sponge cake-vanilla pudding-whip cream-strawberry trifle.
The basic recipe for a trifle includes (in said order):
1. cake (sponge cake works well because it's dry and can soak up the juices)
2. syrup or liquor (optional)
3. custard or pudding
4. fruit or pie filling
5. whip topping (you can flavor it with coffee, or chocolate if you'd like)
6. chopped candy bars, toasted coconut, chocolate shavings, etc. for garnish
(if you have room, repeat the layers)
A few weeks ago, I had an entire leftover French Coffee Sponge Cake (similar to a marble sponge cake but with coffee instead of chocolate) that wasn't touched. Instead of throwing it away, I decided to whip up some mini trifles, along with a quiet game night, for just my husband and I. It took about two minutes to put together (I used ready-made pudding and the air-canister of whip topping) but it tasted like a decadent dessert.
Quick & Easy Individual Trifles
Store-bought sponge cake
Store-bought pudding
ready-made whip topping
chocolate liquor or syrup
chocolate shavings or chopped candy bar, for garnish
Method:
Cut the pound cake into small pieces. Fill the bottom of the trifle bowls with 1/3 cake. Drizzle with chocolate liquor or syrup. Top with 1/3 pudding. Finish with 1/3 whip topping. Garnish with chocolate shavings or a chopped candy bar (nutty chews and viennese crunch work well).