There's nothing like an ice cold cup of lemon or limeade to cool you off on a hot summer's day. Summer, or winter, I'm a huge fan of citrus drinks, but all too often, I find that they are overly sweet. This lightly sweetened watermelon-limeade is reminiscent of agua fresca, a refreshing fruit-infused water drink popularized in Mexico . Aqua fresca is a terrific thirst quencher for summer picnics and barbeques.
For as long as I can remember, I've been wanting to set up a lemonade stand for my kids. So when I was testing this recipe for the blog, I knew just  what to do with my pitcher full of limeade. My girls couldn't be more excited about their reenactment of one of their favorite books "Pinkalicious and The Pink Drink," while my son stood by asking for continuous refills. I set my kids to work designing a sign for our table (isn't it adorable?!) while I put together all the necessities. Since we used tiny little cups, we set our price at just 5 cents, a total steal for today's economy!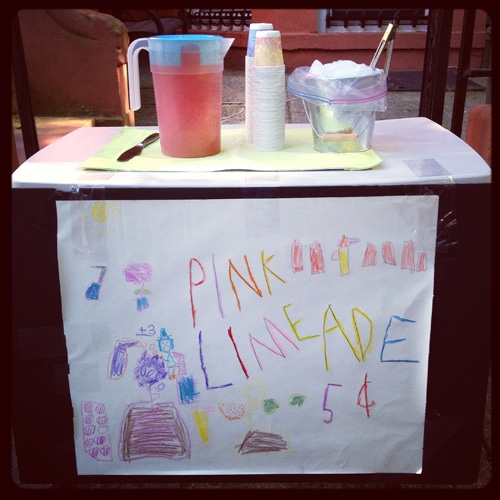 We live on a very quiet block, with not much foot traffic, so my little ones grew increasingly sad as they waited for someone, ANYONE to buy a cup. With construction going on directly across the street, we were lucky enough to have the contractor buy a round for all of his workers. He generously gave my kids more than 20 cups worth of pay. After that, traffic picked up and thanks to the generosity of strangers and friends my elated children netted $6.51. That's a whole lot of profit when you're asking for a meager 5 cents a cup.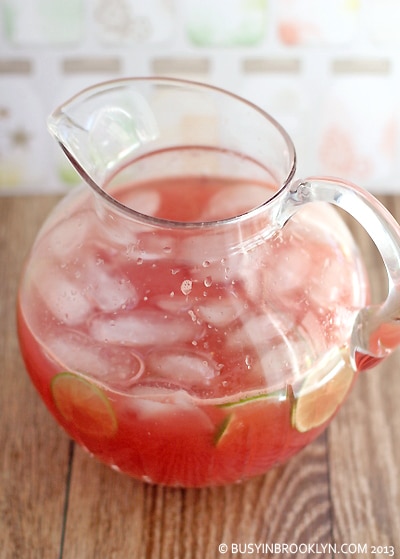 I'll never forget the excitement and smiles on the faces of my children, and the pride they showed in their first business venture. Our pink lemonade wasn't just a thirst-quencher. For two little girls in Brooklyn, it made a favorite book come alive and wishes and dreams come true.
Watermelon Limeade
1/4 watermelon, or 3.5 lbs
3 cups water
1/4 c sugar dissolved in 1/2 c boiling hot water
juice of 2 limes
2 limes, sliced
ice cubes
sliced limes, for garnish
Method:
Peel and chop watermelon Add the watermelon to a food processor and blend until completely smooth. Pour the watermelon juice through a fine mesh sieve or cheesecloth, squeezing to release all the juice. Discard watermelon pulp. Bring 1/2 cup water to a boil and add 1/4 cup sugar. Mix until sugar is completely dissolved and set aside to cool. Add the watermelon juice, water, cooled sugar syrup, lime juice, sliced limes and ice cubes to a pitcher. Pour into glasses and garnish with sliced limes.
TIP: If you don't have a citrus squeezer, see my kitchen tips for a great way to juice your limes!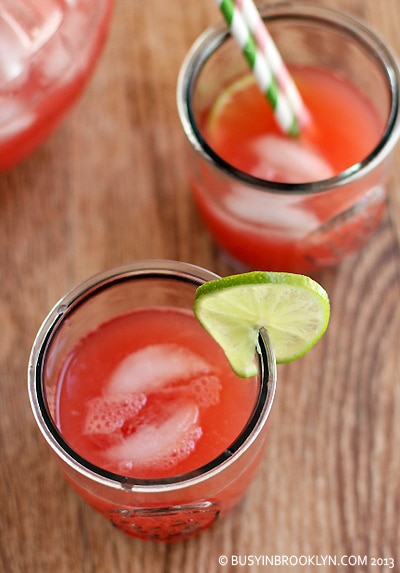 1 year ago: smores chocolate toffee bark
2 years ago: salad nicoise