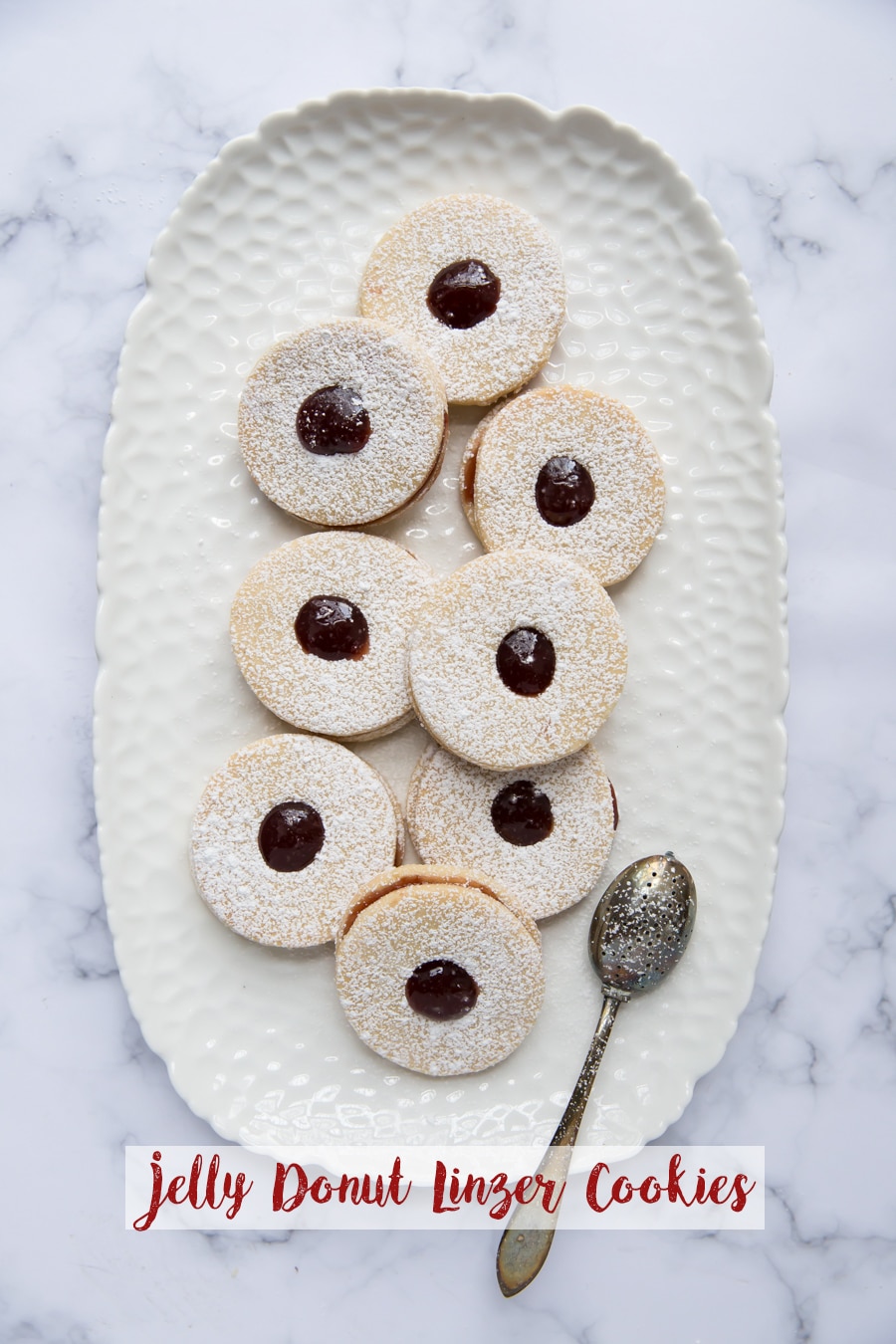 Woohoo, it's officially my favorite time of year! Jelly donuts, latkes, fried food and presents, what could be better?! Lets get the Chanukah fun started!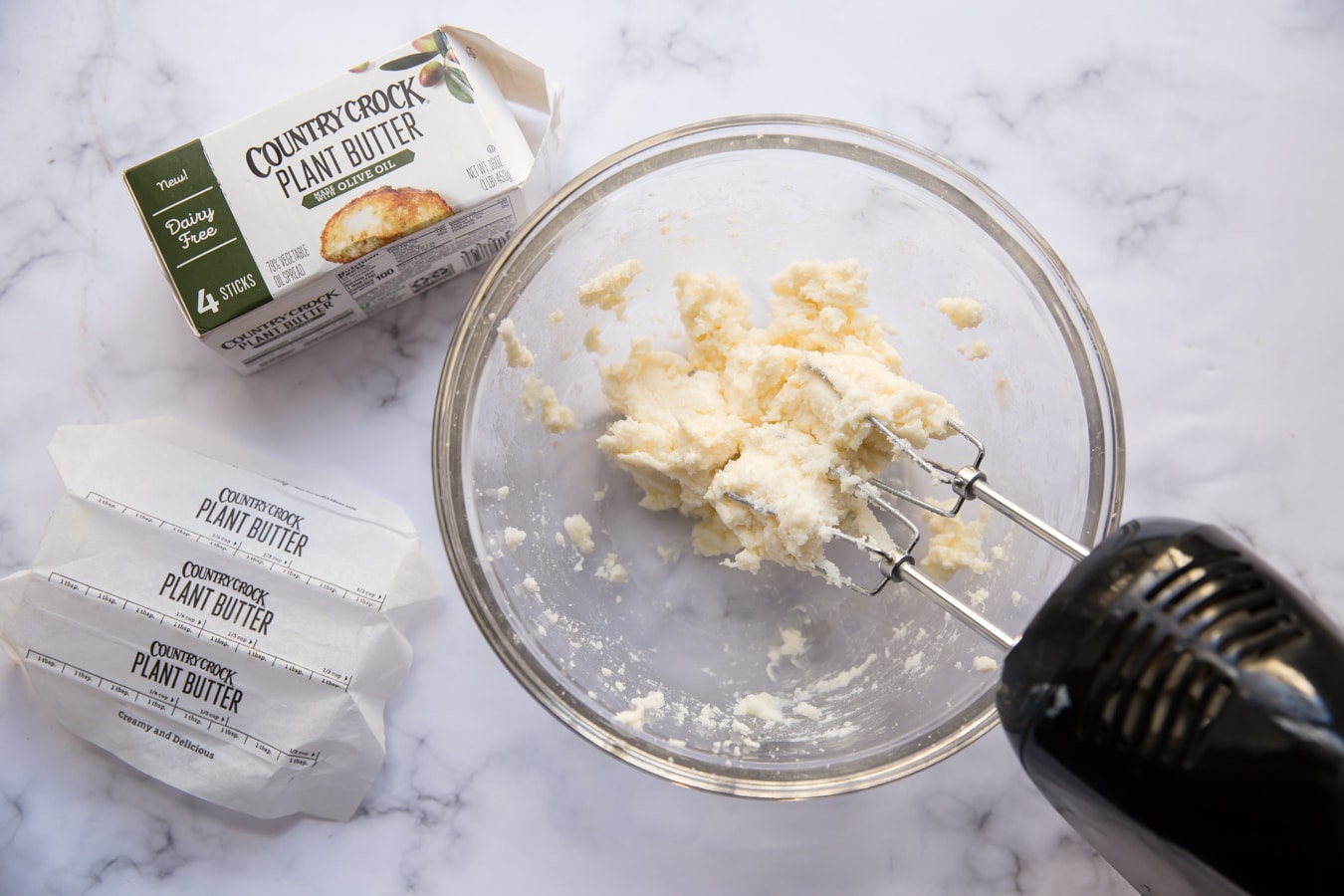 When Upfield reached out to me about their new plant based butter made with olive oil, I was so excited to use it for Chanukah – the holiday where we celebrate the miracle of the small flask of olive oil that lasted in the menorah for eight days in the Holy Temple. I happen to be a big fan of olive oil in desserts (like in these gelt cookies!), although used to not be so much a fan of margarine.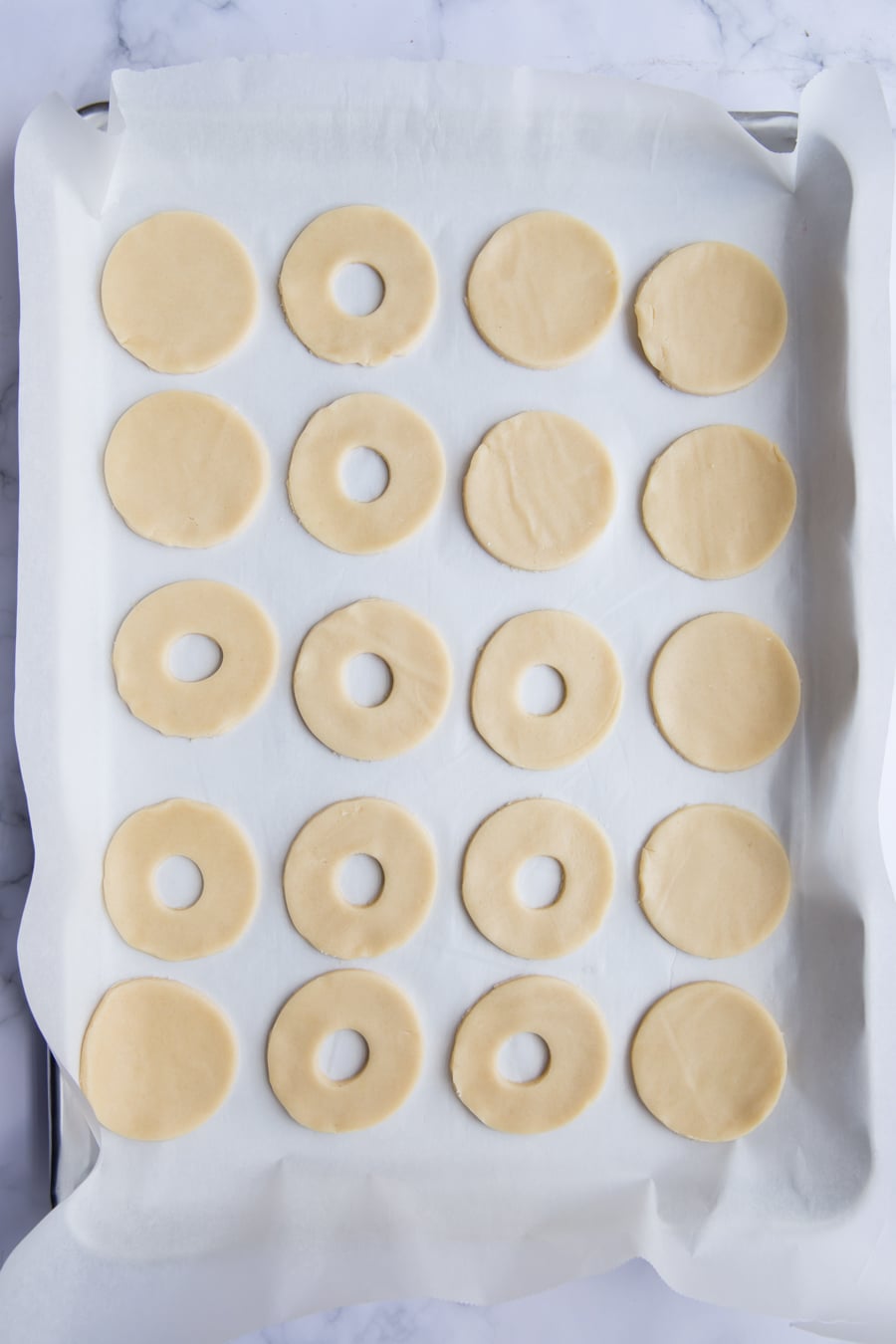 When I was in kosher culinary school, we only had a meat kitchen, so all of our butter-based sauces and recipes were made with margarine. We used LOTS and LOTS of margarine. One day, someone came in and said that margarine was molecularly equivalent to plastic, and I never looked at margarine the same way again. We started calling the sauces we made "plastic sauce" and I could barely swallow any of them! But that was my Bubby's margarine. The margarine of today is different.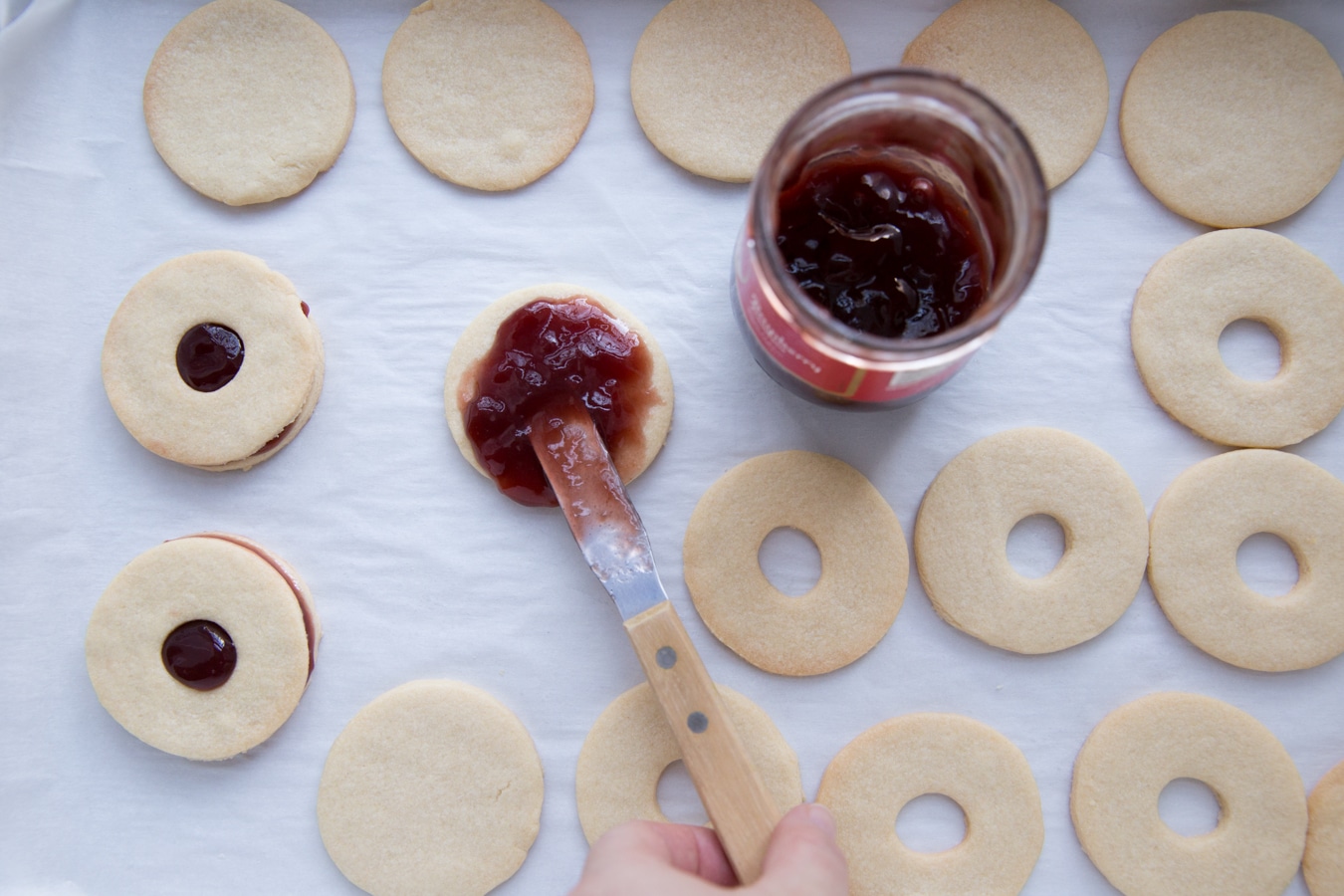 I started using a lot of coconut oil in my recipes, but there were times that coconut oil just did not do the job, so I was really stuck. I would say that in the kosher kitchen, the butter conundrum is really the #1 obstacle.

For people who keep kosher, pareve desserts is the hardest challenge. While liquid fats can easily be replaced with oils, fat in solid form has always been a problem. So when Country Crock reached out about their plant-based butter made with oils, I was happy to give it a try.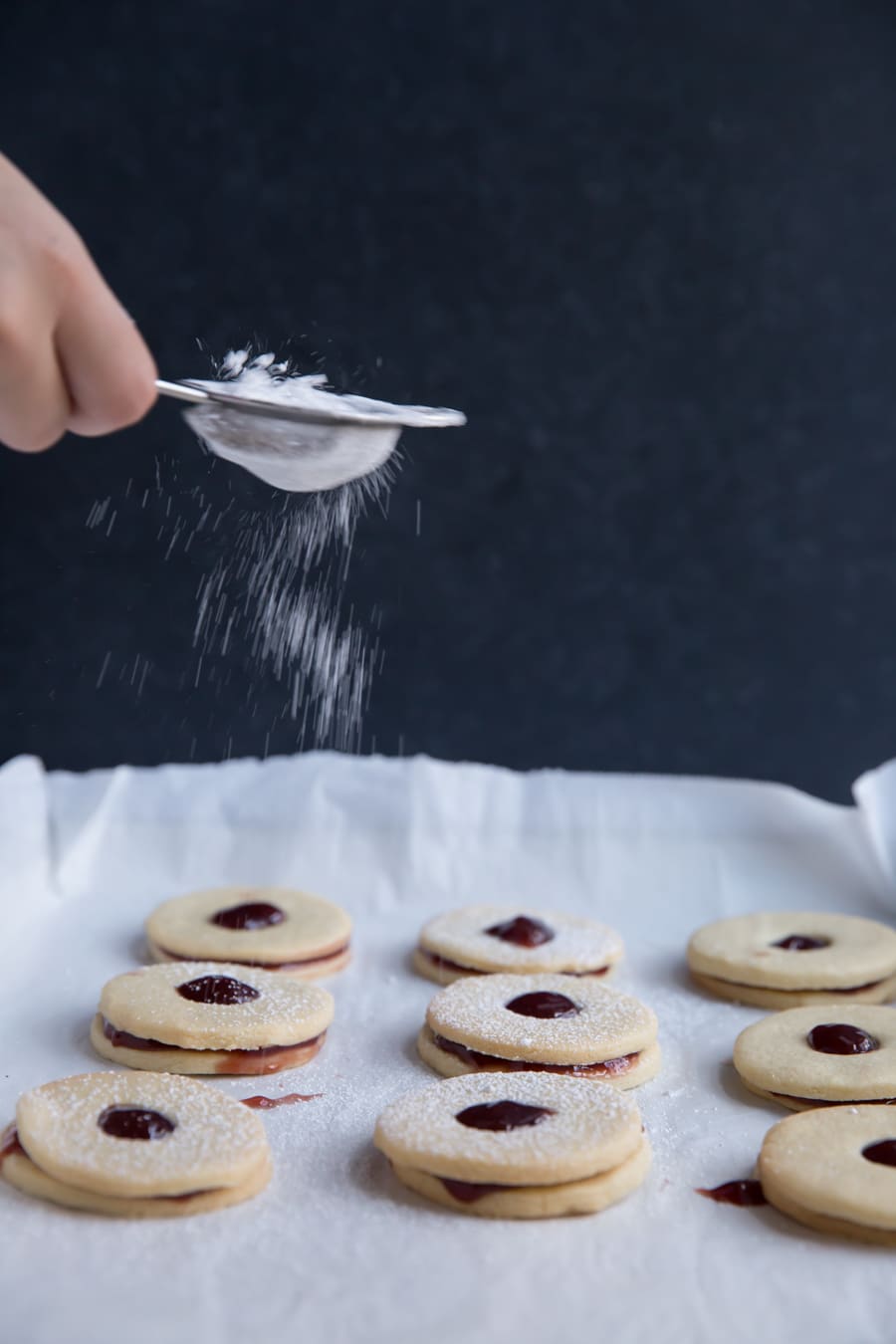 Regardless if you keep kosher or not, plant-based foods are all the rage right now, and for good reason. That's why we've adopted Meatless Mondays in our house, and we try not to eat so much animal protein. It's amazing to see all the healthy options available on the market these days and I really believe that this isn't just a passing trend.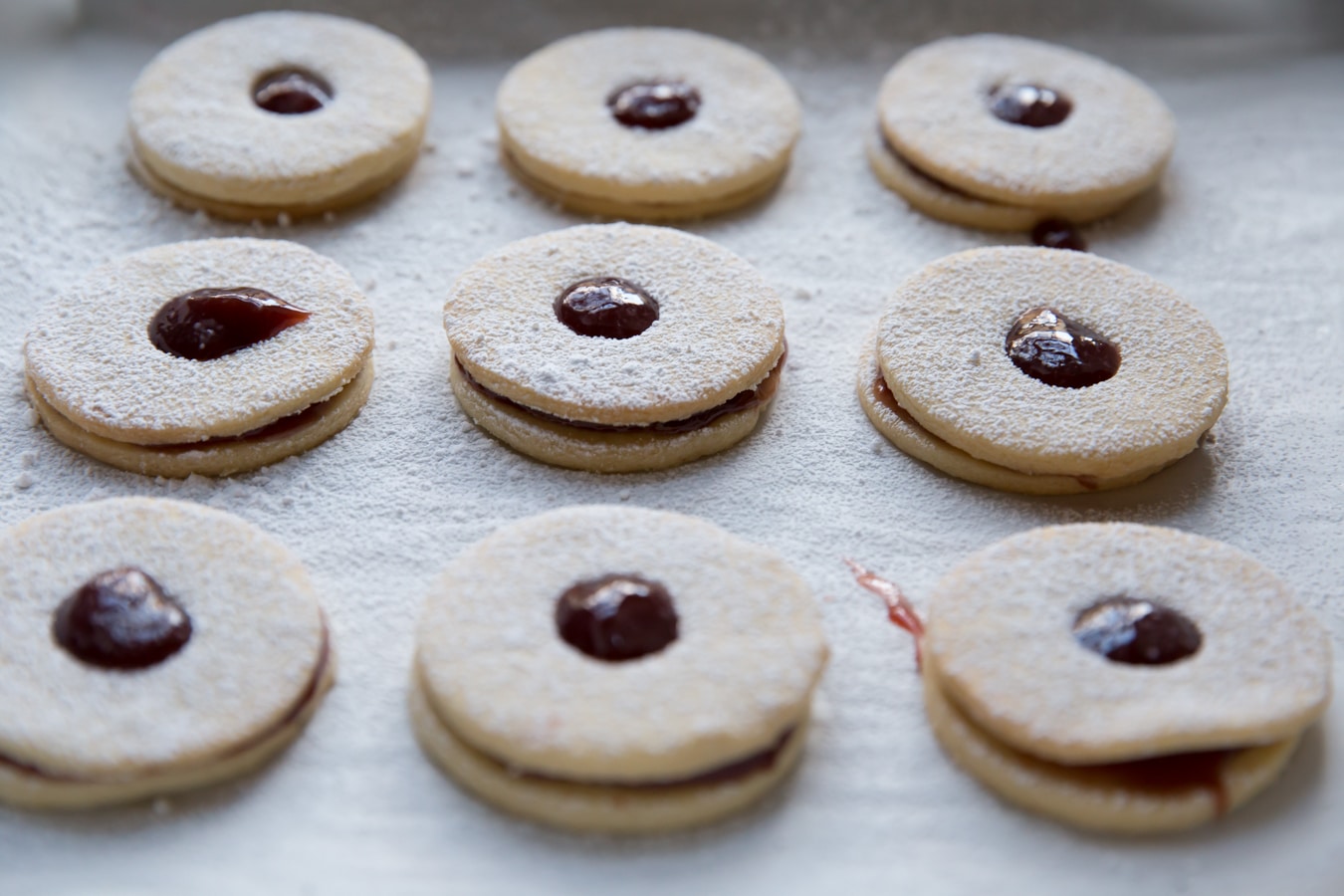 I'm so grateful that Upfield, the company behind Country Crock and I Can't Believe It's Not Butter, has transformed our Bubby's margarine into products that are more natural, with less saturated fats and no trans fats, made with ingredients that are better for our health while still tasting great and working well as a substitute for butter in any recipe.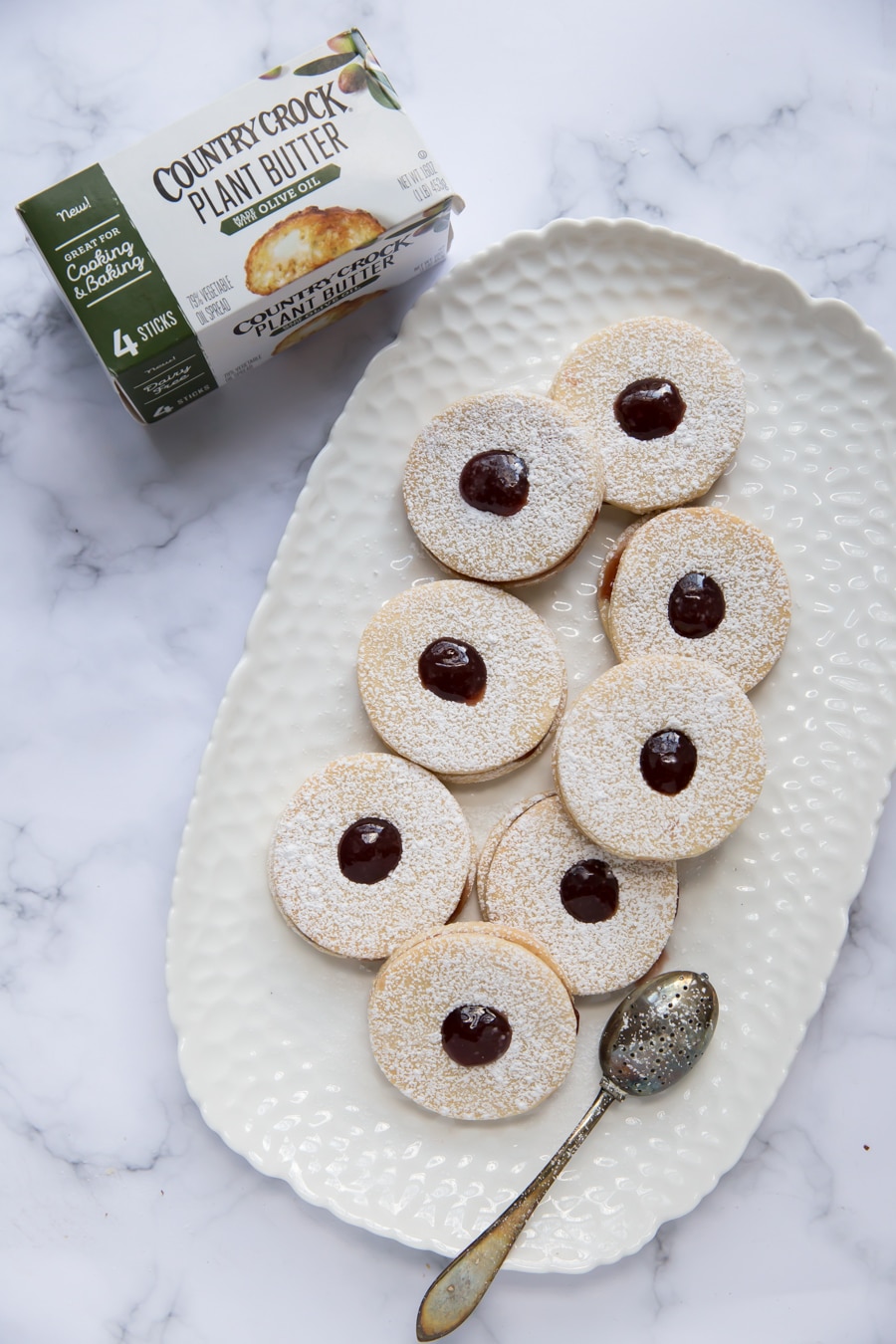 I LOVE how these jelly donut linzer cookies turned out, and not just 'cuz they make the perfect cookie for your holiday spread, but because they taste absolutely amazing, are perfectly crispy and still, yes, pareve.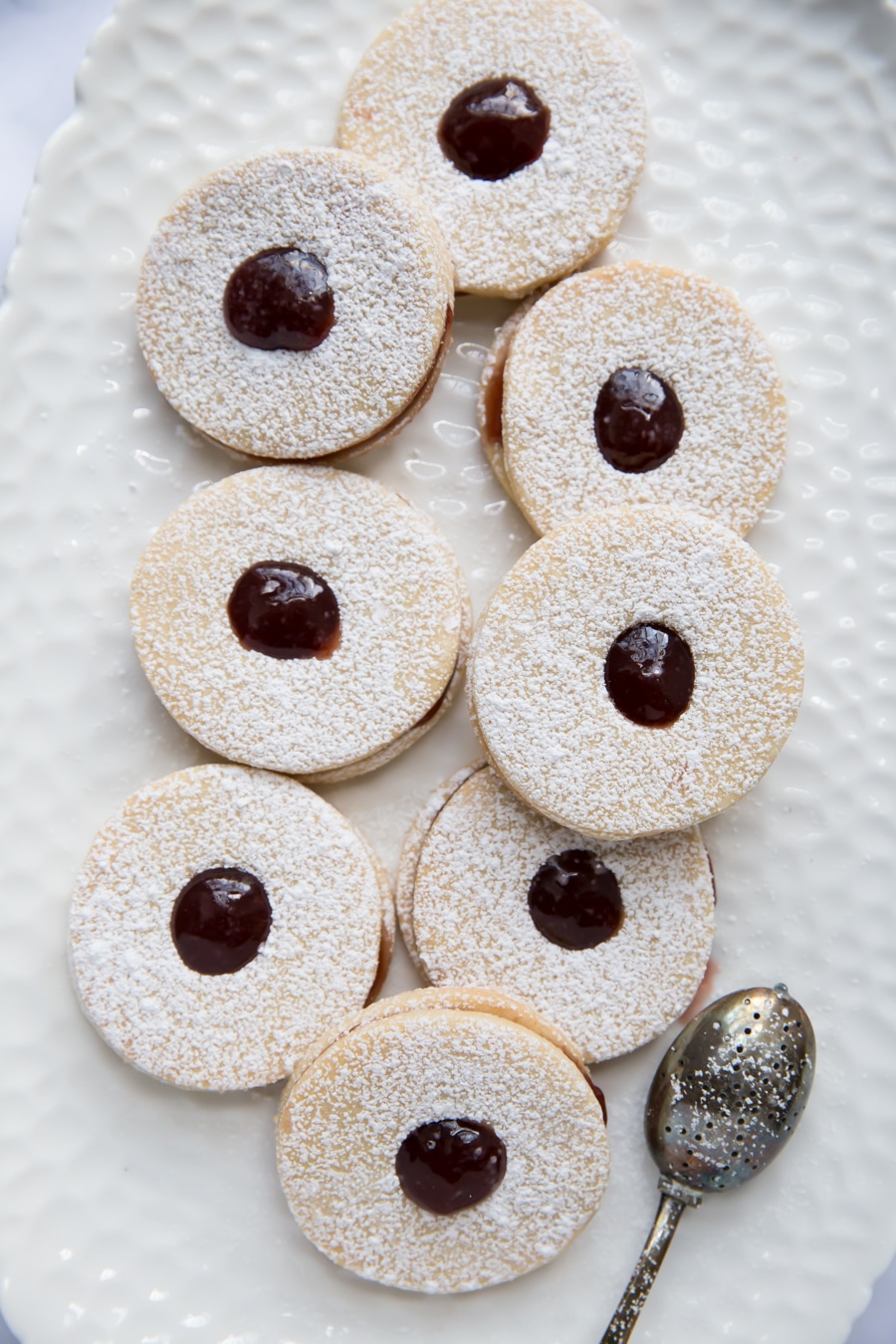 Wishing you and yours a very Happy Chanukah!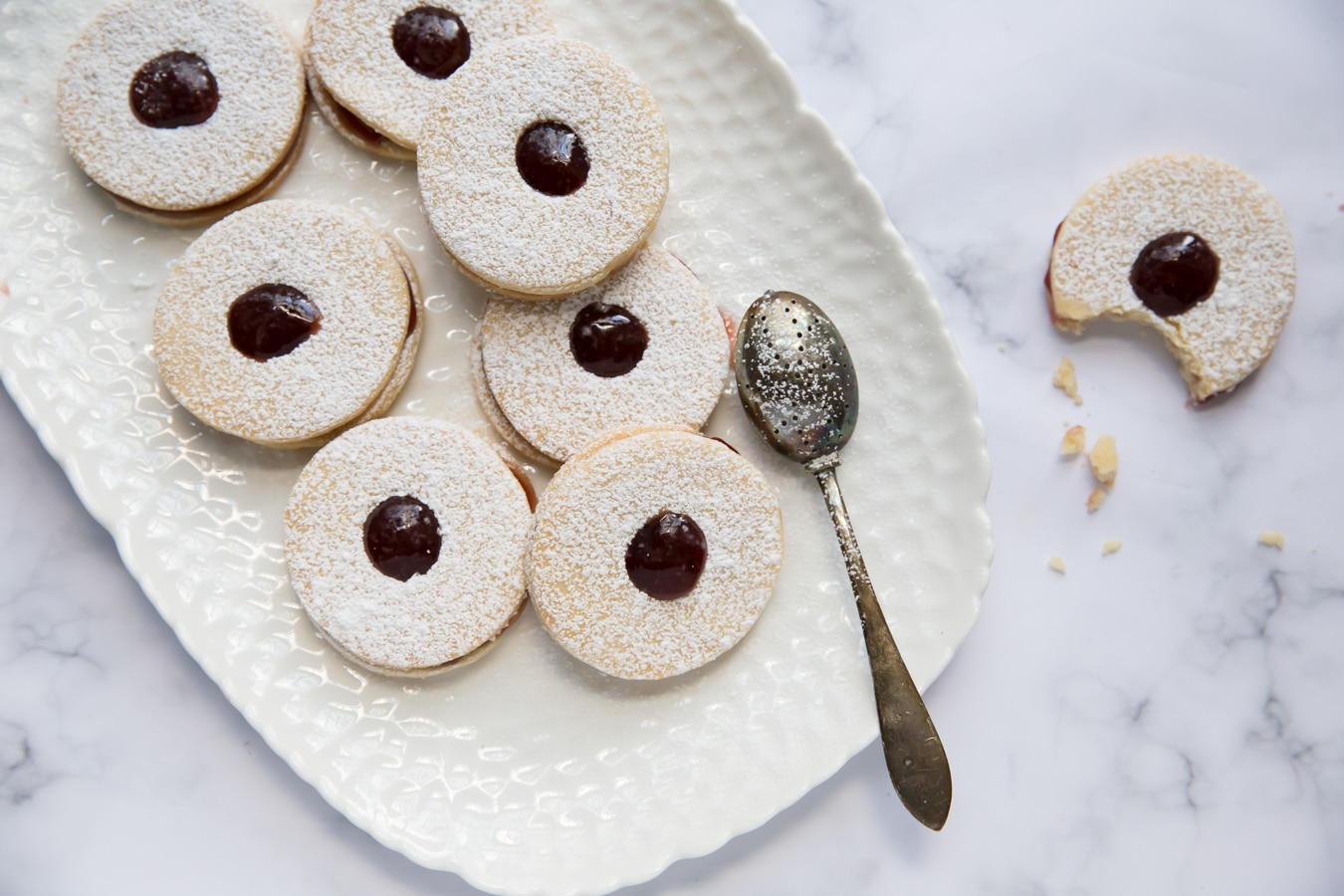 Jelly Donut Linzer Cookies
YIELD: 18 cookies
1 cup (2 sticks) Country Crock plant butter with olive oil
1 cup sugar
1 extra large egg
1 tsp vanilla extract
3 cups all purpose flour
1/2 tsp baking powder
1/2 tsp salt
1/2 cup raspberry jam
powdered sugar, for dusting
Method:
Preheat oven to 350 degrees.
Place the butter and sugar in a mixing bowl and mix with a hand blender until creamy. Add the egg and vanilla and continue to mix until combined. Add in the flour, baking powder and salt and mix and low speed until the dough starts to come together. Press the dough into a flat disk, wrap in plastic wrap and chill for 20 minutes.
Roll the dough 1/4″ thick and cut into 2″ rounds with a cookie cutter. Cut a 3/4″ hole in the center of half of the cookies. Place cookies on a parchment lined baking sheet and bake for 20 minutes, until the edges are starting to lightly brown. Cool completely.
Spread raspberry jam on the solid cookies and cover with the cut-out cookies to form a sandwich. The raspberry jam should peak through the hole (add more if needed). Dust the cookies with powdered sugar.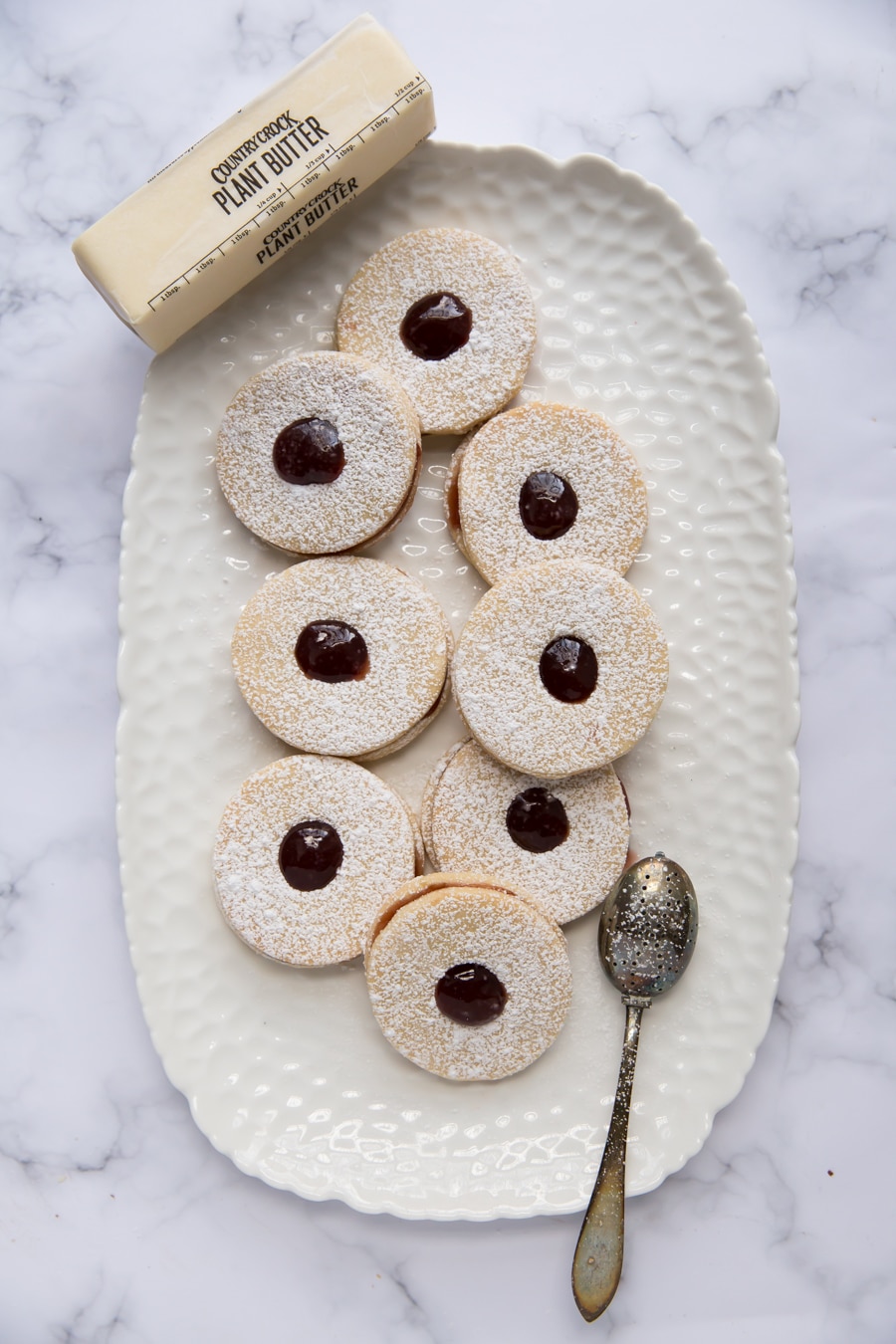 This post is sponsored by Upfield.
Related Recipes:
jelly ring donuts
pecan lace cookies with raspberry jam
cheese latkes with raspberry sauce
chanukah cookies