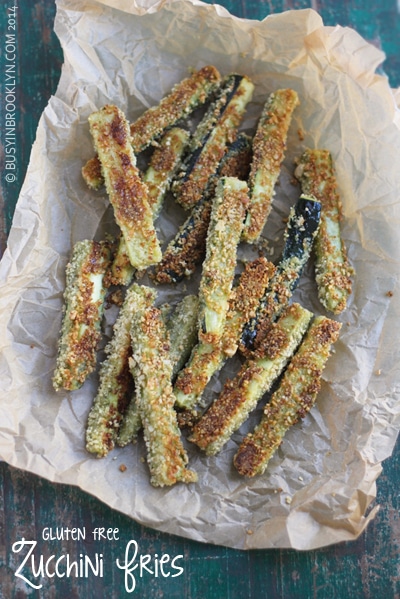 We're closing in on our series of pesto recipes with these crunchy gluten free zucchini fries! I love using zucchini because they are so low in calories and totally guilt free. To keep them diet friendly and gluten free, I used a chopped nut coating instead of breadcrumbs, and garbanzo bean flour instead of all purpose flour. But what really makes these zucchini fries different is the pesto. I could have went with eggwash to "glue" the crunchy nut coating onto the zucchini sticks, but with extra pesto in the fridge, I decided to give it a try. The results were so flavorful, I can't imagine making it any other way!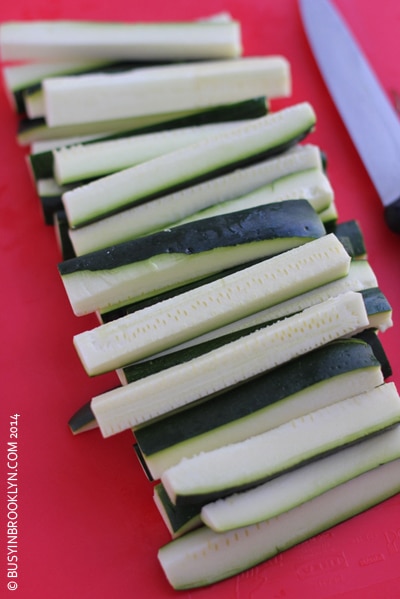 There's just something about fries that makes eating any vegetable fun, am I right? Good old russet potato fries used to be the only fries  on the brain but sweet potato fries have made it up there too. Personally, I'm a big fan of butternut squash fries,  and just recently, parsnips fries have topped my list of favorites as well. I must blog about those soon.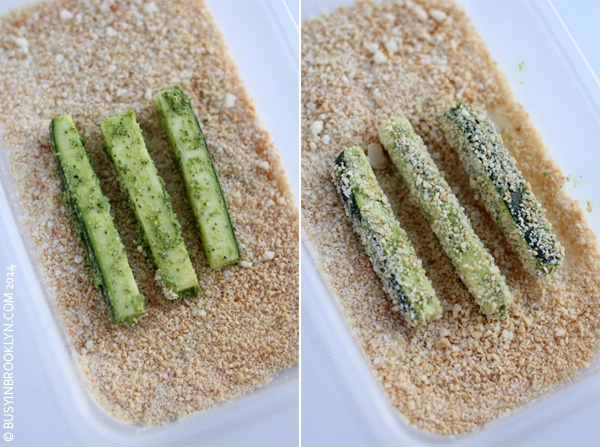 If you're dieting and craving some crunch, these oven-fried zucchini fries are sure to hit the spot. Feel free to adapt the recipe to your specific diet! To make them dairy-free, just omit the parmesan and use more nuts instead. I like to use the same nuts as the ones in the pesto (I used Marcona almonds here), but you can experiement with pecans and walnuts too.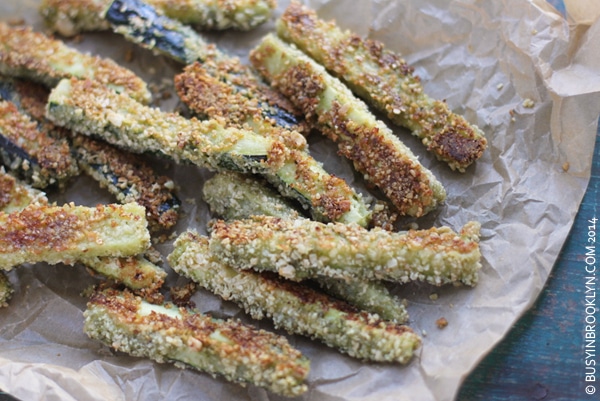 Zucchini Fries
2 zucchini, cut into sticks
1/4 cup flour (I used garbanzo flour)
1/2 cup pesto
2-4 tbsp olive oil
2/3 cup chopped nuts
1/3 cup grated parmesan
marinara sauce, for serving
Method:
Preheat oven to 425 degrees. Mix the pesto with olive oil to thin it out. Add additional olive oil, if needed, depending on the thickness of the pesto.
Set up a dredging station with bowls of flour, pesto and ground nuts mixed with parmesan.
Dip the zucchini in flour, shake off excess and dip into pesto. Press the zucchini sticks into ground nuts/parmesan. Place on a greased cookie sheet and spray with oil (I use a Misto olive oil sprayer but you can use cooking spray). Bake for 15-20 minutes until browned and crispy.
Don't like pesto? dip the zucchini in eggs seasoned with salt and pepper insead.
VARIATION: To make these nondairy, replace the parmesan with additional chopped nuts.
NOTE: for crisper fries, you can bake them on a rack set of a baking sheet.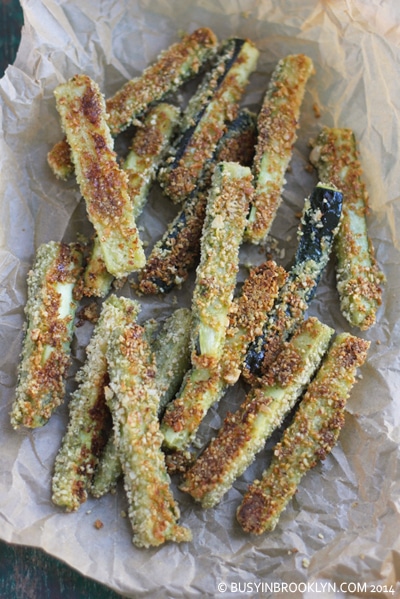 Related Recipes:
zucchini parmesan chips
pesto pinwheels