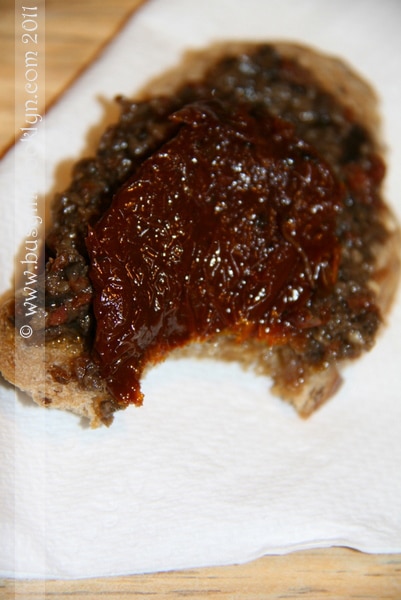 After tasting a delicious olive tapenade at a restaurant a few years ago, I started playing around with different olive dip recipes to serve on Shabbos, alongside the fish. I tried the typical spanish olives with mayo, green olives with garlic and olive oil, and finally this recipe, which proved to be by favorite. The sundried tomatoes add a delicious flavor and color to the dip. When I was plating this for photographing, my two year old daughter asked if she could have some in a sandwich. I put two pieces of crostini together, and she ate the whole thing! If a two year old can appreciate its deliciousness, imagine how much you, and your guests, will!
Sundried Tomato Olive Tapenade
1 19oz can black olives (I use manzanilla)
1/2 jar of sundried tomatoes packed in olive oil, about 10
4 tbsp oil from the jar of sundried tomatoes (or extra virgin olive oil)
3 garlic cloves
Method:
Add olives, sundried tomatoes, garlic and oil to a food processor. Pulse until it reaches desired consistency (I like it a bit chopped and piecey otherwise it will have a sandy/grainy texture).