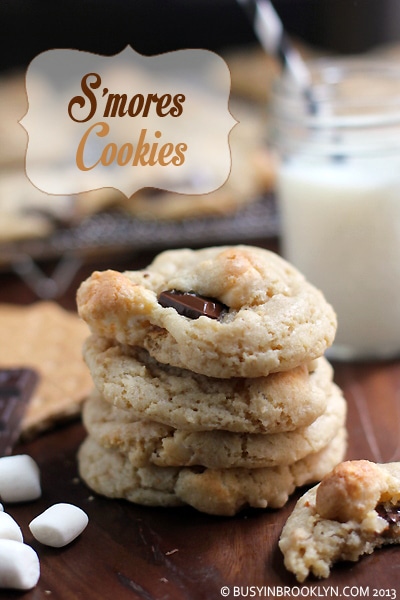 It's funny to see just how crazy people are about cookies. Me included. Recently, I posted a review of my day at Governor's Island. I mentioned, in passing, what we brought along for our picnic, s'mores cookies included. I was so excited to receive lots of feedback on my post – but it was all in the form of a recipe request. "Did you say s'mores cookies?" Why, yes I did. "Can I have the recipe?" Well, of course.
So, here I am sharing my accidental recipe for s'mores cookies.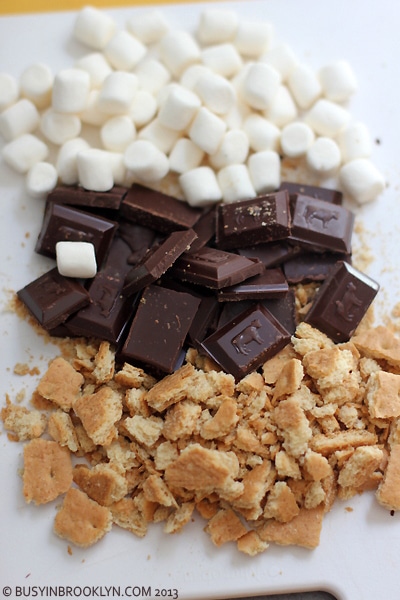 When it comes to cookie making, I'm always in sort of a dilemma. And I'm going to be frank here. So please don't run away after you read my serious foodie confession, ok?
I don't like butter.
There, I said it.
I don't like butter.
Now before you close the screen and punish me for my culinary blasphemy, let me explain. It's not so much that I don't like it. It's just that it doesn't sit well with me. Anything too creamy or buttery just makes me feel sick.
And there's something else too, which makes baking entirely difficult.
I HATE margarine.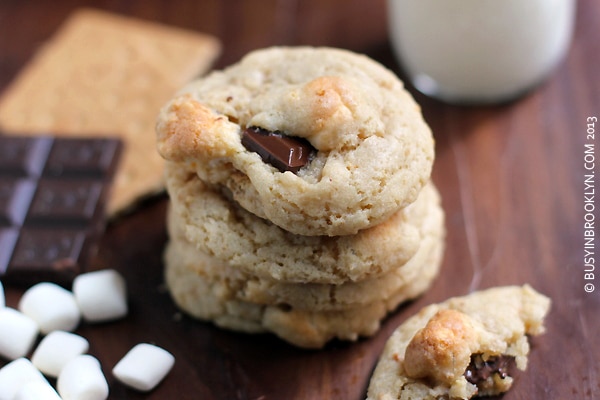 If you've read up on it, you probably know just how bad margarine is for you. In fact, it's just ONE molecule away from plastic! When I was in culinary school recently, we only had a meat kitchen (it's a kosher school and under kosher dietary guidelines, milk and meat are not eaten or prepared together), so whenever a recipe called for butter, we used margarine instead. I had a habit of teasing my instructor about all the "plastic sauces" we were preparing.
So, back to cookies. When you can't use butter or margarine, cookie-making becomes quite a difficult task. It's hard to get that perfect crumb when using oil, but I try anyway. In this case, I succeeded. Filled with chocolate chunks, marshmallows and graham cracker pieces in every bite, these smores cookies have become a family favorite. And you know what the best part is? They're not made of plastic.
S'mores Cookies
2 cups of flour
1 cup of sugar
1/3 cup of brown sugar
2 teaspoons of baking powder
1 teaspoon of salt
1/2 cup of canola or melted coconut oil
2 eggs
1 teaspoon of vanilla
2 graham crackers, lightly crushed
1/2 cup mini marshmallows
1 3 0z. bar chocolate, cut into chunks
Method:
Pre-heat the oven to 350 degrees. In a bowl, Mix the flour, baking powder, salt, sugar and brown sugar. In a separate bowl, combine the oil, eggs, and vanilla.  Add wet ingredients to dry ingredients and mix to form a dough. Add graham cracker pieces, marshmallows and chocolate chunks. Form balls with approximately 2 tbsp worth of batter and place on a parchment-lined cookie sheet (8 per sheet). Try to form the cookies so that the marshmallows and chocolate chunks are mostly covered in the dough (you may need to press it together with your hands). Bake for 12-14 minutes.
Yield: approximately 18 cookies.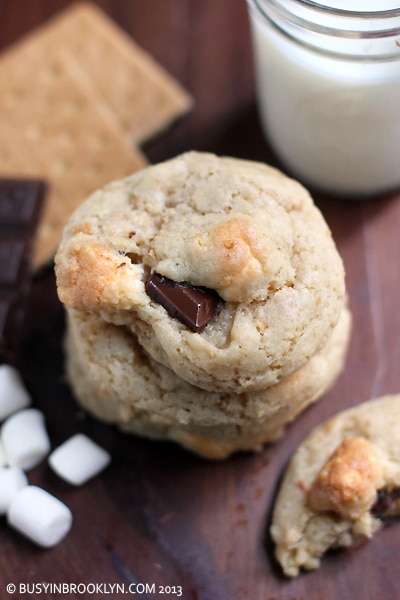 Related recipes:
Chocolate & olive oil Chanukah crinkle cookies
S'mores chocolate toffee bark
Cowboy cookies