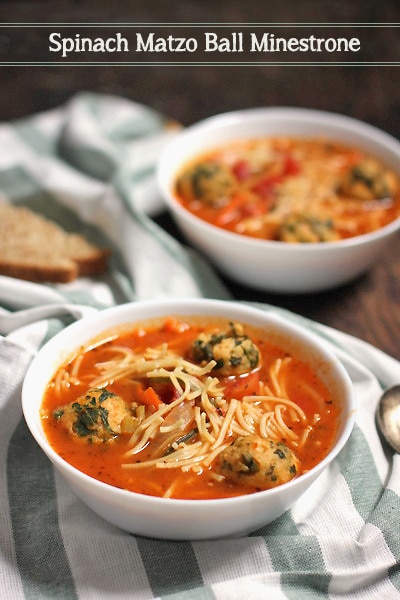 I've been making the most incredible spinach matza balls since forever. It's always been my little secret for taking traditional chicken soup from classic to over-the-top and with the holiday of Shavuot approaching, I wanted to put a festive spin on another classic recipe – minestrone.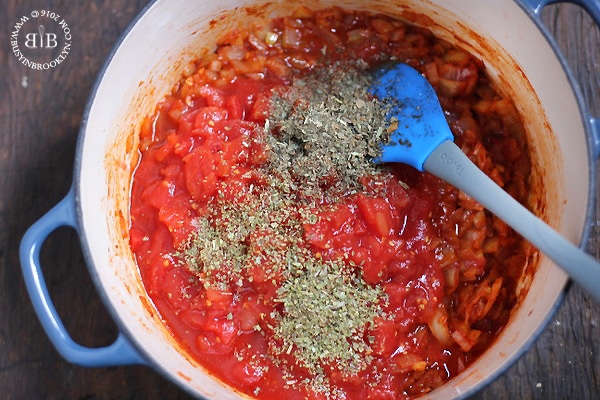 I'm a huge fan of classic minestrone soup because I feel like it has something for everyone. And when you've got picky kids, you need a soup like that! It's got potatoes for my daughter who won't eat colored vegetables, pasta for my son who's a pasta-holic, beans for my husband who loves protein-filled legumes, and plenty of basil and oregano for a pizza-style flavor that everyone loves!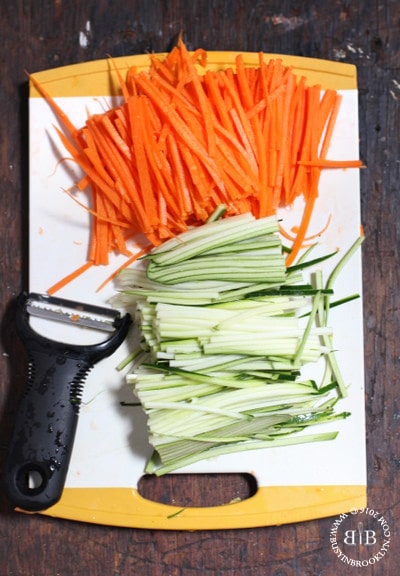 I'm always switching up my minestrone soup to make it more fun – like that time I lightened things up by omitting the potatoes and added zoodles instead of pasta. I've also added shredded mozzarella and alphabet pasta along with the zoodles because I'm the best. mommy. ever. But this time, this time I'm going festive and sophisticated for the upcoming holiday with an Italian twist on the classic – chicken noodle matzo ball soup.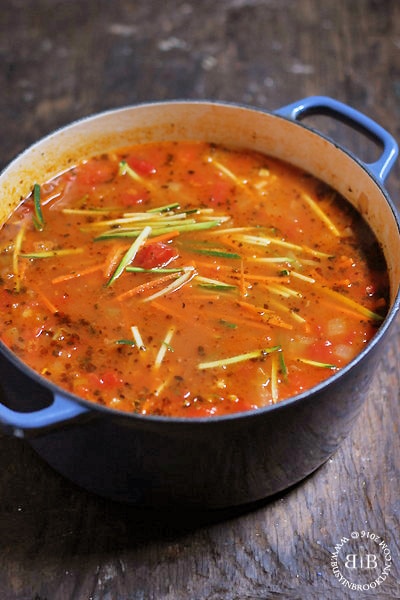 Nothing screams holiday more than matzo balls, and I have to admit, that while I'm normally a do-it-yourselfer, made-from-scratch kind of girl, I have a weakness for matzo ball mix. I don't need any seltzer tricks and I don't have to worry about sinkers vs. floaters because Lipton's kosher matzo ball mix comes out fluffy every time! Now of course I have to give it the do-it-yourselfer-touch, so I add in the spinach because it's so beautiful, so festive, and so irresistibly delicious!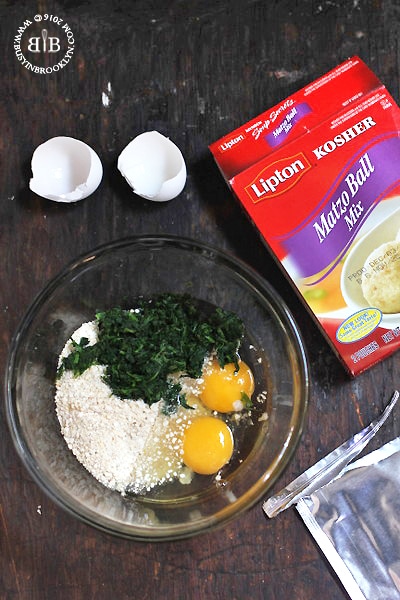 Julienning the veggies adds another layer of finesse, and using a julienne peeler, one of my all-time-favorite kitchen utensils, makes it a cinch! With these simple changes, hearty minestrone is elevated to a sophisticated holiday-worthy creation that's great for kids and adults alike. Just ask my daughter – she had three bowls for dinner (and she hates spinach!)!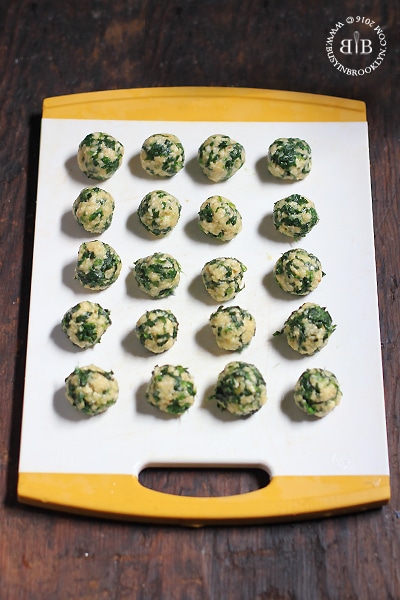 It's hard to believe that Shavuot is just 24 days away, and with Pesach Sheini this weekend, there's no better way to celebrate than with a fun twist on a matza ball recipe.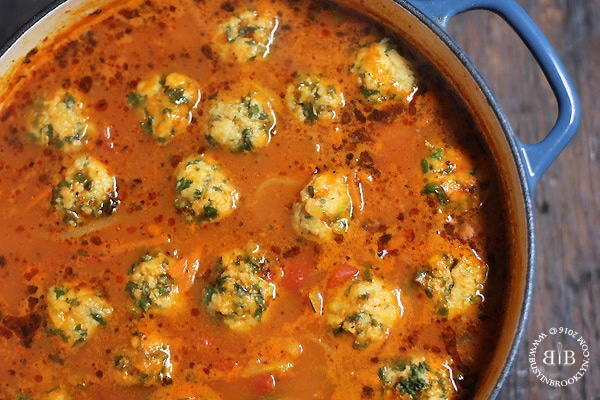 But Passover IS in fact behind us, and with the holiday of cheesecakes and roses coming up soon, lets brush up on some favorites. Shall we?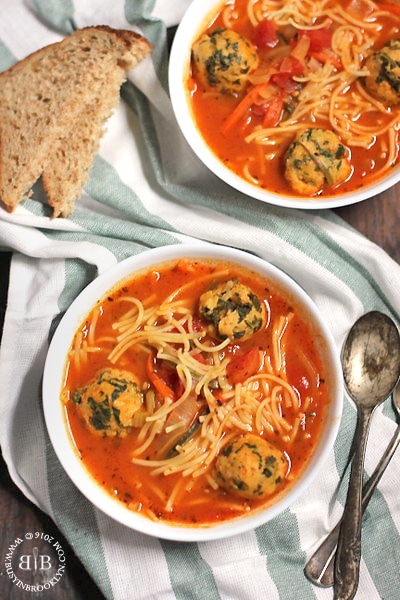 Shavuot recipes abound here on BIB, so you can get your menu started by browsing through my Shavuot category or skim through the recipes in my index. It's so hard to pick favorites (can you have a favorite child?!) but I can never get enough of harissa, feta & zaa'tar, I'm obsessed with this salad dressing (I make it all summer long!), these make the best gluten-free no-guilt appetizers, and this is the most elegant seasonal dessert you've ever seen. Oh, and lets not forget this insane recipe that went all-out viral when I made them back in 2013.
I think we're off to a good start my friends. And I've got even more amazing things coming. Stay tuned!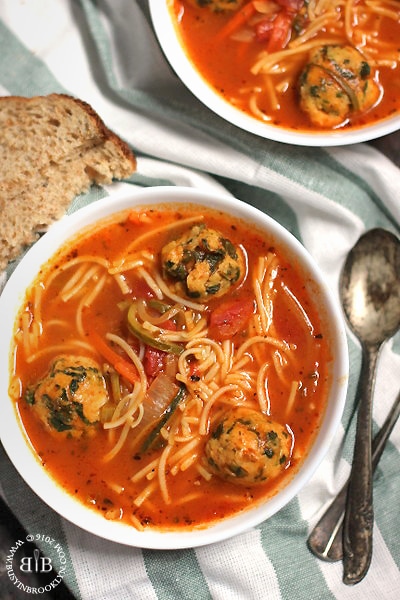 In the meantime, happy matzo ballin'!
Spinach Matzo Ball Minestrone Soup
1 large onion, diced
3 cloves garlic, minced
1 large stalk celery, diced
1 tbsp olive oil
2 carrots, peeled and julienned
1 large zucchini, julienned
3 heaping tbsp tomato paste
1 28oz. can diced tomatoes
1 tsp basil
1 tsp oregano
8 cups vegetable stock
salt and pepper, to taste
1 packet Lipton matzo ball mix
2 eggs
1 tbsp canola oil
1/4 cup chopped spinach (squeeze thawed frozen spinach to measure 1/4 cup)
6 oz. fine egg noodles, cooked according to package directions
Method:
Saute onion, garlic and celery in olive oil until translucent. Add tomato paste and saute until aromatics are fragrant and evenly coated. Add tomatoes, basil, oregano, stock, salt and pepper. Stir to combine the ingredients and bring the soup to a boil. Lower the heat and simmer for 15 minutes.
While the soup is cooking, prepare the matzo balls. Mix 2 eggs with 1 tbsp of oil in a bowl. Add the matzo ball mix and spinach and stir with a fork until evenly combined. Refrigerate for 10 minutes.
Add the julienned carrots and zucchini to the soup. With wet hands, form matzo ball batter into small balls and place in the soup. Simmer for 15 minutes.
Serve with egg noodles.
VARIATION: I use this julienne peeler to easily create matchsticks. If you don't have one, you may dice the carrot and zucchini and add to the pot after you saute the onion, garlic and celery. After several minutes, add the tomato paste and continue as above. Cook the soup until the vegetables are tender before adding the matza balls.
This post was sponsored by Lipton Kosher. All opinions are my own. 
Related Recipes:
roasted tomato soup with muenster breadsticks
spinach white bean minestrone with zoodles
classic minestrone soup
cabbage soup with matzo meatballs
Please NOTE: This post contains affiliate links which means that a small percentage of every purchase made through the links above goes to help support the BIB blog!