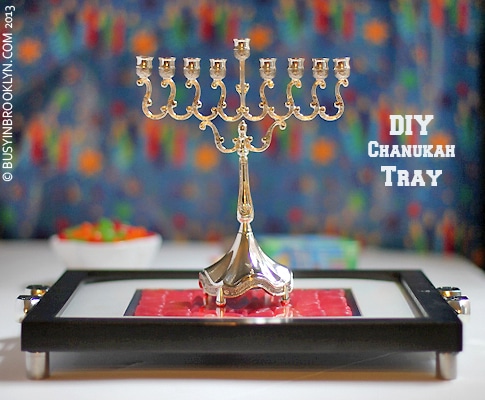 While this blog has become mostly about food, I still try and put on my crafting apron every once in a while, especially around the holidays. When I was given the opportunity to develop a craft for the Joy of Kosher Mike 'n Ike Campaign – I was all over it. But coming up with a craft using oblong shaped candy isn't as easy as it looks.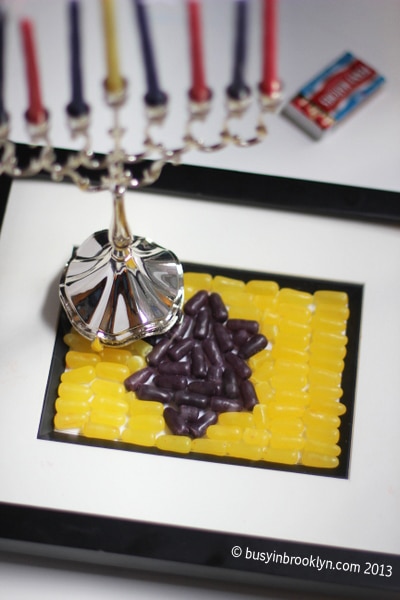 I don't know if you've ever tried lighting a handful of menorah's on a small plastic table with oily wicks and colorful candles scattered everywhere. It's not pretty. Usually, we just wrap our table with aluminum foil for easy cleanup. But the truth is, I've always wanted a pretty tray to make the table look more festive. Making your own tray using a picture frame is pretty easy, and sprucing it up for Chanukah is all in the details.

To vamp up the Chanukah flair, I created dreidel handles by gluing two draidel to the sides of the frame (gimmel-side-up, of course!). Then, I turned to my bag of colorful (and tasty!) Mike & Ikes to create a custom candy mosaic under the glass. The candies had my kids squealing with excitement, as they watched the mosaic unfold into different shapes.
I spread double sided tape onto a paper that fit perfectly inside the frame matte. Then, I went to work "drawing" different shapes with candies. I tried creating a menorah, writing the word Chanukah in Hebrew, designing a dreidel and a Star of David. It takes some work maneuvering the candy around until it fits perfectly. One of the best parts about creating the candy mosaic, was noshing on the candy as I was doing it! I needed half of a Mike & Ike in some spots, and my kids were all too happy to "cut" the candy in half, with their teeth.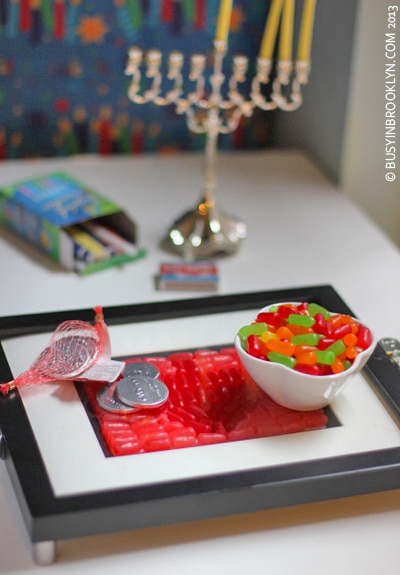 I love how versatile this tray is. You can make a big one for the whole family, or individual small ones for each menorah. And it doesn't have to be just for Menorah lighting.  You can also use it to serve candy at your Chanukah party.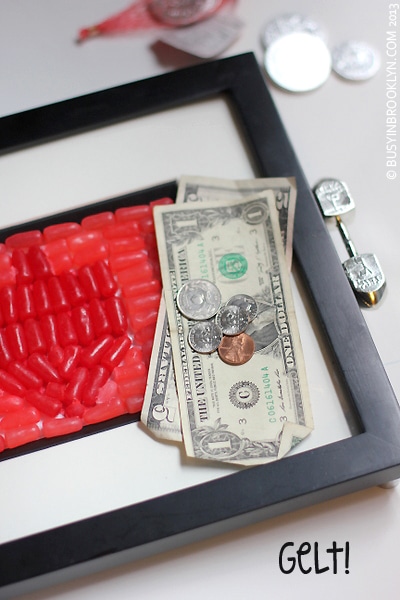 Imagine a collection of trays to adorn your Chanukah set-up. You can make individual ones as a school craft, or set one out at your party to collect Chanukah gelt for the kiddies!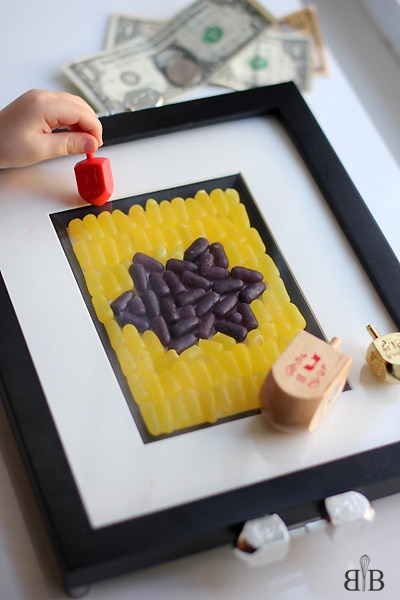 Imagine a tray to display your collection of dreidels! Or one where the kids gather around to play (and bet!)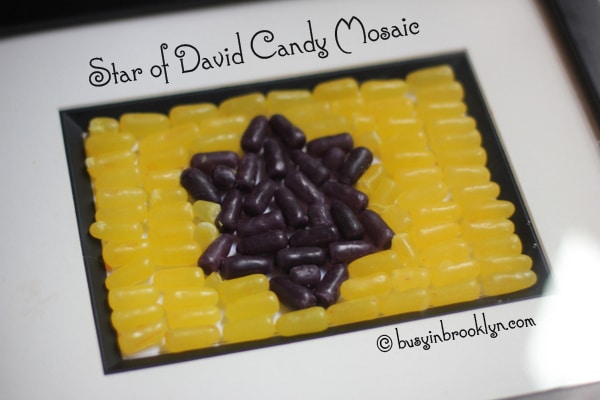 I encourage you to use your imagination in creating a fun candy mosaic. Draw Chanukah symbols, or abtract "art".  It doesnt' really matter – it's candy, and no matter what you do with it, it will look awesome!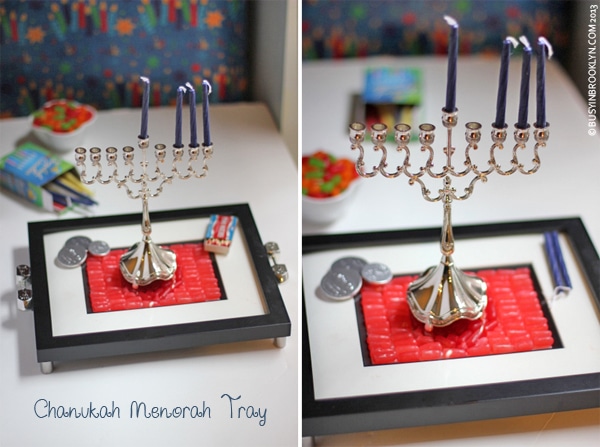 The most important thing is to have fun, no matter how you decorate! For detailed instructions to create this candy mosaic Chanukah tray, head on over to Joy of Kosher.
Other Mike & Ike Crafts & Recipes:
Mike & Ike Butterfly Candy Craft
Mike & Ike Menorah
Mike & Ike Rainbow Cake
Mike & Ike Rice Krispy Treats
Mike & Ike Bejeweled Sugar Cookies
Other Chanukah Crafts:
Chanukah Wall Hanging Craft
Dreidel Snowglobe