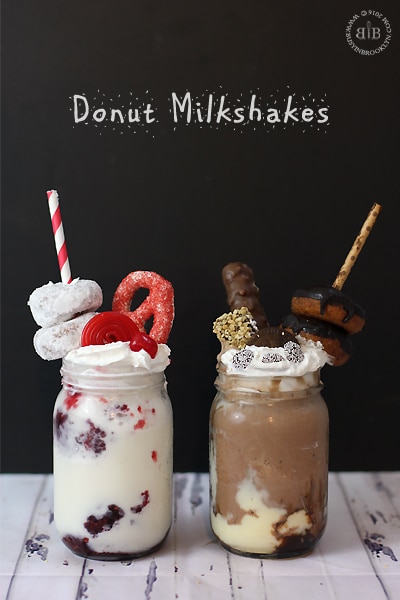 OMG OMG OMG OMG!! Should I even talk right now or do these insane milk shakes just do it for you?! Chanukah is coming and on Chanukah we DONT. COUNT. CALORIES. Ok????? And because we don't count calories, I had to put a holiday spin on one of the huge food trends right now – over the top milkshakes! I don't know if you've seen these gazillion-calorie monstrosities but they are insane. Milkshakes topped with pieces of cake and candy, with more candy glued to the glass and just tons of junk everywhere.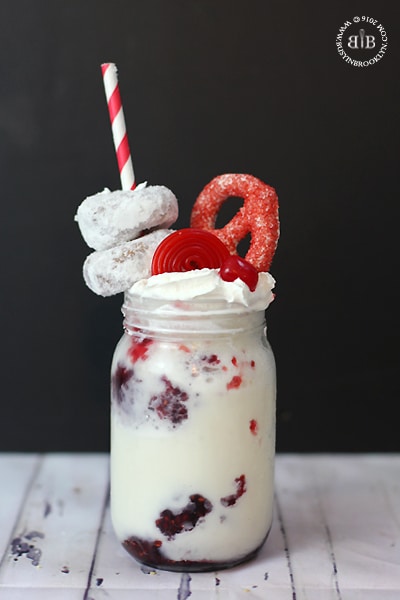 It says a lot about the state of our health when restaurants are actually serving that stuff, and when people are actually ordering it, but for these 8 DAYS, we are going to have some crazy fun, donut milkshakes included. Believe me, I would never make this stuff on a regular day. Not even my birthday. But my birthday is on Chanukah so YAAAAYYYY!! I've put together two variations, based on the two most popular Chanukah donuts – custard donuts with chocolate glaze and jelly filled donuts with powdered sugar. Of course nowadays you can find a bunch of other flavors, but these are the classics we grew up on. Milkshakes are about nostalgia too, especially for me, as we had a real milkshake machine growing up. Not a blender. A milkshake machine. It came with a stainless steel cup that you hooked onto this machine. A stick with a blade would break up the mixture and you had a real frothy milkshake! My brother would take it out on Saturday nights and make himself a huge shake with his pizza. Memories! And who can forget being young and biting into a huge jelly or custard donut and licking out the filling with your tongue? These shakes mix the best of both worlds and I hope they bring up some fun childhood memories for you too!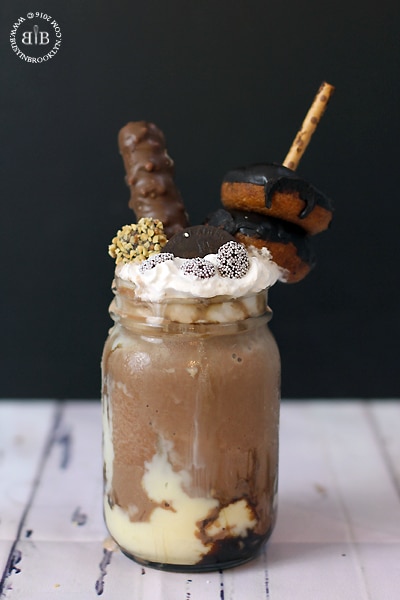 Jelly Donut Milkshake
1 cup ice
1/2 cup vanilla ice cream
1/2 cup milk
splash of vanilla
2 heaping spoonfuls of raspberry jam
powdered donuts, licorice and white chocolate covered pretzels, for topping
Method:
Place the ice, ice cream, milk and vanilla in a blender and blend until creamy. Add the raspberry jam to a glass and pour the milkshake over it. Top with whipped cream, powdered donuts, licorice and pretzels. Enjoy!
Chocolate Custard Milkshake
1 cup ice
1/2 cup chocolate ice cream
2 tbsp chocolate syrup
1/2 cup milk
2 heaping spoonfuls of custard
whipped cream
chocolate donuts, chocolate chanukah gelt and chocolate bars for topping
Method:
Place the ice, ice cream, chocolate syrup and milk in a blender and blend until creamy. Add the custard to your serving cup and drizzle chocolate syrup around the inside. Top with whipped cream, chocolate donuts, chocolate gelt and chocolate bars. Enjoy!
for custard:
3 cups milk
1/2 cup sugar
5 egg yolks
5 tablespoon cornstarch
2 tsp vanilla
Place the milk and sugar into a saucepan and heat until sugar dissolves and milk is scalded. In the meantime, whisk the egg yolks until fluffy and add in the cornstarch. Continue to whisk until all the starch is incorporated and the mixture is smooth. Slowly pour the milk into the eggs, whisking continuously as you warm the egg mixture with the milk. Pour the mixture back into the saucepan and continue to whisk over medium heat until the cream begins thicken and boil. Whisk in vanilla and set the cream aside to cool. Refrigerate until set.
VARIATION: use store-bought vanilla pudding.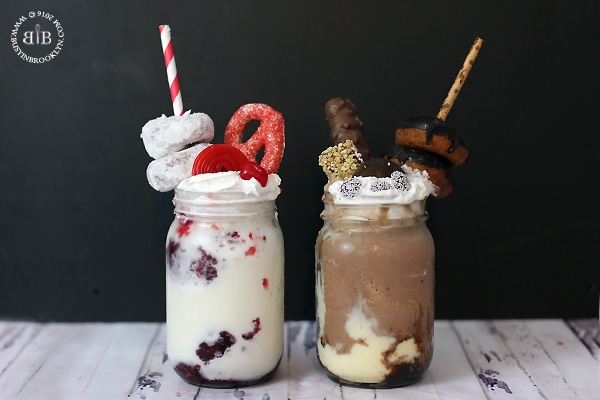 Related Recipes:
jelly ring donuts
deconstructed jelly donut pancakes