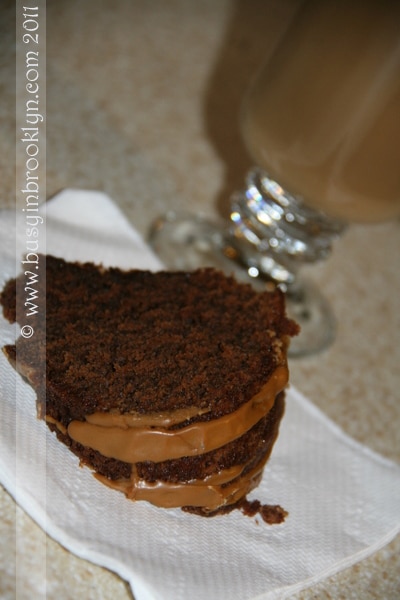 In my last post, I revealed that I recently turned the big three-o. It should come as no surprise then, that back in 2008, I celebrated my 10 year high school reunion. Together with my friend Dina (our self-appointed class president :)) and Raizy, we organized the reunion for several months, collecting recipes from our classmates and printing a professional cookbook from Morris Press Cookbooks. The reunion was a huge success, with most our class in attendance. We had the evening catered, but for the dessert table, we had several girls chip in and make some things. One of the most talked about cakes of the evening was this Mocha Bundt Cake. Since it was not included in the class recipe book, we emailed it to everyone the following day. The cake has lots of coffee, so I would recommend going with decaf. It's moist and delicious, great for a party, or for Shabbos morning with a steaming cup of, you guessed it…coffee :)

Mocha Bundt Cake
4 eggs
2 cups sugar
1/4 cup of coffee diluted in 3/4 cup of hot water
1 cup oil
2 scoops vanilla sugar
2 cups flour
2 teaspoons baking powder
1/4 cup cocoa
Method:
Beat the eggs and sugar until fluffy.  Add the coffee and oil. In a separate bowl, mix the dry ingredients. Add to the wet ingredients. Pour into a greased and floured bundt pan and Bake at 350 for (approximately) 45 minutes, until a toothpick inserted comes out clean.
Glaze:
3 teaspoons coffee dissolved in 2 tablespoons boiling water
2 tablespoons oil
1 1/2 – 2 cups of confectioners sugar
Mix coffee, oil and 1 1/2 cups of confectioners sugar. Add more slowly, if desired, until you reach desired consistency.
Drizzle the Glaze over cooled cake.
some pics of our 10 year high school reunion.