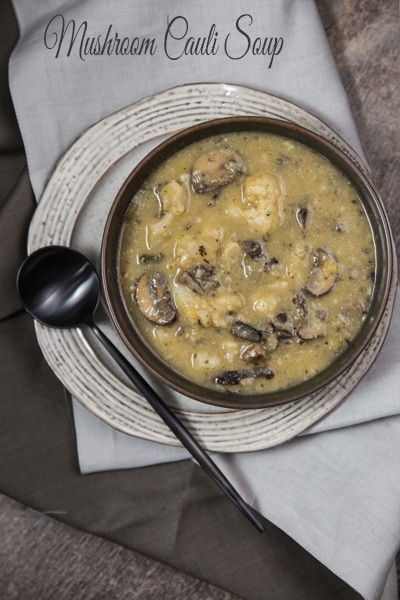 So it's been nearly 3 weeks since I started keto and I have to admit – I'm bored. How much cheese/eggs/steak/broccoli, cauliflower/cabbage and nuts can you eat? I'm all about variety in my diet and I get bored so easily!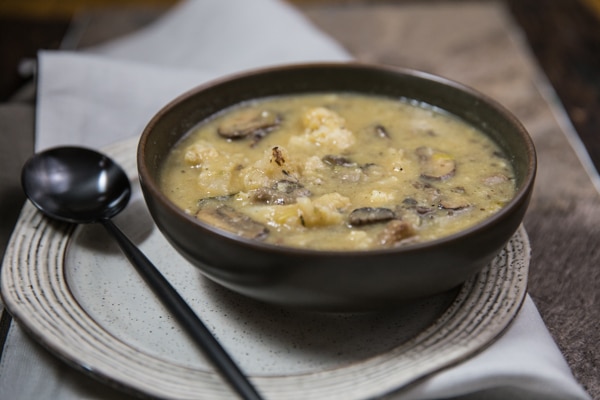 One thing I promised myself when I started this diet was that I was not going to spend my day in the kitchen preparing special foods for myself. I was going to adapt my regular family recipes and make them work for me, and so far it's been working. When I wanted to make this soup, I just substituted the bread crumbs with almond flour and removed some of the soup for myself before adding the orzo. I added some cauliflower rice to my portion and it was such a nice change from my typical steak and roasted veggie dinner!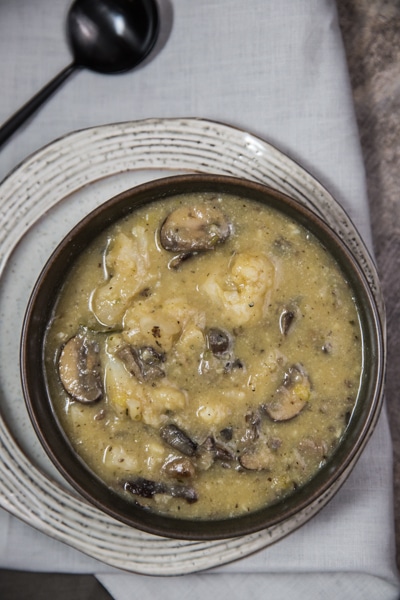 Coming up with soups that aren't tomato or bean based is a little difficult (tomatoes are not encouraged on keto because they are high in sugar). In general I'm a big fan of legumes in soup, and I love grains like barley and farro too, so it's a challenge. I decided I wanted to do a keto-approved riff on mushroom barley soup, since everyone in the house loves it, but I knew I couldn't use barley. I decided to use cauliflower to give the soup some creaminess and body, and it was a huge hit. I didn't tell my cauliflower-hating kid that it had her least favorite veggie in there and she thought it was delicious (until she watched my Instagram story and was suddenly nauseous – ha!)
}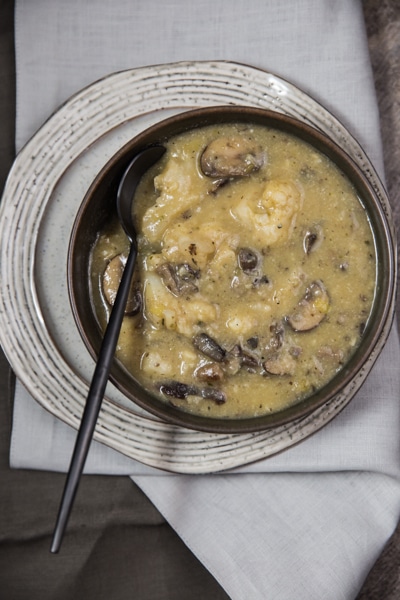 So alas, this Mushroom Cauli Soup – a play on Mushroom Barley Soup – so long as you say CAULI with the same enunciation as BARLEY :)
Mushroom Cauli Soup
3 tbsp olive oil, divided
2 10oz. pkgs cremini mushrooms, sliced
1 3.5oz pkg shiitake mushrooms, sliced
1 cluster oyster mushroom, chopped
1 large leek, white and pale green part only, sliced
2 cloves garlic, minced
1/4 cup dry white wine
1 head cauliflower, roughly chopped, or 1 pkg. frozen
1 large zucchini, roughly chopped
32oz. chicken stock or broth (I use Imagine no-chicken broth)
2 cups water
1/2 tsp dried thyme
1 tsp soy sauce
1/2 tsp Trader Joes umami seasoning, optional
salt and pepper, to taste
Method:
Heat 2 tbsp of olive oil in a soup pot or dutch oven. Add the mushrooms and saute until all the liquid evaporates and the mushrooms start to caramelize. Remove from the pan. Add an additional tbsp of olive oil, leeks and garlic and saute until softened and fragrant. Deglaze with wine and scrape up the bits from the bottom of the pan. Add the remaining ingredients and bring the soup to a simmer. Cook until vegetables are soft and tender, about 20 minutes. Using an immersion blender, blend half of the soup so some chunks of cauliflower remain. Stir in the mushrooms and serve.
VARIATION: Add some heavy cream or coconut milk before serving for a creamy finish!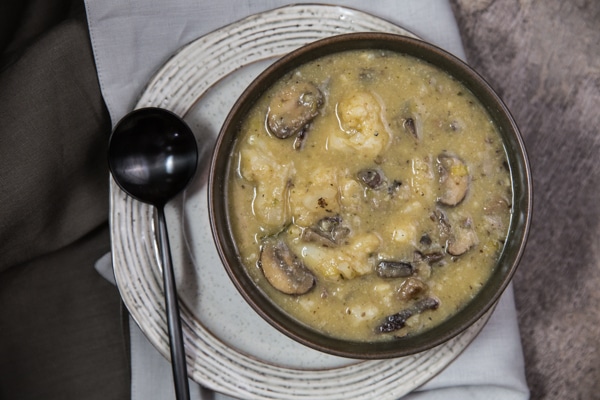 Related Recipes:
zucchini basil soup
spinach white bean minestrone with zoodles
cream of leek soup