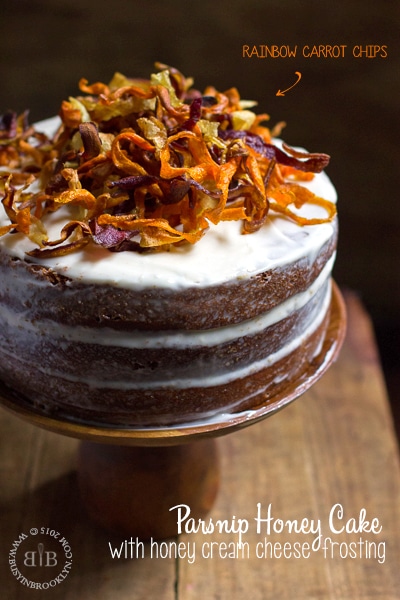 I'm not a baker. Let me start with that. Sure I can follow a cake recipe. And I've even made the occasional Elmo and Barbie cake for my kids birthdays. But I don't "bake". Especially not cakes like THIS.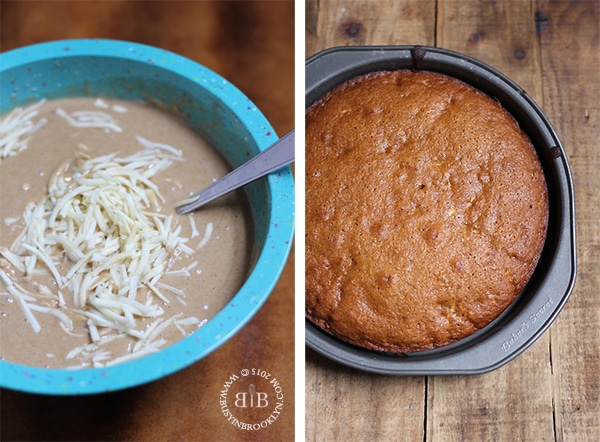 I don't know what it is. The whole layering thing. And the frosting. It's just such a MESS. Case in point: I decided to defy all logic and attempted to layer my cakes without trimming them first, so that they were flat. Of course the layers started slipping and sliding, so I had to separate them, post-frosting and then do the trimming. Mess is not the word. My kids were pretty happy though. They got to enjoy the best part of the honey cake (the sticky top layer), all smothered in frosting.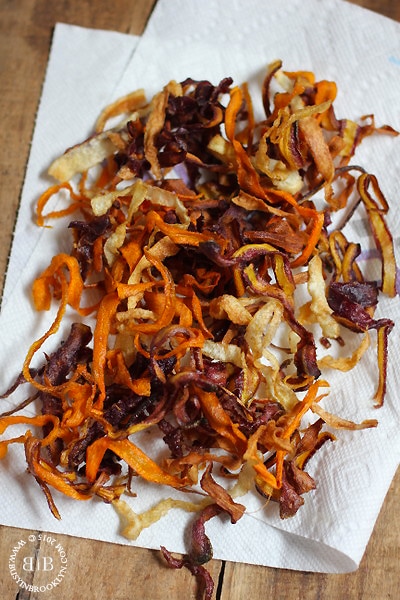 Now since this IS a honey cake, trimming the best part off the layers is such a sin. So I highly recommend you follow this technique so that the layers bake flat. Wish I had followed my own advice but I just get lazy when it comes to baking.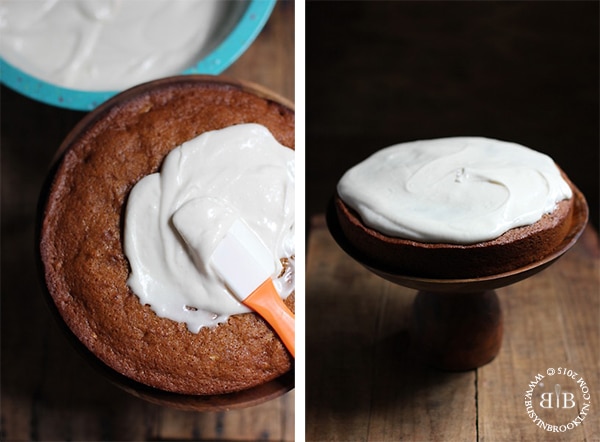 Case #2 in point, I let my frosting sit out after whipping it, and it got kinda warm and runny, but instead of refrigerating it so that it would hold up nicely, I just wanted to stack the cake already. THIS is why I don't bake. No patience. Baking is all about precision, patience and organization, and while I do possess those qualities, baking does not exactly bring them out in me. Maybe it's because I just want to get it done so I can dig in to the cake already!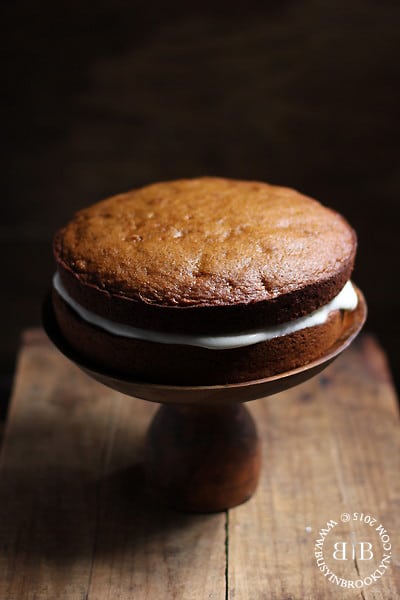 So why this cake? Well, I came up with this crazy cool concept of doing a carrot cake/honey cake hybrid. And if that wasn't enough, I had to switch up the carrots for parsnips, and take it over the top with FRIED RAINBOW CARROTS STRIPS. It's go big or go home. Especially if I am about to make a layered cake!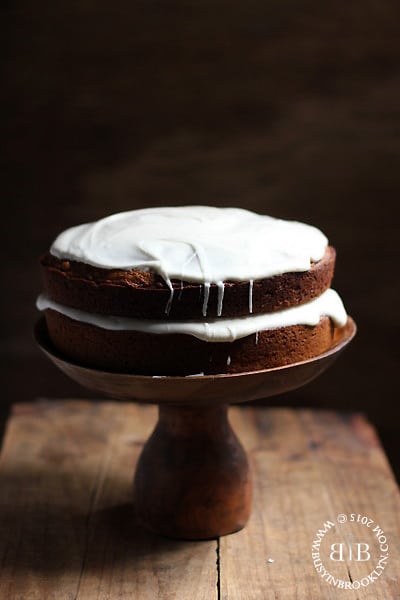 I developed this recipe in honor of Rosh Hashanah, when it is traditional to eat honey cake, for a Sweet New Year. Since many people have a custom not to eat nuts on Rosh Hashanah, I knew I couldn't garnish my cake with chopped pecans, which would have been my first choice. Shredded coconut is another great option but I wanted a little hint to the surprise inside the cake – the parsnips!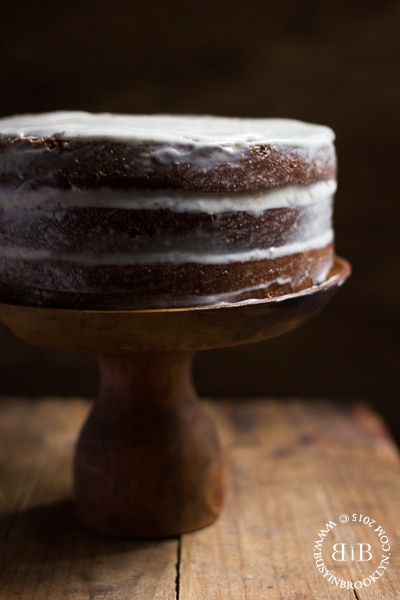 Honestly, I can't say this cake tastes like parsnips. It tastes like honey cake. But when you get a couple of shreds of parsnip in your mouth, you get a little hint of flavor. If you want more of a parsnip flavor, add some more shredded parsnips to the cake. It's as simple as that :)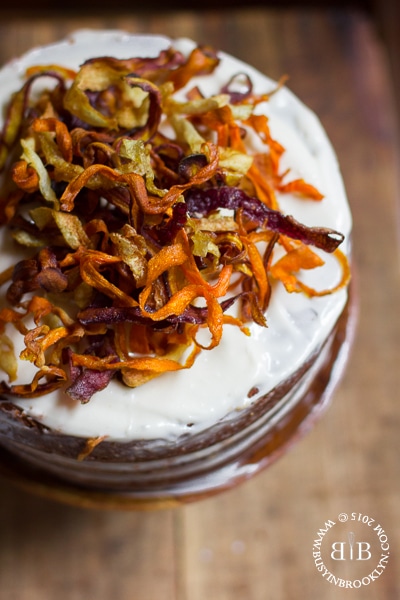 I honestly could not be happier about the way this cake came out. I totally winged the recipe, and not understanding the science of baking, it could have been a complete flop. I was almost not expecting the cake to work but it came out so unbelievably moist! And my kids kept running downstairs wanting to know what smelled so INCREDIBLE.

I KNOW this cake is good for one reason and one reason only. The world's most pickiest taste testers LOVED IT. My kids gobbled up the cake, licked their fingers, and said OH MY G-D between fork fulls. I kid you not. This is a home run. Kid tested. Mother approved.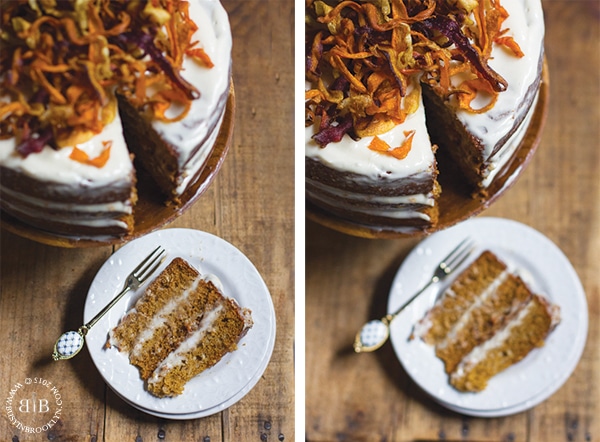 Parsnip Honey Cake
1 cup coconut milk (I use Coconut Dream Original)
3 eggs
1 cup oil
1 1/2 cups honey
3/4 cup brown sugar
1 tsp vanilla
3 cups flour
1 1/2 tsp baking powder
1 1/2 tsp baking soda
1 tsp cinnamon
1/2 tsp allspice
1/4 tsp nutmeg
1/4 tsp cloves
1/2 tsp salt
2 heaping cups shredded parsnips
Honey Cream Cheese Frosting
(may be doubled, depending on how much frosting you like)
1 stick butter or margarine
1 8 oz. pkg cream cheese (may use tofutti)
3 cups confectioners sugar
1 heaping tbsp honey
1/8 tsp cinnamon
Rainbow Carrot Chips
1 bunch rainbow carrots
canola oil, for frying
Method:
Preheat oven to 350 degrees. Grease and flour three 9-inch cake pans and set aside.
With an electric mixture, cream the coconut milk, eggs, oil, honey, brown sugar and vanilla. In a separate bowl, whisk the flour, baking powder, baking soda and spices. Slowly add the dry ingredients to the wet, mixing until you have a smooth batter. Stir in the shredded parsnips.
Divide the batter evenly between the pans and bake for 25-30 minutes, until a toothpick inserted comes out clean.
Leave the cakes to cool while you prepare the frosting.
Add all the frosting ingredients to a bowl and blend with a hand mixer until smooth and creamy.
Remove the cakes from the pans and trim so that they are completely flat (you can use this trick to bake completely flat layers). Frost each cake layer and scrape the sides to create the look of a naked cake.
To make the rainbow carrot chips, wash the carrots well and pat dry. Peel the carrots with a vegetable peeler, creating strips of carrots. Heat a few inches of oil in a deep skillet and fry the carrots in batches, until crisp and golden. Drain on paper towels.
Before serving, garnish the cake with carrot chips.
VARIATION: Use carrots instead of parsnips in the cake, or use a mixture of both.
OPTIONAL FILLINGS: chopped walnuts, chopped pecans, shredded coconut, raisins, dried pineapple.
OPTIONAL TOPPINGS: chopped or sliced nuts (walnuts, almonds or pecans), shredded coconut.
BUNDT or LOAF PAN OPTION: This cake may be made in a bundt pan or 3 small loaf pans. Place the pans on a baking sheet to catch spills. Grease and flour pan and pour batter inside it. Bake until a toothpick inserted comes out clean. Top with cream cheese frosting and toppings of your choice.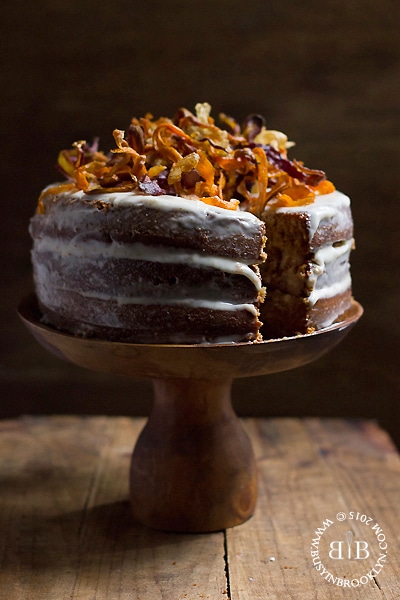 Related Recipes:
honey cake with caramelized apples
carrot muffins
couscous with thyme, honey roasted parsnips, carrots & beets
pumpkin whoopie pies with maple cream cheese frosting