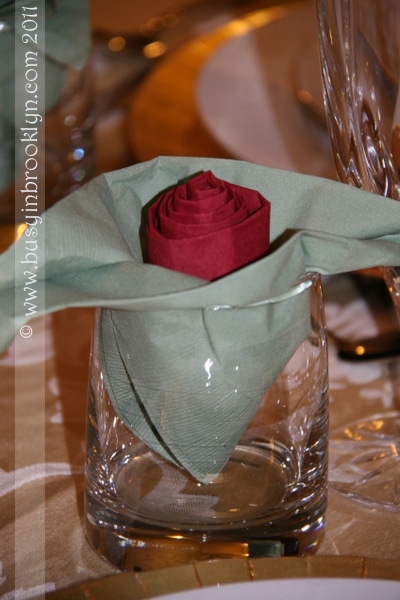 Shavuous is one of my favorite holidays. The beautiful spring weather, the creamy cheesecakes for dessert, and of course all the pretty flowers that adorn our yom tov tables. It's really a treat to be able to go all out and pick out a beautiful bouquet. You can't go wrong regardless of what you choose – classic roses, bright tulips, elegant orchids, or exotic anthuriums; you are sure to find something to suit your taste and match your table-scape.
If you really want to up the ante, placing flowers at each place setting makes your table feel like an intimate garden. You can do this in a few ways:
1. Place bud vases alongside each cup with a single fresh flower.
2. Make or purchase floral napkin rings.
3. Use dishes, paper plates, napkins or cups with a floral pattern.
4. Incorporate floral themes into your meal (for ex., cut cheesecake brownies with a flower cookie cutter).
5. Make my pretty paper napkin roses, and place in a see-through cup at each place setting!
These napkin roses are extremely easy to make. You don't have to prepare them in advance, amid all the hustle and bustle of Erev Yom Tov. Because they are so simple, you can give them to your children to do. They'll feel so special knowing that they played an integral part in the Yom Tov Seudah!
I found this original creation from Martha Stewart. She uses cloth napkins to prepare the roses, and while pretty, I am sure that most of you do not have cloth napkins in both green and pink/red. It is also hard to fit 2 cloth napkins into a glass – believe me, I tried! Instead, I decided to try her idea using paper napkins, and as you can see, it worked wonders! I almost felt as if I was looking at REAL roses, they are that beautiful! Go ahead and make them with whatever colors you fancy – roses bloom in all different colors of the rainbow. You will sit at your Yom Tov Tish and feel as if you are in a magnificent garden.

What you'll need:
12 7/8 x 12 7/8 2 ply napkins in green for leaves
12 7/8 x 12 7/8 2 ply napkins in the color of your choice (I like classic red) for roses
glass or hard plastic cups
How to: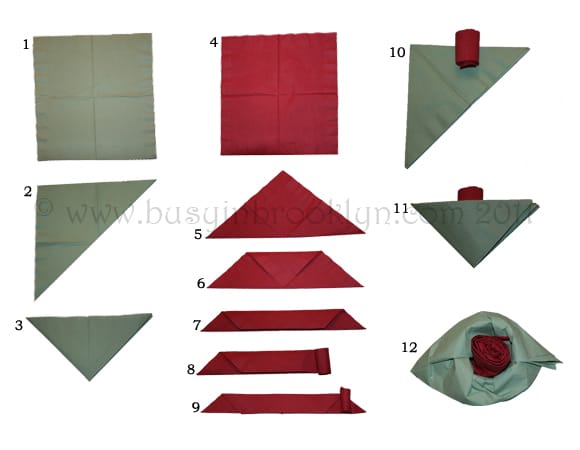 1. Open green napkin.
2. Fold green napkin in half on the diagonal.
3. Fold in half again, on the diagonal.
4. Open red napkin.
5. Fold in half, on the diagonal.
6. Fold tip of triangle down to the center of the longest side.
7. Fold in half, lengthwise.
REPEAT STEPS 4-7 (with an additional red napkin, so that you have 2 folded napkins)
8. Roll first napkin from either end, not too tight, but not too loose either.
9. Take first rolled napkin and place on second unrolled napkin, and continue rolling the second napkin around the first one (you need to do this because the rose will be too narrow otherwise and won't look authentic).
To complete your rose, just push up from the center of the bottom of the napkin.
10. Place rose on the short side of the green napkin.
11. Fold the green napkin over on the diagonal, covering the rose.
12. Place in a vase, folding the leaves over the edges.