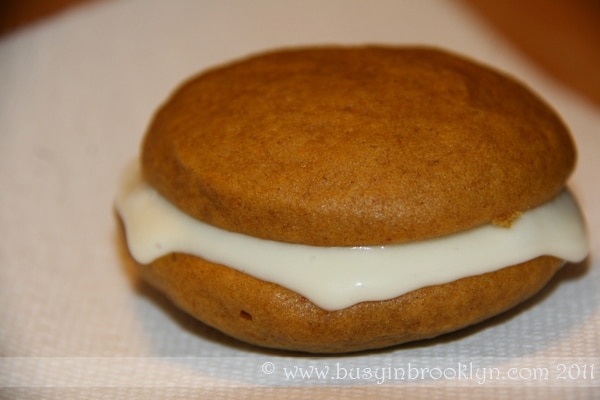 I'm not sure if you've noticed yet, but I'm not that big into baking. I do it every once in a while, but not all the time. Why? Well, first of all, I don't particularly enjoy it. It's too technical. I like the creative freedom that I have with food. Baking on the other hand, it's very scientific. You need to follow the recipe to the tee, otherwise, it won't come out right. Also, it makes a huge mess. Not that cooking doesn't. But baking, I just feel like there are the measuring cups, spoons, bowls, the mixer, the gazillion ingredients. And lastly, most importantly, it's just so fattening! I'd rather eat food! With that said, I did make some really yummy pumpkin whoopie pies yesterday. I halved the recipe, because who needs all that temptation lurking.
Based on my experience, I'd like to make a suggestion. If you decide to halve a recipe, do yourself a favor, and rewrite it, because chances are, if you work off the original, and you think you're gonna make the calculations in your head, halfway down the line you suddenly forget and you screw up the entire recipe and have to start from scratch all over again!
Now being as I have a daughter who's severly allergic to milk, I decided to make these parve, using toffuti cream cheese. I also substituted smart beat light margarine for the butter. This resulted in a runnier filling (see pics). I would suggest going with the original dairy recipe, or, see my other alternative below.
To make the pies, I used organic pumpkin puree that I found at Pomegranate around Thanksgiving time. I think it adds that extra richness of flavor to the pumpkin. (Trust me, I'm no organic addict, I just find that when I do buy organic, the flavors are more full-bodied) The pies come out so incredibly moist, with that kick of spice you get from nutmeg and ginger, and the warmth of the cinnamon. Really yummy on a cold winter day. B'teavon!

Pumpkin Whoopie Pies
Adapted from browneyedbaker.com
Yields about 2 dozen assembled whoopie pies, depending on the size you make them. These are medium.
For the Pies:
3 cups all-purpose flour
2 teaspoons cinnamon
1 teaspoon baking powder
1 teaspoon baking soda
1 teaspoon salt
½ teaspoon ground nutmeg
1 cup granulated sugar
1 cup dark brown sugar
1 cup canola or vegetable oil
3 cups canned pumpkin
2 eggs
1 teaspoon vanilla extract
For the Maple-Cream Cheese Filling: (see below for a delicious alternative to this filling)
3 cups powdered sugar
8 ounces cream cheese, at room temperature
4 ounces (½ cup) unsalted butter, at room temperature
3 tablespoons maple syrup
1 teaspoon vanilla extract
Method:
Preheat your oven to 350. Line baking sheets with parchment paper or a silicone baking mat. Whisk the flour, cinnamon, baking powder, baking soda, salt, ginger and nutmeg. Set aside. In a separate bowl, Mix the sugar, brown sugar, oil, pumpkin, egg and vanilla. Gradually add the flour mixture to the pumpkin mixture until completely combined. Using a scoop or tablespoon, drop a rounded, heaping tablespoon of the dough onto the prepared baking sheets, about 1 inch apart. Bake for 10 – 12 minutes, until a toothpick inserted into the center of a cookie comes out clean. Remove from the oven and let the cookies cool completely on a cooling rack.
To make the filling, beat the butter on medium speed until smooth with no visible lumps, about 3 minutes. Add the cream cheese and beat until smooth and combined, about 2 minutes. Add the powdered sugar a little at a time, then add the maple syrup and vanilla and beat until smooth.
To assemble the whoopie pies: Turn half of the cooled cookies upside down. Pipe or spoon the filling (about a tablespoon) onto that half. Place another cookie, flat side down, on top of the filling. Press down slightly so that the filling spread to the edges of the cookie. Repeat until all the cookies are used. Put the whoopie pies in the refrigerator for about 30 minutes to firm before serving.
ALTERNATIVE TO CREAM CHEESE FILLING (PARVE):
Now, as an alternative to the cream cheese filling, I must tell you about this DELICIOUS maple butter I bought recently (available at Benzs Gourmet). It was sitting in my pantry, waiting to be paired with the perfect match. And I have to say, pumpkin whoopie pies is it! The butter is like thick creamy maple syrup, sticky and sweet! I couldn't resist spreading it on a few sandwiches. The result was extremely rich-tasting, too much for more than a couple of bites.