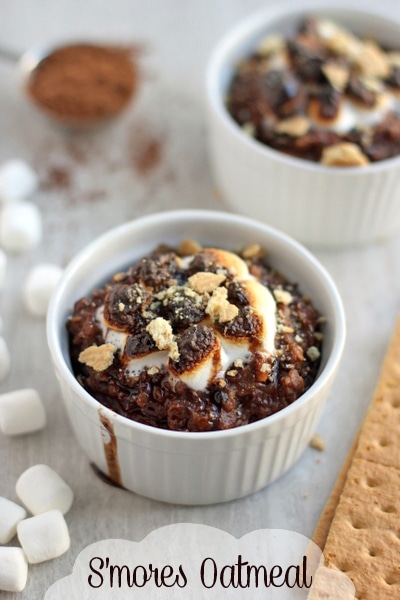 I don't know if I've ever walked you through the BIB process before, but I think it's about time. Let me start by telling you that my posts don't happen in realtime. If you want to follow what I'm cooking/eating now, check out my Instagram feed or follow me on Facebook. As for the blog, the stuff you see here may or may not have been cooked weeks, or even months, ago. Case in point: I did not make this decadent s'mores oatmeal for breakfast today (I am currently on the Whole30 diet cleanse!). I didn't make it yesterday, or even last week. I made it back on December 24th – last year! Even I can't believe it's been that long! Why has it taken me so long to post? Read on.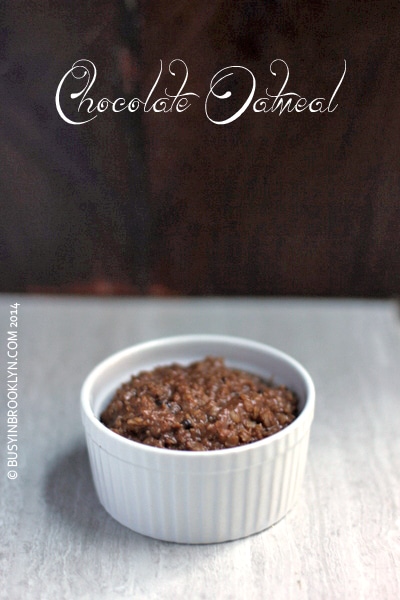 As you might imagine, blogging takes up lots of time. From testing the recipes to photographing them – there are hours of work involved. Hours, that I don't usually have with 4 kids in tow. So instead of cooking and photographing every day, I usually reserve a day for a full-fledged cookingfest. I'll make and photograph 3 or 4 recipes at a time and save them on my computer to post at a later date. I usually invite over some family or friends to share the bounty!
When I have a handful of recipes saved, plus some ideas for future ones, I set up a blogging calendar that I fill up between holidays. Sometimes, recipes get lost in the shuffle, especially when I have to squeeze in holiday-related posts some 2 weeks before it begins. This is one such recipe, and I'm sorry it's taken so long. I guarantee it was worth waiting for!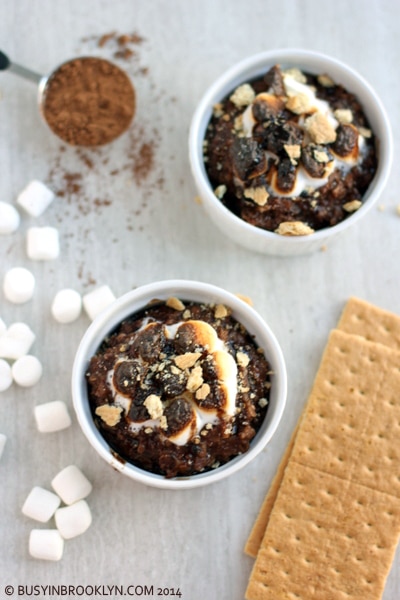 Breakfast could not get any better than rich and creamy chocolate oatmeal topped with toasted marshmallows and crushed grahams. The best part is, you get to make it from scratch, so it's not full of ingredients you can't pronounce, like all those funky flavors in the store. I love that you get to deguiltify the whole smores-for-breakfast thing by incorporating into a healthy dish like oatmeal. After all, who said oatmeal has to be boring?
S'mores Oatmeal
1 cup quick cooking oats (see note)
1 3/4 c milk
1/8 tsp salt
1 1/2 tbsp cocoa powder
2 tbsp sugar or sweetener of choice
1/2 tsp vanilla extract
1 handful mini marshmallows
2 tbsp chocolate syrup
1 graham cracker, crushed
warm milk, for serving
Method:
Bring milk to simmer , stir in oats and salt and cook for 1 minute. Stir in cocoa, sugar and vanilla and stir to combine. Divide oatmeal between 2 ramekins and top with marshmallows. Broil for 1 minute, until marshmallows are toasted. Drizzle with chocolate syrup and top with crushed graham crackers. Serve with warm milk.
NOTE: You can adapt the recipe to use old fashioned or steel cut oatmeal. Just prepare according to package directions (adjust milk amount, as needed) and proceed as above.
TIP: To avoid the cocoa from clumping inside the oatmeal, whisk it with the sugar to break up the lumps before adding, or, dissolve it in a bit of water.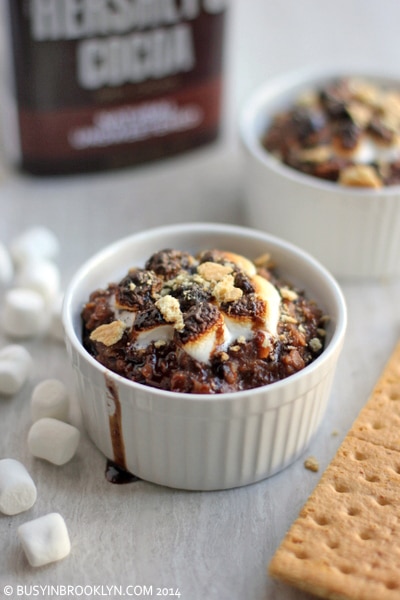 Related Posts:
baked pumpkin oatmeal
oatmeal cookies
pear, ginger & oat smoothie
banana oat muffins