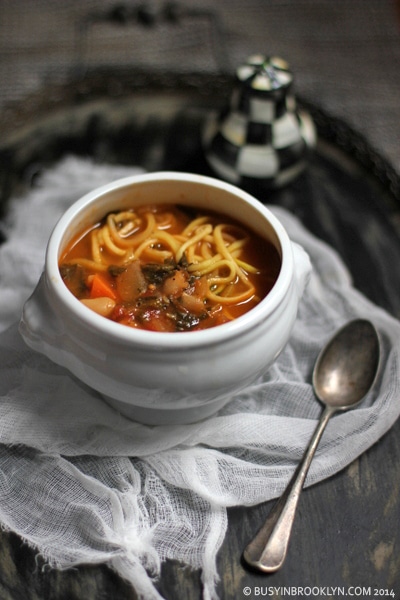 If you bother to read my silly little musings on my blog, you probably notice that I mostly talk about food. I don't get into the nitty gritty of my family life because I figure if you're here for the food, that's probably what you want to read about. Of course there are bloggers that spill the beans like an open book, but I view my family life as sacred and it's something I mostly like to keep to myself. I'm sure you can all appreciate that.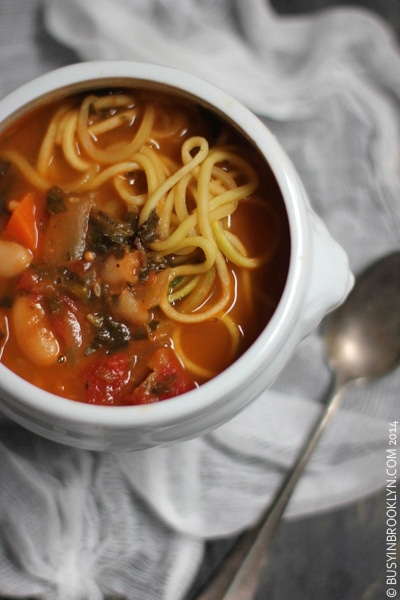 Ah, who am I kidding? The truth is, I like to keep up the facade that my life is all about eating fabulous food and taking cool pictures, when in fact, I'm really balancing my baby on one hip while trying to find my spatula in a sink full of dirty dishes and trying to fit my tripod somewhere between a mountain of toys in the playroom (where my "studio" is).
That's really what a photoshoot is all about anyway – setting the scene. You'd never imagine this beautiful bowl of soup was sitting on a tray next to a white board held up by a gigantic firetruck, opposite shelves of board games with missing pieces and legos scattered by my feet. THIS my friends, is the real Busy In Brooklyn :)
Now back to our regular programming – the food! This chock-full-of-flavor soup is a lightened up version of my original minestrone, which includes pasta and potatoes. In this white bean version (the original used chickpeas), I used my spiralizer to create "zoodles" (zucchini noodles) to take the place of the pasta, and I omitted the potatoes and celery. I also made things easier with frozen spinach, instead of fresh, for a satisfying meal-in-a-bowl that's not as heavy as the original. If you're a fan of my minestrone (and lots of you are!), then go ahead and try this one and let me know how it measures up!
Spinach White Bean Minestrone with Zoodles
1 medium onion, diced
2 tbsp olive oil
2 cloves garlic, minced
1 large carrot, diced
2 heaping tbsp tomato paste
1 can cannellini beans, drained and rinsed
1 14.5oz. can diced tomatoes
1/2 tsp basil
1/2 tsp oregano
4 cups chicken or vegetable stock
salt and pepper, to taste
1-2 cups frozen chopped spinach
1 large zucchini, spiralized or julienned
Saute onion in olive oil until translucent and add garlic. Saute until softened and fragrant. Add carrots and continue to saute. Add tomato paste and stir into the vegetables, continuing to saute until the vegetables are well coated. Add beans, tomatoes, basil, oregano, stock and salt and pepper. Stir to combine the ingredients and bring the soup to a boil. Stir in the frozen spinach and simmer for 30 minutes-1 hour, until all the vegetables are tender. Taste and adjust seasonings, if necessary.
Before serving, add the zoodles to the pot, cover and simmer until just tender, 5-10 minutes. Serve immediately.
NOTE: If you wish to adjust the consistency of the soup, you may add 1-2 cups water or more stock.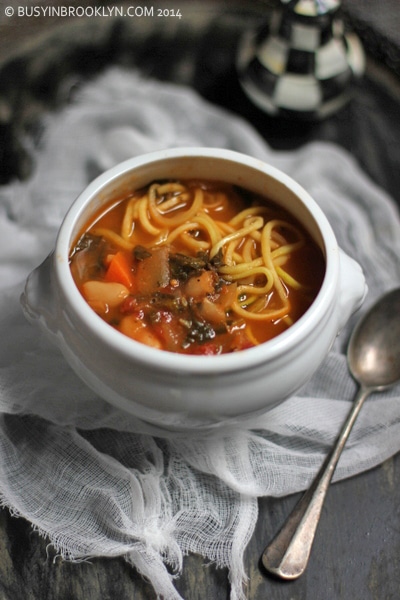 Related Recipes:
minestrone soup
tuscan white bean with spinach
spinach matzo ball minestrone soup