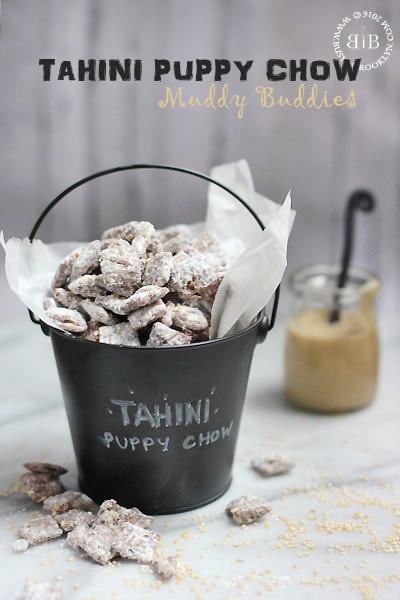 So we survived Passover. Eight days of gluten free, minimally processed food with no legumes, beans, seeds or bread! But most importantly, NO CEREAL.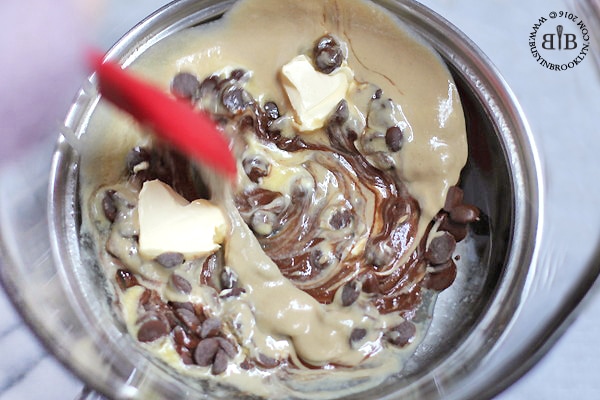 I don't know if the no cereal thing is harder on me or my kids. I'm a huge cereal fan – not really as a breakfast thing, but more of a "I don't feel like eating dinner" afterthought. My kids are definitely into the cereal breakfast thing, and that was probably the hardest part about the holiday. So much so, that instead of a post Passover pizza party, we skip the lines and head to a large grocery to stock up on all sorts of cereal. Then, we go at it, one bowl after another of crunchy sweet goodness in ice cold milk. Really, is there anything better?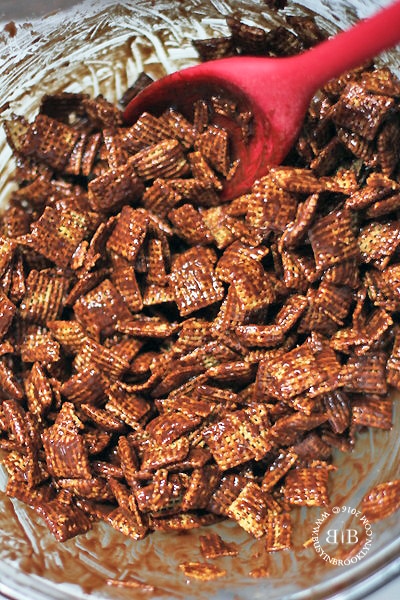 Well now that you ask, there kinda is. And that's cereal coated in chocolate, butter and powdered sugar – also known as – MUDDY BUDDIES or PUPPY CHOW! Puppy chow is a seriously addictive treat, and I love to make it using one of my all time favorite cereals, corn Chex®.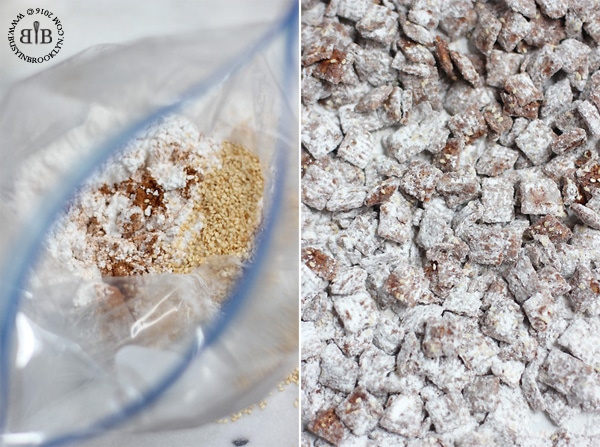 The problem with making classic muddy buddies is that my son is allergic to peanut butter, and keeping sugar coated anything away from a toddler is pretty impossible. So, I opted for the next best thing – tahini! Tahini makes an amazing substitute for peanut butter, and in it's purest form (which you can get a taste of at Tahini King in the Machane Yehudah shuk), it kinda tastes like it too. Case in point: I made this batch and my tahini-hating kids gobbled it up! But my tahini-loving sister totally got the sesame notes, and when I told her there was tahini inside, my 9 year old perked up with, "What??? This has tahini???!!!"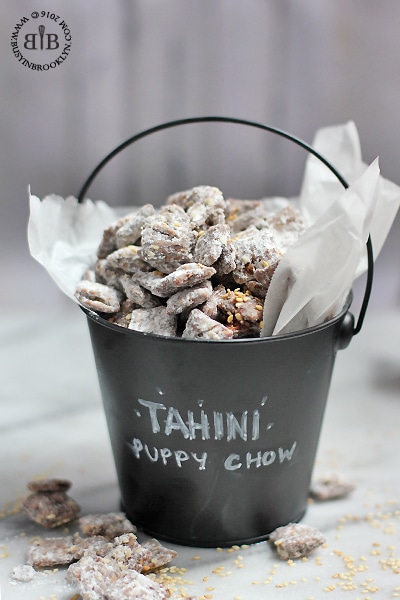 So yeah – this ones a crowd pleaser – kids and adults alike. Tahini lovers and haters. Plus all the gluten free and vegan people too. In a word: ALLERGY FRIENDLY party food, yayyyyyyy!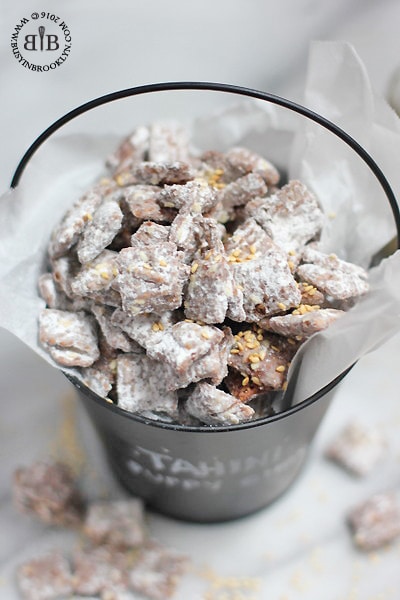 Tahini Puppy Chow
4 heaping cups Chex® rice, corn or wheat cereal (or a mix)
1/2 cup semisweet chocolate chips
1/4 cup tahini
2 tbsp butter or margarine
1 tbsp honey
1/2 tsp vanilla
1/8 tsp sea salt
3/4 cup powdered sugar
1/4 tsp cinnamon
2 tbsp toasted sesame seeds
Method:
In a double boiler, melt the chocolate, tahini, butter and honey until smooth. Mix in the vanilla and salt. Add the cereal and stir until evenly coated.
In a large Ziploc bag, mix the powdered sugar, cinnamon and sesame seeds. Add the coated cereal and shake the bag until it's evenly coated. Spread on a parchment lined baking sheet to cool.
Store in an airtight container (it won't last long!)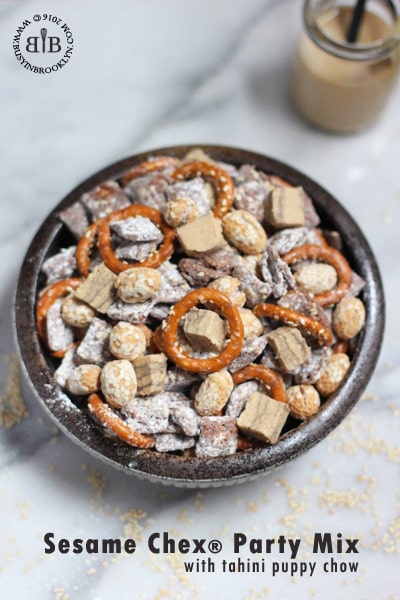 Now you can't make puppy chow without at least thinking about party mix – that classic, fun worcestershire-laced finger snack filled with Chex® cereal, pretzels, nuts and bagel chips. Of course I never manage to make the stuff, but now that I had the tahini puppy chow on hand, I couldn't resist putting together a sesame mix!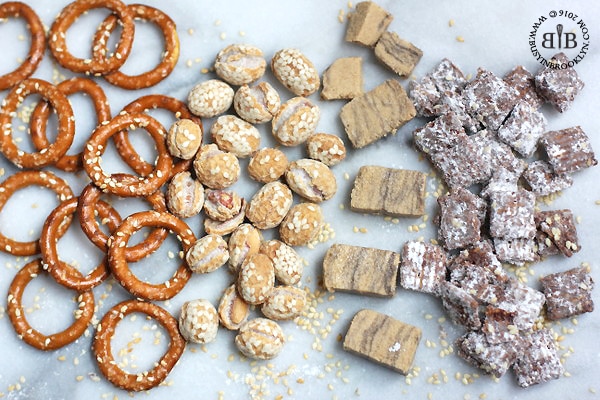 So, what do you add to a tahini-coated cereal mix filled with sesame? Well round sesame pretzels of course. And then those addictive cracker-coated peanuts with sesame, called kabukim. And if we're talking sesame, you can't leave out the most classic sesame snack – halva! Put them all together and you'll be in sesame heaven!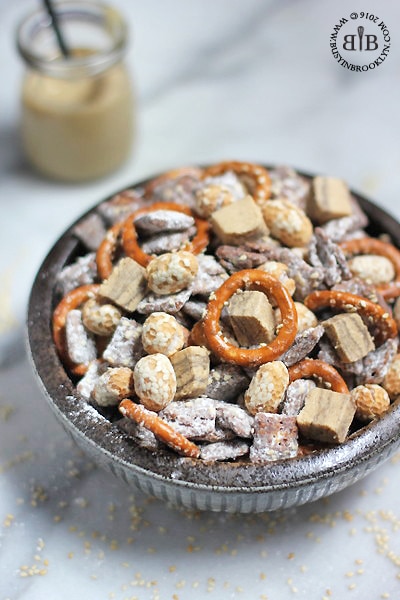 Party on my friends, party on.
Sesame Chex® Party Mix
1 recipe tahini puppy chow
round sesame pretzels
sesame kabukim (crispy coated peanuts), optional
marbled halva
Add all ingredients to a bowl. Mix lightly and enjoy!
VARIATION: Feel free to add dried fruits like figs, apricots or dates, sunflower seeds or chocolate covered halva!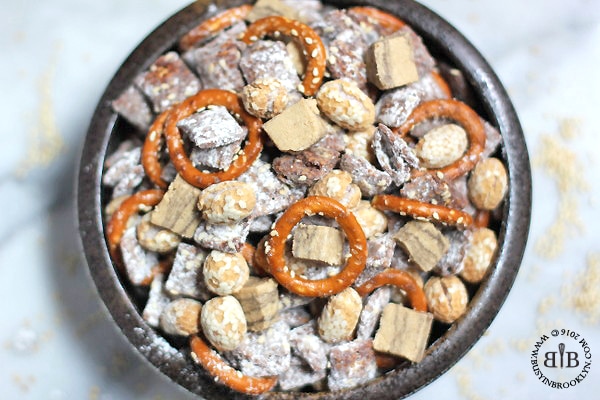 Related Recipes:
speculoos puppy chow
halva krembos
sweet tahini dip
halva and ricotta stuffed figs