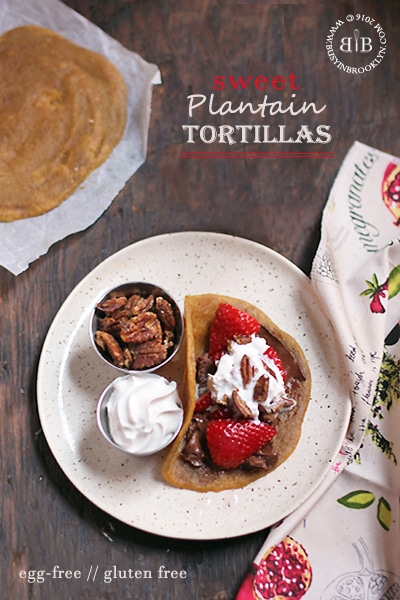 In continuation from yesterday's post for savory plantain tortillas, I bring you some sweet ones! You can read the previous post on more about what plantains are, and to see more step by step pics of the tortilla making process!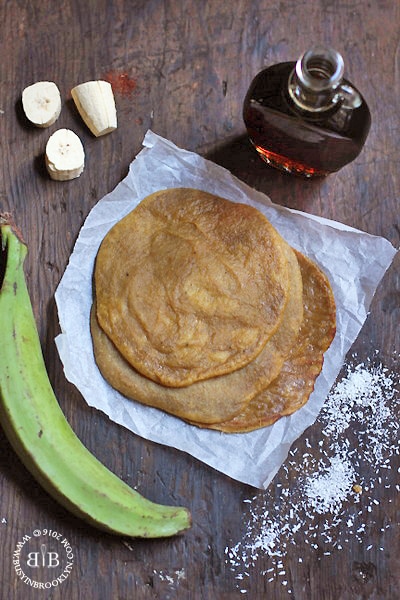 These sweet tortilla crepes are made with plantains, and the addition of coconut oil, maple syrup and vanilla. They're great for breakfast or dessert, and best of all, they're egg-free!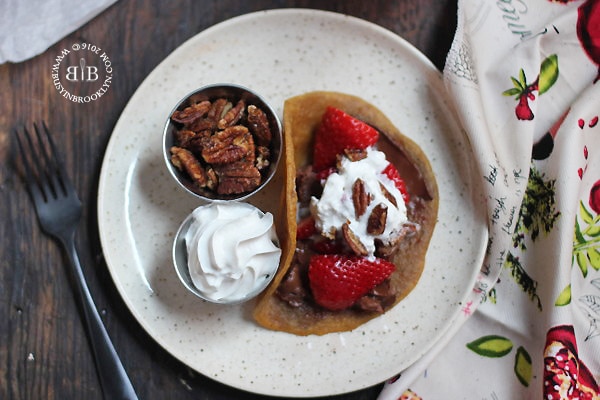 If you're eating these over Passover, chances are, you've had eggs for breakfast, or you plan to have it for lunch or dinner. So having an egg-free meal option is a must-have! Of course you can make these a tad healthier by filling with nut butter and fresh fruit, but homemade nutella is nut butter too. It's just chocolate hazelnut nut butter ;)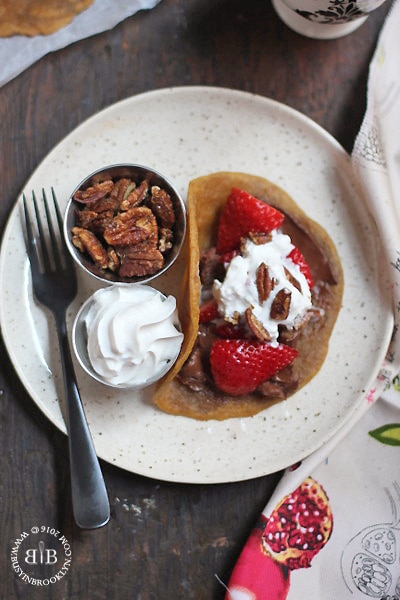 If you're not into the tortilla crepe idea, use your own potato starch + egg variation, but you must try my homemade nutella and other fillings, especially the maple candied pecans. Happy Passover!
Nutella Crepes with Sweet Plantain Tortillas
Sweet Plantain Tortillas
2 plantains, peeled and cut into chunks (about 10oz.)
1/3 cup melted coconut oil (any lightly flavored oil may be substituted)
2-3 tbsp maple syrup (depending on the ripeness of your plantains)
1/2 tsp vanilla extract
1/2 tsp salt
2 tbsp water
Place the plantains, oil, water, maple syrup, vanilla and salt in a food processor or blender and puree until it forms a smooth batter. If the batter is very thick, add a bit more water. Spread 1/4 cup of batter at a time on a parchment-lined baking sheet and smooth with a spoon into a round tortilla shape (you should be able to fit 3 on a sheet). Continue with remaining batter on additional baking sheets. Bake at 350 degrees for 15-20 minutes, until soft and pliable. Makes about 5 tortillas.
NOTE: tortillas are best when used fresh but they can be refrigerated and rewarmed in a microwave or oven until soft and pliable.
Homemade Nutella 
use this recipe or try my cinnamon honey walnut butter
Coconut Whipped Cream
1 14oz. can full-fat coconut milk, refrigerated for 24 hours
1-2 tablespoons sweetener, optional
1 teaspoon vanilla extract
Carefully remove the can of coconut milk from the refrigerator without shaking it. Open the can and use a spoon to carefully remove the thick layer of coconut cream from the top of the can. Transfer it to your mixing bowl. (Do not use the layer of coconut water that has settled to the bottom of the can.) Beat the coconut cream on medium speed for 2-4 minutes, or until the cream becomes light and fluffy and small peaks form. Add in your sweetener and vanilla extract, and beat until incorporated.
Maple Candied Pecans
8 oz. raw pecans (about 2 cups)
2 tbsp coconut oil
2 tbsp maple syrup
2 tbsp brown sugar
1/2 tsp salt
pinch of cayenne pepper
Preheat oven to 400 degrees. Melt the coconut oil and brown sugar in a small pot, whisking to combine. Add the maple syrup, salt and cayenne and bring to a gentle boil. Add the pecans and mix until they are well coated. Pour the pecans onto a parchment lined baking sheet and bake for approximately 10 minutes, stirring every few minutes. Cool completely before serving.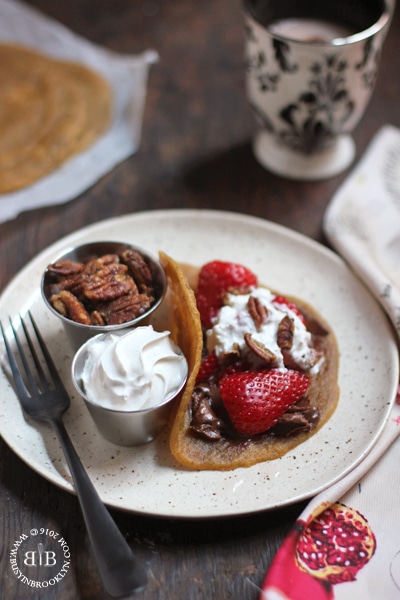 Related Recipes:
sweet nut omelette
nutella banana ice cream
chocolate ganache tart with macaroon crust
fish tacos with savory plantain tortillas