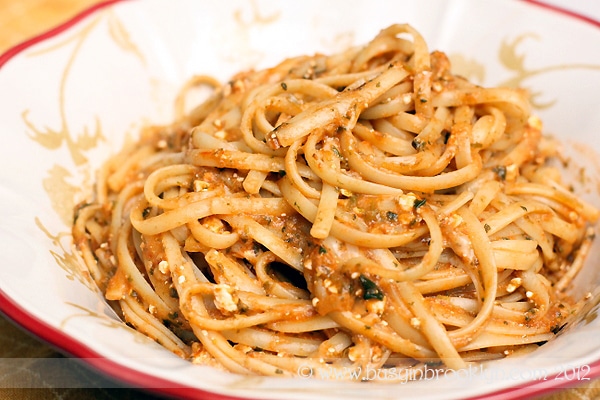 With the nine days* upon us, we're all looking for a quick fix dairy dinner that doesn't require oven time. At least here in Brooklyn, where the weather has been stifling hot and humid.  A nice big salad would make for the perfect meal, but I've got kids to feed, and salad is just not gonna cut it. My kids adore lasagna, but all that prep and cooking time is too much on these long summer days. My solution? a one-pot pasta dinner with all the lasagna components. The best part is, you can customize it to include all your favorite lasagna fillings. I knew I did well when I served this up and my daughter's first words were "this tastes like Bubby's lasagna!" Use store-bought marinara to save on prep time, or prepare your own original recipe.
What recipes are you serving up during the Nine Days? On my menu this week:
Monday: baked ziti and greek salad
Tuesday: crispy beer battered fish tacos from The Shiksa
Wednesday: light eggplant parmesan (no breading)
Thursday: quesadillas with assorted fillings
For more great Nine Days menu ideas, check out last years post.
*The Nine Days is a mourning period over the destruction of the Holy Temple. During this time, observant Jews abstain from eating meat and drinking wine as well as other joyous activities.
Linguini Lasagna
1 box linguini pasta, cooked al dente (see package instructions)
2 tbsp extra virgin olive oil
3 cloves garlic, minced
1-2 cups chopped spinach (if frozen, thaw and squeeze out water)
salt and pepper, to taste
1 jar marinara sauce
1/2 tsp oregano
1/2 tsp basil
1 tsp sugar, optional
1 8oz. container cottage cheese
1 cup shredded mozzarella cheese
Method:
Heat up oil in a skillet and add garlic. Saute until fragrant, but not browned. Add spinach and saute for a few minutes. Season with salt and pepper. Add marinara sauce, basil, oregano and sugar and bring to a boil. With tongs, toss the linguini into the sauce and stir in cottage cheese and mozzarella. Serve immediately.
Variation: For a fun twist on traditional lasagna, break a few lasagna sheets into pieces. Cook until al dente. Use in place of linguini and mix with remaining ingredients.
1 year ago: spinach stuffed mushrooms