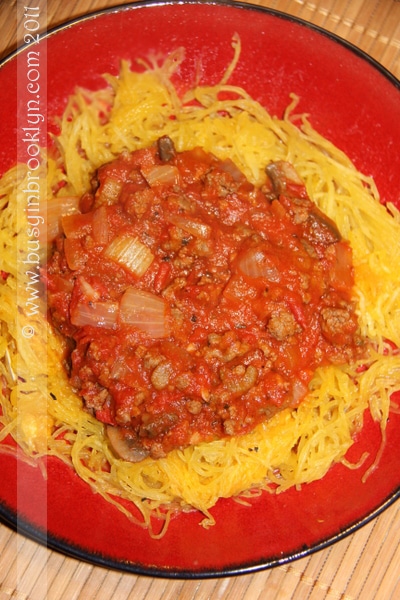 Bolognese is a meat-based sauce for pasta originating in Bologna, Italy. Traditional Bolognese includes a mirepoix of onions, celery and carrots but it can be adapted to suit your taste and dietary needs. In my house, we call Bolognese "smashed meatballs" because that's what gets my kids to eat it :) I love to make this recipe because unlike meatballs and burgers, this meaty pasta sauce requires no 'fillers" such as bread crumbs and does not contain any sugar. Serve it up on a bed of spaghetti squash, or, with its traditional accompaniment, tagliatelle pasta.
Spaghetti Squash Bolognese
3 cloves garlic, minced
1 medium onion, diced
2 stalks celery, diced
2 carrots, peeled and diced
1 container mushrooms, sliced
1.5 lbs. extra lean ground beef
1 28 oz. can crushed tomatoes
1 15 oz. can tomato sauce
1 1/2 tsp oregano
1 1/2 tsp basil
salt and pepper, to taste
spaghetti squash (click on the link for how to prepare)
Method:
Saute onion and garlic till translucent. Add celery, carrots and mushrooms and continue to saute until golden. Remove from pot. Add ground beef and saute until no longer pink. Drain meat. Return meat and veggies back to the pot and add crushed tomatoes, tomato sauce, oregano, basil, salt and pepper. Bring to a boil and simmer on low for 30 minutes-1 hour.