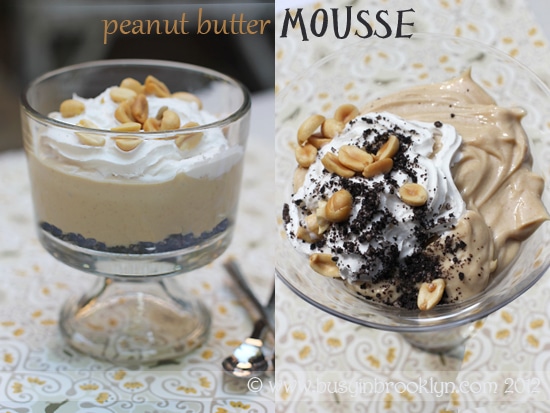 At our local Bikur Cholim gathering last year, we were lucky enough to have Levana Kirschenbaum, the talented caterer and cookbook author, do a cooking demo for us. I don't remember everything she made, but one thing that really stood out was her chocolate mousse. I'm not one to eat raw egg yolks (like in most mousse recipes), so when I saw her using tofu instead, I was intrigued. That Shabbos, I made her recipe for dessert, and it's been a regular in my house ever since. The tofu adds a silkiness to the mousse that you'd never dream would come from soy. I started experimenting with silken tofu some more and this peanut butter mousse is one of my favorite outcomes. You can even make a parfait of mousses, and layer the chocolate and peanut butter into dessert glasses (keep it small because they are very rich!). I did that one Yom Tov and topped it with whipped cream and brownie crumbles. My guests nearly fell off their seats!
Thanks to Levana for generously sharing her chocolate espresso mousse recipe below. Make sure to check out her new cookbook, The Whole Foods Kosher Kitchen!
Peanut Butter Mousse
1 lb. silken tofu
3/4 c creamy peanut butter
1/2 cup confectioners sugar
1 1/2 tbsp honey
1/8 tsp cinnamon
1/8 tsp salt
optional garnishes:
whipped cream
honey roasted peanuts, coarsely chopped
chocolate sandwich cookie crumbs (processed in the blender)
Method:
Remove tofu from packaging and drain on paper towels until all excess liquid is absorbed. Add the tofu, peanut butter, sugar, honey, cinnamon and salt to a blender and process until smooth. Refrigerate for a few hours until firm. Pour into glasses and garnish with whipped cream, chopped peanuts and cookie crumbs.
Variation: You can also make a peanut butter pie using this mousse recipe. Just add melted butter to the cookie crumbs and press into the bottom of a pie dish. Bake for 10 minutes to set. Remove from oven and set aside to cool. Pour mousse into pie dish and top with whipped cream. Garnish with chopped peanuts and chocolate shavings.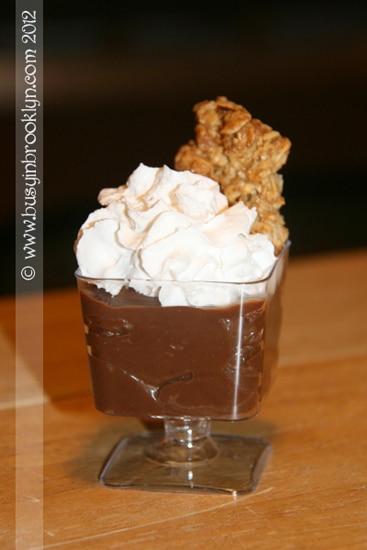 Levana's Chocolate Espresso Mousse
recipe reprinted with permission from LevanaCooks, author of The Whole Foods Kosher Kitchen
1 c good quality semisweet chocolate chips (or grated chocolate)
2 tbsp instant coffee powder
1/4 c water
2/3 c pure cocoa powder
2/3 c sugar
1/4 c vegetable oil
2 tbsp unflavored brandy or rum
1 lb. silken tofu, drained
Method:
In a small saucepan, on a very low flame, place all but last ingredient, and cook, stirring, until melted. This will take about 2-3 minutes (Or microwave 2 minutes). Transfer the mixture to a food processor, with the tofu, and process one full minute, until perfectly smooth. Pour the mixture into 6 to 8 dessert glasses or cups, and refrigerate until firm, 2-3 hours.
1 year ago: best bbq potato salad