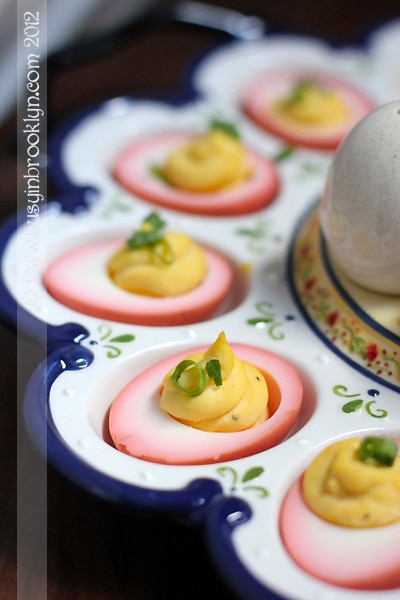 With Valentines Day here, it seems like all my foodie feeds are covered in hearts and pink desserts of all kinds. But what about us non-bakers? Isn't there anything pretty and pink for us to make? Well it just so happens, there is. Beets are a great way to turn savory foods into pink or purple edible eye-candy that's perfect for parties of any kind. Think pink pasta, purple pancakes or these gorgeous ombre deviled eggs!
So if you really want to up the ante at your next party or cozy Valentines dinner, do away with traditional (ie: boring) deviled eggs, and give these gorgeous little pickled ones a try. The pink ombre ring comes from brining the eggs in beet juice – a simple task with a huge wow factor. Ombre isn't just for 7 layer dye-filled cakes anymore!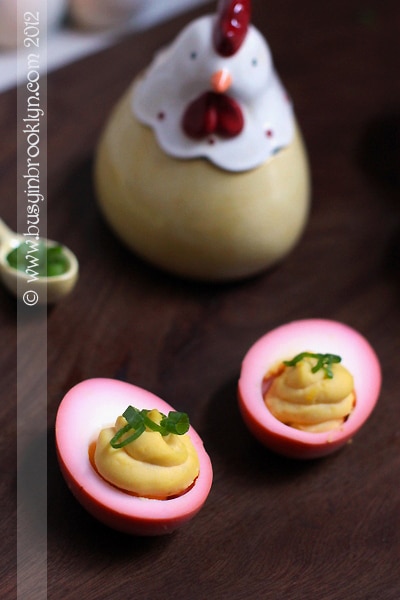 With Purim just around the corner, I love to plan my menu around interesting unexpected dishes to maximize on the Purim spirit. Last year, I made these salami chips. This year, these pickled deviled eggs will be making an entrance. Of course I also do a twist on traditional hamantaschen like these puff pastry ones, last year's sushi onigiri, and this years…well, you'll just have to wait on that one…the surprise is coming up next week!
1 24 oz. jar borscht or beet juice
1/2-1 cup apple cider vinegar*
7 hard-boiled eggs, cooled and peeled (how to hard boil eggs)
¼ cup mayonnaise
¼ teaspoon onion powder
1 heaping tablespoon yellow mustard
salt and pepper, to taste
scallions or chives, for garnish
Directions
In a container big enough to hold the eggs, add the borscht and vinegar. Add eggs, making sure that they are completely covered in the pickling juice. Add more borscht or water, if needed. Cover and refrigerate for 12 hours, or up to 2 days. Remove the eggs from the liquid and cut in half lengthwise. Gently remove the yolks and place them in a bowl. Set the whites aside on a serving platter. Mash the yolks well with a fork and add mayonnaise, mustard, onion powder, salt, and pepper. Spoon the yolk filling into a ziploc bag, cut off the tip and pipe the filing into the egg whites. (You may also use a pastry bag with a star tip). Garnish with chives.
*You can control the strength of the pickled flavor by using more or less vinegar. 1/2 cup will give you a subtle pickled taste. Continue to increase up to 1 cup for a stronger pickled flavor.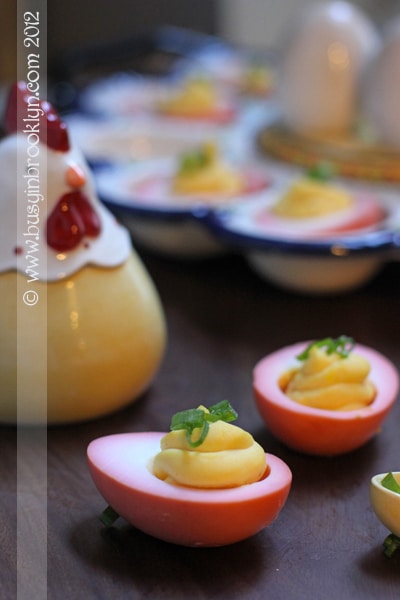 1 year ago: stuffed roasted butternut squash
2 years ago: quick & easy chocolate rugelach