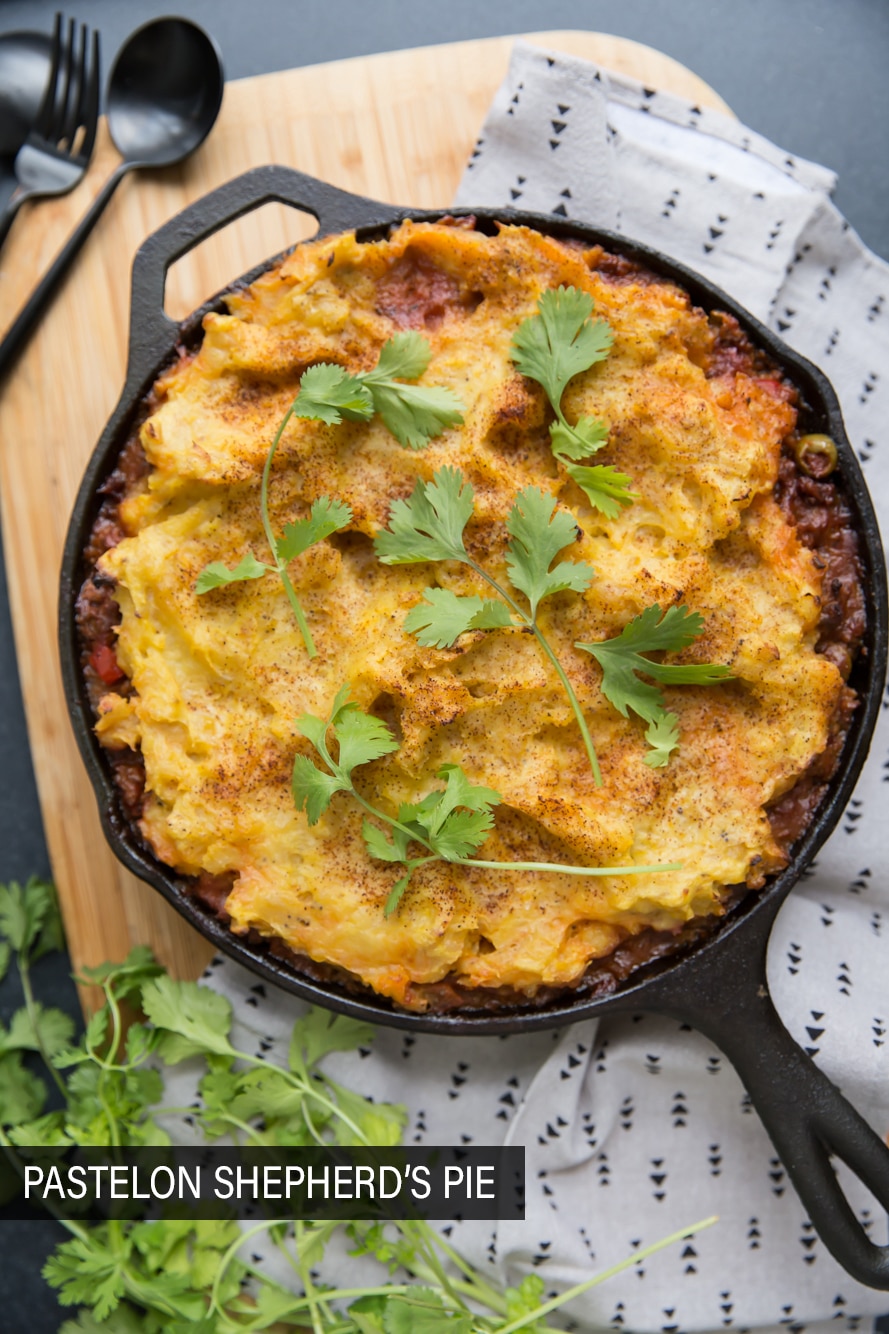 Yes, it's true – plantains and I are having a moment. Ok fine, not a moment, a year. Or three. Or four.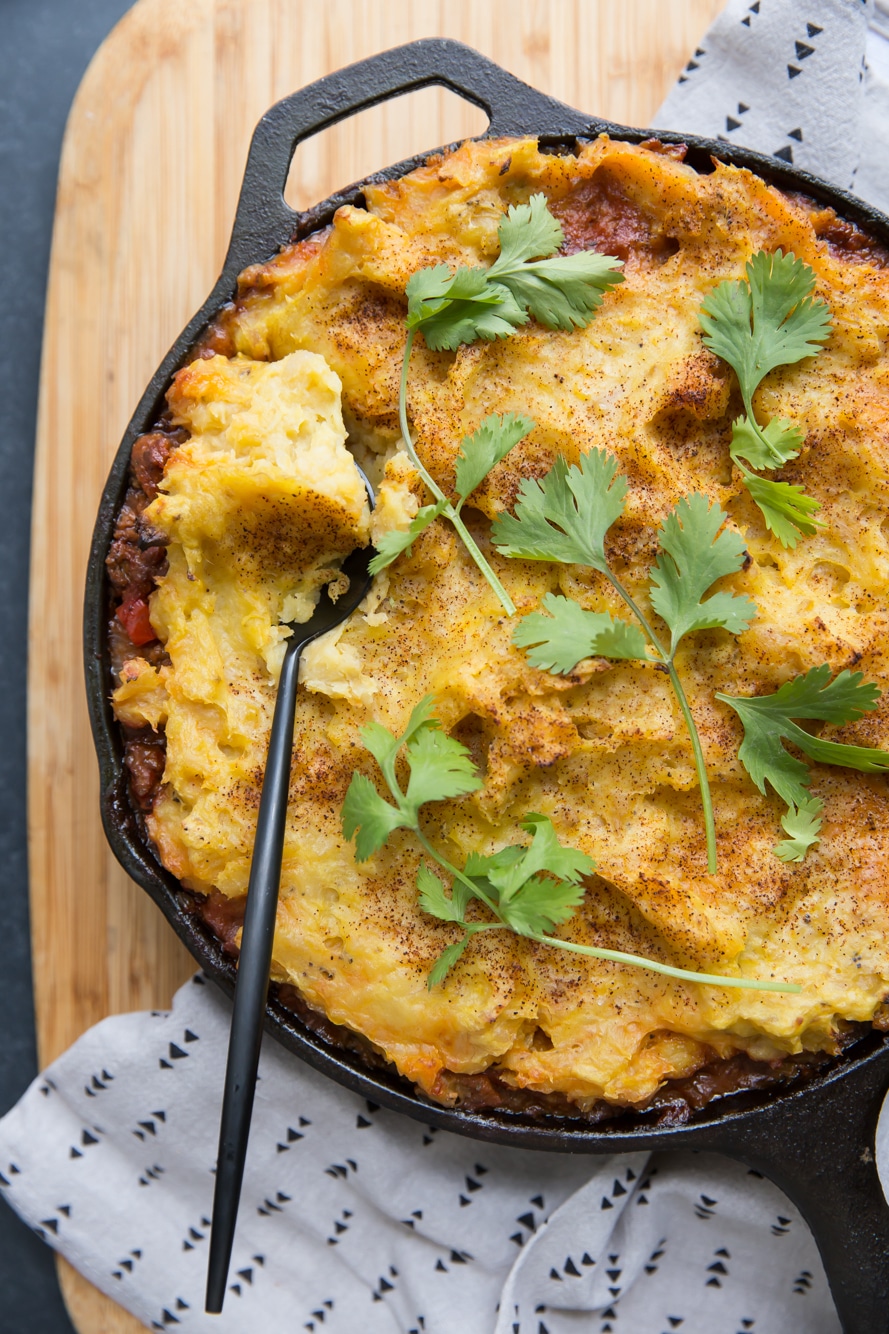 I've basically been a fan of plantains ever since my first Whole30 back in 2014. I didn't even know what they were back then, but when I found Whole30-approved plantain chips in Trader Joes, I was all in. I started noticing the plantains at my local Caribbean grocery, and I learned to make my own chips as well as tostones (twice fried plantains) which I devoured with guacamole and tuna tartare (OK I'm hungry now).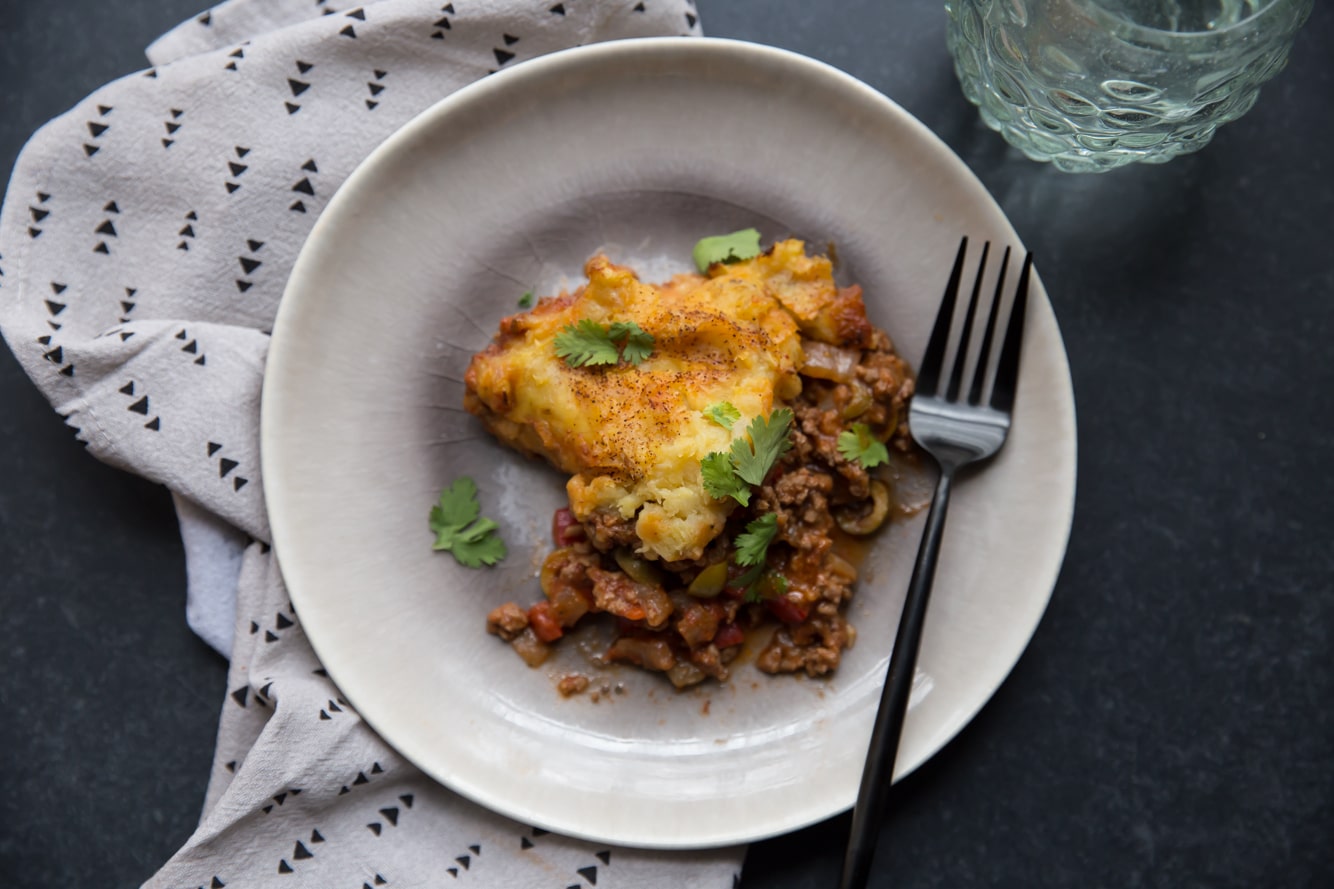 I realized that plantains could make an amazing stand-in for the overused potato on Pesach, so I started to experiment further with different recipes. My plantain nachos were a big hit, and I heard from some readers who started to make my sweet and savory plantain tortillas all year long!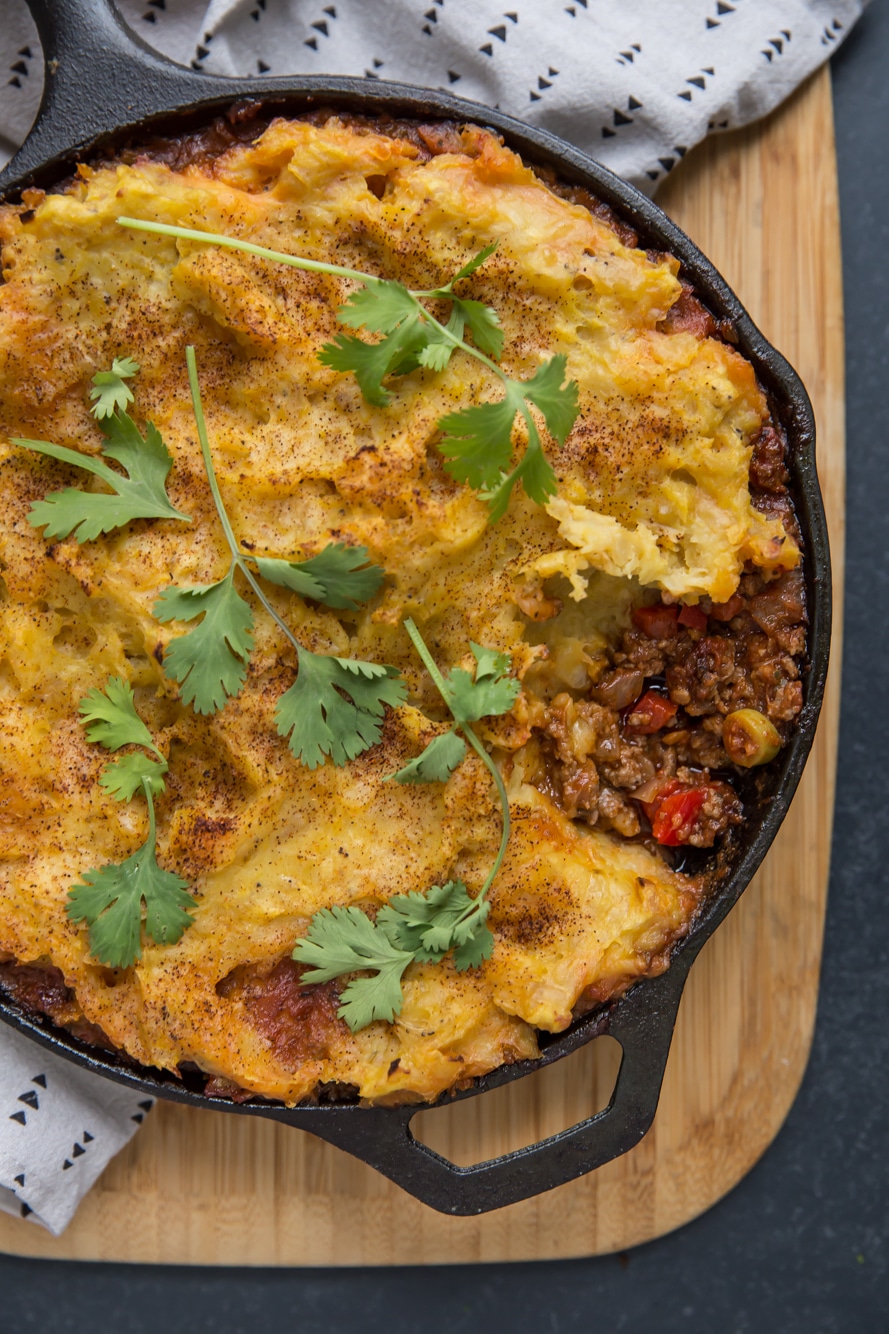 And then there was that summer when I discovered plantains at my local Shoprite in upstate New York and I ate my fair share of maduros – fried ripe plantains with a sprinkle of brown sugar and a squeeze of lime. Better than ice cream.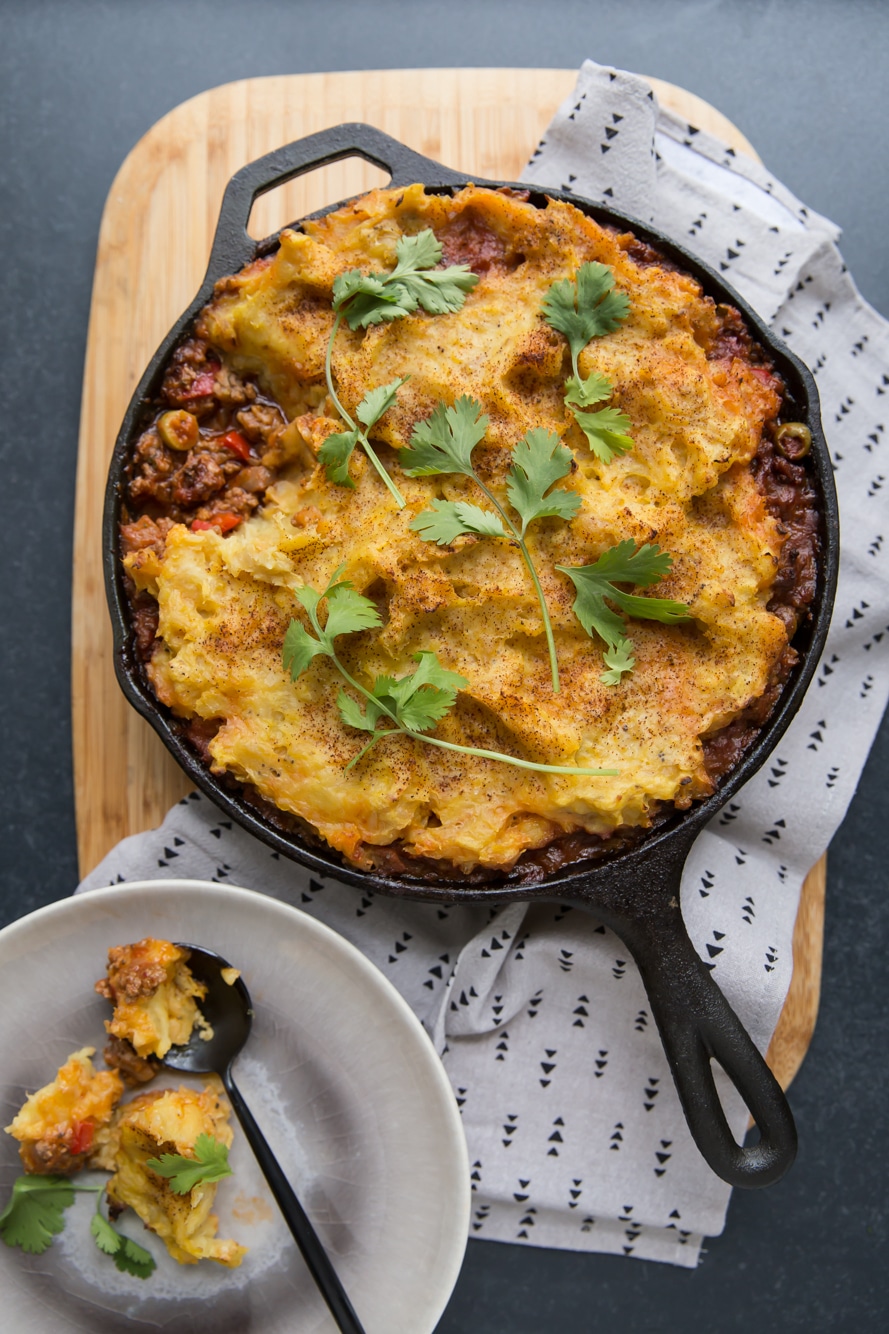 Plantains, like bananas, change color as they ripen – although unlike bananas, they can be eaten at any stage, so long as they are cooked. Green plantains are very starchy, while yellow and black ones are sweeter and a bit easier to peel. When plantains are fully ripened and black – they only look scary on the outside, but on the inside the plantains are still quite firm. It's at this point that you can fry them in oil for maduros, or boil them up for mash.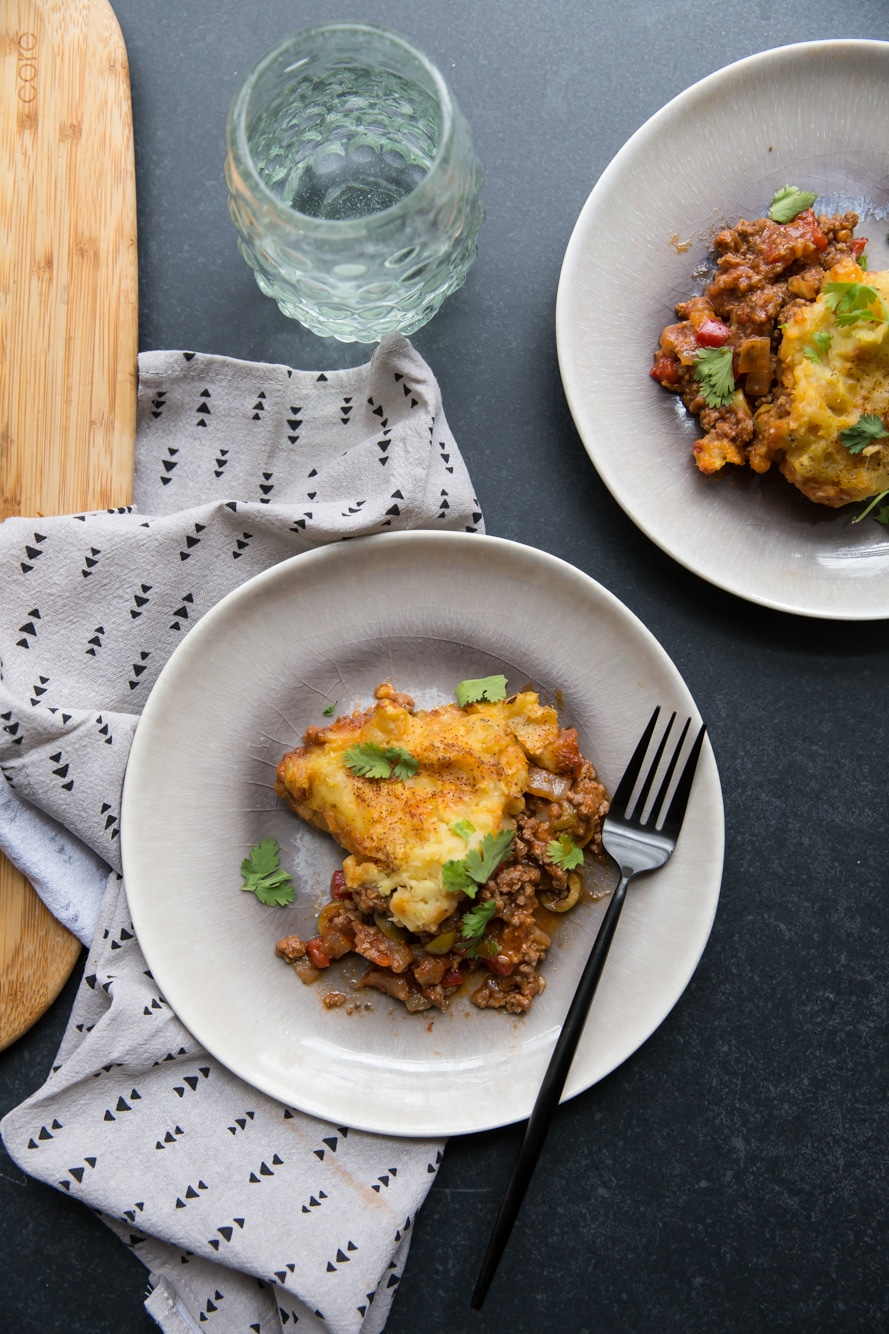 I recently happened upon a recipe for Pastelon – a Peurto Rican lasagna that uses plantains instead of lasagna noodles. It made me think of using mashed plantains instead of potatoes for Shepherd's Pie and that's how this recipe was born! It makes a great one pot meal for Chol Hamoed, and can even be prepared and frozen in advance.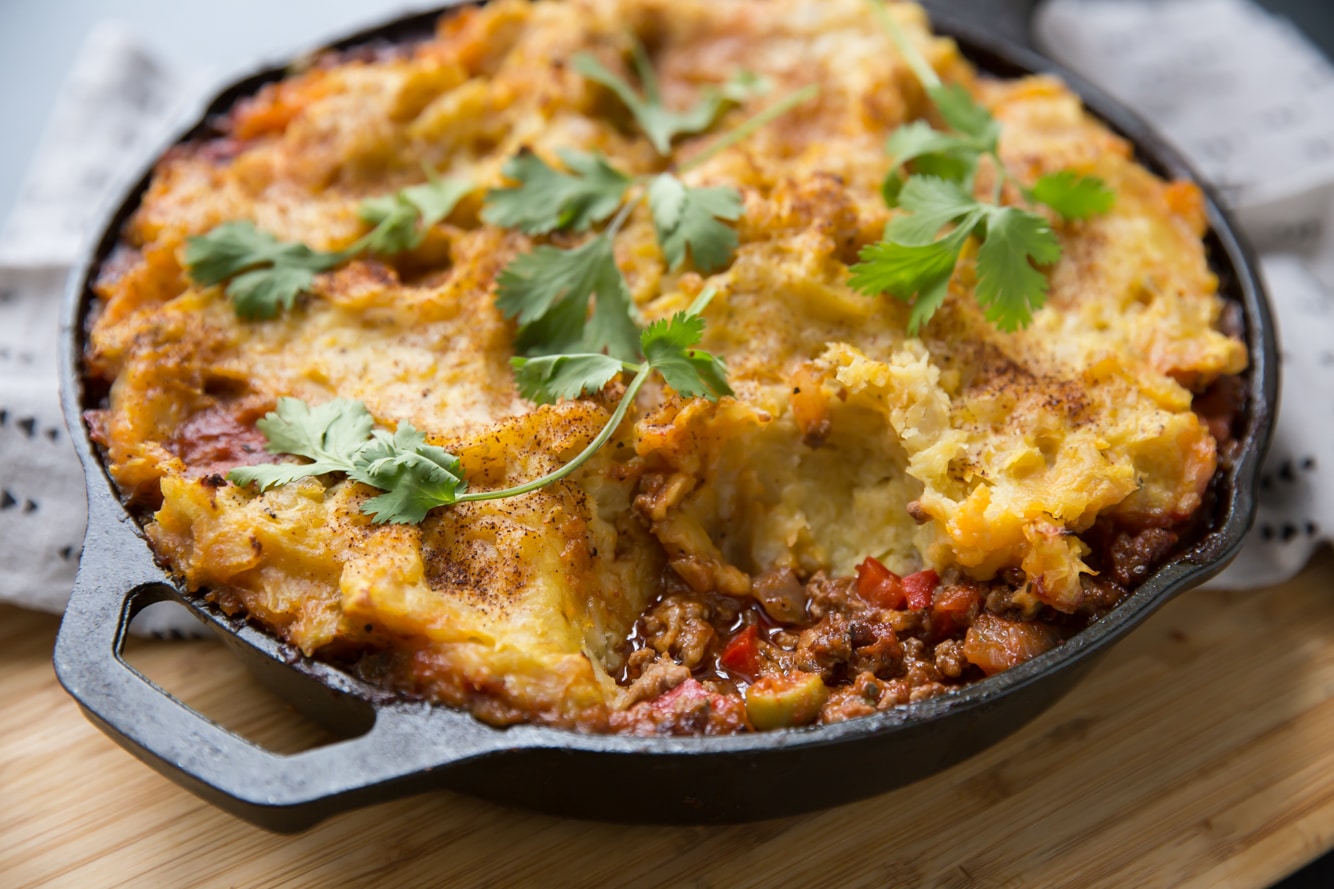 Wishing you and yours and Kosher & Happy Passover!
Pastelon Shepherd's Pie
2 tbsp olive oil
1 medium onion, diced small
1 red pepper, diced small
4 cloves garlic, minced
2 lbs. ground beef
2 tsp cumin
1 tbsp smoked paprika
1 tsp oregano
1/2 cup sliced pimento stuffed olives
15oz. tomato sauce
1 tsp salt
1/4 tsp pepper
Mashed Plantains
5 black (ripe) plantains
2 tbsp melted refined coconut oil, divided
3/4 cup coconut milk
1/4 tsp salt
1/2 tsp chili powder
Method:
Bring a pot of salted water to a boil. Peel the plantains and slice them in thirds. Add to the water and cook until soft and tender, 15-20 minutes. Drain (see note).
While the plantains are cooking, heat a cast iron skillet over medium heat and add the olive oil. Add onions and peppers and saute until translucent. Add the garlic and continue to saute until softened and fragrant. Add the ground beef and cook until crumbly, breaking it up as it cooks. Drain most of the fat that renders out of the meat. Add cumin, paprika, oregano, olives, tomato sauce, salt and pepper and bring the mixture to a simmer. Remove from the heat.
Preheat oven to 350 degrees.
Place the drained plantains into a large bowl and mash with a potato masher. Add 1 1/2 tbsp of the coconut oil, coconut milk, salt and chili powder. Spread the plantain mash on top of the beef mixture and brush with remaining coconut oil. Sprinkle with chili powder and bake for 20-25 minutes.
VARIATION: You can also make a savory mash using green plantains instead of black. Add some sauteed onions and/or garlic to the mash for added flavor.
NOTES: If you don't use coconut milk over Passover, reserve 3/4 cup plantain cooking liquid in this step to use in place of the coconut oil. You may also substitute any other oil instead of the coconut oil.
If you don't have a cast iron skillet, you may prepare the meat in any oven-safe pot, or transfer the mixture to a pie or casserole dish for baking.
FREEZING: this recipe may be prepared in advance and frozen ahead of time.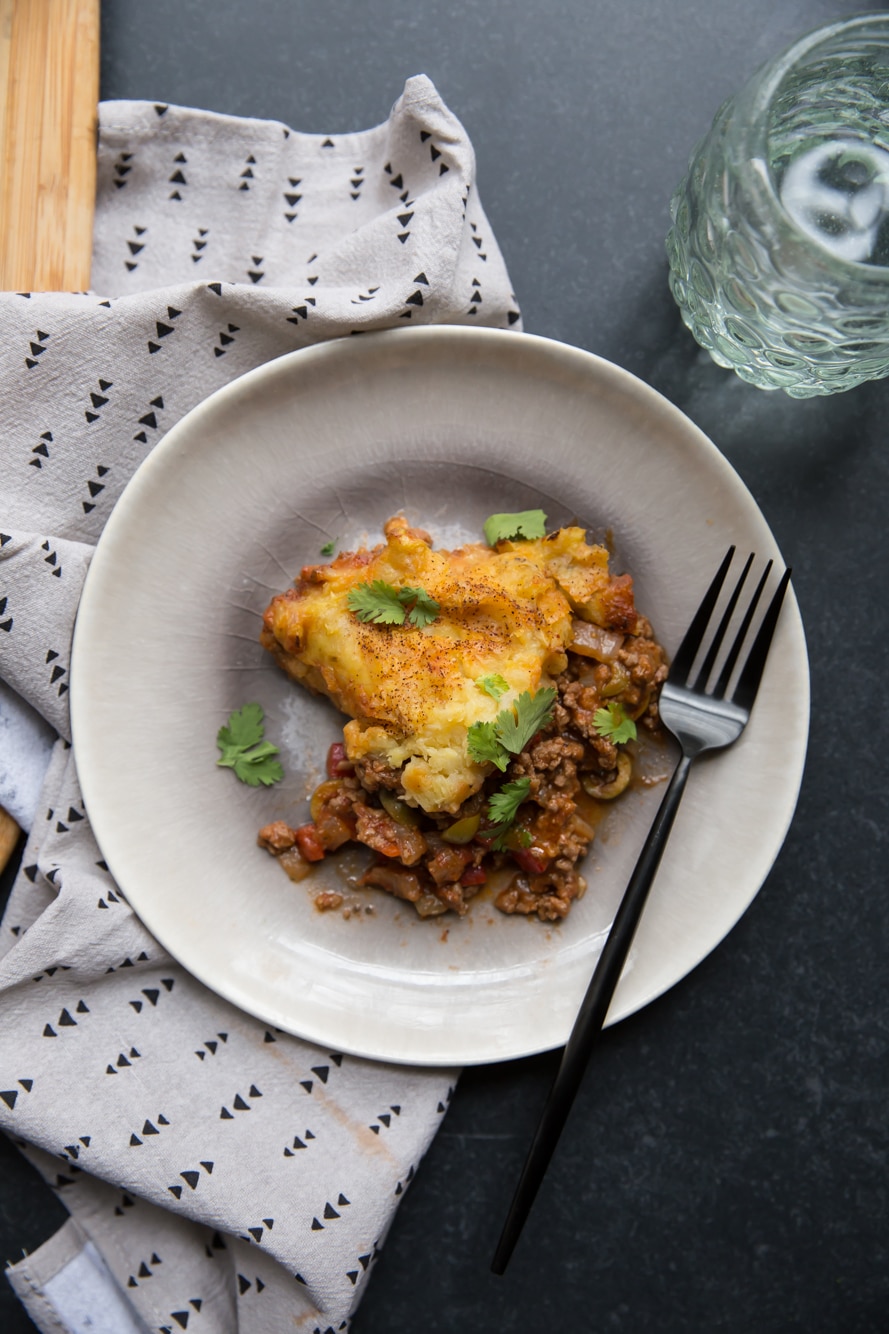 Related Recipes:
plantain nachos
fish tacos with savory plantain tortillas
nutella crepes with sweet plantain tortillas