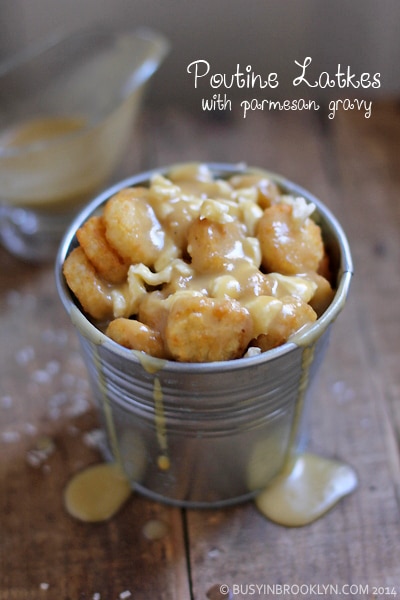 I could NOT be more excited about today's recipe because it's all about one of my favorite things….POUTINE! If you've never heard of it, it's because it's a Canadian specialty, and you probably have never had a chance to try it in the U.S. When I visited Montreal recently with my family, I tried poutine again for the first time in years, and I just wanted to keep going back for more!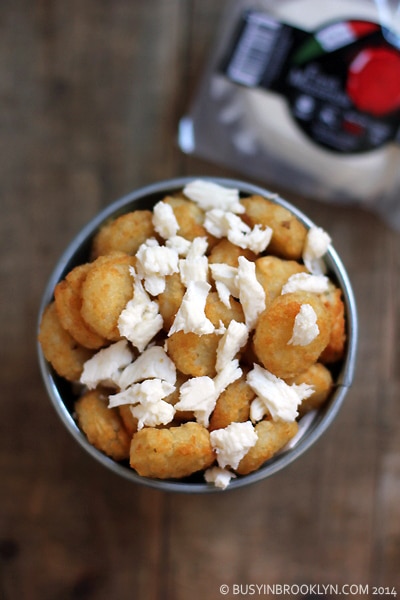 Traditional Poutine is made with french fries and cheese curds which are smothered in gravy. Of course kosher poutine is a bit of a challenge, because A. kosher cheese curds are not available in the U.S. and B. it's hard to create a rich gravy without using stock and drippings. I have mastered the art of KOSHER POUTINE and I couldn't be more ecstatic!!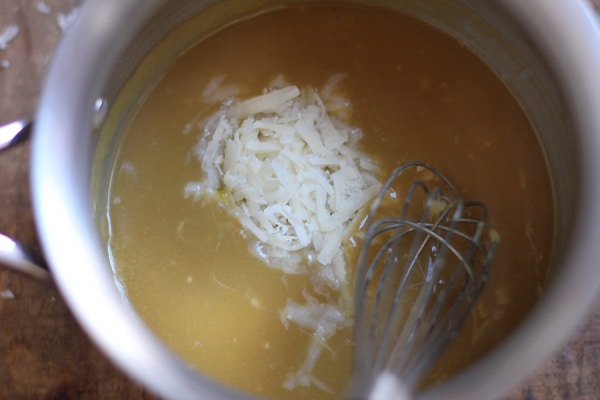 First, the cheese curds. Cheese curds are the solid parts of soured milk, and are sometimes referred to as squeaky cheese. I had the brilliant idea to pull apart shreds of fresh mozzarella, and they did the perfect job of resembling the curds, both in look and texture. I think they work wonderfully as a sub for the traditional.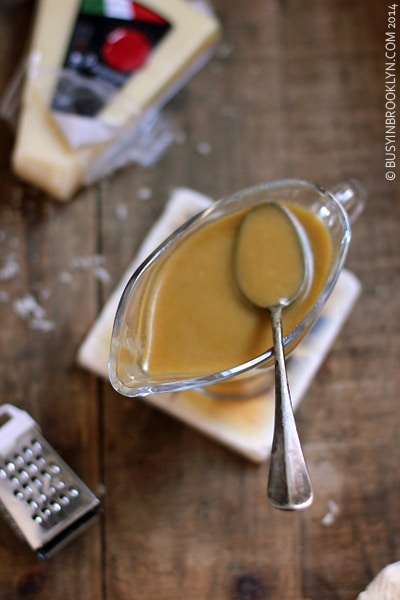 Now onto the gravy! How do you get a truly rich gravy without much work, and without drippings? You turn to UMAMI flavors like soy sauce and parmesan. They give the gravy that depth of flavor that you can't get in a vegan recipe. Of course this makes the gravy dairy, but your poutine is smothered in fresh mozzarella cheese curds anyway, so the more the merrier!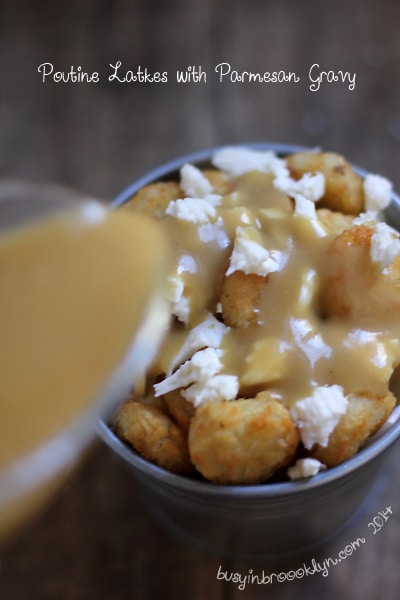 Actually, the dairy part of this is what really got me thinking about turning it into a Chanukah recipe. Dairy is customarily eaten on Chanukah to remember the bravery of Yehudit, a young widow who lived in Bethulia in the land of Judea. To save Jerusalem from a paralyzing siege and approaching enemy troops, Yehudit seduced a Greek general into a drunken slumber by feeding him salty cheese and quenching his thirst with strong wine. As the general slept, she beheaded him with a sword. After finding that their general had been killed, the Greek army fled in disarray.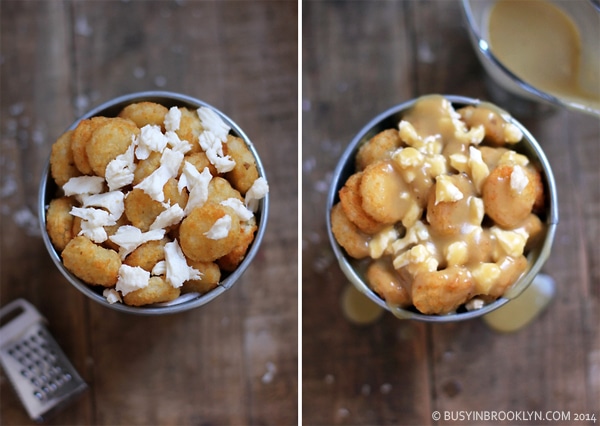 There's no doubt that smothering potato latkes (mini or otherwise) in cheese curds and gravy might put us all in drunken slumber, but trust me when I tell you, it's worth it. Even if you need to take a nap afterwards!
Potato Latkes:
4 large russet potatoes
1 small white onion, grated
2 large eggs, lightly beaten
2 tablespoons matza meal
2 tsp kosher salt
Freshly ground black pepper
Vegetable oil, for frying
Method:
Peel and grate potatoes by hand or with a food processor and immediately place in a bowl of water to prevent browning. Grate the onion and set aside. Drain the potatoes and put them, along with the grated onion, into a large piece of cheesecloth. Wrap it tightly and squeeze out as much juice as possible into a bowl. Let the juice sit for a bit so the potato starch settles to the bottom. Slowly pour the liquid out of the bowl (into the sink), leaving the potato starch in the bowl. Add eggs, matza meal, salt and pepper to the starch and stir to combine. Mix in the grated potatoes and onions. Heat oil in a skillet and  fry until golden brown on both sides. Drain on paper towels.
TIP: Use 1/4 cup measuring cup to portion out the latkes. This makes the latkes the same size. When you scoop out the batter into the pan, use the flat underside of the measuring cup to press down on the latke and spread it out. This creates super crispy edges.
Yield: 15 medium latkes.
Parmesan Gravy:
1 tbsp butter
1 clove minced garlic
1 tbsp flour
1 cup vegetable stock
2 tsp soy sauce
2 tbsp freshly grated Natural & Kosher Cheese parmesan
salt and pepper, to taste
Method:
Add butter to a saucepan and melt over medium heat. Add garlic and stir until softened and fragrant, but not browned. Add flour and stir continuously over medium heat until deeply golden. Be careful not to burn it! Slowly add stock, whisking continuously, and continue to whisk until the mixture comes to a boil. Add soy sauce and parmesan and continue to cook, whisking as you go, until mixture is smooth and thickened. Season, to taste, with salt and pepper (it shouldn't need more than a pinch of salt because the soy sauce and parmesan are salty). Pour through a fine mesh sieve, if desired, for silky smooth gravy.
Yield:  3/4 cup (you may want to double it)
VARIATION: to make it pareve, omit parmesan and use vegan butter.
Poutine Latkes:
potato latkes (recipe above) or store-bought mini latkes (as pictured)
parmesan gravy
Natural & Kosher Cheese Fresh Mozzarella, pulled apart into shreds
Method:
Set the potato latkes out on a platter (make sure they are hot so that the cheese melts). Scatter the fresh mozzarella over it and drizzle generously with gravy (make sure the gravy is hot so it can melt the cheese).
VARIATION: You may use this recipe over french fries, potato wedges or tater tots.
QUICK & EASY: buy a packet of gravy mix and prepare according the package directions. Use shredded mozzarella cheese.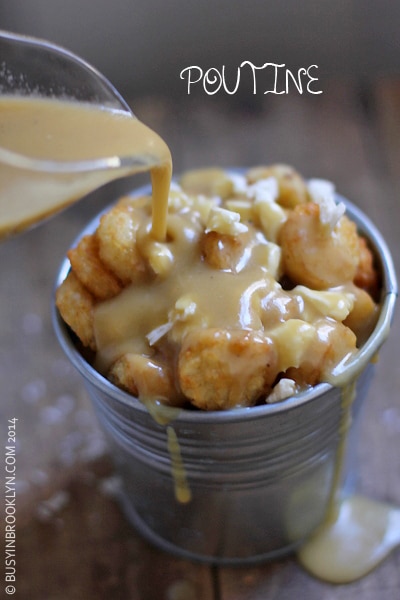 This post was sponsored by Natural & Kosher Cheese. Follow them on Facebook, Twitter, Pinterest, Instagram, YouTube, Google+, or via their Blog
Other Chanukah Recipes:
confetti latkes with harissa sour cream 
gluten free butternut squash latkes
cheese latkes with raspberry sauce
fried zucchini parmesan chips