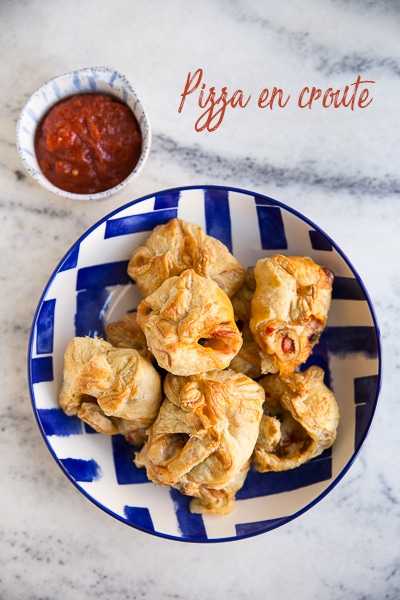 Happy Chanukah!!!!! The holiday of donuts, latkes, fried food, gelt and cheeeeeeesssseeee is here! Does it get any better?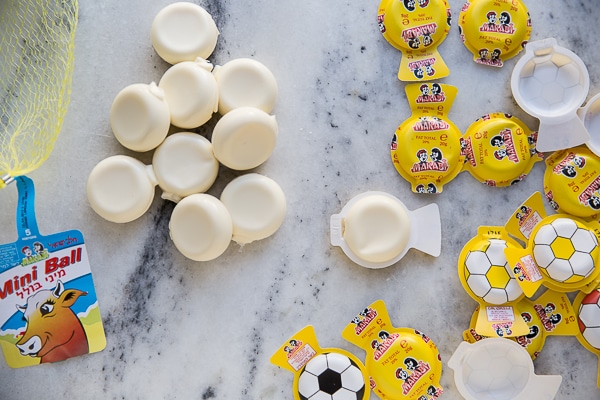 Of course we don't count calories on Chanukah, because we celebrate the miracle of the oil where a small jug miraculously lasted for 8 whole days and the story of Yehudit who bravely lured a Greek general with wine & cheese and them chopped off his head in his drunken slumber. I mean how can we not honor our history and tradition by filling up on goodies??! You don't have to ask me twice!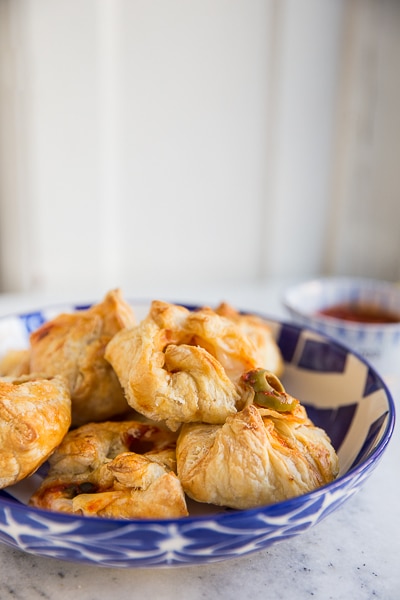 Of course Chanukah is also special to me because I was born on the fifth night, and 16 years ago, I got married on my birthday. I made that choice because I knew that the day held so much blessing and power, and I held onto the belief that it would carry me through my married life with lots of good vibes and the power to illuminate.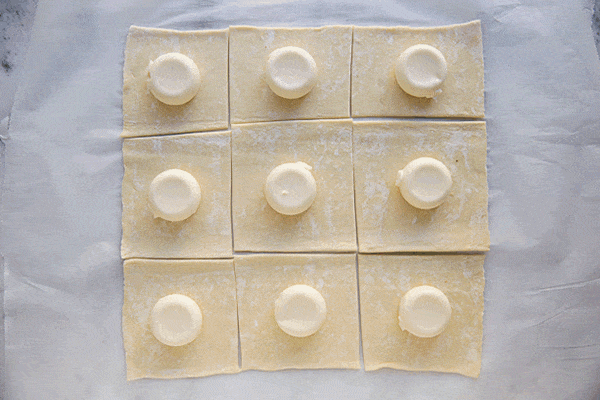 I never imagined that life would take me on this unexpected journey. That I would one day become a food writer, and that I would be blessed to carve out this humble space for myself on the web, and on your bookshelf. I feel especially grateful this Chanukah for all the miraculous blessings of the past year. For more success than I could have ever imagined. My heart is so full and I don't even know how to thank you. So I'll just keep cooking and sharing what I love, because that's the only way I know how.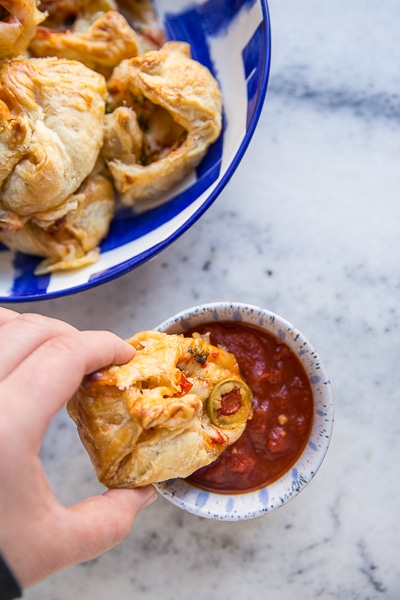 So I made pizza en croute. Because pizza has my heart. And I'm sure it has yours too. I used Makabi's mini balls because it's Chanukah after all, and because they're the perfect size to take the place of brie – as a riff on the classic "brie en croute".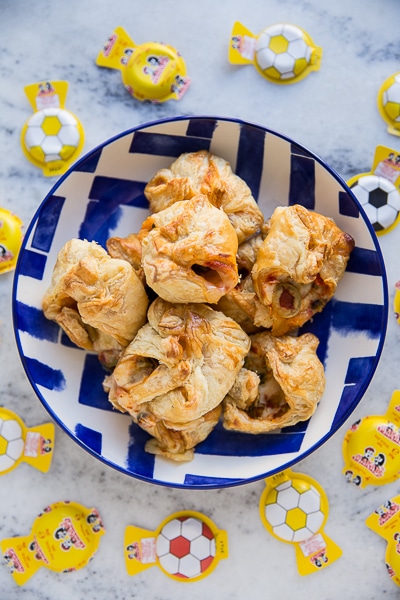 I top 'em off with whatever I have en hand, and that's really the best part about these – they're so easily adaptable. Top the cheese with marinara, ketchup, pesto or olive tapenade and you've got yourself a party appetizer that will fly off the table!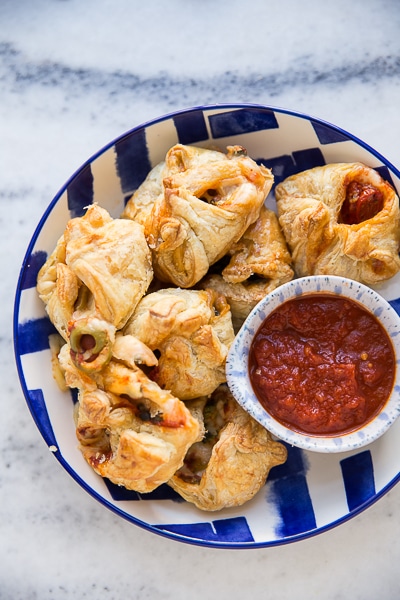 Wishing you a CHEESY holiday!!
Pizza En Croute
9 Makabi Cheese mini balls
1 sheet puff pastry, thawed
1/2 cup marinara sauce, plus more for dipping
toppings of choice (chopped brocolli, spinach, onions, olives, tomatoes mushrooms….)
1 egg + 1 tbsp water, for eggwash
Method:
Remove cheese from wrappers. Gently roll out the puff pastry and cut into 9 squares. Place cheese balls in the center of each square and top with marinara sauce and toppings of your choice. Pull the 4 corners of each square together and twist closed. Brush with eggwash and bake for 30-40 minutes, until puffed and golden.
Serve warm with marinara sauce for dipping.
TIP: to keep the cheese from oozing out during baking, pinch the openings closed or bake in a cupcake tins, as in this recipe.
NOTE: if desired, you can drizzle vegetables with olive oil and dried herbs such as basil and oregano.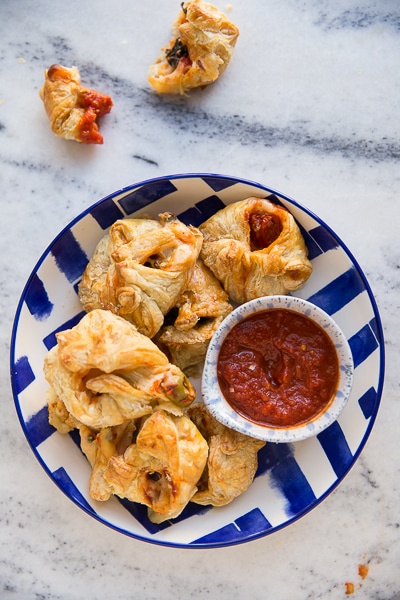 This post was sponsored by Makabi Cheese, all opinions are my own!
Related Recipes:
dried fruit brie bites
parmesan lasagna chips with pizza hummus
broccoli Parmesan poppers
zucchini parmesan chips
3-cheese pull apart buns