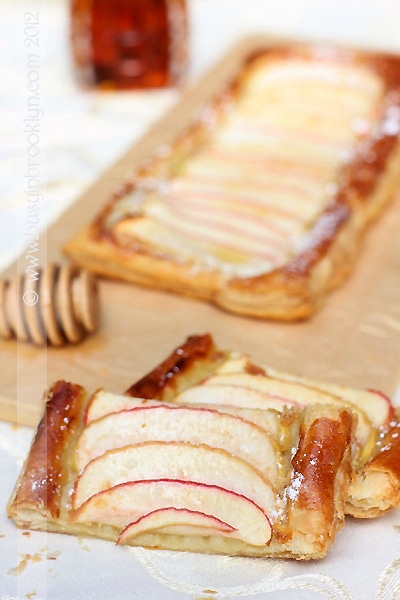 You'll never believe how easy this beautiful tart is to make. It only requires 4 ingredients, and the dough isn't even homemade!  The secret to this scrumptious dessert is puff pastry. I'm a huge fan of puff pastry because as most of you already know, I don't like to bake, and it comes already prepared in the freezer section of every supermarket. I've been known to sneak puff pastry into just about any recipe that calls for a dough, even rugelach and hamantaschen!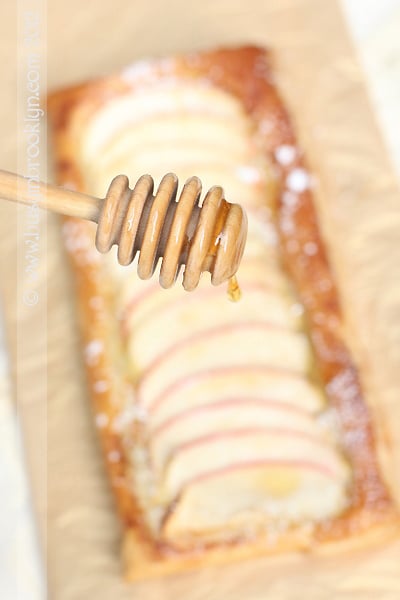 Truth be told, I can't take all the credit for this simple, elegant and delicious dessert. Last year, my wonderful sister-in-laws decided to treat me out to a fun evening at the Kosher Culinary Institute for my birthday. It was a special "date night" class, so my husband joined me in preparing a gourmet meal together with a few other couples. We really enjoyed the evening and I'm sorry to say that I don't remember exactly what was on the menu. What I do remember is making spaetzle from scratch, whipping up cherry clafoutis for dessert, and what was a mere afterthought of the chef – a version of this apple tart.
For other sweet puff pastry ideas, check out Dina's apple turnovers or my sweet potato bourekas on kosherstreet.
Apple & Honey Tart
1-2 crispy sweet apples, cored and thinly sliced (unpeeled)
1 sheet puff pastry, thawed
1/2 cup honey
1/2 lemon
powdered sugar, optional
Method:
Preheat oven to 400 degrees. Unfold puff pastry sheet and cut it in half down the center (don't worry about the creases from the folding, they will disappear during baking). Place the halves on a greased cookie sheet.
Add honey to a microwave-proof bowl and heat in the microwave until warm, about 20 seconds. Brush the puff pastry with the warm honey. Mix the apple slices with lemon juice and place them along the length of the puff pastry, overlapping over each other. Brush the apples with additional honey (warm the honey again, if necessary). Bake for approximately 25 minutes, until pastry has puffed up and is golden brown around the edges.
Drizzle with additional honey and sprinkle with powdered sugar. Serve warm with vanilla ice cream.
This tart cannot be frozen (the apples will turn soggy) but it may be prepared in advance. Just warm it in the oven to crisp up the pastry before serving.
NOTE: Don't worry if some of the honey syrup leaks off the puff pastry during baking. It will actually help caramelize the puff pastry around the edges. Just remove the puff pastry to a cooling rack as soon as you take it out of the oven.
TIP: Always make sure your puff pastry is cold otherwise it may become difficult to handle. If the dough becomes sticky, just return it to the fridge so that it can firm up again.
VARIATION: Try this tart with other fruits like sliced pears or peaches, or for a delicious dairy option, spread some goat cheese on the puff pastry, and top with figs and honey.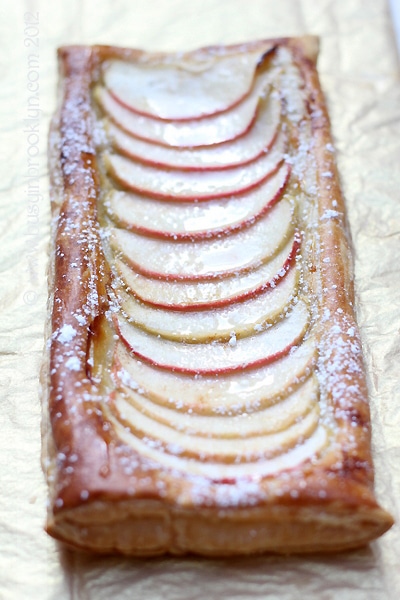 1 year ago: honey cake with caramelized apples